If only we'd never get hungry in between meals and need snacks, life would be a lot simpler. But whether it's you or your child that needs frequent GLUTEN FREE DAIRY FREE SNACKS it can feel tedious coming up with variety and options. I've got store bought and homemade snack options that will allow you to snack freely from a wide variety. Get your snack on! The next time a snack attack happens, you'll be ready!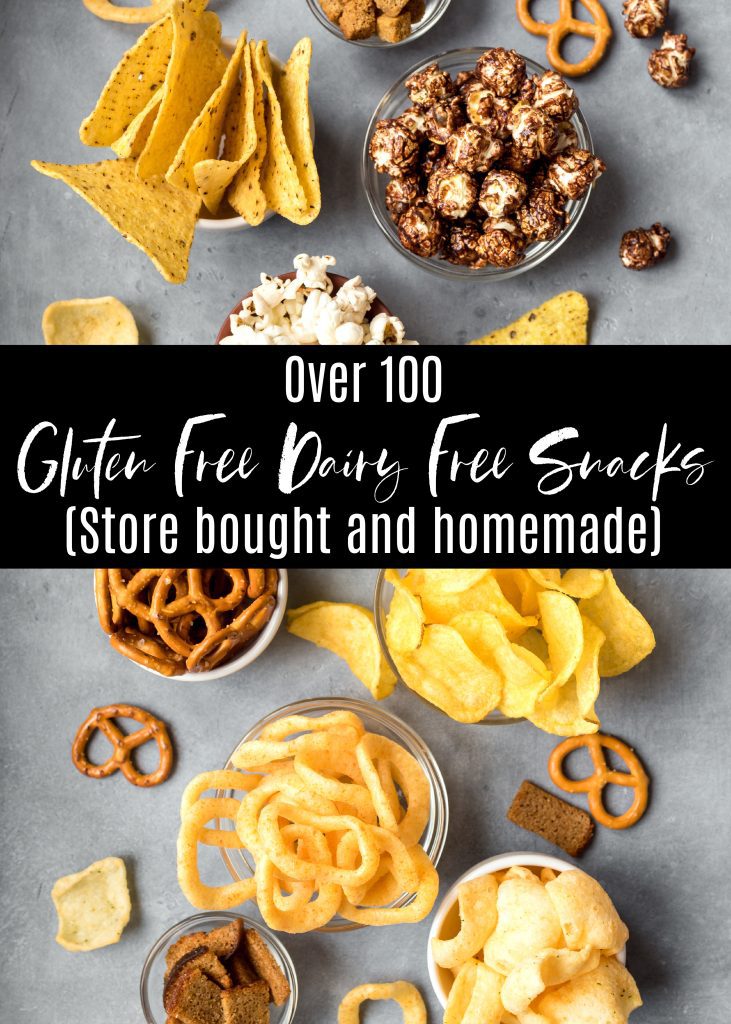 This post contains affiliate links.
WHY WE NEED SAFE SNACK OPTIONS:
My son has a wheat and dairy food allergy, and I have friends with Celiac disease so I personally know the pain of having to turn over every product in the store desperately looking for allergy free options to feed him. Most snacks are filled with dairy products and laden with gluten. I hope that whether you have a gluten-free diet, gluten-free dairy-free diet, or some other food restriction that this list will help you find options you can enjoy–whether that be for a school snack, after-school snacks, late night snacks or whatever time of day the munchies hit ya. I don't want you or your loved ones getting hangry because they can't find a safe snack. I have everything from energy bars, crunchy snacks like popcorn, pretzels, and chips, to jerky, fruit, and more. This long list of great ideas should give you something even for the picky eaters. There's a nice range between guilty pleasure foods (I'm looking at you, Lays!) and healthy snack ideas. Be sure to share these free snack ideas with your allergy friends!
IMPORTANT INFO BEFORE LOOKING AT THE GLUTEN FREE DAIRY FREE SNACK IDEAS:
PLEASE be sure to read the actual package in the store before you buy it, as recipes and manufacturing processes may have changed since the time of publishing and company websites aren't always as up to date as actual labels.
Also–there may be some suggestions I've either personally tried, or added because a reader submitted it that you might not agree with. And that's OK. As people with food allergies, medical conditions, Celiac, vegan or other dietary restrictions, there is a huge spectrum of what we feel comfortable eating or giving a loved one. Some have to check manufacturing processes and some are OK with "may contain" or "certified" statements. This list is not something you have to follow, but simply a guide to help get the creative juices flowing, and to help you, not to shame you. So, please refrain from negative comments.
I made sure to throw in some homemade gluten free dairy free snacks recipes as well, so you can have greater control over the ingredients. Sometimes it's just nice to make your own snacks.
If there's a recipe that calls for a gluten-free flour blend, you can use my homemade recipe, and if not, each individual recipe page should help guide you to a store bought option as well. Be sure to read the text above the recipe card. In my recipes, I never call for almond flour or coconut flour, making all of my recipes nut free as well!
If you're going to be feeding any of this to an allergy kid, be sure to ALWAYS get the parents' consent first. Just because a package may say it's an "allergy free snack recipe" doesn't mean it's automatically OK. That's great you've done your research, but you don't always know what they're comfortable with. They'll be so appreciative you are communicative.
I've tried to add links to any snack that I can, so you can personally check them out (and most importantly see the ingredient list) before shopping for them. Some I couldn't find, but hopefully this will still be helpful. I like to know what the product looks like because it helps me find it on the shelves at my local grocery stores. (Or, you can buy them on Amazon, with my links too.)
GLUTEN FREE DAIRY FREE PRETZELS
GLUTEN FREE DAIRY FREE POPCORN
GLUTEN FREE DAIRY FREE MEAT SNACKS
DAIRY FREE GLUTEN-FREE MUFFINS (HOMEMADE)
GLUTEN FREE DAIRY-FREE MUFFINS (STORE BOUGHT)
GLUTEN FREE DAIRY FREE CEREAL
While some strictly have cereal for breakfast, many enjoy a bowl mid-day or as a late night snack. Most kids will nibble on dry cereal as a snack as well.
GLUTEN FREE DAIRY FREE YOGURT
*Some of these brands have add-in granolas, so be sure to read labels to ensure if they have any add ins, that they are gluten free.
GLUTEN FREE DAIRY FREE BARS
GLUTEN FREE DAIRY FREE GRANOLA
Granola by itself or with a safe yogurt (see section further in post) is always a favorite snack.
GLUTEN FREE DAIRY FREE BREAD
GLUTEN FREE DAIRY FREE CHIPS
Tortilla chips & guacamole (most brands are safe, double check labels)
Tortilla chips & salsa (most brands are safe, double check labels)
The Good Crisp Chips (BBQ, Salt & Vinegar or Original flavored)
Lays Stax (original)
Salsa Verde Doritos
GLUTEN FREE DAIRY FREE FRUIT
Applesauce pouches
Acai bowls
Mixed Fruit cups (plain or in Jello)
Mandarin orange cups
Fruit leather (homemade or store bought)
Whole/non pre-packaged fresh fruit:

Bananas, apples, pears, grapes, berries, oranges, pineapple…the list goes on! Such a natural way to get an allergy-free snack.

Dehydrated fruits:

Apple chips, plantain or banana chips, apricots, raisins, craisins…etc. (You can make these or buy store bought)
GLUTEN FREE DAIRY FREE VEGETABLES
Vegetables are always a nutritious gluten free dairy free snack, whether you buy the prepared, or whole vegetables and chop them yourself.
Baby carrots, sugar snap peas, celery, bell peppers, cucumbers, broccoli, cauliflower…etc!
GLUTEN FREE DAIRY FREE VEGETABLE DIPS
While vegetables are great on their own, it never hurts to have a yummy spread to dip them in to make them extra filling.
GLUTEN FREE DAIRY FREE CRACKERS
GLUTEN FREE DAIRY FREE SEEDS & TRAIL MIX
Allergy friendly trail mix (homemade!)
Tropical Trail Mix (homemade!)
Skinny Dipped Almonds Super Dark Plus Sea Salt
Individual/on-the-go packets of peanut butter, cashew butter, almond butter or sunflower butter

Peanut butter (or safe nut/seed spread) + fruit
Peanut butter (or safe nut/seed spread) + rice cake
Peanut butter (or safe nut/seed spread) + safe bread
GLUTEN FREE DAIRY FREE MISCELANEOUS SNACKS
IF I FORGOT ANY OF YOUR FAVORITE GLUTEN-FREE DAIRY-FREE SNACKS, PLEASE COMMENT BELOW TO HELP OTHER READERS!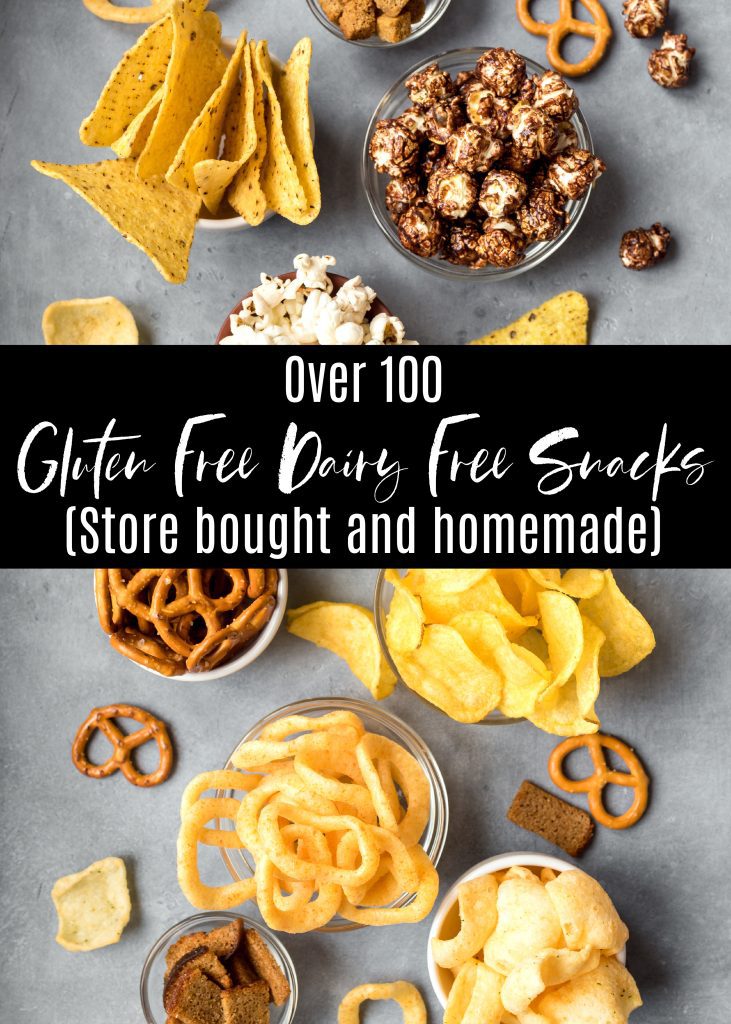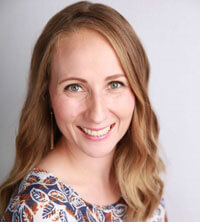 Hi! I'm Megan, a mom to four kids, two with multiple food allergies & one with EOE. I'm a published cookbook author that constantly tweaks recipes to make them allergy friendly–it's an addiction. I share every recipe & tip with you, to help you eat like you did before food allergies & dietary restrictions. You can still be awesome, even with food allergies!