This creamy, dreamy dairy-free beef stroganoff recipe gives you all the comfort food you've been missing all without any milk or milk products. This delicious skillet dinner can be done in 30 minutes, and is tasty enough for a Sunday dinner, yet easy enough for a weeknight meal too. No matter the day, you'll love having beef stroganoff back in your dinner rotation! The creamy sauce is crazy flavorful thanks to garlic, onion, beef broth, Dijon and some spices! The other good thing–no globby can of cream of mushroom soup. This is a totally from scratch recipe.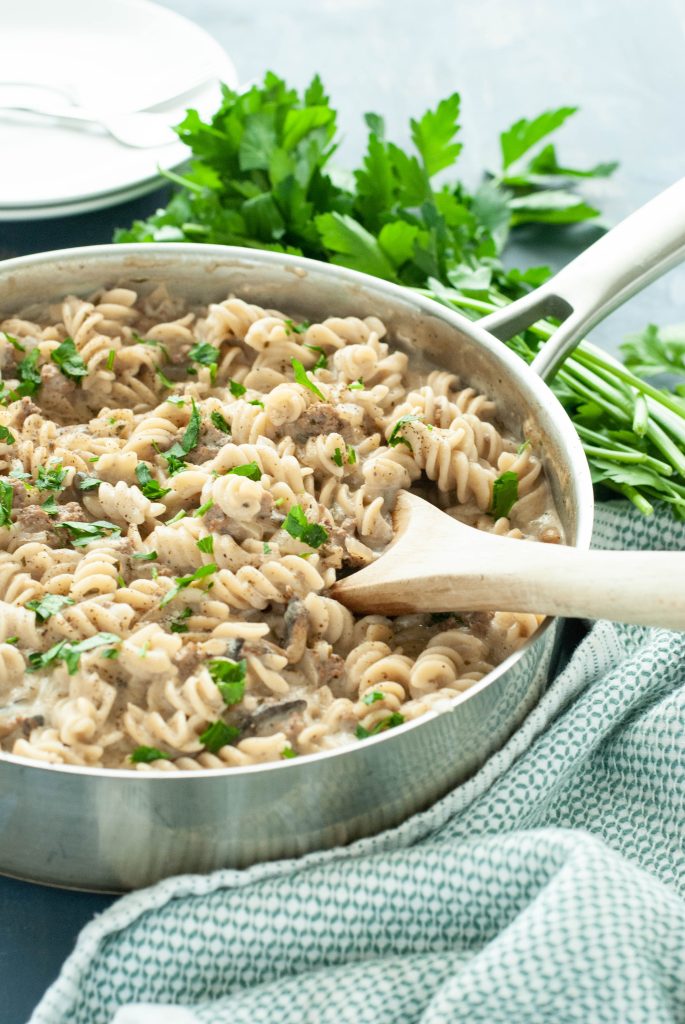 This post contains affiliate links.
WHY WE NEED DAIRY-FREE BEEF STROGANOFF
My son has a sever milk allergy. He's had this food allergy since he was a baby and we cannot have any milk products. I used this think this meant we could never have thick, delicious cream sauces, like found in beef stroganoff, but thanks to some smart substitutions we've been enjoying this for months and think we'll have this on the repeat regularly. My son also used to have a beef allergy, and this was the one dish I looked missed having the most. He's now outgrown his beef allergy, and this classic dish has been a long time coming. It's even better than I remember thanks to me revamping the recipe and ensure that sauce is crazy flavorful. This hearty meal was even what I requested my husband to make me on my birthday–it's THAT good.
TOOLS NEEDED TO MAKE STROGANOFF DAIRY FREE
Large pot for boiling noodles
Large skillet for browning meat and making sauce
Medium mixing bowl
Cutting board for veggies
Sharp chefs knife for chopping veggies
Large colander for draining noodles once boiled
Measuring cups and measuring spoons
Wooden spoon, or other heat safe spoon for stirring

HOW DO I MAKE THIS A DAIRY-FREE GLUTEN-FREE BEEF STROGANOFF?
My son also has a wheat allergy, so we have to make this stroganoff gluten-free. It's as simple as swapping out the pasta. I like Jovial Brown Rice Fusilli or Barilla rotini because I feel like the curves of the noodle give the sauce something to cling to. The classic noodle are the egg noodles, which are great if you can have gluten and eggs. You could also serve it over rice, or even cauliflower rice if you want less carbs. Zucchini noodles would also make it a lighter, low carb fare, but if I'm going for comfort food–I want it all the way. Feel free to use whatever will work for your whole family. For the thickener, I just use any all purpose gluten-free flour I have on hand, which is usually the Great Value brand. And those should be the only gluten-containing ingredients, though always check every single item you use, as you never know where some companies might sneak it in. (I have seen it in Worcestershire sauce.)
WHAT MEAT DO I USE FOR STROGANOFF?
If you look at beef stroganoff recipes, you'll see this Russian dish–depending on the author–uses a gamut of beef cuts from sirloin steak, to stew meat, to flank steak, to even rump roast. I really could eat it any way and all are a great option. You could swap in any tender beef or cut you prefer. I go with hamburger, which is a ground beef (I like 80/20 fat ratio), because it's more cost effective, and I don't have to worry about the beef getting too cooked and chewy since it sits in the hot cream sauce. I like the smaller pieces too, for my small kids, than a chewy piece of meat. Really, go with your favorite preference and swap in whatever you like.
And, if you don't want any meat, the sauce is so flavorful, you could totally make this a meatless Monday meal. I'd just load up on the mushrooms, and it will still have a meaty texture, and it will be filling between the flavorful sauce, noodles and vegetables.

HOW DO YOU MAKE BEEF STROGANOFF DAIRY FREE?
The only swap you need to do to make this a dairy-free option is to use a vegan sour cream. I have only ever found two brands: Tofutti Better than Sour Cream (made of soy) and Good Karma. I have a hard time finding Good Karma, so I used Tofutti. I like Good Karma overall, and would assume you could use either interchangeably. If you try it with a different one, please comment below.
The problem with simply swapping the dairy free sour cream in, is that I felt the finished sauce just wasn't creamy enough. So, I added in a little bit of mayo, and boy did that solve the problem. Two kinds of creamy boosters really make the sauce silky and wonderful. We have to use vegan mayo (I know–a little silly in a beef dish) because of my son's egg allergies. But, use whatever brand you need to.
The nice thing about this dairy free dish is that you can leave your cashew cream and your coconut milk and coconut cream for another recipe. I know, it's shocking to not have to use those for once. Save those for another recipe! Did I mention this is nut free too? Amazing!
WHAT INGREDIENTS ARE NEEDED FOR THIS STROGANOFF?
This easy ground beef stroganoff recipe requires these ingredients:
12-ounce short noodles of choice, gluten-free if needed
Ground beef
Yellow onion
All-purpose flour, gluten-free if needed
Water
Dijon mustard
Worcestershire sauce
Beef base (also known as beef bouillon)
Minced garlic
Dried parsley
Black pepper
Salt
Optional: 8 oz sliced mushrooms
Optional: fresh parsley for garnish

WHAT DAIRY-FREE BEEF BOUILLON DO I USE?
Whether it's for chicken or beef, I like to use Orrington Farms' broth bases (also known as bouillon or granules.). In my opinion, they're more flavorful than a stock, but you can use whatever brand you prefer. You could even use vegetable stock if you're in a pinch. But, I truly believe the richness of the sauce comes in large part the beef granules. If you're going to use beef stock, then use three cups and omit the water. Then, you'll just to just taste and decide if you still need additional beef granules or not, depending on how flavorful the broth is.
HOW TO MAKE HAMBURGER STROGANOFF ALLERGY FRIENDLY
Yes, it is! If you make it with gluten-free noodles, and Good Karma sour cream, omit the Worcestershire sauce (it has anchovies/fish) and a vegan mayo, this dish will be free of the top-8-allergens. No: wheat/gluten, dairy, egg, peanut, tree nut, fish or shellfish in this recipe. I love when I can make it so many people can enjoy it no matter their diets.

MORE DAIRY-FREE COMFORT FOOD RECIPES:
Looking for more ways to feel all cozy? I have lots of the classics, but remade to be dairy free. Everything on my site is gluten free and dairy free. if you ever need it to be only dairy-free, you can always swap back in regular flour or regular noodles at a 1:1 swap. Enjoy these other great ways to get in delicious dinners all without any milk!
DO I HAVE A VIDEO SHOWING HOW TO MAKE BEEF STROGANOFF?
Yes I do! I want you to be as successful as can be, so I filmed myself making it and you'll see it's really just a dice, brown, and stir kind of recipe. You can view it below in the recipe card, or it should have auto-popped up to play while you were scrolling. If not, you can always view it on YouTube as well.
Dairy Free Beef Stroganoff Recipe (Gluten Free Option Too)
This creamy, dreamy dairy-free beef stroganoff recipe gives you all the comfort food you've been missing all without any milk or milk products. This delicious skillet dinner can be done in 30 minutes, and is tasty enough for a Sunday dinner, yet easy enough for a weeknight meal too. No matter the day, you'll love having beef stroganoff back in your dinner rotation! The creamy sauce is crazy flavorful thanks to garlic, onion, beef broth, Dijon and some spices!
Ingredients
1 Tablespoon olive oil
1 yellow onion, diced
1 pound ground beef
4 cloves garlic (2 tsp if using jarred, minced garlic)
3 cups water
3 Tablespoons Dijon mustard
1 and 1/2 tsp dried parsley
3/4 tsp pepper
Salt to taste
Optional: 8 oz sliced mushrooms
Optional: chopped fresh parsley for garnish
Instructions
Bring a large pot of salted water to boil.
Boil the noodles according to package directions until al dente. Drain and set aside.
Meanwhile, In a medium bowl, add your water, Worcestershire, beef granules, Dijon, and whisk. Set aside.
Heat a large sauté pan to medium and add your olive oil.
Dice the onion and add it to the pan. Stir occasionally until onions are soft.
Add the hamburger and crumble.
Add mushrooms if using and cook until hamburger is browned and mushrooms are soft.
Add the garlic, pepper and parsley. Stir.
Add the flour, and stir.
Pour the bowl of liquids (water, Worcestershire, beef granules and Dijon) into the skillet and stir. Allow to bubble and stir occasionally until it starts to thicken.
When it's thickened to your liking, add in the dairy-free sour cream, and mayo. Stir to combine. Taste and adjust salt if needed.
Take off the heat and stir in your noodles, until coated.
Garnish with fresh parsley if desired.
Serve warm.
Keep leftovers in a air-tight container in the fridge for 2-3 days.
Notes
*Our allergies, while severe and that get re-tested frequently, are such that we can go strictly by what's on the label. I do not call companies to see what things are derived from, or call manufacturers to see about potential cross contact. If your allergies require you to do so, please do your own homework. I cannot assure you of any ingredient's safety, only you can do that. I simply share what works for our family
**If you are going to feed this to someone with food allergies, and you yourself do not have food allergies, I HIGHLY recommend having them check every single brand and ingredient you are using, to ensure they're OK with each part of the recipe. And, to make sure you've talked to them about how to avoid cross contamination in your kitchen.
Adapted and inspired by the amazing Simply Whisked Ground Beef Stroganoff
Nutrition Information:
Yield:

5
Serving Size:

1
Amount Per Serving:
Calories:

534
Total Fat:

37g
Saturated Fat:

14g
Trans Fat:

1g
Unsaturated Fat:

19g
Cholesterol:

89mg
Sodium:

1003mg
Carbohydrates:

20g
Fiber:

2g
Sugar:

5g
Protein:

30g
DON'T FORGET TO PIN IT, SO YOU DON'T LOSE IT. WHILE YOU'RE THERE, CHECK OUT MY OTHER DAIRY FREE PINTEREST BOARDS!