Your favorite banana bread, packed into a portable muffin, with added soft texture and sweet flavor all without gluten, dairy or eggs! These gluten free vegan banana muffins will because your breakfast go-to!
This shop has been compensated by Collective Bias, Inc. and its advertiser. All opinions are mine alone. #SilkSipToSpoon #CollectiveBias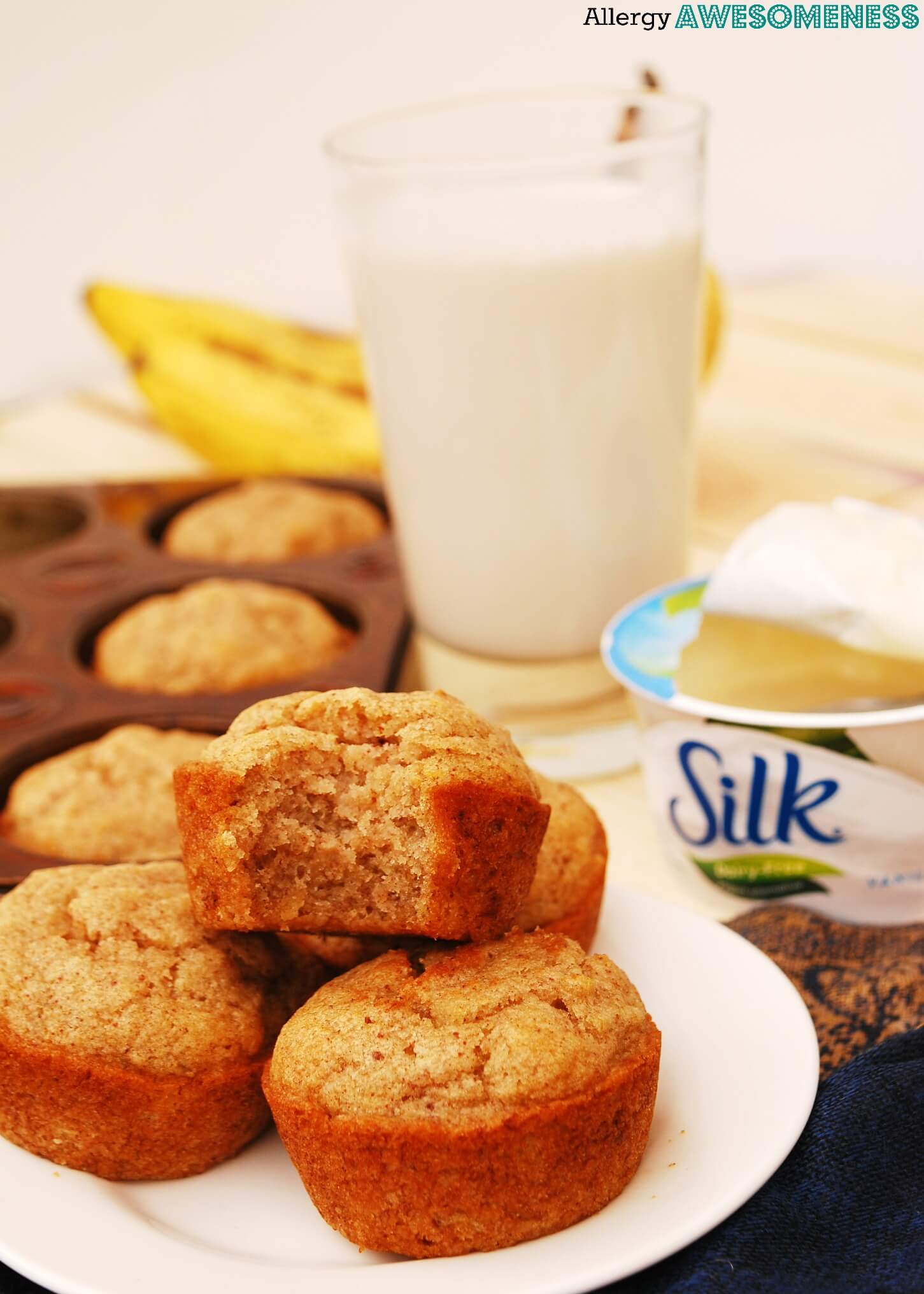 It's the end of January. Are you hanging in there with your New Year's resolutions? One thing I really struggle with is eating a complete breakfast. I never miss breakfast, but it's often something sad and quick.
As I've mentioned before, I am NOT a morning person. I get my energy burst around 8:30 p.m. (is that a coincidence that my children have just fallen asleep by that point?) and I'm often up until midnight. So, when the kids are calling (aka, screaming) and the sun is up the last thing I want to do is think about breakfast.
Yet, people much smarter than I have said over and over how important breakfast is. I find when I make a good decision with breakfast, it's easier to make good decisions the rest of the day.
One way I've worked around my morning laziness, er, uh, aversion, is by making something ahead of time. Muffins are my go-to for a make ahead breakfast. I can make these the afternoon (OK, or late night) before and know I have something delicious waiting for me the next morning.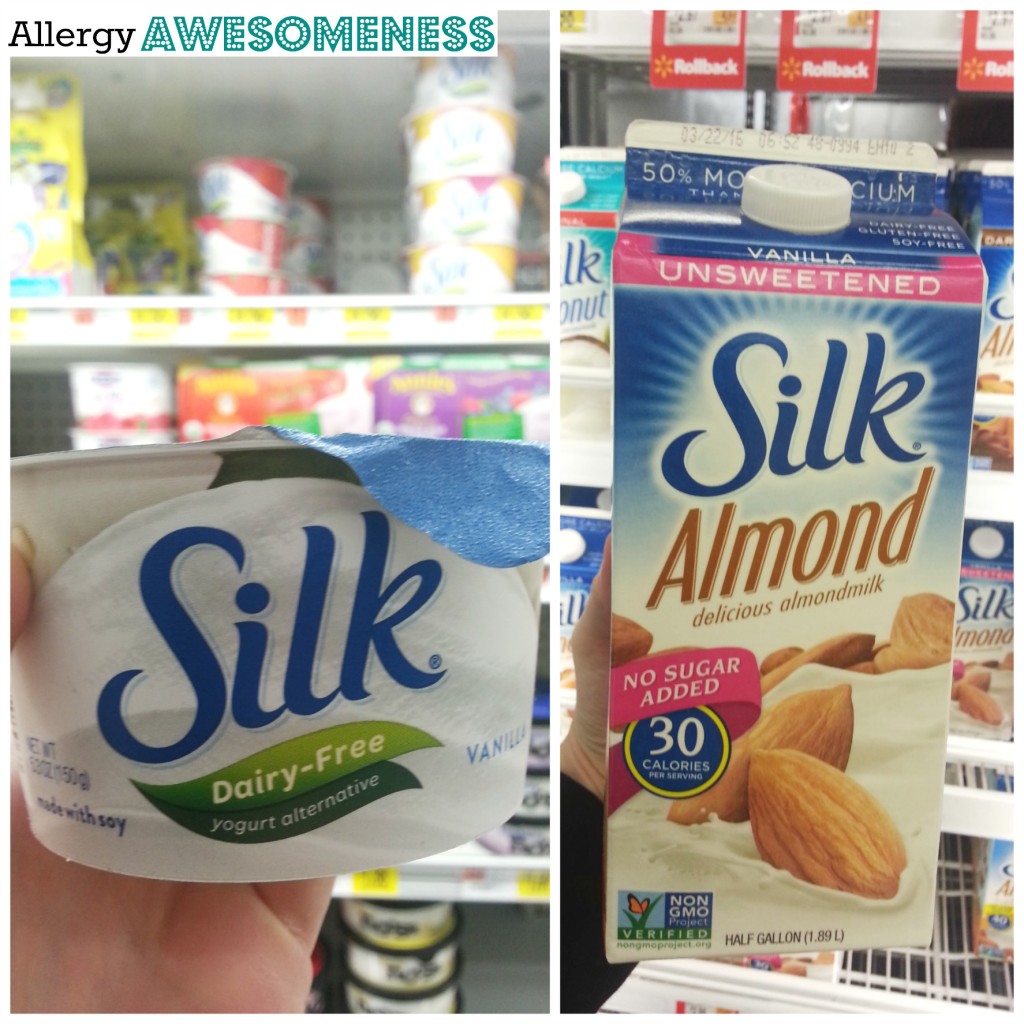 It's nice to go to the fridge and pantry and work with ingredients that I've already got, especially from a close and convenient store like Walmart. Just a note though, I'm not sure if it's my Walmart or not, but they often switch what shelf the yogurt is on. Sometimes it's on the very top shelf, and sometimes it's in the middle. They've been great at having more dairy-free options, and I love that I don't have to go to a specialty store to find these. They're always next to the typical yogurts, you just have to look around.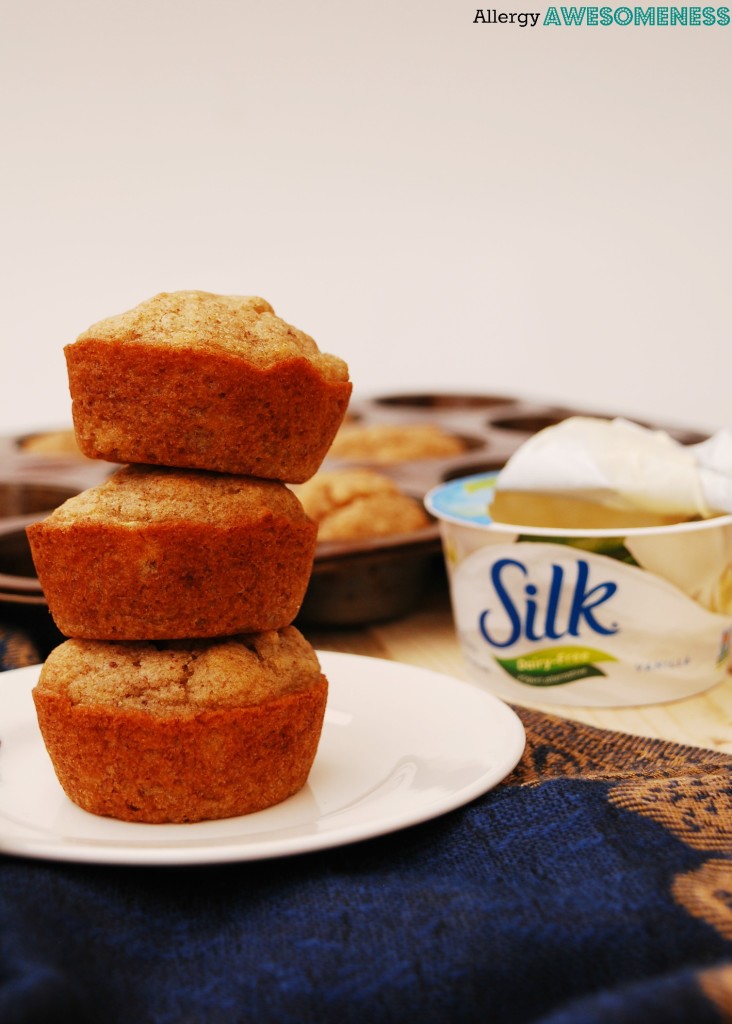 I dreamt up these muffins because I love banana bread, but wanted something more portable. I also wanted to include something sweet, creamy and light into the batter, so that's where Silk's vanilla yogurt came in. It was easy to think of since my son, who has dairy allergies, has eaten many cartons of them. I think the extra vanilla flavor really adds to the sweetness and they were so incredibly moist. And, I mean MOIST.
And, I'm so sneaky you guys! I've been known to continuously eat muffin after muffin, so I planned ahead. This batter only makes up 8 muffins. So, I outsmarted myself. Once me, my husband and children have each had one, there's only four leftover so I cannot gorge myself on these banana wonders. And, if there's any left these make for a great snack or school lunch accessory.
Whether you're a morning person or not, these good-for-you muffins not only have fruit and yogurt in them, but they're also free of lactose, gluten free and are vegan. So, basically anyone and everyone can and should be eating them!

What can I use in these gluten free vegan banana muffins if I don't have yogurt on hand?
I do love using vanilla yogurt in the muffins for extra moisture and the hint of yummy vanilla notes. However, there have definitely been times that I didn't have any non-dairy yogurt on hand. Thankfully, I've found using unsweetened applesauce works just as well! So, use whatever works for your diet. I've also tried coconut yogurt as well as soy yogurt and both have had the same results. I imagine other yogurts would also be favorable. If you try another kind of yogurt, please leave a comment with how it worked!
Can I use regular flour if I don't need these banana muffins to be gluten free?
Yes! If you don't need them to be gluten free, simply swap in your regular flour at the same amount, and then omit the xanthan gum (that's only needed for gluten free baking).
Can I use a different egg replacer for these vegan banana muffins?
We're so lucky to have various forms of egg replacers now a days. I find different egg replacers work well for certain recipes. I would stick to the Ener-G egg replacer that I use in this recipe for best results. What's nice is that one box will last you quite awhile. I link to it in the recipe, if you'd like to purchase it off Amazon.
What are some other delicious gluten free vegan muffins?
We're huge muffin lovers at my house. I make some almost every weekend, which means you need a good amount of recipes to rotate so you don't get sick of one. Here are our favorite gluten free vegan muffins:
If you'd like to try some recipes from friends of mine, you can try: Almond Flour Banana Muffins by Texanerin. Or, Gluten free Banana Bread with Streusel by Eat At Our Table. Or, if you can have allergens, but just need something healthier you can try Blueberry Banana Bread with Chia Seeds.
Do you have a video showing how to make these vegan gluten free banana muffins?
Yes, I do! I like to use TikTok because their videos are short and succinct. This general overview should give you a good idea of how to make these banana muffins. I also have the video saved to my Instagram Highlight Bubbles. Enjoy!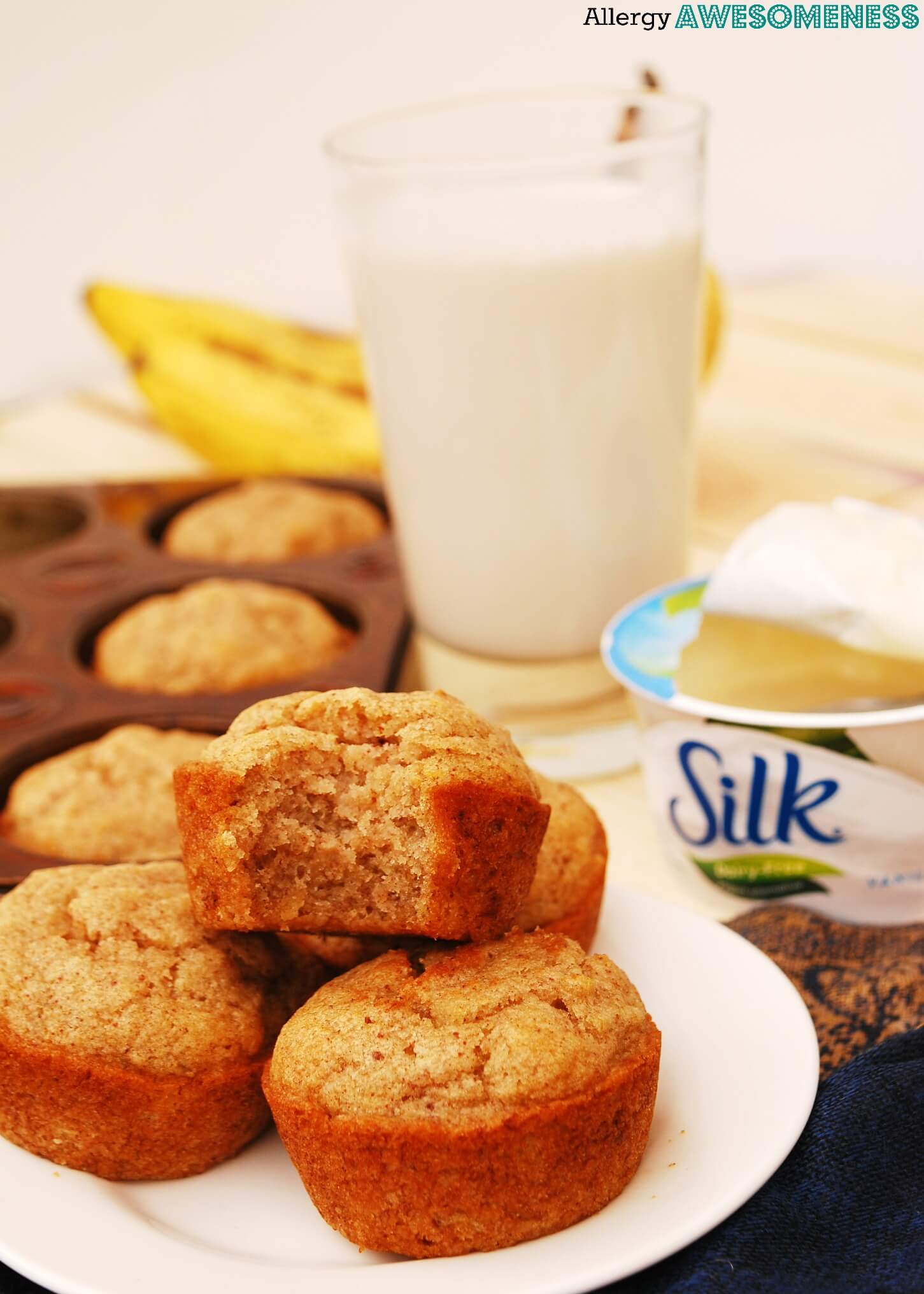 Gluten Free Vegan Banana Muffins
Your favorite banana bread, packed into a portable muffin, with added soft texture and sweet flavor all without gluten, dairy or eggs!
Ingredients
1 large banana
1/3 cup Silk vanilla yogurt (if you don't have this, unsweetened applesauce will do in a pinch)
1/4 cup melted coconut oil
1 tsp vanilla
1 Tablespoon Silk's Coconut milk (or any safe milk that works for your diet)
1/4 cup sugar
1/4 cup brown sugar
3/4 tsp cinnamon
1/2 tsp baking powder
1/2 tsp baking soda
pinch of salt
Instructions
Preheat oven to 350 degrees fahrenheit. Grease muffin tins.
In a stand mixer, beat the banana until it is a uniform liquid with no large lumps.
Add the yogurt, melted coconut oil, vanilla and milk and mix.
Add the sugars and blend well.
With the stand mixer on slow, add the egg replacer, cinnamon, baking powder, baking soda, xanthan gum, and salt one at a time.
Mix for one minute to incorporate.
Finish by adding the flour. Only stir it long enough to incorporate it. You do not want to over mix it.
Fill muffin tins 3/4 the way full.
Bake for 20-22 minutes, until the edges are brown and the tops of the muffins spring back when lightly touched.
Allow to cool in the pan. Keep covered.
Notes
This makes a nice, small half dozen. Feel free to double it if feeding a bigger crowd.
Nutrition Information:
Yield:

3
Serving Size:

1
Amount Per Serving:
Calories:

517
Total Fat:

20g
Saturated Fat:

16g
Trans Fat:

0g
Unsaturated Fat:

2g
Cholesterol:

6mg
Sodium:

360mg
Carbohydrates:

79g
Fiber:

3g
Sugar:

41g
Protein:

6g
Be sure to try this recipe, and comment below to let me know how you start your day off on the right foot!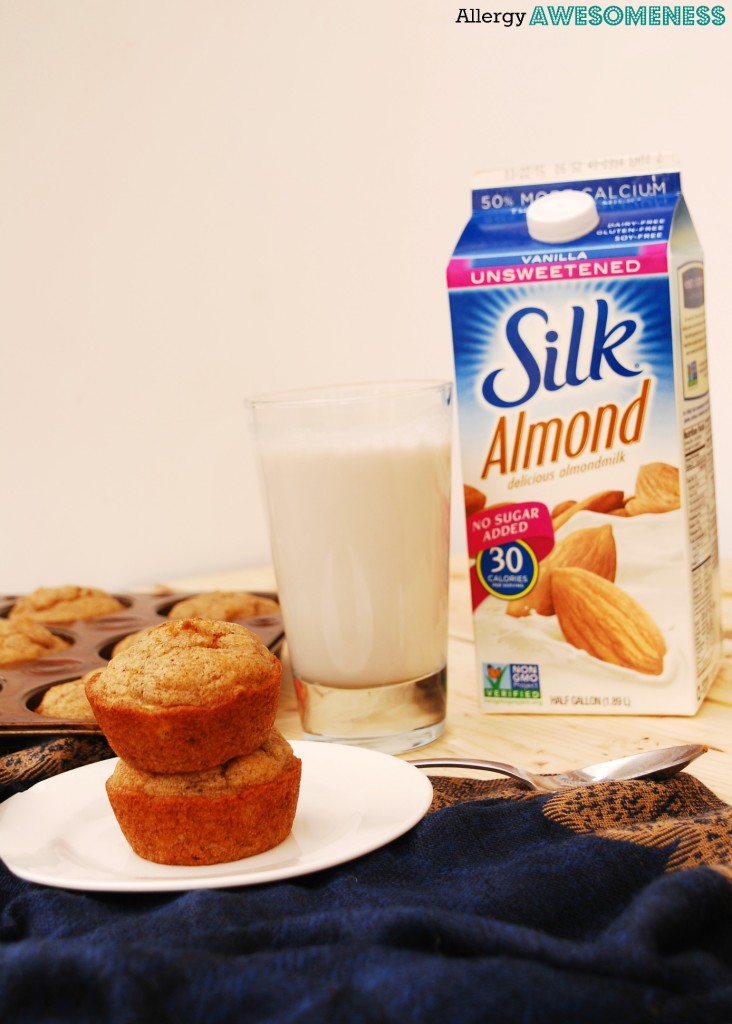 Adapted from: Averie Cooks