Need an easy, gluten-free, allergy-friendly, vegan, no-bake, finger food your kids can eat? That COULD be a tall order, but thanks to BFree, it's super easy. Find out what's in their newest creation: Sweet Wraps, and a few fun variations you can use to make a healthy, gluten free kids' snack!
This post is sponsored by BFree. All thoughts are my own. This post also contains affiliate links.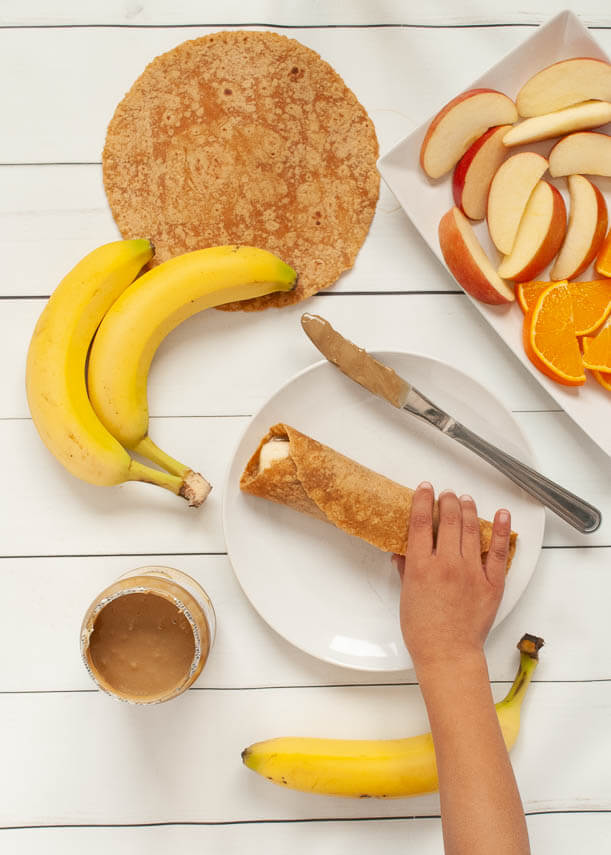 I've been a fan of BFree for several years now, long before they ever knew who I was. I stumbled across them at my local Smith's. You know the drill if you're an allergy mom–you see something that looks like it could be allergy-friendly and you think to yourself: "Do I dare hope it could work for my allergy family? Do I go to the trouble to turn it over and read the label only to have my hopes dashed?" Well, I did try and to my delight it was free of all of our family's allergens (which are a LOT!). It was their white rolls, and it was honestly the first time my son EVER had a roll. We used these not only as rolls, but as buns for sliders, sloppy joes…you name it.
So, when they told me about their new Sweet Wraps, I was all about trying it out and showing my dear readers so they had another store-bought, allergy-friendly option.
Let's get down to business and answer all of the questions you might have on this new product:

What ingredients are in BFree's Sweet Wraps?
Water
organic potato starch
organic banana flour (14%)
organic tapioca starch
organic rice flour
sweet potato flour (4%)
thickening agents (xanthan gum, organic guar gum)
organic sunflower oil
organic apple juice concentrate (3%)
inulin
organic lemon juice concentrate
organic sourdough (quinoa)
potato protein
salt
raising agents (mono calcium phosphate, sodium bicarbonate, calcium sulphate)
apple fiber
organic psyllium
organic yeast
sourdough (fermented rice & corn flour)
**Which makes them…drumroll please…free of the top eight allergens, vegan, no added sugar, and non-GMO.**
Are BFree's Wraps actually soft and bendable?
I was very impressed with how bendable and soft the BFree Sweet Wraps were. I had them in my refrigerator and I was still able to roll them for the pictures, and then spend quite a bit of time taking the photos without them ever cracking or breaking…and I'm talking even having my son handle them–which says a lot!

When would be a good time to serve this gluten-free kid snack?
Since my recipe has whole grains, protein and fruit, it really can be enjoyed anytime. I wouldn't feel bad about my kids eating it for their school lunches, as an after-school snack, or even for breakfast!
How else can I dress up this gluten-free Sweet Wrap for more variations?
Besides the nut or seed butter spread and a banana topping, you really can fill it with whatever fruit or veggie your child likes (or even try hiding a new one in it for them to try! Trust me, I'm a mom of four. #momhack)
Yogurt is a good base that can also help fruits stick–you can do a soy or coconut yogurt if you can't do regular milk.
Jams are also delicious, as a base of their own, or along with the nut or seed butter your diet can handle.
Hummus is a great savory base that would be delicious with roasted vegetables. I have a sesame free, from scratch recipe in my top 8 free cookbook
Frozen fruit would work that way you can enjoy things that aren't in season. Just be sure for little eaters they're thawed and soft
You could also use a safe mayo, and use deli meat. It'd also be delicious with a meat and cheese, if you can do cheese.
Go crazy! I'd love to see your family's favorite way to eat it. Be sure to tag me and @BFreeFoods so we can see it!

What other allergy-friendly products does BFree have?
They certainly didn't ask me to do this, but since it's a brand I've grown to trust, I thought I'd share what other products they have so you can be aware. You can also find a link to their product line here.
Sliced White Loaf
Sweet Potato Wrap
Multigrain Wrap
Quinoa and Chia Seed Wrap
Soft White Sandwich Loaf
Brown Seeded Sandwich Loaf
Stone Baked Pizza Crust
Multiseed Bagels
Plain Bagels
Soft White Rolls
Brown Seeded Rolls
Stone Baked Pita Breads
Bake at Home Demi Baguette
Sesame and Chia Crispbread
All of their wraps (including the Sweet Wraps) at now available at Walmart stores nationwide! Their products are also available in grocery stores across the country — to find a store near you that carries BFree, check out their store locator. You can also buy select BFree products on Amazon.
Who are gluten-free wraps good for?
Gluten-free wraps are great for those with celiac disease, wheat allergies, a gluten intolerance and even those who just want a variety of grains in their diet other than wheat. If you follow me on my Allergy Awesomeness Instagram, you saw my daughter chowing down on this (in her diaper, no less. Pray she'll potty train soon!). Unlike her two older brothers, she has no food allergies, but I often like to feed her the same things so that I don't have to worry about cross contamination or worry about someone feeling left out, and as you could see she was enjoying it!

How do I store BFree gluten-free wraps?
Because BFree products do not contain preservatives, they should be stored refrigerated or frozen, depending on when you plan to enjoy them. Refrigerated, they should be eaten within 2 weeks.
What are some other gluten-free kid snacks?
As I mentioned, I have four kids so snacks are something we have to keep flowing and plentiful. Here are some of our go-to gluten-free kid snack recipes:
If you'd like to see more of my ideas, use the allergy friendly recipe index on my site, or peruse my allergy friendly Pinterest boards.
DON'T FORGET TO PIN IT SO YOU DON'T LOSE IT!
Easy, 3 Ingredient Gluten Free Kid Snack
Does an easy, allergy-friendly, vegan, no-bake, finger food actually exist? It does! Find out how to make this gluten free kid snack!
Ingredients
Nut or Seed Butter Spread (use whatever is safe for your diet)
Banana
Instructions
Take a single wrap out of the package.
Spread your nut or seed butter on top, almost to the edges to the thickness you desire
Place a freshly peeled banana in the center
Roll the wrap together.
Eat as a wrap, or slice into little pinwheels for smaller hands
Eat immediately
Nutrition Information:
Yield:

1
Serving Size:

1
Amount Per Serving:
Calories:

614
Total Fat:

32g
Saturated Fat:

6g
Trans Fat:

2g
Unsaturated Fat:

24g
Cholesterol:

2mg
Sodium:

524mg
Carbohydrates:

73g
Fiber:

7g
Sugar:

16g
Protein:

13g