EUREKA! A soft loaf of bread that is not only gluten free but ALSO vegan. Typically, gluten-free bread recipes need eggs and dairy, but not this one. This bead is tender, tastes delicious and isn't hard for those who aren't used to making homemade bread (IE: no kneading!). Make yourself a delicious sandwich or piece of toast with this best gluten free vegan bread. I answer all of your questions below to make sure it turns out beautifully below. This allergy-friendly bread recipe is also top-8-free!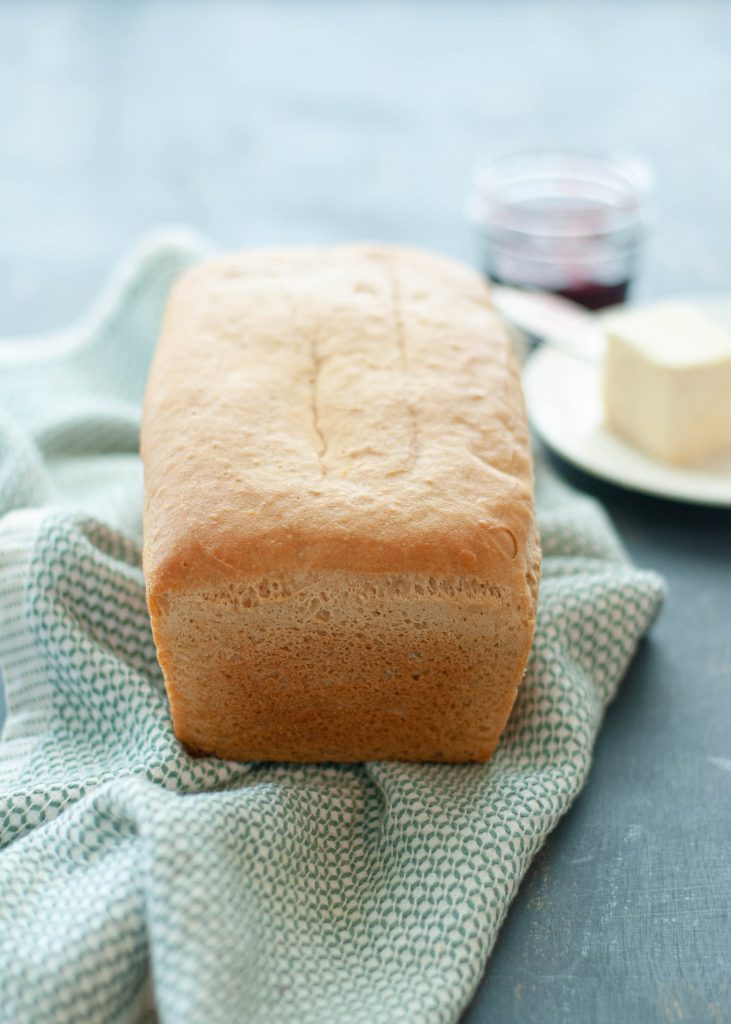 This post contains affiliate links.
IT TOOK ME A DECADE TO FIND A GOOD HOMEMADE BREAD RECIPE
For years, readers used to ask me if I had a homemade bread recipe and I'd respond that it was easier to just buy one, than use up a ton of expense ingredients and time. But, after REALLY missing the smell of bread baking, and getting to enjoy hot-out-of-the-oven bread, I knew I had to find a solution. I needed a recipe that could work for sandwich bread, as well as just a delicious slice with your soup. I needed it to be an easy recipe, I needed it to not rely on a bread machine, be expensive or have too many crazy ingredients. It also only takes a first rise–no second rise! I have finally done it, and even though I don't have any food allergies (just my boys) I look forward to this loaf just as much as they do!
A DEAL BREAKER: WHAT GLUTEN FREE FLOUR TO USE?
Anyone who has done any sort of gluten-free baking knows that what type of gluten-free flours you use (and there are TONS!) makes all the difference in the world. The gluten free all purpose baking mix by King Arthur is the one that will yield the best results. I would not recommend any other blend. Usually, with things like cookies and muffins I'll feel like you can get away with most "all purpose" flour blends, but not in the case of bread. I have heard that King Arthur's gluten free all purpose flour (not the baking mix) should turn out fine, in case you're in a pinch. If you try it with another blend, please let me know by leaving a comment at the very bottom.

WHAT GRAINS ARE IN THE KING ARTHUR ALL PURPOSE BAKING FLOUR MIX?
This is not sponsored, but thought I'd list out exactly what's in the gluten-free flour blend, so you can make sure it works for your diet. Their website says it includes:
"Whole Grain Brown Rice Flour, Rice Flour, Potato Starch, Tapioca Starch, Cellulose, Baking Powder (baking soda, calcium acid pyrophosphate, monocalcium phospate), Salt, Xanthan Gum, Vitamin and Mineral Blend [calcium carbonate, niacinamide (vitamin B3), reduced iron, thiamin hydrochloride (vitamin B1), riboflavin (vitamin B2)]."
I would NOT recommend this bread with any other different flours, no matter how tempting, like: oat flour, buckwheat flour, Bob's Red Mill, almond flour and the like.
DOES THIS GLUTEN-FREE BREAD HAVE DAIRY OR EGGS?
This gluten-free bread recipe does not have any dairy or eggs. My son has severe allergies to both. A vegan diet does not allow for use of either of those ingredients either as they are animal products and vegans use no animal products. You'll notice all of my hundreds of recipes are all free of: gluten, dairy and eggs due to allergies, but we do use meat sometimes, as we're not strict vegans. If you need strictly vegan recipes, all of my baking recipes should work for you.
IS THIS VEGAN GLUTEN-FREE BREAD ALLERGY FRIENDLY?
Yes, it is very allergy friendly! This white loaf of bread is free of the top 8 allergens: wheat, gluten, dairy, egg, soy, peanuts, tree nuts, fish and shellfish. For those of you looking for the non-vegan type, you can check out this classic gluten-free bread recipe.

WILL I NEED TO ADD XANTHAN GUM?
No, you will not need to add xanthan gum. The flour that I recommend (above) for this recipe includes it in the pre-made flour mix. You can also try my homemade gluten-free fllour mix.
WHAT YEAST DO I USE FOR THIS VEGAN GLUTEN-FREE LOAF?
You have to use rapid rise. I use the brand Fleischmann's but I've heard good things about Red Star.
IS THIS HOMEMADE LOAF OF BREAD SAFE FOR CELIACS?
Yes! The flour is a certified gluten-free flour blend, and everything else: yeast, psyllium husk powder, baking powder, salt, water, aquafaba, maple syrup and vegetable oil should all be naturally gluten free. I don't recommend anything specific for brands, other than the yeast and flour, as I find the rest are typically all naturally gluten-free products. Always read every label, to make sure whatever brands you've purchased don't have anything hiding in them. Stranger things have happened! If ever in doubt, call the company directly Most labels have the companies phone number printed on the back.
IF I CAN HAVE EGGS, CAN I USE THOSE INSTEAD OF AQUAFABA?
Yes! If you can have eggs, go ahead and use two whole eggs (not egg whites).
CAN I USE ANOTHER EGG REPLACER OTHER THAN AQUAFABA?
No. I would not recommend it. I like that aquafaba has some elasticity to it, which I think helps give the bread movement and flexibility. I would not recommend powdered egg substitutes, or other things like chia seeds. In a pinch, I might try flax seeds, but that's just a guess. I tend to stick with what works, but understand some people have an allergy to legumes. I'm sorry! There's so many recipes that don't work for my family's allergies, and so I just have to experiment and you may have to do the same. It's impossible to try out every iteration for every type of allergy out there.

WHAT SIZE BREAD PAN DO I NEED FOR THIS GLUTEN FREE WHITE BREAD RECIPE?
The original recipe called for a bread pan that's 9×4 or 9×5. I only had a 8.5 Caphalon bread pan, and feel it is actually just right. I have had some readers (who probably live in warmer/more humid places) comment that by using a smaller 8.5 pan, their bread rose over the top. Mine has never done this. But, it is just a good warning to always go by your eyes and nose, and not follow rising and cook times exactly. If the bread has risen to the top of your pan, it's time to stop proofing it.
IS THE PSYLLIUM HUSK POWDER REQUIRED FOR THIS BREAD RECIPE?
It should still turn out if you don't use psyllium husk powder, but the texture and structure will be better if you include this. I find mine in the bulk section of health food stores, and I'm sorry, it doesn't say what brand. Or, you can buy some on Amazon.
HOW SHOULD I STORE THIS GLUTEN-FREE VEGAN WHITE BREAD?
This bread is best eaten fresh (once it's cooled.) Otherwise, you can keep it room temperature, in an air tight container for a day. After that, I would keep it in an air tight container in the fridge. I eat it room temperature, soft and plain for about a day. After that, it gets better if you toast it. I've never personally frozen it, as we eat it all up, but I would imagine you should slice it first before freezing, and then pull out a slice at a time, and toast it to eat it.
CAN I USE SOMETHING OTHER THAN MAPLE SYRUP?
I actually started out by making this recipe with honey. But, since that is not vegan, I knew I needed to try it with maple syrup. Either works. And while I would normally never recommend substituting the cheaper maple syrup that you use on pancakes (you know, the stuff mostly made of corn syrup) and that you use PURE maple syrup (doesn't matter the grade) I have actually been in the middle of this recipe and been out of everything but the cheap pancake topper stuff. So, I used that, and even that worked. Use it at your own caution, but putting it out there in case you're in a panic like I was. Do not substitute it with a dry sugar (like granulated sugar or coconut sugar) as it will throw off the wet to dry ingredient ratio.
I'M TOO TIRED? WHAT STORE BOUGHT BRAND CAN I GET TO HOLD ME OVER?
Maybe you found this recipe and you just don't have the time to bust it out yet. Save it and pin it for later. When I don't feel like making bread and want a store-bought option, my favorite brand that I've found is: Little Northern Bakehouse. I find it at my local Natural Grocer or Amazon. There is also BREAD SRSLY if you like more of a sourdough and that can usually be purchased at your local health food store.

I DON'T OWN A STAND MIXER, CAN I USE SOMETHING ELSE?
A stand mixer is a wise investment, especially if you have food allergies and have to make your own stuff a lot. Ask for it for Christmas, a wedding gift, or save up! In this recipe I prefer to use the paddle attachment, instead of the bread hook since this is more of a batter/runnier than traditional bread dough. I haven't tried making this by hand, but I would think an electric hand mixer would work just fine too.
WHY DO I SUGGEST PROOFING THE BREAD IN WITH THE LIGHT ON IN YOUR OVEN?
I worry about my kitchen being too cold to proof (also known as letting your bread rise). I was looking on America's test kitchen for proofing ideas. In the comments I kept seeing this thing about leaving your oven light bulb on. So, I went straight to the source (since we're using King Arthur flour) and they recommend it as well. They mention leaving the light bulb on for an hour beforehand, but I didn't want this recipe too involved. I found turning the light bulb on when starting the recipe, and then leaving it on the entire time the bread was rising worked just fine for me!
DO I HAVE OTHER GLUTEN-FREE VEGAN BREADS?
Looking for more soft bread, that helps you fill that carb craving? Look no further, these delicious recipes all make excellent gluten free vegan side dishes. And all of these are free recipes too:
WHAT GOES GOOD WITH THIS GLUTEN FREE VEGAN BREAD?
My favorite way to eat this bread is as a toasted slice, with some dairy-free butter and jam on it. Or, eating it with my favorite soup. Here are some delicious gluten, dairy and egg free soups you could dunk in:

DO I HAVE A VIDEO SHOWING HOW TO MAKE THIS HOMEMADE BREAD?
Watch this tutorial video below, or you can also view it on YouTube, and it will give you a good overview of how easy it is to make this homemade gluten free vegan bread: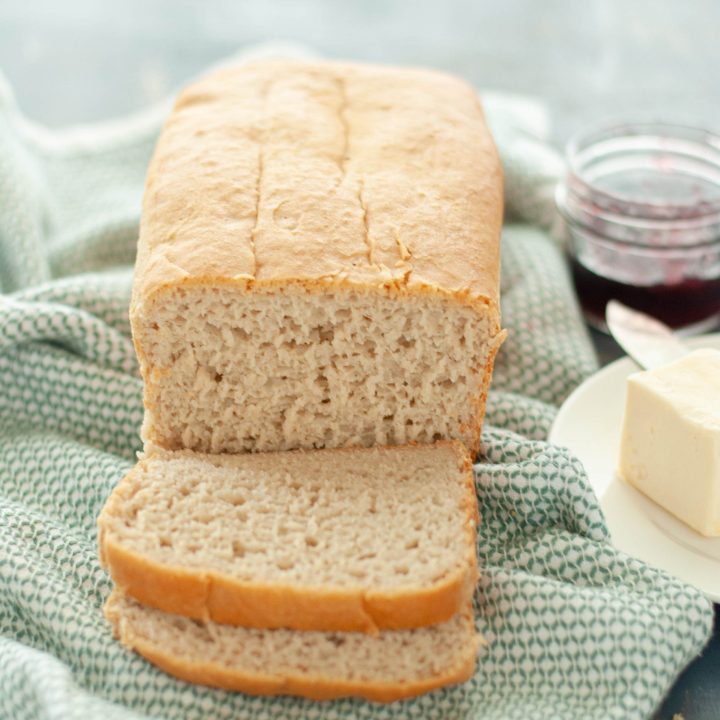 Homemade Gluten Free Vegan Bread
Additional Time:
45 minutes
Total Time:
1 hour
45 minutes
EUREKA! A soft loaf of bread that is not only gluten free but ALSO vegan. Typically, gluten-free bread recipes need eggs and dairy, but not this one. This bead is tender, tastes delicious and isn't hard for those who aren't used to making homemade bread
Ingredients
TOOLS NEEDED:
Plastic wrap
Non-stick spray of choice
Stand mixer or handheld electric beaters
INGREDIENTS:
1 tsp baking powder
1 tsp salt
1 and 1/2 cups warm water (around 110 degrees F)
1/4 cup canola oil
Instructions
Turn the light on in your oven. (This will help the oven become warm enough for rising.)
Place the paddle attachment on your stand mixer, and add to the mixing bowl the dry ingredients: gluten free flour, yeast, psyllium husk powder, baking powder and salt. Combine on low.
Add the liquids: aquafaba, maple syrup, oil and water (being sure your water is the right temperature to activate the yeast). Mix on low until everything is combined.
Bump up the speed to medium and mix for 2.5 minutes. Scrapes the sides of the bowl and mix for another 2.5 minutes on medium.
Grease your bread pan with non-stick spray thoroughly.
Pour the batter into your pan. Smooth the top of the batter if necessary.
Measure your plastic wrap and spray the side that will be facing down with more non-stick spray before placing it on top. This will help it not stick when the batter rises.
Place the covered pan in your oven with the light on for 45 minutes, or until it has doubled/reaches near the top of your pan. Be sure to check it every once in awhile, some gluten-free flours, and climates have the bread rise faster than that and it can rise above the bread pan line in certain areas if allowed to rise too long.
Take it out of your oven and preheat oven to 350 degrees F.
Take plastic wrap off and place bread in the middle of the oven and bake for 40-45 minutes.
If the top starts to brown too much, place a piece of aluminum foil over the top.
If you want to ensure the bread is done in the middle, place your instant read thermometer in the center of the bread. It should read around 205 degrees F.
Remove the bread from the oven.
Allow the bread to cool in the pan for 5 minutes.
Afterwards, turn the bread over onto a cooling rack and cool completely before slicing.
Best enjoyed fresh/day of.
See the post above for storing options.
Notes
Please read above the recipe card for details on ingredients and substitutions.
*Our allergies, while severe and that get re-tested frequently, are such that we can go strictly by what's on the label. I do not call companies to see what things are derived from, or call manufacturers to see about potential cross contact. If your allergies require you to do so, please do your own homework. I cannot assure you of any ingredient's safety, only you can do that. I simply share what works for our family
**If you are going to feed this to someone with food allergies, and you yourself do not have food allergies, I HIGHLY recommend having them check every single brand and ingredient you are using, to ensure they're OK with each part of the recipe. And, to make sure you've talked to them about how to avoid cross contamination in your kitchen.
Adapted from my gluten free dairy free egg free homemade bread, which I adapted from Mama Gourmand's Soft White Gluten Free Bread.
Nutrition Information:
Yield:

12
Serving Size:

1
Amount Per Serving:
Calories:

133
Total Fat:

7g
Saturated Fat:

1g
Trans Fat:

0g
Unsaturated Fat:

6g
Cholesterol:

0mg
Sodium:

413mg
Carbohydrates:

17g
Fiber:

1g
Sugar:

5g
Protein:

2g
DON'T FORGET TO PIN THIS GLUTEN FREE VEGAN BREAD, SO YOU DON'T LOSE IT. WHILE THERE, CHECK OUT MY OTHER
DIET SPECIFIC PINTEREST BOARDS
. AND, PLEASE…LEAVE ME A STAR RATING, THOSE MEAN A LOT!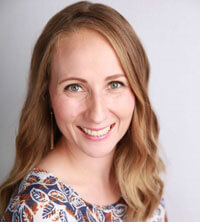 Hi! I'm Megan, a mom to four kids, two with multiple food allergies & one with EOE. I'm a published cookbook author that constantly tweaks recipes to make them allergy friendly–it's an addiction. I share every recipe & tip with you, to help you eat like you did before food allergies & dietary restrictions. You can still be awesome, even with food allergies!