This gluten free dairy free cornbread is so sweet, so moist that you'll swear it's a cake! A sweet and delicious side dish, this goes well with bbq, chili, soups and just about anything you need a sweet bread-y side. With honey and melted butter in the batter, this tastes perfectly buttery and sweet. Free of gluten and dairy, but no grainy texture and only a few simple swaps you'll be able to make this for anyone and they won't be able to tell a difference. This cornbread recipe is also free of: soy, peanuts, tree nuts, fish and shellfish–making it top 6 free!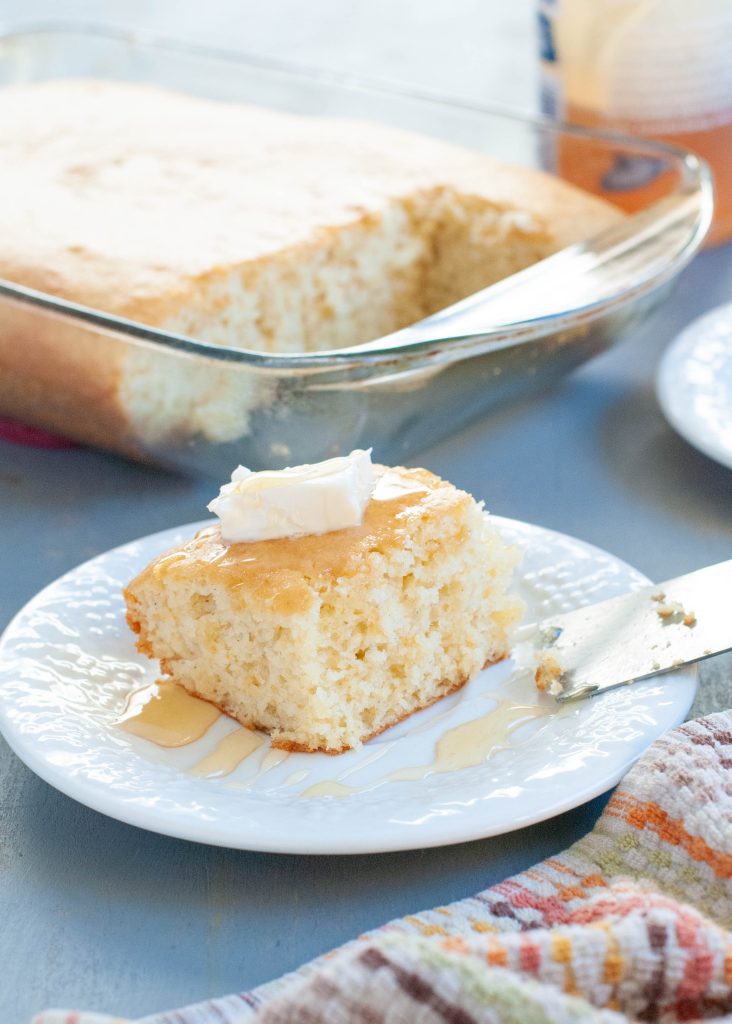 This post contains affiliate links.
WHY WE LOVE THIS GLUTEN FREE DAIRY FREE CORNBREAD RECIPE
Back before we had found safe bread and rolls, cornbread became our staple. It was a great side dish that helped ensure my hungry boys were full at dinner time. Sometimes soup, or chili alone just doesn't cut it and you need that delicious starchy side. We eat this year-round. It's great for summer BBQs, as well as side for soups. With honey and melted butter in the it gives it a exquisite richness and sweetness. As you'll see in the video, it has an excellent texture, is tall, soft, springy and tender. You'll soon be making this often just like we do.
WHAT MILK SUBSTITUTE DO I USE?
To replace the milk in the original recipe, I use rice milk. Rice milk is my favorite dairy-free milk. While it is thin, it doesn't leave an after taste like many of the other milk substitutes. If you cannot do rice milk, you could most likely use other milk substitutes like almond milk, oat milk or coconut milk, though I wouldn't recommend soy milk as it will leave an after taste.
WHAT BUTTER SUBSTITUTE DO I USE?
I have found that both Earth Balance Buttery Sticks (they have a soy-free version, just not one I can link to on Amazon) and Country Crock Olive Oil Plant Butter work. I find earth balance has a bit of a taste tot it, but the country crock isn't as solid at room temperature as Earth Balance. It's also less expensive than Earth Balance. Use whichever you can find and prefer. If you have another vegan butter or dairy free butter substitute you prefer, I would think most would be interchangeable. I wouldn't recommend coconut oil. Sometimes this works, but you want that rich buttery taste in this recipe.
WHAT TOOLS DO YOU NEED TO MAKE THIS SWEET CORNBREAD?
You don't need many tools to create this dairy-free gluten-free cornbread recipe:
Large bowl
Mixing spoon
Measuring cups and spoons
13×9 glass pan
Hot pads
WHAT TO TOP THIS CORNBREAD WITH?
This cornbread is so sweet and tasty that you don't need any toppings. Though, a little extra pat of dairy-free butter and drizzle of honey never hurt anyone. My son also likes to put strawberry jam on his, and maple syrup could also be good. Do what works for you!
WHAT GLUTEN-FREE FLOUR DO I USE?
I have to feed a family of six, so I'm all about using ingredients that are the least expensive. I also live in a small town in Idaho, so I don't have many options (boy I'd love a Trader Joe's or Aldi's!). So, I use the Great Value All Purpose Gluten-free Flour (the Walmart brand.) It has very similar ingredients to the Bob's Red Mill 1:1 Baking Flour blend, so I'd recommend either, in case you'd prefer a name brand. My rule of thumb is always to use a blend that is mostly: rice flour, tapioca and potato starch. Some sorghum is OK too. These tend to make the softest gluten-free goods. I would not recommend using single blend flours like almond flour, coconut flour or anything other than a blend. Unless it's a recipe specifically made around a single use flour, you will need a blend with xanthan gum in it to recreate the magic that is regular flour.

WHAT CORN FLOUR DO I USE?
Here in America, we call what I use corn meal. It could also be called corn flour. Note: that in Australia, and some other places corn flour is the equivalent of corn starch (the white powdery stuff.) You want to use the stuff that is yellow and looks like yellow corn kernels ground up. I use the brand Quaker Yellow Corn Meal, but feel to use whatever brand works for your diet. Also as a side note–corn meal and polenta are almost identical in ingredients, but polenta will more coarse and is not recommended.
WHAT IF I NEED EGG-FREE CORNBREAD?
If you need an egg free version that uses an egg substitute I have two of those recipes. You can use my top-8-free cornbread recipe, or my pumpkin cornbread (does not taste like pumpkin, just felt pumpkin was the best egg replacer because it makes it so moist.)
WHAT INGREDIENTS DO I NEED IN THIS GLUTEN-FREE DAIRY-FREE CORNBREAD?
You will need these simple ingredients for this great recipe:
Dry ingredients:
Wet ingredients:
Salt
Wet ingredients:
Eggs
Vegetable oil (or other nuetral oil)

Dairy-free or vegan butter

(Earth Balance or Country Crock Plant Butter)
Honey

WHAT GOES GOOD WITH CORNBREAD?
I think cornbread can be used just like rolls–as a great, filling, carby side dish to round out just about any meal as the perfect side dish. The nice thing with cornbread over rolls is that there's no rolling or rising. Here are some things we like this homemade cornbread with:
BBQ
Grilled meats (like this

spicy honey grilled chicken

)
Bowl of chili (I have a recipe in my

top-8-free cookbook

!)
Summer picnics and pot lucks
Even as a breakfast! My son loves some strawberry jam instead of toast if there's leftovers
HOW DO I STORE LEFTOVER CORNBREAD?
I have to be honest, we've never had any leftovers to freeze. It seems fine to sit out room temperature (granted we don't live where it's humid) as long as it's covered tightly. This makes a 13×9, but we'll happily munch on it for a few days. If you try to freeze it, I'd recommend wrapping it in plastic wrap, and then sealing it in a freezer-safe container that is also airtight. Though, I will say most gluten-free baking is best eaten fresh; but if you're determined–it can't hurt to try it. Let me know if you do!

CAN THIS BE MADE INTO CORN MUFFINS?
Yes, it can. Simple pour into a greased muffin tin until it's about 3/4 the way full. Bake at the same temperature, but you'll have to watch it for the time. It will be done sooner than making a big 13×9. Follow your nose, and when it smells done, and the center looks cooked, they're ready (most likely between 20-35 minutes depending on ovens.)
DO YOU HAVE A VIDEO SHOWING HOW TO MAKE THIS DF GF CORNBREAD?
Yes, I do! You'll see a nice overview of what it should look like in my video. The video should populate below the recipe card, or in the ads above. If it does not, you can always watch the video on my YouTube channel. You'll also notice in the video a gorgeous, Olive Wood Cutting and Serving Board with a live edge, a gift from my friends at Forest-Decor.com. Check them out!
Gluten Free Dairy Free Cornbread Cake
Tender, fluffy & perfectly sweet thanks to honey in the recipe. This cornbread is so amazing you'll think it's cake. Gluten and dairy free too!
Ingredients
3/4 cups white sugar
1 Tablespoon baking powder
1/2 teaspoon salt
2 eggs
1/3 cup vegetable oil (or other neutral oil of choice)
2 Tablespoons honey
Instructions
Preheat your oven to 350 degrees F. Grease your 13x9 glass baking dish.

In a large mixing bowl, whisk together your dry ingredients: gluten-free flour, cornmreal, sugar, baking powder and salt.

Next, add in your wet ingredients: rice milk, eggs, vegetable oil, melted vegan butter and honey.

Mix until combined.

Pour into your greased pan and bake for about 45 minutes, or until it is golden brown and center is done.

Serve warm or room tempearture, with additional safe butter and honey for topping, if desired. After it's cooled, keep covered with plastic wrap. Good for 2-3 days.
Notes
See the post above for FAQs. And see the video below for a visual example of how to make it.
*Our allergies, while severe and that get re-tested frequently, are such that we can go strictly by what's on the label. I do not call companies to see what things are derived from, or call manufacturers to see about potential cross contact. If your allergies require you to do so, please do your own homework. I cannot assure you of any ingredient's safety, only you can do that. I simply share what works for our family
**If you are going to feed this to someone with food allergies, and you yourself do not have food allergies, I HIGHLY recommend having them check every single brand and ingredient you are using, to ensure they're OK with each part of the recipe. And, to make sure you've talked to them about how to avoid cross contamination in your kitchen.
Adapted from Allrecipes.com's Sweet Cornbread Cake
Nutrition Information:
Yield:

18
Serving Size:

1
Amount Per Serving:
Calories:

127
Total Fat:

7g
Saturated Fat:

1g
Trans Fat:

0g
Unsaturated Fat:

5g
Cholesterol:

21mg
Sodium:

150mg
Carbohydrates:

16g
Fiber:

0g
Sugar:

10g
Protein:

1g
DONT FORGET TO PIN IT, SO YOU DON'T LOSE IT. WHILE YOU'RE THERE, BE SURE TO CHECK OUT MY OTHER DIETARY SPECIFIC PINITEREST BOARDS.