Caramelized onions sit in a thick and creamy sauce made from dairy-free sour cream and a vegan mayo. Unlike a lot of homemade French onion dips, that just rely on the onions for flavor, this also has garlic, celery salt, Worcestershire, and lemon juice for a flavorful dip that will be welcomed at any party, game day or get together. Plus, this vegan French onion dip is free of: wheat, gluten, dairy, egg, peanuts and tree nuts so even more people can enjoy it! (With soy free options.)
This post contains affiliate links. None of them are sponsored.
Why this Vegan French Onion Dip is great!
I used to LOVE to buy the Lay's French Onion Dip. It was such a great snack and appetizer. But now that my son has a gluten, dairy and egg allergy I needed to be able to recreate it myself so we could still enjoy it–after all–the Super Bowl is tomorrow! When looking up which recipes to try to re-create, I was disappointed to see that so many of them where simply caramelized onions and then a cream base (sour cream, mayo or a combo.) While I LOVE caramelized onions, I feel like for a dip to have more depth, it's gotta have some more ingredients to it to bolster that flavor profile.
Then, I stumbled upon Joanna Gaines' new cooking show where she featured her French Onion Dip. I immediately loved that it used garlic, celery salt, Worcestershire, and lemon juice to bring out the flavors.
I've played with her amounts a bit (started by halving it–this made a ton!) and bumped up the garlic a bit, and lessened the celery.
I think you're going to love it. I'd love to know if people can even tell it's dairy free, egg free, gluten free and vegan!
What vegan butter do I use?
To caramelize the onions, I wanted to use butter to enhance the flavor. I stuck to my goldie oldie, Earth Balance Buttery sticks. If you need a soy free option, they have soy free sticks as well. Feel free to use whatever vegan butter you prefer. If you do not have a dairy allergy, you can use regular butter as well at the same amount.
What dairy free sour cream do I use for this vegan French onion dip?
The only dairy-free sour cream I've ever been able to find has been by the brand Tofutti. Tofutti is made of soy. For my soy allergy friends, I believe you could use a dairy-free cream cheese in it's place (you'll probably just need beaters to really incorporate it.) There's coconut based cream cheese like Daiya.
The ingredients on the Tofutti Better Than Sour Cream are:
Water, expeller processed natural oil blend (soybean, palm fruit and olive), maltodextrin, soy protein, tofu, non dairy lactic acid, organic sugar, blend of natural gums (locust bean, guar, cellulose, xanthan and carrageenan), veg, mono and diglycerides, salt.
How is this French Onion Dip gluten free?
Most ingredients in this dip are single ingredients, like onions, garlic, lemon juice…etc. For the products that have multiple ingredients, I read each one and make sure none have any wheat or gluten products in them.
None of the products I use (Tofutti sour cream, Hellman's Vegan Mayo & Heinz Worcestershire) have marketing text that calls out "gluten free" on the label. But, by reading the ingredients, I don't see any gluten products.
If your sensitivities are such that you need to call and find out more detailed information, please do. We are fine to go by label alone.

Where do you find gluten free Worcestershire sauce?
*Please note–if you need this to be vegan (not just dairy free and gluten free) then omit the Worcestershire sauce since it does contain anchovies.*
If you can use Worcestershire sauce. Here are my tips: I have yet to run across a brand of Worcestershire sauce that calls out on the label "gluten free". However, upon reading the label of the Heinz Worcestershire Sauce I don't see any gluten ingredients.
Here is the list of ingredients:
DISTILLED WHITE VINEGAR,WATER ,MOLASSES ,HIGH FRUCTOSE CORN SYRUP,SALT,SOY SAUCE(WATER,SALT,HYDROLYZED SOY PROTEIN,CORN SYRUP,CARAMEL COLORING)NATURAL FLAVORINGS,CARAMEL COLORING,ANCHOVIES,POLYSORBATE 80,SOY FLOUR,GARLIC EXTRACT.
Since most Worcestershire sauces have soy sauce in them–it's very hard to find one that doesn't have wheat in them (most soy sauces have wheat) so I was THRILLED to find one that just used soy and not wheat.
Can I interchange celery salt with celery seed?
I was actually out of celery salt, which is why you may notice little specks in my dip because I used celery seed. I didn't mind it, but some may. Celery salt is more crushed and has actual salt in it, so if you use celery seed, you'll want to make sure to taste it and adjust the salt accordingly.
What onions should I use?
Try to use Vidalia onions (also known as sweet onions). They are the onions traditionally used in this dish. If not, Walla Walla onions are also considered sweet onions. In a pinch, if you can't find either, I'd use a yellow onion. If you need a tutorial on how to make caramelized onions you can find one by my friend Wholesome Yum.
What kind of vegan mayo do you use?
Our favorite kind of vegan mayo has been Hellman's (also known as Best Food's). Here are the list of ingredients in Hellman's Vegan mayo:
Sunflower oil, water, modified food starch (potato, corn), distilled vinegar, less than 2% of: sugar, salt, lemon juice concentrate, sorbic acid (used to protect quality) natural flavor, calcium disodium EDTA (used to protect quality), paprika extract

Is this vegan French onion dip also allergy friendly?
Yes! As the recipe originally stands, going by the label, it is free of 6 of the top-8-allergens. It has no: wheat/gluten, dairy, egg, peanuts, shellfish or tree nuts.
How do I make this dip soy free?
If you need this dip to be soy free, sub out a coconut cream cheese in place of the soy sour cream. And, omit the Worcestershire sauce because it has soy in it. While it adds flavor, it won't make or break the recipe. Be sure your vegan butter is also soy free.
What if I have fish allergies?
Simply omit the Worcestershire sauce, since it has anchovies in it. Be sure to also omit the Worcestershire sauce if you need this to be vegan.
What other allergy friendly appetizers do you have?
It's so nice to have a good appetizer, whether it's for a party or a game. Just because you have to avoid certain foods, doesn't mean you should have to miss out. Check out these other tried and true appetizers.
Do You Have a Video Showing How to Make Gluten Free Vegan Onion Dip?
Yes I do! I made a Tiktok video, which is a short and sweet video giving you a general overview of how to make this recipe. Enjoy!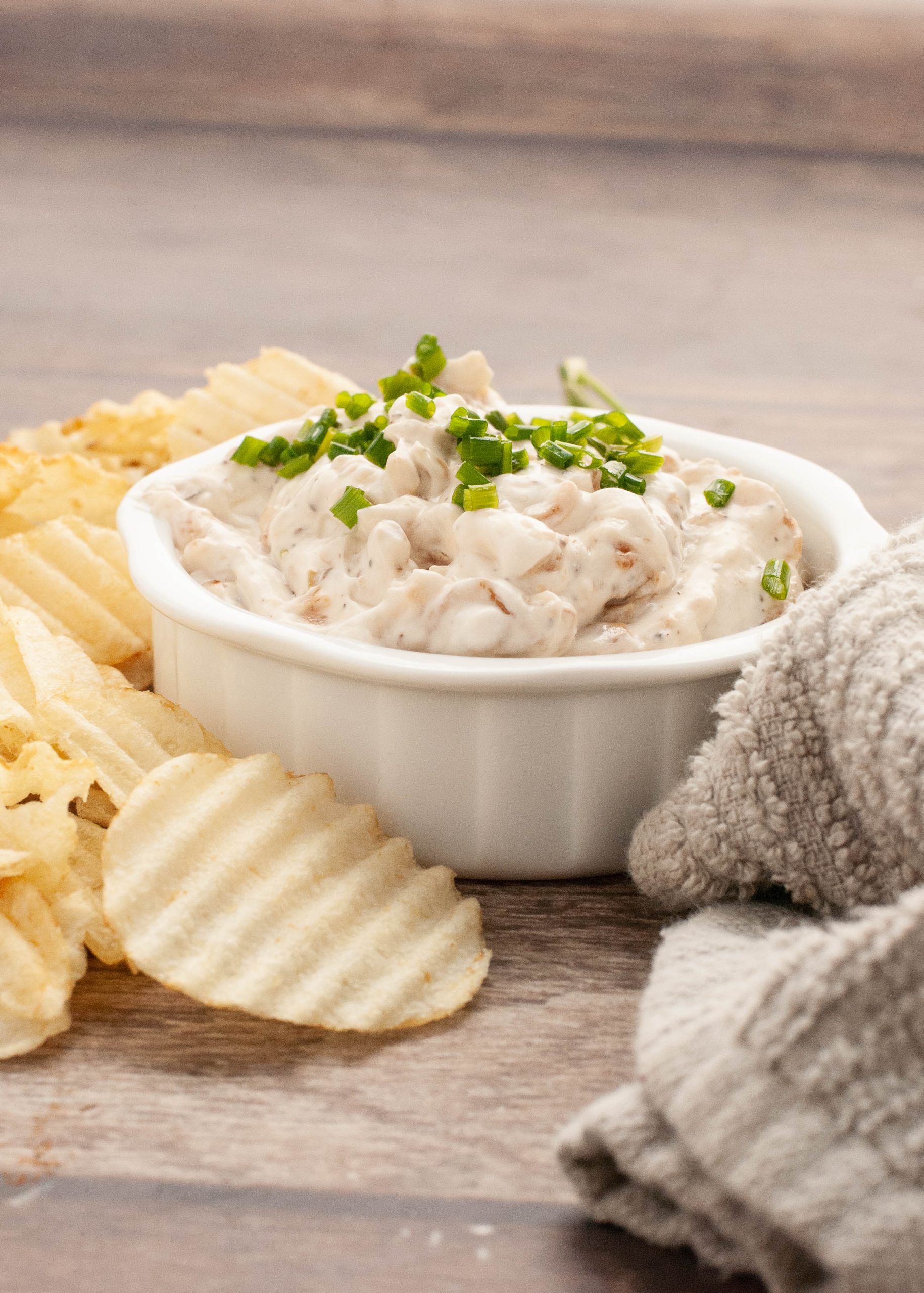 Vegan French Onion Dip
Total Time:
1 hour
30 minutes
Caramelized onions sit in a thick and creamy sauce made from dairy-free sour cream and a vegan mayo. Unlike a lot of homemade French onion dips, that just rely on the onions for flavor, this also has garlic, celery salt, Worcestershire, and lemon juice for a flavorful dip that will be welcomed at any party.
Ingredients
2 Vidalia onions
2 garlic cloves
1 teaspoon celery salt (or celery seeds will do in a pinch)
1 teaspoon lemon juice
1/4 tsp salt and pepper, each (or more to taste)
fresh chives for garnish
Chips of choice, as your vehicle of dipping
OPTIONAL: 1/2 Tablespoon gluten-free Worcestershire* (see notes above)
Instructions
Finely slice the onions.
In a saucepan over medium heat, melt the vegan butter.
Add your onions and stir occasionally until they are caramelized, soft and are a lovely brown. When done, set aside to cool.
While the onions cool, mix together in a large mixing bowl the garlic, sour cream, mayo, celery salt, Worcestershire, lemon juice and salt and pepper. Stir until everything is incorporated.
Once the onions are room temperature (you don't want them melting the dip), chop them up and add them to the dip. Taste and adjust salt and pepper if needed.
Allow the dip to marinade at least one hour, or over night in the fridge, covered.
When ready to serve, garnish with freshly chopped chives and serve with your favorite chips.
When not using, keep covered and in the fridge. Will keep 3-5 days.
Notes
Adapted from Magnolia Table Joanna Gaines
If you're looking for more allergy friendly dinners, check out my cookbook: An Allergy Mom's Lifesaving Instant Pot Cookbook.
*We only need this dip to be dairy free--so we use Worcestershire sauce. If you need this to be strictly vegan, omit this ingredient, because it contains anchovies.
**Our allergies, while severe and that get re-tested frequently, are such that we can go strictly by what's on the label. I do not call companies to see what things are derived from, or call manufacturers to see about potential cross contact. If your allergies require you to do so, please do your own homework. I cannot assure you of any ingredient's safety, only you can do that. I simply share what works for our family.
***If you are going to feed this to someone with food allergies, and you yourself do not have food allergies, I HIGHLY recommend having them check every single brand and ingredient you are using, to ensure they're OK with each part of the recipe. And, to make sure you've talked to them about how to avoid cross contamination in your kitchen.
DON'T FORGET TO PIN IT, SO YOU DON'T LOSE IT. WHILE YOU'RE THERE, BE SURE TO ALSO CHECK OUT ALL OF MY OTHER SPECIALTY DIET BOARDS.