Gluten Free Vegan Oatmeal Muffins make your house smell like a candle, and taste even better. Sweetened with pure maple syrup, brown sugar, vanilla and cinnamon they're perfectly sweet, homey and make for a satisfying handheld breakfast. They're free of: gluten, dairy, egg, soy, peanuts and tree nuts making them allergy friendly and free of the top 8 allergens as well!
This post contains affiliate links.
One of the main reasons why I love these muffins is because they taste so much like a bran muffin. I used to LOVE buying bran muffins soaked in honey from local bakeries. Since those have gluten in them, I've missed them so much. The hearty oats in this muffin recipe, along with the maple syrup and brown sugar help this muffin taste very similar to bran muffins. Smear a little butter and a dollop of honey on top of it, and it really is worthy of a bakery treat.
We had to go almost seven years without oats. My son was allergic to them, and I seriously ached for them. They're one of my favorite grains. I just love their texture as well as their taste. So, a muffin that features them is bound to be good in my book.
Below are some FREQUENTLY ASKED QUESTIONS to help you make these perfectly or to help with substitutions. Feel free to read this section, or skip on down to the recipe. Either way, I hope you'll enjoy these Gluten Free Vegan Oatmeal Muffins at breakfast, brunch, on the go, or as an afternoon snack. Heck, my husband even drizzles a little caramel sauce over them, and eats it with vanilla ice cream. Do as your heart desires–don't let anyone tell you how to eat your oatmeal muffins!
If I don't need these oatmeal muffins to be vegan, can I use eggs?
Yes, if your diet allows for eggs (my son has an egg allergy) then you can use two regular eggs. However, even if you can do eggs, I think muffins are a great way to incorporate flax seeds into your diet because flax seeds are sooo good for you and they're completely hidden/do not alter the taste or texture of the muffin at all.
What if I want these to be vegan oatmeal muffins, but not gluten free?
If you can have gluten in your diet, then you can go ahead and use any brand of old-fashioned rolled oats. You can also use regular flour, at the same amount.
What milk substitute should I use in these dairy free oatmeal muffins?
I prefer rice milk because I feel like it leaves no after taste. However, other milk alternatives should work as well. If you can do dairy, regular milk works just fine too.

Can I use quick oats instead of old-fashioned rolled oats?
No, I wouldn't recommend this. The larger oats help give the muffins their hearty texture.
How do I store these gluten free oatmeal muffins?
After they have fully cooled, keep them room temperature in an air-tight container for 2-3 days.
Can I use only maple syrup in these muffins so that they're refined sugar free?
I wouldn't recommend it because that could make the batter too runny. I understand the desire to want to lessen your refined sugar content, but I really think the combination of the natural maple flavor, along with the sweet brown sugar makes these the PERFECT level of sweetness. They're not super sweet, but just enough. I think they're a perfect balance.
Also, you're free to use light or dark brown sugar.
What gluten free flour blend should I use for oatmeal muffins?
If you need these muffins to be gluten free like we do, I used Walmart's all purpose gluten free flour blend because it's cheaper and easier to find. It uses rice flours, tapioca starch, sorghum, cornstarch, potato starch and also includes xanthan gum. If you're going to use a pre-made blend, I'd recommend finding a blend that has similar ingredients, and not using flours like coconut, almond or cassava.
If you'd like to make your own, you can use my homemade gluten free flour blend and then just be sure to add in 1/2 tsp of xanthan to the muffin mixture.
Do you have any other gluten free vegan muffins that are bomb?
Why yes, yes I do! I'm a bit of a muffin-a-holic. I'm sure you'd love any of these delicious gluten free vegan muffins–and remember, if you don't need them to be gluten free as well, simply swap in regular flour and omit the xanthan.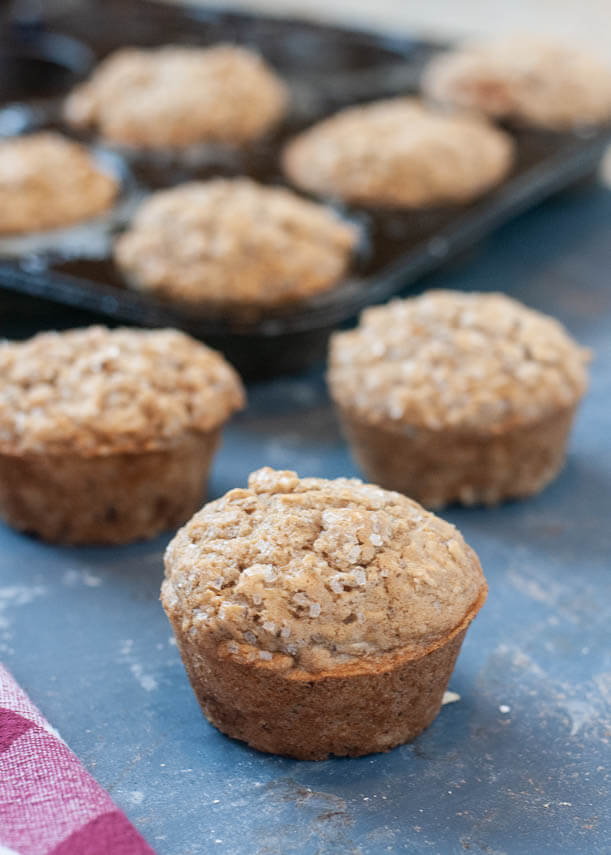 I hope you enjoy these Gluten Free Vegan Oatmeal Muffins and that they'll become a new family favorite!
Vegan Oatmeal Muffins (Gluten Free Options!)
Additional Time:
5 minutes
Oatmeal Muffins make your house smell like a candle, and taste even better. Sweetened with pure maple syrup, brown sugar, vanilla and cinnamon they're perfectly sweet, homey and make the best breakfast.
Ingredients
1/3 cup canola oil
1 Tablespoon vanilla
2/3 cup light brown sugar (packed)
1 and 1/2 cups gluten free flour *see post above
1 teaspoon baking powder
1/2 teaspoon ground cinnamon
1/2 teaspoon baking soda
1/2 teaspoon kosher salt
Instructions
Preheat your oven to 400 degrees F. Grease or line them with paper liners (if using paper liners--I don't care for them--spray them with a non-stick spray as well.)

Make the flax eggs in a small bowl by combining the water & the ground flax seeds and let sit for five minutes.

In a stand mixer, or large mixing bowl, place the oats and then all of the liquid ingredients: rice milk, maple syrup, vegetable oil, vanilla and flax eggs. Stir to combine.

Next, add all of the dry ingredients: gluten free flour (or regular if it doesn't need to be gluten free), brown sugar, baking powder, cinnamon, baking soda and salt. Stir to combine.

Scoop the batter into the greased muffin tin. I do between 1/4-1/3 cup of batter in each well.

Sprinkle the sparkling/raw sugar over the top if using (it adds a wonderful crunch!).

Bake for 20-25 minutes, or until the muffins are done in the middle and edges are a soft golden brown.

Remove the muffin tin, but allow the muffins to stay in the muffin tin for an additional five minutes to finish setting up.

Turn the muffins out onto a cooling rack and allow them to cool completely.

Eat plain, or with a dollop of dairy-free butter and honey.

Store at room temperature, in an air-tight container.
Notes
Nutrition Information:
Yield:

12
Serving Size:

1
Amount Per Serving:
Calories:

232
Total Fat:

9g
Saturated Fat:

1g
Trans Fat:

0g
Unsaturated Fat:

7g
Cholesterol:

31mg
Sodium:

207mg
Carbohydrates:

35g
Fiber:

2g
Sugar:

20g
Protein:

4g
DON'T FORGET TO PIN THIS VEGAN OATMEAL MUFFIN RECIPE, SO YOU DON'T LOSE IT! WHILE YOU'RE THERE, BE SURE TO CHECK OUT ALL OF MY OTHER ALLERGY FRIENDLY PINTEREST BOARDS.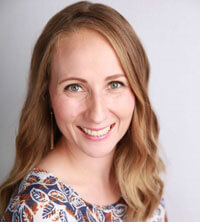 Hi! I'm Megan, a mom to four kids, two with multiple food allergies & one with EOE. I'm a published cookbook author that constantly tweaks recipes to make them allergy friendly–it's an addiction. I share every recipe & tip with you, to help you eat like you did before food allergies & dietary restrictions. You can still be awesome, even with food allergies!