Are you in a slump of what to send with your food allergic child to school? Does the thought of packing a daily lunch scare you? I've listed both homemade and store-bought options to help you put together satisfying and quicker school lunches to help your kiddo be safe and full, all while being friendly on the budget!
This post contains affiliate links.
Let's just get right to it and save you some time, busy momma. If you want the free PRINTABLE of all of my lunch ideas click below.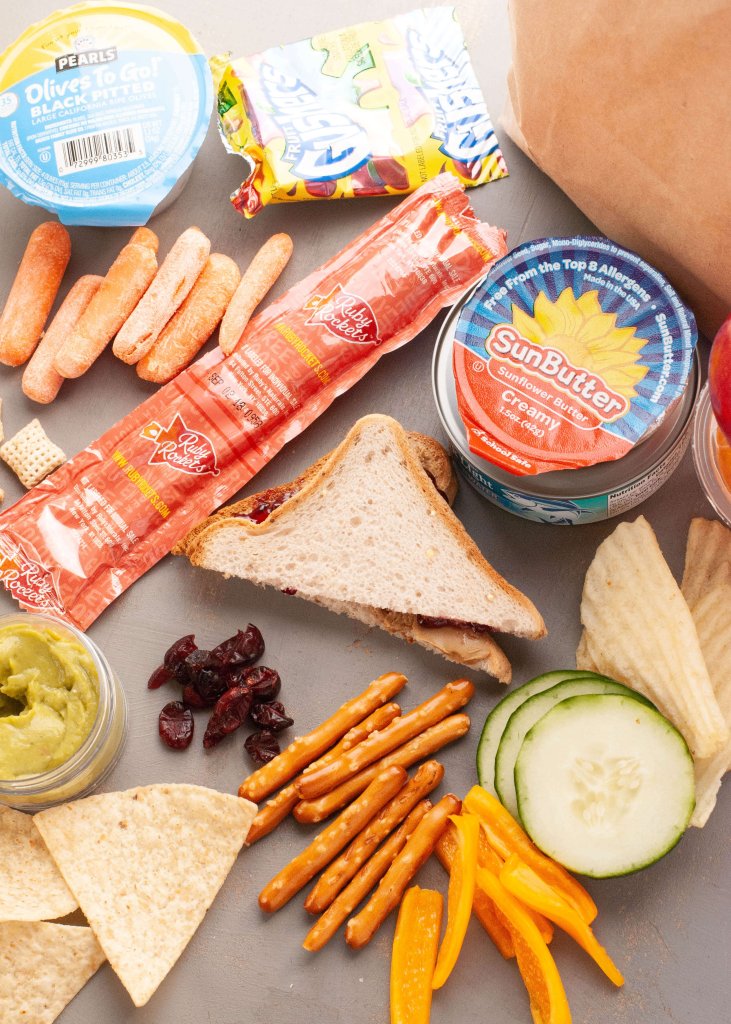 We just had our very first day of school, and boy–let me tell you! It was rough getting up and making sure the lunch was packed and we were out the door. Here are some things I plan on implementing to help our school lunch packing go smoother, aka make this list work for us and have success:
I am going to pre-make a bunch of sandwiches. I plan on splitting up at least one entire loaf of bread into half SunButter & Jelly sandwiches, and the other half tuna sandwiches (all with safe bread and safe mayo…if you want to see what brands I use, check out the printable). Then, I will put them in the freezer, in baggies with what they are written on them. That way little man can grab which one he's feelin' that day, and it will be thawed by the time it's lunch. (I also plan on freezing the tortilla roll ups too!)
I also plan on picking one day a month and doing some batch baking. My son could eat muffins all day (and they're a great lunch filler), and my pancakes (which are great for sandwiches, or for busy school mornings). I will make big batches and freeze them, so that he can take one with him without me having to bake every single time.
I have a specified bucket in our pantry for JUST school lunch items, that way I'm not digging for those individual olive cups or applesauce containers. I want to know where they are and find it quickly instead of scanning shelves. Now, the problem is to make sure the boys stay out of it–because of course the box has items they covet. I try to make lunches a little special so that my son will look forward to them since he'll have 12 years of home lunches and I don't want him getting bored. Check out the printable to see what yummy snacks I plan on putting in it.
I'm still going to pack a lot of leftovers–that saves on budget and time, since I'll have already made it the night before! My son has quite a few dinners, especially soups, that he enjoys. I bought him a Batman Thermos so I can pack hot lunches for him still. The trick is to pour boiling hot water in it first, let it sit for a few minutes, dump out the water and then put in the heated food. It should stay warm, especially if you have a good quality thermos.
I upped my budget! Yes, me, who is a sticker about grocery budget, upped my weekly budget, but by only about $10. I recognize that him not being able to eat leftovers every day and having to buy extra things will make our grocery budget go up. If you'd like to see how I budget while having to shop for specialty items, you can see these

tips for grocery shopping on a budget with food allergies

(which has a video!).
I'm not bothering with juice boxes–I find that to be extra sugar and an extra expense. I'm also not giving him my good water bottles to only accidentally lose. I know this isn't the most environmental friendly, but I bought the mini plastic water bottles and am going to use those. I love my kids drinking lots of water, and I do ask that he bring it home so we can reuse it a few times. We'll see if he remembers. If he doesn't–then I'm not mad since it wasn't a lot of money.
I will shop seasonally. If melon is in season, I'll be sure to include that. If berries are on sale, I'll include those. Fresh fruits and veggies are such great fillers, that don't require anything "allergy" specific and help us rotate through!
Buy in bulk and place in baggies. Again–I'm a cheapo–and find that often things that come in individual servings are more expensive. Sometimes it's worth it, and sometimes I'd rather buy a big bulk size and just grab a handful and throw it in a plastic zip top baggie–that way I can portion control too. And, when I say buy in bulk, I don't always mean the Costco size. I find sometimes that is actually more expensive–either in cost, or because we tend to eat a ton of it, since it seems we "have so much" and then we actually blow like $10 on a bag of chips, that we could have had last us longer if I had bought the regular size. I'm just saying we don't often buy like "fun sizes" or "single serving" sizes–unless it's something messy like applesauce, in which case you need it to be in it's own container.
Talk to my son–I want to hear what he's eating and what he's not. I'm trying to create a non-pressure environment where he doesn't feel he has to hide or throw away food to look like he's eating. I told him to bring anything he doesn't eat home, so I can see what's really getting eaten. I want to know what he's getting sick of. I want to know what I packed too much of, so I can adjust. If he doesn't eat all the healthy stuff–then he'll feel it. Plus, I'm the gatekeeper and make sure only one snack goes in there anyways. I figure there are days I don't make the smartest decisions, and then my body feels it. This is a great little step into maturity and responsibility for him to eat without an adult and to make choices. I am excited for him!
Breathe. It feels daunting when I think of the fact that he'll never be able to eat school lunch and that he has 12 more years of school. But I'm going to do my best to take it one lunch and one day at a time!
A few things you'll notice about the allergy-friendly lunch ideas printable…
I am not cutesy. OK? That's just not me–just being authentic is what we'll call it. Plus, I gotta save energy for packing these lunches! Ha! No design, no fluff–just the info so you can print it and put it on your fridge. Or, bookmark it, since it has lots of links in it.
I separated it into mains, sides and then snacks. I like to think in those three groups then try to get too complicated with things like protein, grains, and so on. I honestly have let go a lot about worrying about my son's lunches–they're still great–but recognize that a healthy, homemade dinner and a good breakfast can round out if his lunch isn't pristine. My main goal: help him feel proud of his school lunch, help him like what he has so he's not tempted to try someone else's, and get a full, happy tummy!
What allergens does it avoid: most things are top-8-free. **Be sure to check labels**, as things could have changed or may differ regionally. I do have a few with soy, because we can do that!
How much info is there? Well, I tried to literally spell out everything I could think of that we will be putting in our lunches. You may think "why did you spell out the fruits and veggies"? Well, sister–I already feel like my options are limited, so I LOVE seeing a long list to jog my brain and help me see that there really are more things out there. When I see that long list of fruits and veggies it helps me feel better about not being able to pack goldfish, and helps me get out of the whole apple and banana rut.
Feel free to adapt, print this out and then write on it additional things that work for your family. I LOVE having a base template and something to physically run my eyes over when I'm making my grocery list.
Finally, let me know what things you love to put in your kids' allergy-friendly lunch boxes, so I can add it in next year. I love learning from all of you, and hope that this list helps you make safe lunches for your allergy kids!
**Also, don't forget to pin it–that helps other allergy moms find it, and it helps you not lose it! Be sure to check out my other allergy-friendly Pinterest boards while you're there!**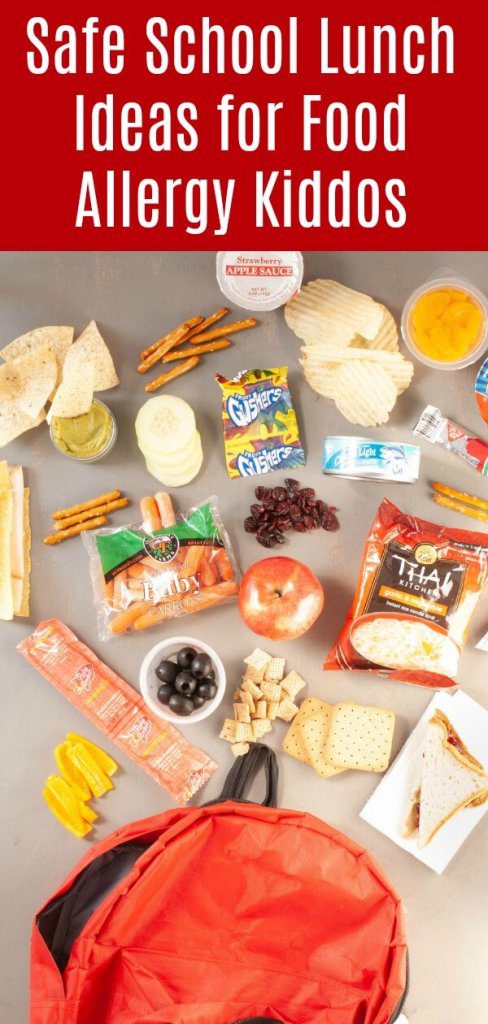 ---
Looking for other lists of allergy-friendly foods to give to family, babysitters or schools? Try these helpful posts:
Sending allergy-friendly treats to school for birthday parties
What in the world do your kids eat: snacks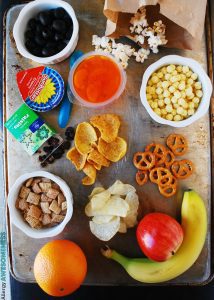 What in the world do you feed your kids: CANDY
What to put in your child's 504 plan for their food allergies