FINALLY! An easy, 3 ingredient dairy free and vegan ranch dip that is thick, and has all those classic flavors. It's the BEST vegan ranch. You'll fool everyone as it's a dead ringer for the real thing. This dairy free and vegan ranch dip is free of: gluten, dairy, egg, peanut and tree nuts, and has a soy free option as well.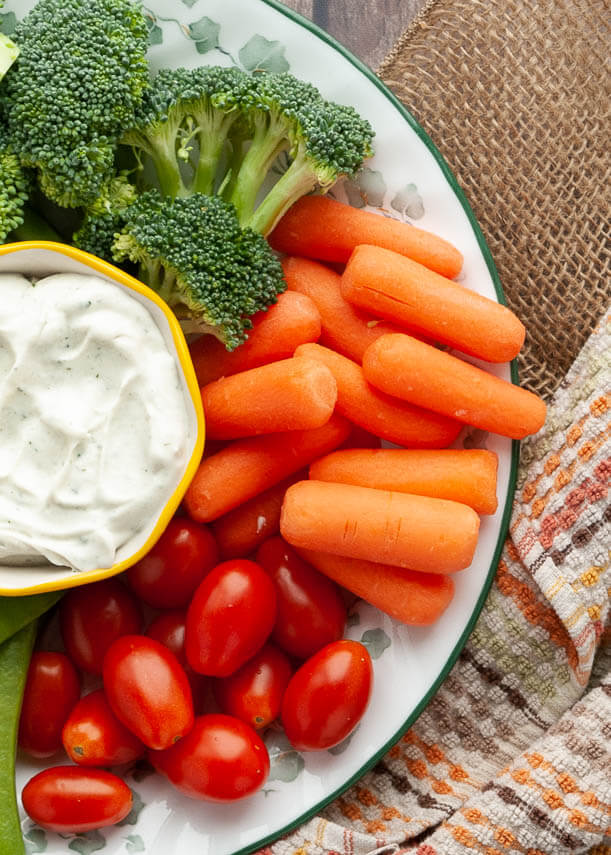 None of these products are sponsored, but there are some affiliate links included.
Why I love this vegan and dairy free ranch dip:
Ever since my son's dairy and egg food allergy diagnosis, I have missed ranch dip like crazy. Any time there's a party–whether it be New Year Eve's, Superbowl or any gathering I'm sorely wishing that I could bring a safe ranch dip for him to dunk the vegetable tray into.
I knew there were recipes out there, but they all seemed to include a long list of dried spices and I just was wanting the ease everyone else had of tearing open a package and being done with it, no measuring dried dill and what not.
Then, my life changed INSTANTLY for the better as soon as I found that there was actually a ranch dip packet that was naturally dairy free! I almost cried. I couldn't believe my eyes. I have fellow dairy-free blogger, Simply Whisked, to thank for telling me. It's not sponsored, but I don't mind singing it's praises because I want the company to keep making this so I can keep having this super easy ranch packet that is dairy free and vegan!
A story to illustrate how good this dip is: I came home late last night and my husband, who RARELY eats raw vegetables, was sitting in bed with a bowl of this ranch dip and a bag of baby carrots just going to town. It's THAT good.
The mixture of both the dairy free sour cream and vegan mayo give it a pristine texture. It's so thick and creamy, people are going to think you used Greek yogurt. (I won't tell if you don't.)
I'll answer all of your questions below!
What is the difference between a dressing and a dip?
Honestly, sometimes, depending on the brand, there isn't much of a difference. But, typically, I've found that a traditional ranch dressing is thinner, because they need to be able to be poured over a salad. Whereas, a veggie dip is going to be thicker, so that the vegetables (or whatever you're dipping) can really hold onto it.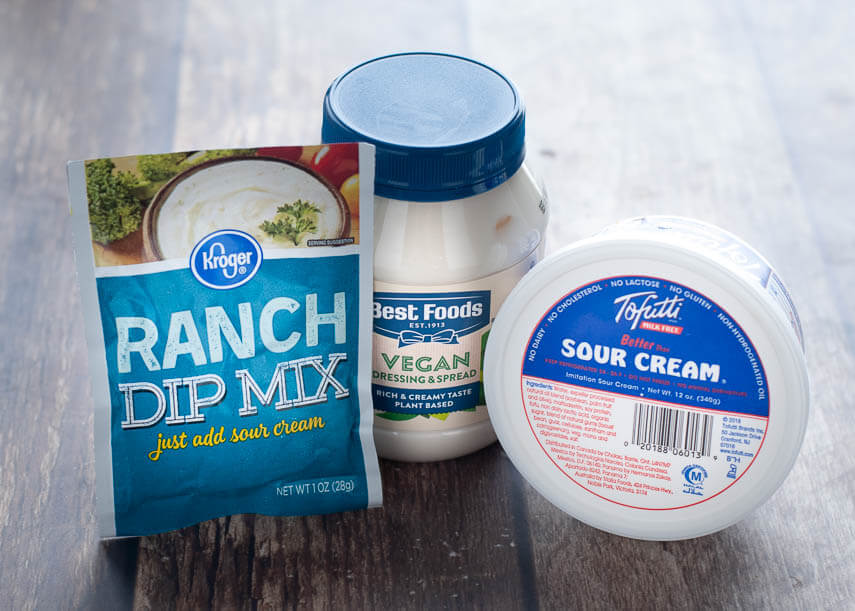 What goes good with homemade vegan ranch dip?
The short answer? Everything. The longer answer:
Fresh veggies (celery sticks, broccoli, cauliflower, carrots, sugar snap peas, baby tomatoes, cucumbers)
Potato chips
Pizza
French fries
Sweet potato fries
Great on wraps, burgers or sandwiches
…basically anything that needs an improvement!
What are the full list of ingredients in this dairy-free ranch recipe?
The best thing? There's just three basic ingredients. THREE!
Ranch dip mix
Vegan mayonnaise
Vegan sour cream
What is NOT in this creamy vegan ranch?
Having had the other dairy-free ranch dressings analyzed, a lot of other recipes call for ALL SORTS OF STUFF, including, but not limited to:
canola oil, olive oil, coconut milk, oat milk, sunflower seeds, dried herbs, vegan yogurt, fresh chives, maple syrup, vegan buttermilk, raw cashews (making it NUT FREE TOO!), almond milk, soy milk, onion powder, garlic powder. fresh herbs, or apple cider vinegar. Phew, that's a long list!
With my own dairy-free ranch, there's no raiding your spice drawer. As you can see that list is long, and often takes a bunch of measuring or even blending in a high speed blender. Mine literally takes three ingredients–all store bought, no need for fresh ingredients–and you can stir it with a spoon in a small bowl, no fancy equipment needed!
Where do I find this dairy-free ranch packet?
As you can see on the packet, the brand is Kroger. Kroger goes by many names, depending on where you live. For example, I found it at my local Fred Meyer's (I'm in Idaho.)
I've also had readers tell me that they've found it at: Smith's, Food for Less and Fry's. Let me know if you find it anywhere else! I've even had a reader, who lives in a different state as her mom, mail her some packets. When you have dietary restrictions, you get creative!
Make sure you get the one that looks exactly like my picture, as their ranch dressing packet will have milk in it.
Note that this packet doesn't call out anywhere on it that it's dairy free, in case you're looking for that, it's only until you turn it over and notice the wonderfully simple list of ingredients that it is.
I'm sorry, I'd love to link to it but I cannot find it on Amazon, and the link that should link to it on Kroger's site is currently broken. Hopefully it will be fixed soon. If you find a link, let me know!

What are the ingredients in the vegan ranch packet?
Here are the ingredients listed on the label of a Kroger Ranch Dip Mix:
Maltodextrin, salt, onion*, Monosodium glutamate, Garlic*, Parsley*, Contains less than 2% of Calcium Stearate (anticaking agent), Dextrose, Spices, Carrageenan
*Dehydrated
If you're worried about "calcium stearate" being a dairy or animal ingredient, I called the phone number on the back of the label and the representative that I talked to said on Dec 30, 2020 said their calcium stearate source is "vegetable based". If you need stricter vegan requirements than listed above, you'll need to contact the manufacturer.

What are the ingredients in the dairy free sour cream:
I have only ever been able to find two kinds of dairy free sour cream, Good Karma and Tofutti. I use Tofutti. Tofutti is made from soy. If you have a soy allergy, you could try just using all mayo, instead of half mayo and half sour cream. Or, you could try using half safe cream cheese and mayo, and thinning it a bit with a safe milk. Daiya makes a cream cheese made out of coconut.
The ingredients on the Tofutti Better Than Sour Cream are:
Water, expeller processed natural oil blend (soybean, palm fruit and olive), maltodextrin, soy protein, tofu, non dairy lactic acid, organic sugar, blend of natural gums (locust bean, guar, cellulose, xanthan and carrageenan), veg, mono and diglycerides, salt.
I have found Tofutti on Amazon, at health food stores like: Sprouts and Natural Grocer. I have found Daiya at the same locations, and even sometimes Walmart.

What are the ingredients in the vegan mayonnaise:
I used to love "Just Mayo" but I haven't been able to find it in years. Thankfully, I found another favorite vegan mayo. I love, love, love this vegan mayo. I used to buy regular mayo for myself, and a vegan mayo for my son. Now, I just buy this for our entire family and happily use it.
Here is the full ingredient list for Best Food's (also known as Hellmann's east of the Rockies) Vegan Dressing and Spread:
Sunflower oil, water, modified food starch (potato, corn), distilled vinegar, less than 2% of: sugar, salt, lemon juice concentrate, sorbic acid (used to protect quality) natural flavor, calcium disodium EDTA (used to protect quality), paprika extract
I find Best Food's Vegan Mayo at Walmart or Amazon.

Can I use different ingredients to fit my individual needs?
Sure! While this is the only way I recipe tested this, I would think this would be a fairly forgiving recipe if you need to try different ways. These are just the brands that are safe for my family and that we already enjoy. If you try it with something else, be sure to comment below to help future readers.
Can I use this dairy-free ranch dip as a dressing?
To make this into a dairy-free ranch dressing (aka thinner, to use on a salad) simply thin it with a little plant milk (whatever one you prefer. We prefer rice milk because it has the most subtle flavor) until it's as thin as you like. And voila! A delicious vegan salad dressing that you made all on your own! (Take that Hidden Valley!)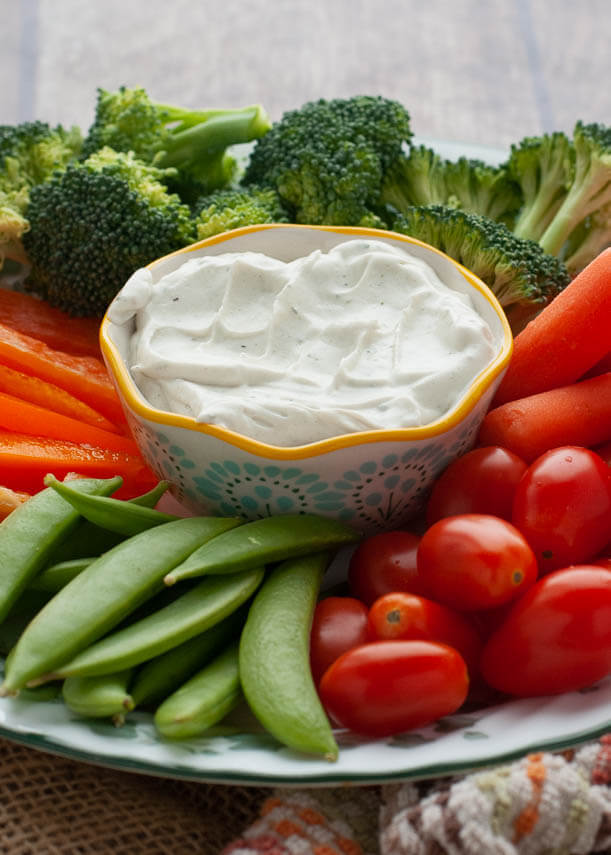 How do I store this delicious vegan ranch dressing?
When you're not inhaling it, store it in an airtight container in the fridge. It should last 5-7 days.
Do I have other dairy free appetizers?
Yes I do, including several dipping sauces! Have a great party, with dairy free party food. I think you'd also enjoy my:
Do You Have a Video Showing How to Make Dairy Free Vegan Ranch Dip?
Yes I do! I made a Tiktok video, which is a short and sweet video giving you a general overview of how to make this recipe. Enjoy!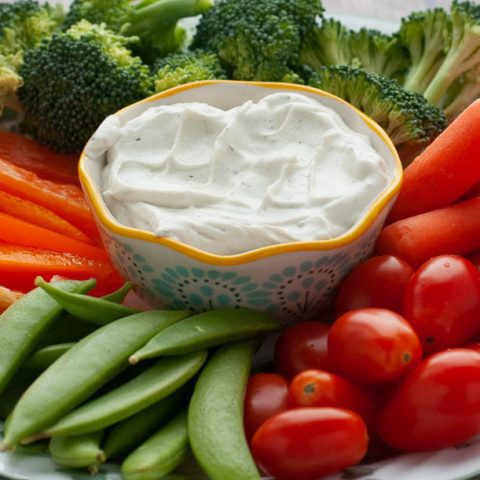 Dairy Free & Vegan Ranch Dip
Total Time:
1 hour
5 minutes
FINALLY! An easy, three ingredient dairy free and vegan ranch dip that is thick, and has all those classic flavors.
Ingredients
One packet (1 oz) Kroger Ranch Dip Mix
Instructions
In a medium mixing bowl, place all three ingredients, and whisk together until it's smooth, being sure to scrape the sides of the bowl.
Place dip, covered, in fridge for one hour to allow flavors to meld.
Use as a dip for a vegetable tray, or anything else you love a thick ranch dip on.
Keep leftovers in an air tight container in the fridge when not using.
*Looking for another vegan dip? Try my well beloved Vegan Queso*
Notes
See the post above for all ingredient questions.
*Our allergies, while severe and that get re-tested frequently, are such that we can go strictly by what's on the label. I do not call companies to see what things are derived from, or call manufacturers to see about potential cross contact. If your allergies require you to do so, please do your own homework. I cannot assure you of any ingredient's safety, only you can do that. I simply share what works for our family.
**If you are going to feed this to someone with food allergies, and you yourself do not have food allergies, I HIGHLY recommend having them check every single brand and ingredient you are using, to ensure they're OK with each part of the recipe. And, to make sure you've talked to them about how to avoid cross contamination in your kitchen.
Nutrition Information:
Yield:

12
Serving Size:

1
Amount Per Serving:
Calories:

18
Total Fat:

2g
Saturated Fat:

0g
Trans Fat:

0g
Unsaturated Fat:

1g
Cholesterol:

2mg
Sodium:

34mg
Carbohydrates:

0g
Fiber:

0g
Sugar:

0g
Protein:

0g
This is just a guestimate auto generated.
DON'T FORGET TO PIN THIS VEGAN RANCH DIP, SO YOU DON'T LOSE IT. BE SURE TO CHECK OUT MY OTHER ALLERGY-FRIENDLY PINTEREST BOARDS WHILE THERE!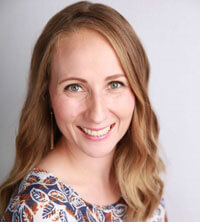 Hi! I'm Megan, a mom to four kids, two with multiple food allergies & one with EOE. I'm a published cookbook author that constantly tweaks recipes to make them allergy friendly–it's an addiction. I share every recipe & tip with you, to help you eat like you did before food allergies & dietary restrictions. You can still be awesome, even with food allergies!