If you used to love the classic Velveeta Rotel dip, but now need it to be vegan or dairy free this is THE plant based copy cat recipe for you! The perfect cheesy flavor, that dip-able texture and just the right level of spice from the green chilis and you've got yourself one heck of a vegan queso that is perfect for parties and nachos! This is the best vegan queso dip. This recipe is free of: gluten, dairy, egg, peanuts, and tree nuts.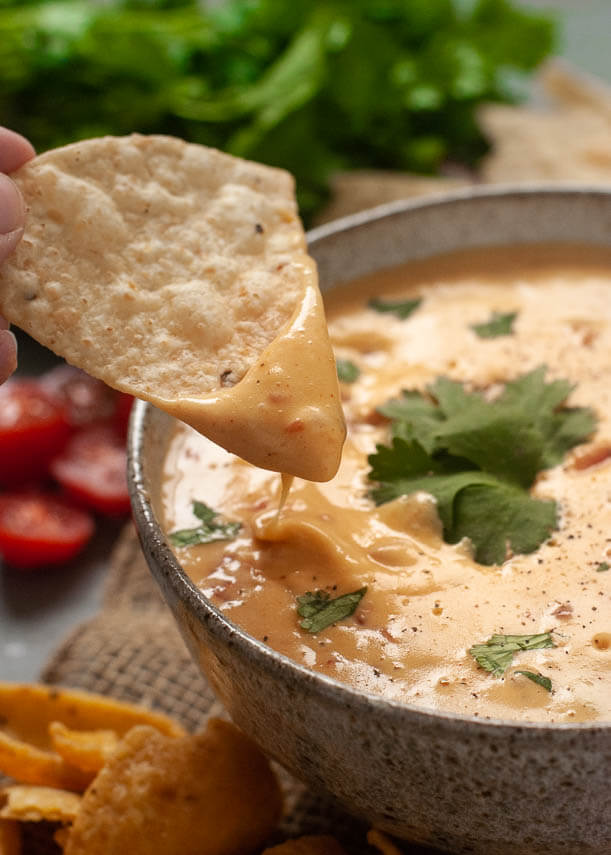 This post contains affiliate links.
I grew up eating Velveeta and a can of RO-TEL mixed together and it was glorious.
Did anyone else partake of this totally 90's party dip? It was so simple and so wonderful and I'd often find it at holiday and New Year's parties and I LOVED it.
So, when my son was diagnosed with a dairy allergy, I had to say goodbye to my beloved queso sauce. It's literally been almost eight years and I thought, well, DARN IT, that's long enough. It's time to figure out how to make this cheese sauce that's dairy free and vegan so we can enjoy it again. Since we're moving into holiday party time, I need this in my life! And, I'm sure you do too!
Besides it working for our dairy-free lifestyle, I feel better about this. This really does rival any traditional queso. Seriously, if you don't tell people, they'll think it's the REAL thing. I mean–nutritional yeast has tons of vitamins in it, it has potatoes in it, and I know all of the ingredients versus velveeta. Who even knows what's in that blob?? I feel way better about eating pounds of this than I do of the original recipe. Because the only way to eat it by pounds…

What are the ingredients in RO-TEL?
In case you're not familiar with what RO-TEL is, it's a can of diced tomatoes and green chilies. It's an easy way to add some tex-mex flavor to recipes without having to dice things yourself. It comes in three heat preferences: mild, regular and spicy. We're babies, so we do mild, but use whatever level you like depending on how much you like spicy food. If you have special diet considerations, or food allergies like we do, and need to check every ingredient, let me make it easy for you, Rotel has:
Tomatoes
Water
Chopped green chiles peppers
Less than 2% of:
Salt
Calcium chloride
Natural Flavor
Citric Acid
Cilantro
"According to the FDA, the most common food allergens are milk, peanuts, eggs, fish, crustacean shellfish soy, tree nuts and wheat. This product does not contain any of these common food allergens". This information was taken from RO-TEL's website. Make sure to read the label on your current can, in case ingredients have changed since the time of publishing.
What milk substitute do you use in vegan cheese sauce?
I prefer rice milk, because it has the least amount of after taste or texture to it. If you can't have or find rice milk, you're welcome to use any other milk substitute you prefer at the same ratio.

What dairy-free cream cheese do you use for dairy free queso?
Dairy-free cream cheese is essential in getting the thick, drip-able, perfect vegan queso. I've found dairy-free cream cheese to be made out of soy or coconut. The soy ones that I've used are the Tofutti, or Go Veggie brands. The ones made out of coconut that I've found are Violife and Daiya. I prefer the soy ones, but you're welcome to use whatever works for your specific diet. I've found them at Sprouts, Whole Foods and Smith's/Kroger. Obviously, if you need a top-8-free queso, you'll need to use the coconut cream cheese. Remember, coconut is not considered a tree nut by the AAAAI.
What is nutritional yeast, and why is it necessary for vegan cheese?
Nutritional yeast is considered a "deactivated yeast". It is a fairly common ingredient to dairy-free and vegan diets. It's yellow, and comes in little flakes. It gives a great cheesy, salty taste, and can also thicken sauces a bit.
I remember being weirded out a little when we had to go milk free for my son's dairy allergy because I had never heard of it. The only yeast I was familiar with was the type that you use in homemade bread recipes. Now, I never go without it. I've found it on Amazon, as well as in the bulk section of almost all health food stores, probably because of its high b vitamins.
Once you start using it in your dairy-free cooking, you'll want to use it in anything that used to traditionally have cheese. I use nutritional yeast in these recipes as well, and it really makes a difference in the flavor profile of dairy-free recipes,:
Can I use this dairy free queso as a sauce and not just as a dip?
Yes! While it's hard to not just inhale it all with a bag of chips (yes, I've totally just had this and only this for lunch!), this would also be scrumptious on nachos, enchiladas, tacos and anything else that needs a little queso drizzled on it. And, if you need another dip idea, you can check out White Bean Hummus by fellow blogger Heart Beet Kitchen.

Can I turn this queso into a vegan cheese sauce?
Yes you can! Simply omit the can of rotel and the garnishes, and it will be the most wonderful vegan cheese sauce ever. It would be great for nachos, burritos, burrito bowls, french fries, or even over broccoli! Really, anything you'd need a dairy-free cheese dip for–this would do it! You won't need any other vegan cheese recipes other than this one.
What vegan butter do you use?
You can use any that works for your diet. We prefer Earth Balance. They also have a soy-free version.
What is vegan queso made out of?
I wasn't going for only 3, or 5 ingredient queso. I was going for "the best tasting vegan queso", so there are a handful of ingredients, but they come together to taste even better than the velveeta + rotel dip of days past. You simply bake your potato in the microwave, add the remaining ingredients and blend in a high powered blender. Simple.
My vegan queso ingredient list is:
potatoes
vegan butter
fresh garlic (or jarred)
rice milk (or other milk alternative)
water
vegetable bouillon powder/ vegetable stock
onion powder
salt
paprika
nutritional yeast
cornstarch or arrowroot powder
lemon juice
dairy-free cream cheese
Rotel
*Optional: chili powder for extra heat
Gluten free chips for serving (we like tortilla chips or Fritos)
Guacamole for pairing
Fresh cilantro, sliced jalapenos for garnish, if so desired

Does vegan queso have nuts or cashews? NOT MINE!
Yes, unfortunately every recipe I seem to find for vegan queso has cashews. This is why it took me years to even realize there was another way. While soaked cashews are great for vegan cheese, they're not great if you have tree nut allergies like we do. It seemed cashew-less vegan cheese dip was a unicorn for a long time. Another way I make it nut-free, is by using rice milk instead of almond milk, which is frequently used in vegan recipes as well.
The trick to making vegan queso nut free is to use potatoes to help thicken it, nutritional yeast for the flavor, and vegan cream cheese for smoothness.
Go forth and dip all the things!
I hope this vegan queso is as life changing for you, as it's been for my family. I hope you enjoy it on the weekends, at parties and just because. Who needs to go out to Mexican restaurants when you can make this at home? Not you anymore!
Please do me a favor and be sure to tell all of your vegan or dairy free friends about it, so they can enjoy it as well. Remember–my son has allergies to wheat, dairy, egg, peanuts, tree nuts, and goats milk, so all of the 200+ recipes on my site (as well as my top-8-free cookbook) are free from these. If you don't need all of those things avoided, most recipes can be tweaked and I tell you how. Enjoy!
Do I have other allergy friendly appetizers?
Other than this delightful cheesy dip, I have several other favorites. With a great party, you need great allergy friendly party food. I think you'd also enjoy my:
The Best Vegan Queso (Cashew Free too!)
Additional Time:
10 minutes
Loved the classic Velveeta Rotel dip, but now need it to be vegan or dairy free? This is THE plant based copy cat for you! Cheesy, creamy & oh so dip-able!
Ingredients
2 medium potatoes
1/3 cup water
1 and 1/2 tsp onion powder
 1 and 1/2 tsp salt
3/4 tsp paprika
2 Tbsp cornstarch or arrowroot powder
2 Tbsp lemon juice
*Optional: 1/2-1 tsp of chili powder for extra heat
Guacamole for pairing
Fresh cilantro, sliced jalapenos, if so desired
Instructions
Wash the potatoes. Stick a fork in the potatoes several times to allow for steam to escape when cooking.
Place the potatoes in your microwave. Set the time for 5 minutes. (This may take longer depending on your model.)
Cook until the potatoes are soft.
Remove the potatoes and cut in half to allow them to cool. Once you can handle them, remove their skins.
Place the peeled potato halves in your blender along with the: butter, garlic, rice milk, water, bouillon, onion powder, salt, paprika, nutritional yeast, cornstarch, lemon juice and cream cheese.
Blend until smooth. Pour into a serving bowl.
Open the can of RO-TEL and drain any excess liquid. Stir the drained RO-TEL into the serving bowl with the cheese sauce.
Garnish with freshly cut cilantro and jalapenos if desired.
Serve room temp, or warmed with chips.
Keeps for 3-5 days in the fridge in an air-tight container.
Notes
Feel free to adjust the water amount if you like a runnier cheese sauce. Please read through all of the questions above the post, as those should answer any and all substitution questions.
You may cook the potatoes however you want, I just chose the microwave since it's the fastest.
I recommend a high quality blender investment, like a Blendtec.
Nutrition Information:
Yield:

6
Serving Size:

1
Amount Per Serving:
Calories:

249
Total Fat:

13g
Saturated Fat:

7g
Trans Fat:

0g
Unsaturated Fat:

5g
Cholesterol:

29mg
Sodium:

704mg
Carbohydrates:

28g
Fiber:

4g
Sugar:

3g
Protein:

7g
DON'T FORGET TO PIN IT, SO YOU DON'T LOSE IT! BE SURE TO ALSO CHECK OUT ALL OF MY OTHER ALLERGY-FRIENDLY PINTEREST BOARDS!