Not having to stir anything, and make it all in your blender? Yes, please. Plus, it's a gluten-free muffin that requires no gluten-free flour blend or xanthan gum! Add to the fact it's dairy, egg, soy, peanut and tree nut free, these vegan and allergy-friendly muffins are great for just about any diet!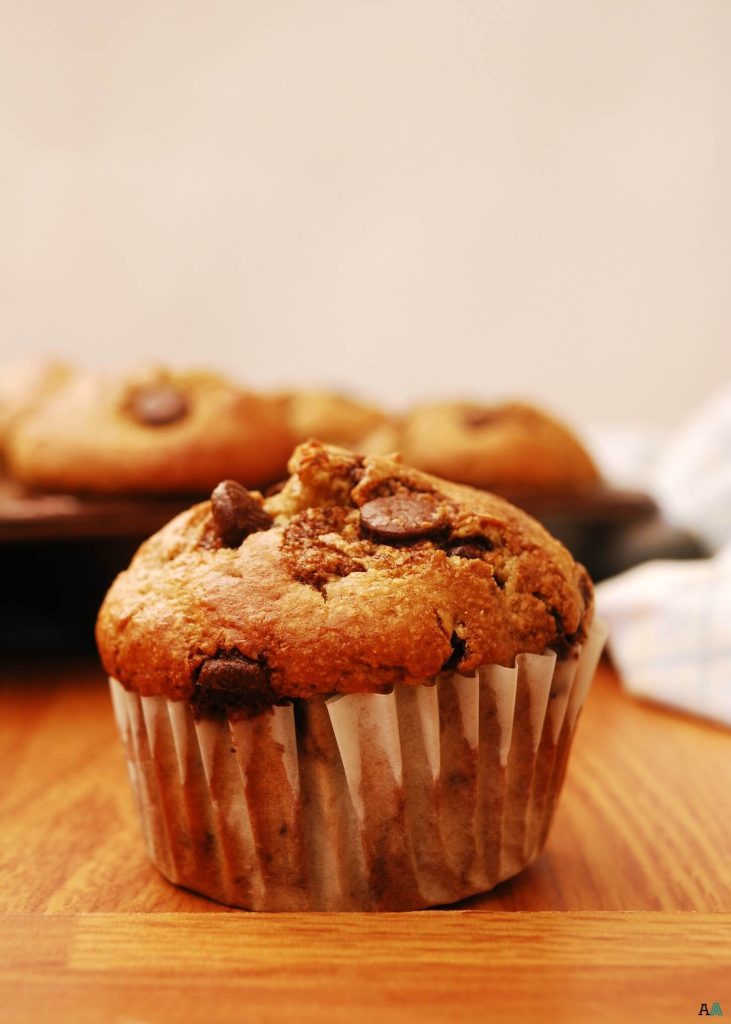 This post contains affiliate links.
For some reason, when it gets colder I tend to want baked goods for breakfast. There's something so satisfying about having a warm muffin, straight out of the oven during the fall and winter.
I've made several of these blender muffins, but this is the best one. The other ones are so thick, you can't hardly blend it, and I even have a top of the line blender. (Hi Blendtec! And yes, they gave me one for free, but I would have gladly paid for it, that's how much I love it!)
If you're slightly addicted to your blender like I am–mine has a counter and I've used it over 2000 times–then this is the perfect recipe for you. (Seriously, if there were a fire, it'd be one of the things I'd grab.) Add in the fact that there's no bowls to wash and I'm head over heels for this recipe.
Plus, this has healthy ingredients like bananas and applesauce and ground flax seeds and well…these didn't last very long at my house. These are sweet, but not overly sweet since they rely on the bananas for texture and sweetness.
Bust out your blender and make yourself some muffins.
Commonly Asked Questions About These Allergy-friendly Muffins:
Can I use regular oats if I don't need it to be gluten-free? Yes!
Can I use old fashioned oats instead of quick cooking? I've had no problems doing so, especially since they're getting ground anyways.
Aren't oats gluten-free to begin with? Naturally, yes. But, since most are processed with wheat flour, they are contaminated, which is why you need to buy gluten-free oats if you have a gluten or wheat sensitivity/allergy or celiac disease.
If I don't have applesauce, can I use something else? Yes–vanilla yogurt–either dairy free or regular, depending on your dietary needs.
Are you looking for more allergy-friendly muffins?
Check out these other favorites:
And, if you have extra bananas leftover, check out these Air Fryer Bananas by Running to the Kitchen.
Blender Oatmeal Banana Chocolate Chip Muffins (Gluten, Dairy, Egg, Soy, Peanut/Tree nut Free!)
Not having to stir anything, and make a gluten-free, allergy-friendly muffin all in your blender?  Yes, please.
Ingredients
2 ripe medium-size bananas, torn in half
1/3 cup applesauce
2 large eggs (if egg allergy or vegan use 2 Tablespoons ground flax seeds + 5 Tablespoons water)
1 teaspoon vanilla extract
1/3 cup granulated sugar
1 and 1/2 teaspoons baking powder
1/2 teaspoon baking soda
1/4 teaspoon salt
Instructions
Preheat oven to 350 degrees F. Line a 12-cup standard muffin tin with paper liners and lightly coat the liners with nonstick cooking spray (or omit the liners and grease the muffin tin). Trust me on this--I did it once spraying and once without and they definitely stick!
Add the bananas, applesauce, eggs/flax eggs, vanilla, sugar, oats, baking powder, baking soda and salt (in that order) to a blender or food processor (a blender will get the mixture slightly smoother). Process until well-blended. I prefer mine totally smooth, but if you like it more textured with the oats you can blend it for less time. If you do blend it for a long time, like I did, remember that the mixture heats up. It might melt your chocolate chips when you put it in, so be sure to check and allow it to cool if the batter is warm.
Stir in the 1/2 cup of chocolate chips to the batter with a spoon or spatula.
Pour the batter evenly into the muffin cups (about 1/4 cup). If you want a pop of chocolate on top, sprinkle a few chocolate chips on each muffin. Which, I don't know why you wouldn't!
Bake for 15-20 minutes until the muffins spring back to the touch and are baked through.
Remove from the oven and allow them to cool for five minutes in the pan. Then, turn out onto a wire rack to completely cool. Store in an air tight container.
Nutrition Information:
Yield:

12
Serving Size:

1
Amount Per Serving:
Calories:

104
Total Fat:

3g
Saturated Fat:

2g
Trans Fat:

0g
Unsaturated Fat:

1g
Cholesterol:

31mg
Sodium:

130mg
Carbohydrates:

18g
Fiber:

1g
Sugar:

13g
Protein:

2g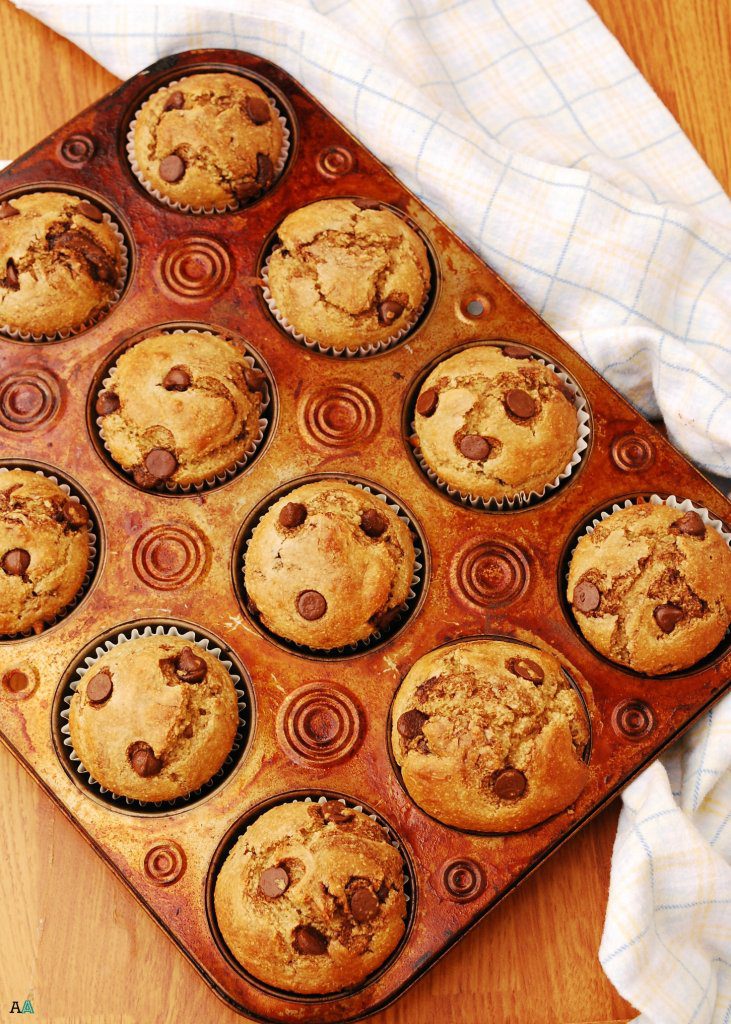 Adapted from Mel's Kitchen Cafe.
Don't forget to pin it, so you don't lose it. *ALSO* check out my other allergy-friendly Pinterest boards.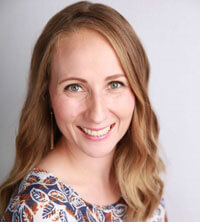 Hi! I'm Megan, a mom to four kids, two with multiple food allergies & one with EOE. I'm a published cookbook author that constantly tweaks recipes to make them allergy friendly–it's an addiction. I share every recipe & tip with you, to help you eat like you did before food allergies & dietary restrictions. You can still be awesome, even with food allergies!