Just because you have multiple food allergies, doesn't mean you have to go without this classic cookie. Soft in the middle with crisp edges, this all-American favorite can be yours even without: gluten, dairy, egg, soy, peanuts, tree nuts and there's also a soy free substitute! This gluten-free vegan will once again be an after-school hit.
---
This post contains affiliate links.
If you've wondered why in the world I've had a blog for over three years without posting a basic chocolate chip cookie, then you don't understand my reverence for a good chocolate chip cookie.
I didn't want to just slap up a recipe. I wanted it to be one that was flavorful and the texture was soft. I'm not kidding you when I think I've tried every "allergy friendly chocolate chip cookie" out there–and most of the time they'd be a flat sticky mess on my pan that spread into some large glop.
I tried different temperatures, different substitutes, chilling the dough, greasing the pan vs. not greasing the pan–you name it–all of the tried-and-true ways to get a darn cookie to turn out.
Then I had an epiphany. The one cookies that always have a great texture and shape are my double choco chip cookies. So, why not use that as a base and go from there?
And voilà–finally a chocolate chip cookie I can be proud of that is allergen-friendly.
Here's some tips on how to make it or use different substitutions:

HOW TO MAKE CHOCOLATE CHIP COOKIES ALLERGY-FRIENDLY:

WHY DID I USE INSTANT PUDDING IN THE RECIPE?
I have noticed that gluten-free flour doesn't have the same taste as regular wheat flour. Perhaps it's because I grew up eating wheat flour, but I find gluten-free flour to be lacking in taste. The vanilla instant pudding adds needed starch (since it's mostly cornstarch, sugar and flavoring) AND flavoring. Thus helping the texture and flavor. I've used both Jell-O and generic brands with no problems. This will STILL keep the recipe vegan. I've had many people think because Jell-O gelatin cups have gelatin (not vegan) that the pudding does as well. It does not.

TOOLS I USED TO MAKE THE ALLERGY-FRIENDLY CHOCOLATE CHIP COOKIES: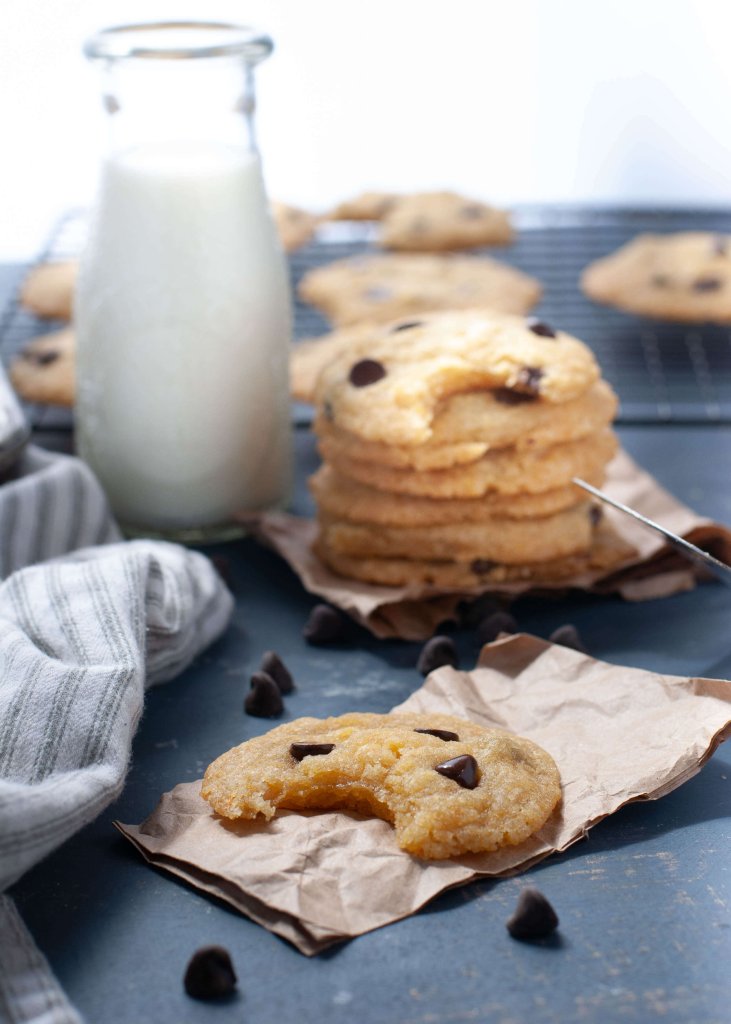 Do you have any other allergy friendly cookies?
Why yes I do! Since my son has: wheat, dairy, egg, peanut, tree nut and beef allergies, ALL of my 200+ recipes on this site are free of those things. While we do not eat strictly vegan, all of my baking ends up being vegan because we cannot do milk or eggs. Here are some of my favorite cookies:
I grew up having chocolate chip cookies ALL THE TIME. They were in constant rotation at my house. I now hope that I've figured out this recipe, that my allergic children can also know the pleasures of sneaking chocolate chip cookie dough out of the bowl and enjoying a warm cookie out of the oven.
If you make these, be sure to tag me so I can see you enjoying them as well. I hope that no matter your diet restriction or allergies, you can enjoy making these allergy-friendly chocolate chip cookies.
Soft Allergy-friendly Chocolate Chip Cookies (Gluten, dairy, egg, & nut free)
Additional Time:
5 minutes
If you have multiple food allergies you don't have to go without the classic, soft, chocolate chip cookie. Gluten, dairy, egg, soy, peanut &, tree nut FREE.
Ingredients
1/2 tsp salt
2 tsp vanilla extract
1/2 cup white sugar
1/2 cup packed brown sugar
Instructions
Preheat your oven to 350 degrees F.
In a stand mixer with the paddle attachment, or large mixing bowl, cream the shortening.
Add both sugars and cream them all together.
Add the vanilla and applesauce and stir to combine.
Add the xanthan, baking soda, cream of tartar and salt. Stir to combine.
Add the gluten-free flour and measured pudding mix (just the powder, do not follow the box instructions).
Stir until everything is well combined. Add in the chocolate chips and stir by hand, so they do not get crushed.
Scoop evenly and place on your silicon lined baking sheet.
Bake for 9-10 minutes, until edges are setting, but middle still looks slightly soft.
Remove the baking sheet from pan, but leave the cookies on there for 5-7 minutes, to finish cooking the middle.
Gently remove them from the pan to a wire cooling rack to finish cooling. They will be tender until they finish cooling.
Enjoy with your safe milk of choice.
If you would rather a cookie without the pudding, check out these DoubleTree Chocolate Chip Cookies
Notes
Please read all of the substitution notes in the post above.
Nutrition Information:
Yield:

12
Serving Size:

2
Amount Per Serving:
Calories:

203
Total Fat:

9g
Saturated Fat:

5g
Trans Fat:

0g
Unsaturated Fat:

3g
Cholesterol:

15mg
Sodium:

227mg
Carbohydrates:

27g
Fiber:

1g
Sugar:

21g
Protein:

1g
DON'T FORGET TO PIN IT, SO YOU DON'T LOSE IT! BE SURE TO ALSO CHECK OUT ALL OF MY OTHER ALLERGY-FRIENDLY PINTEREST BOARDS.
---
Looking for more allergy-friendly cookies? Try these other favorites:
Gluten, dairy, egg & nut free Oatmeal Chocolate Chip Cookies
Allergy-friendly, Soft, Roll Out Sugar Cookies
Allergy-friendly Pumpkin Chocolate Chip Cookies