The cutest Valentine pretzel bark that is gluten free and dairy free. Pretzels make the perfect outline for little hearts, and filled with dairy-free white chocolate, you get both the dark and the white chocolate, plus the salty from the pretzels for a delicious Valentine's treat. So festive and adorable to boot. This gluten free dairy free Valentine bark is also free of: egg, soy, peanuts and tree nuts, making it allergy friendly and vegan as well.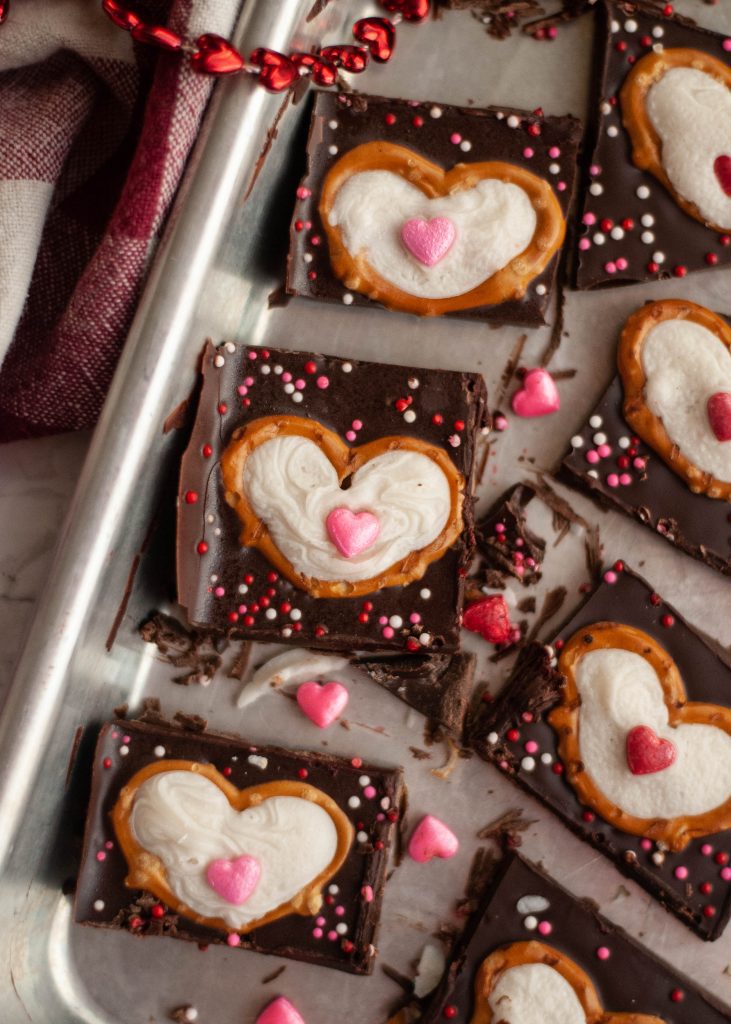 This post contains affiliate links.
Why I love this Valentine Pretzel Bark
It's just so gosh darn cute! I saw this idea on Wilton's page forever ago, literally years ago, and dreamed about the day when there would be a safe white chocolate for my dairy allergic son. Now that there is, I just want to food craft all day!
I love sweet with salty–and you get that perfect combo in this pretzel bark. The outline of the gluten free pretzel twists leaves the perfect shape for you to fill in a white chocolate heart. It was fun to see it all take shape, and it's just as fun to eat.
If you're like me and have a hard time deciding between chocolate or white chocolate–you get the best of both worlds in this bark. Wrap it up as the cutest Valentine's gift, or eat it yourself, either way you're winning.
What gluten free pretzels to use?
Really, any pretzel will do. You can use regular if you don't need them to be gluten free, or use your favorite gluten free pretzel. We have always enjoyed Snyder's of Hanover's gluten free mini pretzels the best. Here are their ingredients:
Corn Starch, Potato Starch, Tapioca Starch, Palm Oil, Cellulose Gum, Salt, Dextrose, Baking Powder (Sodium Acid Pyrophosphate, Sodium Bicarbonate, Corn Starch, Monocalcium Phosphate), Sunflower Lecithin, Yeast, Citric Acid
I've found them at Walmart, most health food stores and of course, Amazon.

What dairy free chocolate chips to use?
Feel free to use whatever chocolate chips you prefer. If you can use regular ones, use those. We cannot have dairy, so we like Enjoy Life Chocolate Chips that you can get on Amazon or most grocers, or the seasonal bags by Kirkland that they sell at Costco.
What sprinkles do you use?
For sprinkles, I just went to the seasonal section at my Walmart and grabbed the biggest heart sprinkles I could find, and some Valentine's nonpareils.
For the Valentine nonpareil sprinkles, I used the Wilton brand. Here are the ingredients:
sugar, cornstarch, dextrin, carnauba wax, confectioner's glaze, gum arabic, titianium dioxide, (color), red 40, Red 3. Made on Equipment that also processes soy and wheat.
For us, we've never had a problem with may contain statements. (You can see my thoughts on them here.) If you don't feel comfortable with these sprinkles, feel free to find your own, or, if need be, it wouldn't make or break the recipe if you didn't have this detail.
For the Valentine heart sprinkles, I used a jar called Festival Lotta Love Treat Toppers, by Brand Castle LLC. I couldn't find them on Amazon, but found something similar here by Wilton.
The ingredients in the Lotta Love hearts are:
Dextrose, corn starch, dextrin, magnesium stearate, artificial flavor, gum arabic, shellac, carnauba wax, titanium dioxie color, red 40, red 3.
The ingredients in the Wilton hearts are:
Sugar, corn starch, modified food starch, hydrogenated palm oil, water, xanthan gum, artificial flavor, titanium dioxide (color), red 40, red 3. Made on equipment that also processes soy and tree nuts.
If you cannot find heart sprinkles that work for your diet, you could always set aside some of the melted white chocolate, and die it pink, and then draw on your own hearts.

What dairy-free white chocolate do you use?
Last year, Nestle came out with a white chocolate chip. I have to say, I don't love the flavor–but it will do in a pinch if that's all you can find. I've found it at Walmart. The ingredients are listed here.
I just recently found Walmart has come up with their own organic white baking chips in their great value branding. This is not sponsored by them, but I love how simple the ingredients are, and on the front of the label it reads: "free from the 8 major food allergens and artificial colors & flavors". And, I think the taste is much more spot on. For those who also have to check ingredients, here is what the white baking chips' label says:
Organic cane sugar, organic palm kernel oil, organic sunflower lecithin, organic vanilla extract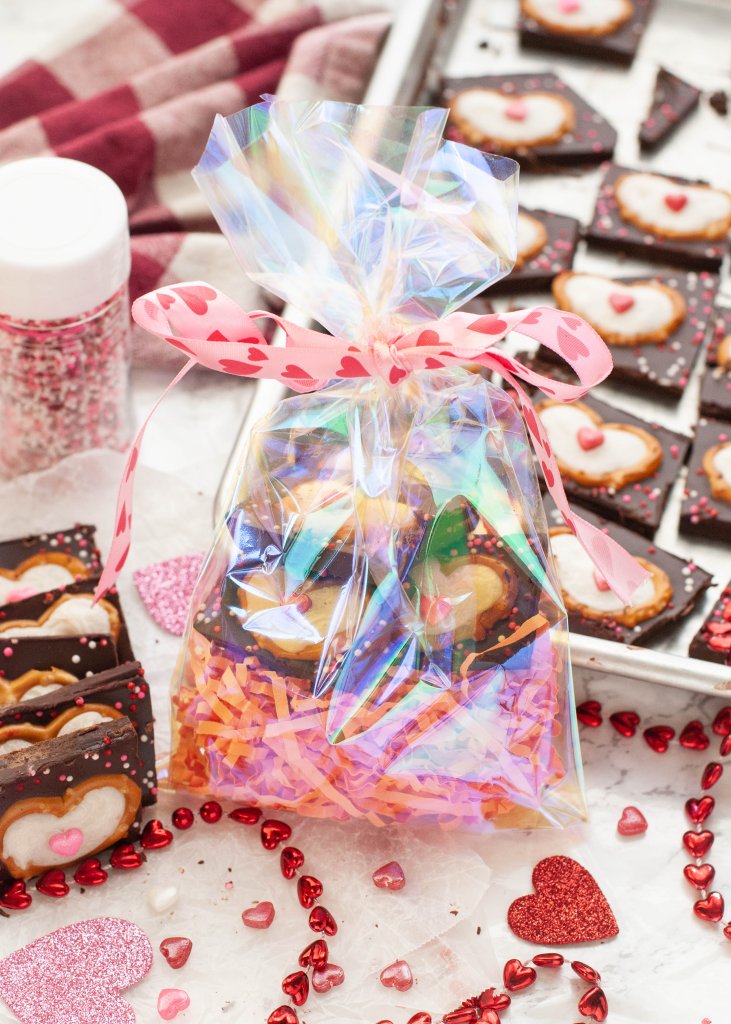 What other gluten and dairy free Valentine treats do you have?
Sweet hearts and loved ones deserve a yummy and safe treat just for them! Here are some of our favorite Valentine treats that are gluten and dairy free:
No matter what you make you Valentine, I hope you'll feel my love for you and that you'll have a safe and wonderful day celebrating all the good there is in the world.
Gluten Free Dairy Free Valentine Pretzel Bark
Total Time:
1 hour
30 minutes
The cutest Valentine pretzel bark that is gluten free and dairy free. Pretzels make the perfect outline for little hearts, and filled with dairy-free white chocolate, you get both the dark and the white chocolate, plus the salty from the pretzels for a delicious Valentine's treat.
Instructions
Set out your cookie sheet, pretzels and sprinkles.
In a large microwave safe bowl, place your chocolate chips and coconut oil. Heat in your microwave, at 50% power, for 30 seconds and then stir. Continue to heat for 30 seconds and stir, until everything is smooth and melted.
Spread the melted chocolate into the cookie sheet evenly. This will not fill the cookie sheet, but about 2/3 of it.
Going in straight lines, place the pretzels in the bark, spacing them evenly.
While the chocolate is still wet, shake your sprinkles on top so that they'll stick.
Next, in a small microwave safe bowl, place your white chocolate chips and coconut oil and melt it the same way you melted your chocolate.
Using a small spoon (or if you'd rather in a frosting piping bag) carefully spread the white chocolate on the inside of the pretzels, making a heart shape.
Once you've done that, and it's still wet, carefully place one heart sprinkle in the center of the white hearts you just formed.
Place the entire cookie sheet in the freezer until set, up to one hour.
When you're ready to break your bark, allow it to set at room temperature for five minutes.
Have a square metal spatula, or sharp knife and a bowl of hot water, and a paper towel ready. Dip the knife into the hot water and firmly but gently press the knife where you want it to break. For the most part, you should be able to break them into squares around the pretzels, some will break where they want--but you can just eat the ones that don't cut the prettiest. I tried breaking it with and without the hot water and it really made a difference. Wipe your knife off with your paper towel in between cuts as needed.
Enjoy or giveaway to a loved one. Keep room temperature (if you're not somewhere hot and humid) or in the fridge.
Notes
If you'd like to see some store-bought allergy-friendly candies, check out my post here.
If you're looking for some gluten and dairy free dinners, check out my cookbook: An Allergy Mom's Lifesaving Instant Pot Cookbook.
*Our allergies, while severe and that get re-tested frequently, are such that we can go strictly by what's on the label. I do not call companies to see what things are derived from, or call manufacturers to see about potential cross contact. If your allergies require you to do so, please do your own homework. I cannot assure you of any ingredient's safety, only you can do that. I simply share what works for our family.
**If you are going to feed this to someone with food allergies, and you yourself do not have food allergies, I HIGHLY recommend having them check every single brand and ingredient you are using, to ensure they're OK with each part of the recipe. And, to make sure you've talked to them about how to avoid cross contamination in your kitchen.
Nutrition Information:
Yield:

10
Serving Size:

1
Amount Per Serving:
Calories:

359
Total Fat:

24g
Saturated Fat:

14g
Trans Fat:

0g
Unsaturated Fat:

8g
Cholesterol:

0mg
Sodium:

80mg
Carbohydrates:

41g
Fiber:

3g
Sugar:

30g
Protein:

3g
DON'T FORGET TO PIN IT, SO YOU DON'T LOSE IT. WHILE YOU'RE THERE, BE SURE TO CHECK OUT ALL OF MY OTHER DIETARY SPECIFIC BOARDS.