One of the easiest (only three ingredients!) and cheapest gluten-free flour mixes you can make. Homemade so you can make large batches, this is a fabulous all-purpose flour you can use in most baked goods. I substitute it 1:1 for regular wheat flour and it turns out beautifully every time.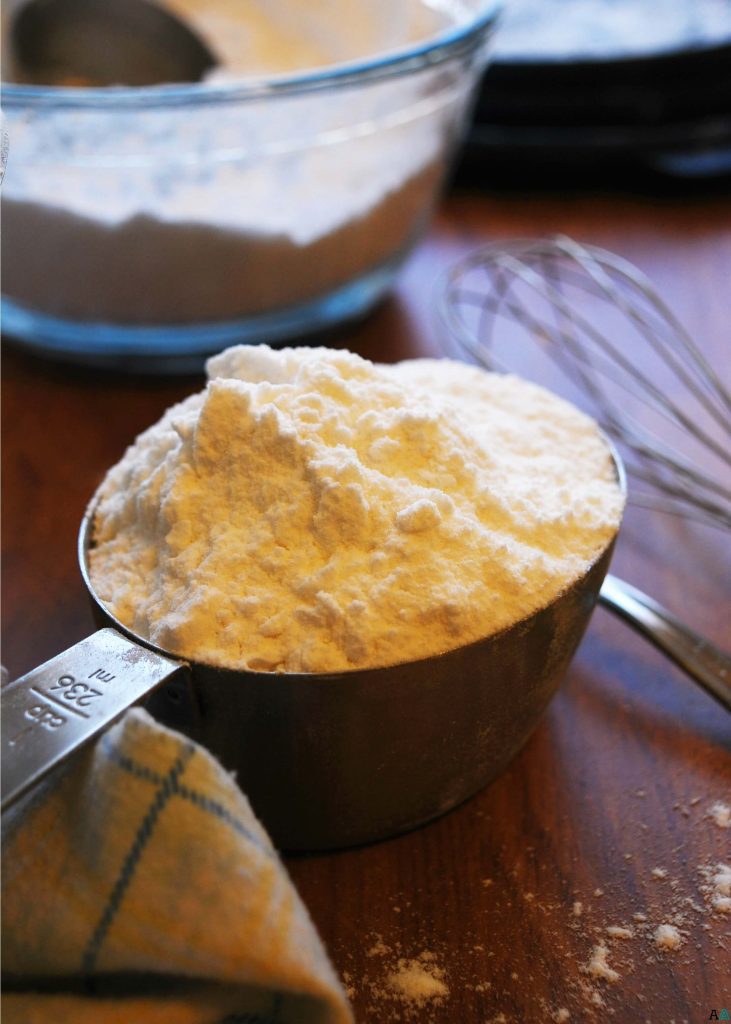 This post contains affiliate links.
Why I Love This Homemade Gluten Free Flour Blend
It's almost baking season! With the holidays coming up my baking is ramping up and so I feel it's best we start with the basics and make sure you have an allergy-friendly, all-purpose, gluten-free baking flour to get you through this busy baking season!
I feel like gluten-free has such a bad rep. People tried eating something gluten-free ten years ago and had a bad experience and now they assume all things gluten-free are dense, dried out shells of baked goods.
I think people tend to forget that baking with wheat probably had its own learning curve too–we just weren't around for it! And, thankfully–gluten-free baking is getting better and better every day. (That's not to say I still don't buy some packaged stuff and want to gag–hence why I do so much of my own baking!)
I have been using this gluten-free flour blend for over six years now, and I have ZERO reason to stray. It performs every single time–whether in bars, brownies, cookies or cakes. It's moist, it's not gritty and best of all, I can substitute it 1:1 for regular flour. Meaning, that if the regular recipe calls for 1 cup of flour, I simply measure out 1 cup of my flour blend.
I often feed non-gluten-free people my baked goods, and I frequently get a "THAT'S gluten free??!!". So, I think this flour blend really does pass the test.
Why making your own gluten-free flour is worth it
I like making a homemade flour blend because I find this helps with the cost. It really is a bummer having to buy THREE flours to replace regular wheat flour. That's just the way it is to get that same texture and performance. So, I try to do it as cheaply as possible. I see some gluten-free flour recipes that call for 4-6 ingredients and I just can't do it!
I also like that I can make a large quantity, so that I have plenty on hand. There's nothing more annoying than having to make a new blend every time you want to bake and have a craving you need to take care of.
I keep my flours in glass jars with airtight lids (as seen in the pictures). I feel this helps them last longer and stay more fresh.
The nice thing with gluten-free exploding is that people have found that there are TONS of gluten-free flour substitutes: sorghum, buckwheat, millet, chick pea, coconut, fava and so on and so on. The problem I find with these is that they're often harder to find, and often more expensive.
Can you sub out brown rice flour for white rice flour in your gluten-free flour blend?
Yes, I have found that both brown rice and white rice flour are quite interchangeable. I usually buy white as it's the cheaper of the two, sometimes a bit "softer" in texture and often easier to find.
Where can I find the ingredients for homemade gluten-free flour?
Speaking of finding them, here are the stores I often buy the ingredients to the my gluten-free flour recipe to:
Sprouts
Whole Foods
Walmart (sometimes)
Winco
Smiths
Maceys
Natural Grocer
Amazon
How to mix your gluten-free flour blend
When making it, I measure out all of the ingredients into a large bowl, then I whisk them all to help distribute them evenly. Then, to also ensure it's well-distributed, I put the lid on the bowl and shake it. Be sure to tap it heavily on the counter before opening it, or else you'll have a cloud of flour everywhere! It never hurts to re-shake it (with the lid on) before using it just to be safe.
How do you measure gluten-free flour?
An important tip! When you are measuring gluten-free flour (and it's counter-parts when making gluten-free flour) REMEMBER to take a large spoon and gently dump the flour into the measuring cup. Then, once it's overflowing, take a knife and scrape off the excess, so you have a nice, clean, and even line with the measuring cup. You do not want to scoop or pack in the flour, as this will make the flour the wrong ratio and you won't get the soft, just-like-wheat texture. See the video above on how to properly measure gluten-free flour.
I hope this helps you enjoy some of your old favorites and get back to baking!
**PLEASE NOTE: Gluten-free flour does not rise like regular flour. So, you'll notice all of my recipes call for an ingredient, xanthan gum, which helps give the rise and airy-ness that regular flour typically has. I prefer to not include this in my blend, as each type of recipe needs its own amount and to ensure I'm getting the proper amount. If you're unsure about swapping out gluten free flour for regular wheat flour, the rule of thumb is one teaspoon of xanthan gum for 1 cup of gluten free flour.**
What is this gluten-free flour recipe made of?
This recipe is fantastic because it only has three ingredients. You only need:
Is potato starch the same as potato flour?
No. Potato starch and potato flour are not the same thing.
Is tapioca flour the same as tapioca starch?
Tapioca flour and tapioca starch are commonly used interchangeably.
Is there anything you shouldn't make with this gluten-free flour?
While this DIY gluten-free flour blend is great for pancakes, muffins, brownies, bars, cakes and cookies I find that you need more specific ingredients when it comes to bread making. Be sure to find specific bread recipes and follow the instructions instead of replacing it with this blend. For example, my gluten free dairy free homemade bread requires a certain box mix, and my gluten free vegan breadsticks require yet another store bought blend.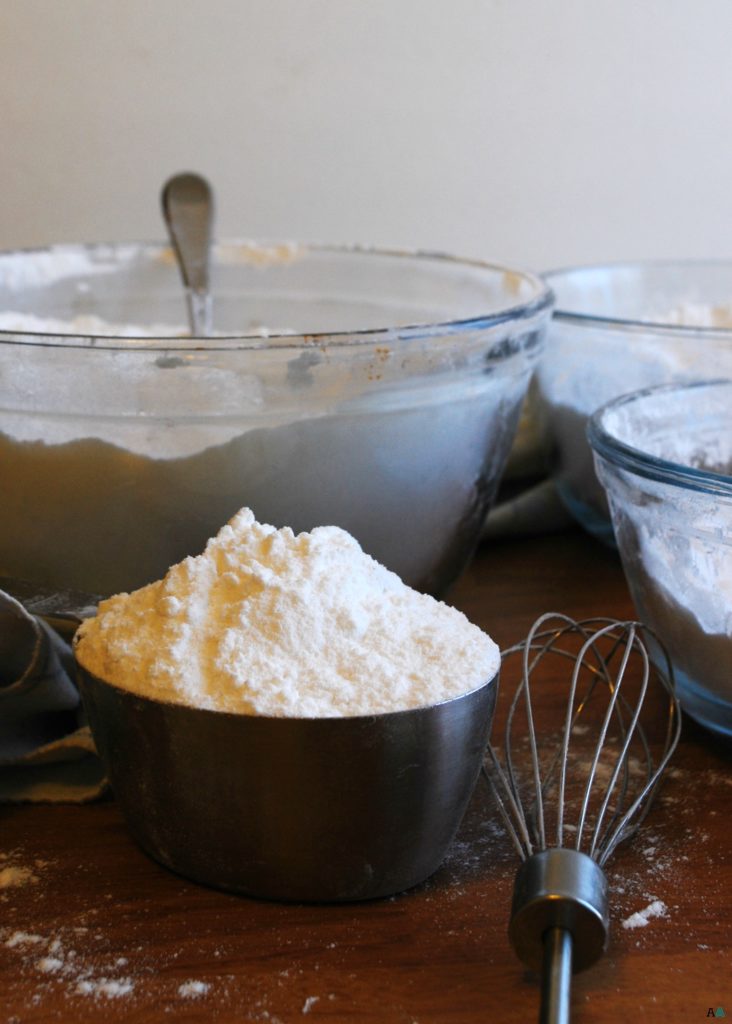 What can you make with this gluten free flour?
Here are a few of our favorite gluten-free baking recipes, and ones that have raving reviews:
The BEST Homemade Gluten-free Flour Mix
One of the easiest (only three ingredients!) and cheapest gluten-free flour mixes you can make. Homemade so you can make large batches, this is a fabulous all-purpose flour you can use in any baked good. I substitute it 1:1 for regular wheat flour and it turns out beautifully.
Instructions
Taking a large spoon, gently pour the ingredients into the specified measuring cups. Pour more than needed, making a domed measuring cup. Take the back of a knife, and scrape the excess off, leaving a clean, even line with the measuring cup.
Measure each ingredient and pour into a large bowl.
Whisk the ingredients to evenly distribute.
Afterwards, put a lid on the bowl and shake to finish distributing it well.
Tap the bowl on the counter before opening it, to ensure it has settled and you don't get a cloud of flour when you open it.
This can keep in your fridge for several months, if air-tight (although mine never lasts that long!)
If your flour has sat for a while, you'll want to re-whisk it to make sure the ingredients have not settled too much before using it in a recipe.
Once this recipe is made, it can be swapped 1:1 with regular flour--keeping in mind you'll still need a leavening agent like xanthan gum (which all of my recipes include).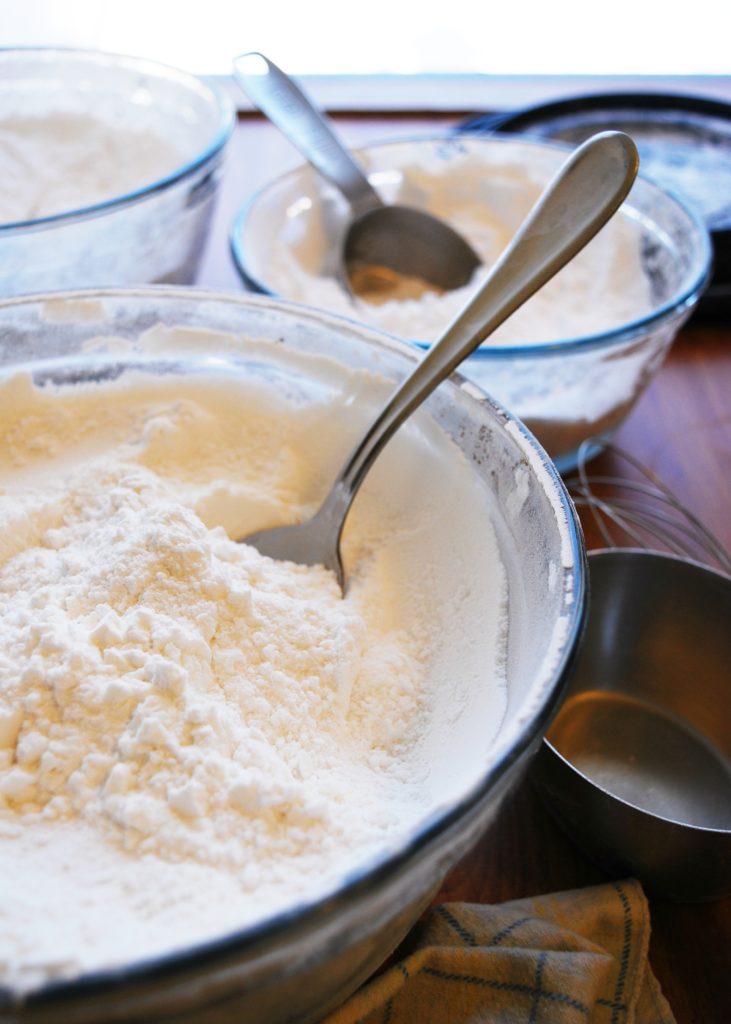 Taken from the baking genius, Cybele Pascal, in her cookbook "The Allergen-Free Baker's Handbook"
Don't forget to pin it, so that you don't lose it! Be sure to check out my other

allergy-friendly Pinterest boards

.