Who says you can't enjoy a chicken salad sandwich if you're gluten, dairy and egg free? Find a way to make this classic sandwich while avoiding all those foods. Substitutions for all the different ways listed below, PLUS, a truly delicious chicken salad recipe even if you don't have to avoid any foods. Full of sunflower seeds, red onion, celery, and grapes for great texture, crunch and loads of flavor. Read below to learn how to make a gluten, dairy and egg free chicken salad sandwich!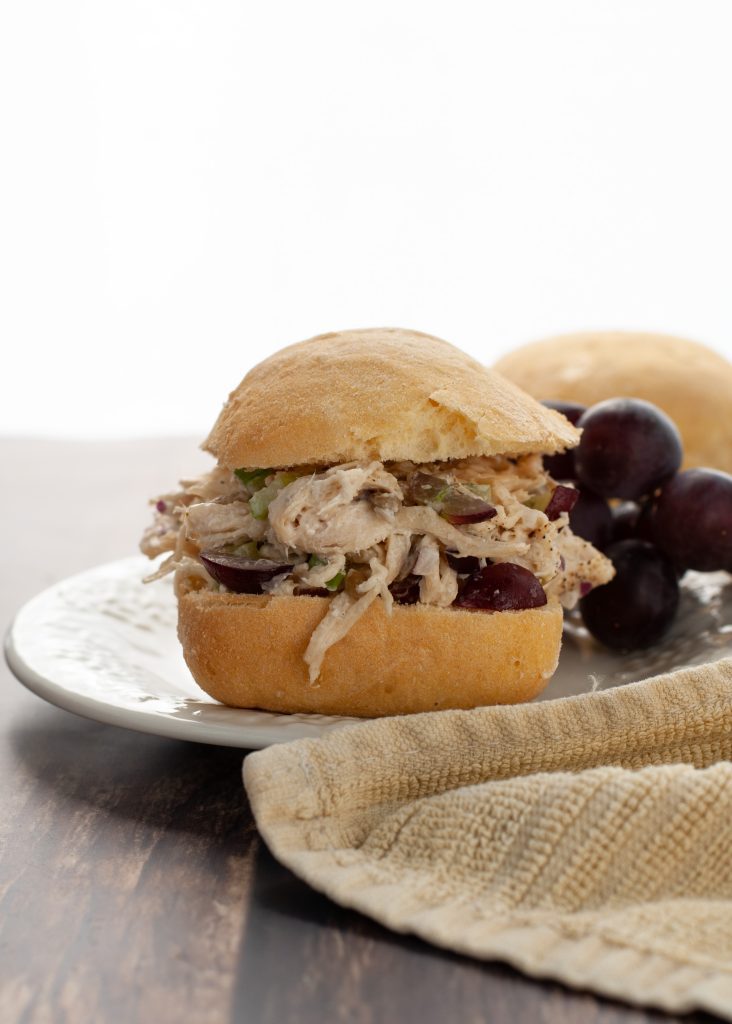 This post contains affiliate links.
Why I Love This Chicken Salad Sandwich
I've always loved chicken salad sandwiches. I ate them all growing up–for lunches, at parties like bridal showers and babies showers and for easy, no bake dinners. BUT–even before I had to worry about food allergies, sometimes the chicken salad sandwiches could be bland. There was no spice added and hardly any extra things for crunch.
Despite avoiding gluten, dairy and egg for my son's food allergies, I don't have any food allergies. I could have this made the regular way if I wanted to, but I genuinely look forward to this meal and we eat it often in our dinner rotation because it's so good and quite easy!
Adding Dijon mustard, and several spices really adds for a delicious base. And, thanks to egg-free/vegan mayo coming a long way, I bet you could serve this to a crowd and no one would be the wiser.
I hope this gluten, dairy and egg free chicken salad sandwich helps you enjoy a classic once again!
How to make Chicken Salad Sandwiches Gluten Free
This first barrier to making chicken salad sandwiches gluten free is finding bread or a bun that is gluten free. That should be the only ingredient that would contain gluten, though it's important to check every single ingredient, just to be sure. Here are lots of gluten-free options:
Our favorite gluten-free bread bread (which is also top-8-free, and vegan) is Little Northern Bakehouse White Wide Slice. If you prefer to not buy it off Amazon, I get mine locally at a grocery store called Natural Grocer. I see on their website they also have buns, but have yet to find any in stores near me.
If we're wanting buns to serve this on, we enjoy either Schar's Hamburger Buns or their Schar's Ciabatta Rolls (which is what is used in the pictures). Schar does contain soy, in case that's an issue for you.
And, if you want to skip the bread altogether and go for a low carb option, you can always put it inside lettuce wraps.
Or, you can eat it like a dip, and serve it with gluten-free crackers.
You could also put it inside a gluten-free wrap like Mission Gluten-free Tortillas or BFree wraps.
Lastly–because I like you to have lots of options–you can serve it over a bed of spring mix or other greens, like baby spinach, and have it as a topping on a salad.

How to make Chicken Salad Sandwiches Dairy Free
Usually, avoiding dairy can be quite difficult, but thankfully with chicken salad sandwiches it's not hard at all. I find it rare, even with classic Chicken Salad Sandwiches for there to be dairy. Not often, someone will put some cheese, but as long as your bread is not buttered, or contains dairy, the actual filling part is mayo, chicken, spices and textural ingredients like crunchy veggies and sunflower seeds. As always, check all of your labels to make sure there is no hidden dairy. But, you won't notice any substitutions for me, as mine is naturally dairy free.
What egg-free mayo do you use for your Egg-Free Chicken Salad Sandwich
Not everyone needs an egg free option, but in case you do. Here's how to swap it out. This recipe really could not be possible if it weren't for the fact that egg-free mayo has come SO FAR. I'm pretty picky with my mayo, and I like Hellman's Vegan Mayo (also known as Best Food's) so much that, I not only use it for this recipe, but every day use too. I find it at Walmart and on Amazon.
Here are the ingredients for Hellman's Vegan Mayo, in case you need to see them:
Sunflower oil, water, modified food starch (potato, corn), distilled vinegar, less than 2% of: sugar, salt, lemon juice concentrate, sorbic acid and calcium disodium EDTA (used to protect quality), natural flavor, paprika extract (for color).
*Be sure to check the label when you buy it, in case it's changed since time of publishing.

Is this Chicken Salad Sandwich allergy friendly?
Yes it is! If you use the Little Northern Bakehouse bread, and use the Hellman's Vegan mayo, this recipe will be free of: wheat, gluten, dairy, egg, soy, peanut, tree nuts, fish and shellfish. Which then means that this chicken salad sandwich is top-8-free. So, hopefully this means way more people can once again enjoy this classic sandwich! Always read the labels to make sure ingredients haven't changed since the time of publishing.
What chicken do you use in chicken salad sandwiches?
Really, there's no wrong answer here. Leftover chicken is great. Store bought rotisserie chicken or roasted chicken is great (I see you, Costco!), chicken thighs are great, and so are chicken breasts.
I often use frozen chicken breasts to clean out my freezer with this recipe. I'll put them in my instant pot with 3/4 cup water, and some salt and pepper. I'll put it on high pressure (also known as manual) for 25 minutes, and then let it sit (also known as naturally release pressure) for ten minutes. I open, drain the liquid, and shred. Use whatever chicken you prefer, what you have time for, and what you have on hand.
How do you make chicken salad sandwiches nut free?
A lot of people like to put walnuts or some other tree nut in their sandwich for crunch. But, we can't do that here with my sons' tree nut allergies. So, we sub it out with salted (or you can use unsalted) sunflower seeds. It still gives that great crunch, without worries about food allergies.

What do you put in chicken salad sandwich to make it feel like it came from a deli?
They key to the ultimate chicken salad recipe comes from two things: a tasty base (yes, that means more than just mayo) and extra ingredients for texture and crunch. By adding something sweet (grapes) and something salty (sunflower seeds) it really feels like a professional/deli style sandwich. Take it up a notch and have your guests wondering if you bought it or made it homemade. Here is the winning combo of ingredients in my book:
shredded chicken
red onion
celery
egg-free/vegan mayo if needed, if not regular mayonnaise
Dijon mustard
Seasoned salt
Garlic salt
Black pepper to taste (I don't use salt, since my sunflower seeds are already salted)
Shelled sunflower seeds
Red grapes (seedless)
Red leaf lettuce
I like my recipe because it doesn't require any fresh herbs and I almost always have onion and celery in my fridge, so I can make this last second when I haven't planned anything else for dinner.
Popular Substitutions for chicken salad recipes
You'll also find some in some other gluten-free chicken salad recipes people will swap in sweet apples, green grapes, or dried cranberries in place of red grapes–all are a great option. Really, the point is to have something sweet to balance out the salty, so use whatever you prefer for fruit.
Some people choose to use green onion, but I feel like the red onion offers plenty of onion taste. Feel free to use whatever color of onion you prefer.
Note that you can really use any lettuce you like–butter lettuce, romaine lettuce, iceburg or bibb. In fact, my kids don't like any lettuce at all.
You could also swap in pumpkin seeds instead of sunflower seeds if you want options.
What tools do you need to make this gluten-free chicken salad recipe?
You only need:
cutting board
chefs knife (or your favorite type of knife)
large mixing bowl
large spoon for stirring
measuring cups and spoons
What do you serve with chicken salad sandwiches?
We like to keep it simple (we have four small kids) so we serve it with French fries/tater tots/ or potato chips and some fresh fruit and veggies. This is another reason why I love this meal, because it really is simple and doesn't require much fuss, prep or time.
What do you do with leftover gluten-free chicken salad recipe?
Keep leftover chicken salad separate from the bread and store it in an airtight container in the fridge for up to three days, which makes this great for making ahead of time. Please note if you're serving this at like a shower or a luncheon, it should not be left out more than 2 hours at room temperature.
Do you need other gluten free finger foods?
If you'd like to pair this for a party with other finger foods, check out these other gluten free party foods: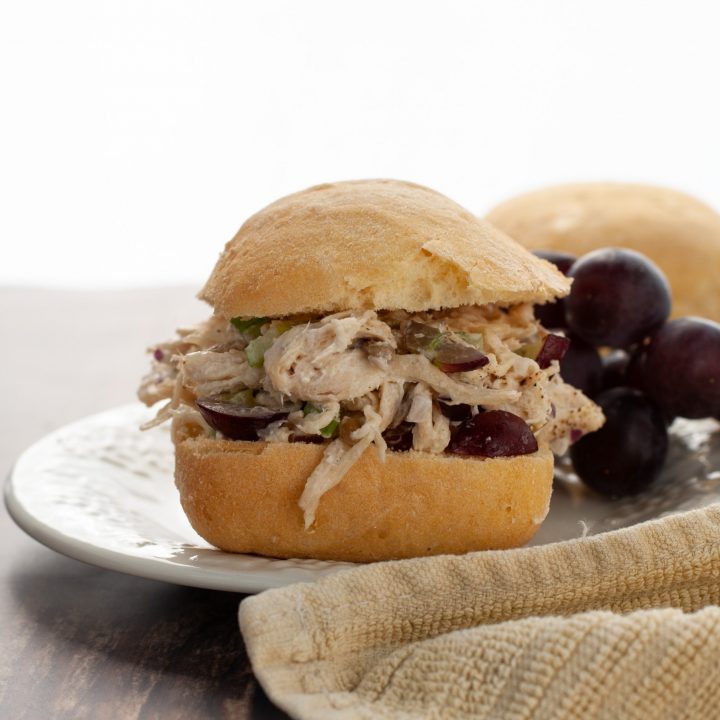 Tastiest Egg-Free Chicken Salad Sandwich
If you miss chicken salad sandwiches because you can't have gluten, dairy or eggs...I have a way you can still enjoy it. AND, it may just be better than you remember. With lots of texture and crunch and more than just plain mayo, this will be your new favorite way to enjoy this classic.
Ingredients
SALAD INGREDIENTS:
2 cups cooked chicken chopped--approx 2 chicken breasts (leftover or rotisserie works great!)
1/4 red onion, minced finely
1 stalk celery chopped
1/3 cup salted sunflower seeds, shelled
1/3 cup red seedless grapes, halved or quartered
Red Lettuce leaves (optional)
DRESSING INGREDIENTS:
1 teaspoon Dijon mustard
1/2 teaspoon garlic salt
pepper to taste
Instructions
1. Use leftover chicken (instant pot, slow cooker, grilled, rotisserie--you name it, just about 2 chicken breasts worth) and shred it and add it to a large bowl.
2. Add the rest of your salad ingredients to the bowl.
3. In a small bowl, combine all of your dressing ingredients.
4. Add your dressing ingredients to your salad ingredients and stir to combine. Taste and adjust salt and pepper to your liking. (I find I only need to add pepper, not salt because of the salted sunflower seeds).
5. Toast your buns or bread. Place enough of the completed salad mixture on top of one side of the bread. Place a lettuce leaf on top (optional--my kids just pull it off, hence why it's not in my photos) and then place to two pieces of bread together.
6. Serve immediately. Keep the salad mixture separate from the bread/buns if storing leftovers. Keep leftovers in an airtight container in the fridge 2-3 days (great for making ahead of time too!).
Notes
This salad is quite forgiving, so feel free to adjust the ingredients. If you like more crunch, add more celery or sunflower seeds. If you like it more creamy, add a little more mayo. It's very flexible, so feel free to use the measurements as a guide, rather than a fixed amount.
If you're looking for some other gluten, dairy and egg free dinners, check out my cookbook: An Allergy Mom's Lifesaving Instant Pot Cookbook.
*Our allergies, while severe and that get re-tested yearly, are such that we can go strictly by what's on the label. I do not call companies to see what things are derived from, or call manufacturers to see about potential cross contact. If your allergies require you to do so, please do your own homework. I cannot assure you of any ingredient's safety, only you can do that. I simply share what works for our family
**If you are going to feed this to someone with food allergies, and you yourself do not have food allergies, I HIGHLY recommend having them check every single brand and ingredient you are using, to ensure they're OK with each part of the recipe. And, to make sure you've talked to them about how to avoid cross contamination in your kitchen.
DON'T FORGET TO PIN IT, SO YOU DON'T LOSE IT. BE SURE WHILE YOU'RE THERE TO CHECK OUT MY OTHER DIETARY SPECIFIC PINTEREST BOARDS.