Pancakes are such a deliciously sweet way to start your day. Safe butter, carbs and syrup–what is there not to love? And, just because you can't have the staples of gluten, dairy or eggs doesn't mean you can't have tender, fluffy pancakes just like you used to! This recipe is so like the classic pancake, you'll fool anyone! Miss pancakes no more with this easy recipe! I've tried several recipes over the years and these are my favorite pancakes. Video below too. These gluten free vegan pancakes are free of: wheat, gluten, dairy, egg, soy, peanut and tree nuts, also making them top-8-free and very allergy friendly!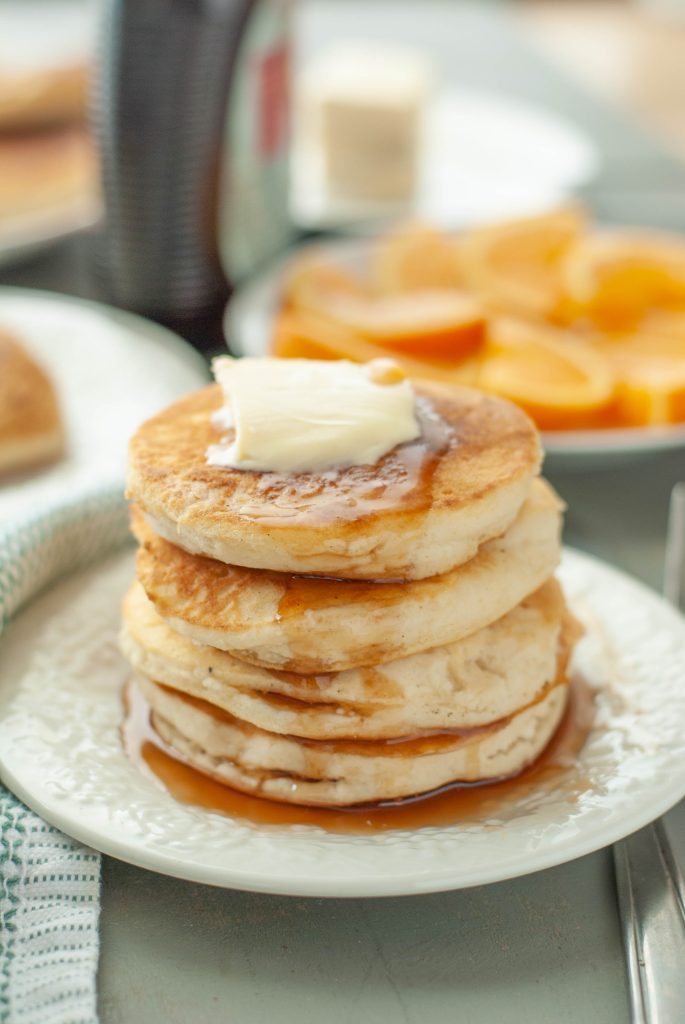 This post contains affiliate links.
WATCH HOW TO MAKE IT!
If you'd like to see how easy it is to make these delicious pancakes (seriously–just measure, stir and cook!) watch this TikTok video below. NOTE: I have since changed my method. You'll notice I was in a rush to film and added the melted vegan butter to the cold rice milk and it firmed up again slightly. You can avoid this (honestly, I didn't notice a difference in taste and texture, just not as pretty or smooth of a batter) by placing the butter and milk in the microwave together and heating until the butter is melted.
WHY I LOVE THESE VEGAN GLUTEN-FREE PANCAKES
Pancakes have been a favorite breakfast of mine since childhood. In fact, we FREQUENTLY have pancakes for dinner, because it's so kid friendly. AND, just because these are meant for a specific diet doesn't mean any extra crazy steps. Just some simple swaps are all you need to still enjoy that taste and texture you've been craving!
My son has a wheat, dairy and egg food allergy, and my husband has a gluten intolerance, so I love to make sure they're included. Because I don't personally have food allergies, I'm very picky, because I still remember what "normal" food tastes like. And believe you me–I look forward to making these pancakes as much as they do! You'll love them too!
FREQUENTLY ASKED QUESTIONS:
WHAT EGG REPLACER DO I USE FOR THESE VEGAN PANCAKES?
There are lots of egg replacers–powdered store bought versions, JUST egg, applesauce, banana, chia seeds, flax egg and aquafaba. I used to make my pancakes with aquafaba, but got several complaints from people who have legume allergies.
I didn't want any fruit egg replacers because those alter the taste. And chia and flax eggs leaves speckles–which doesn't allow you to feel like you're enjoying the old classic.
So, I went with my old stand by: Ener-G egg replacer which is a great egg replacer (not sponsored). I've been using this stuff for a decade and it works well in some applications, and it does really great in this recipe! I don't care for Bob's Red Mill Egg Replacer, so I would recommend sticking with Ener-G brand for this one.
*If you can have eggs, and just need the pancakes to be gluten free dairy free, sub in three regular eggs.*
WHAT GLUTEN FREE FLOUR DO THESE PANCAKES NEED?
You can always use my homemade gluten-free flour blend recipe and then add 1 tsp xanthan gum to the recipe. Or, I like the Great Value Gluten Free Flour. Basically, any store bought flour that is mostly: brown rice flour (or white), potato starch and tapioca starch /tapioca flour should be fine. If it has some sorghum included in the blend, that should be fine too. I wouldn't stray too much from that though. Specialty flours like oat flour, almond flour, coconut flour, and cassava flour absorb liquid differently and should not be used. You should also always scoop and then level your flour when measuring gluten-free flour. If you do not need them to be gluten-free, but simply vegan pancakes, you can swap back in regular wheat flour at 1:1.
WHAT NON-DAIRY MILK SHOULD YOU USE IN THE PANCAKES?
I prefer rice milk because it has the least after taste. If you cannot do rice milk, I would assume almond milk, soy milk, oat milk, coconut milk or pretty much any dairy-free milk should do (just not the thick, canned coconut milk.) We also have nut allergies, so we do not use nut milks.

WHAT VEGAN BUTTER SHOULD I USE?
We have always stuck with the Earth Balance Buttery Sticks (they also have a soy-free version is you need that). However, I have noticed several other brands popping up. I have not tried them (hard to branch out when something has worked for so long) but if you do try it with another brand–please comment below to let us know!
I know some may be tempted to not use vegan butter and use an oil instead, but I'm telling you–the rich taste of butter is what makes these feel like the classic diner pancakes you used to love!
WHAT OIL SHOULD I USE?
For making sure your pancakes don't stick I always recommend using a non-stick spray or oil, even when using a non-stick pan or pancake griddle, just to ensure flipping ease. I use a canola oil or vegetable oil spray, but you could also use coconut oil or avocado oil as well.
DO I HAVE TO USE A GRIDDLE?
No! For many years I just used a large non-stick pan. But, once my family got bigger, I wanted a griddle so I could make more than two at a time. I bought this indoor grill pan, which fits on top of my burners, so that I don't have to use another electrical plug. Use whatever you have!

WHAT INGREDIENTS ARE IN THESE GLUTEN-FREE VEGAN PANCAKES?
I bet most of these ingredients you already have on hand if you bake gluten-free vegan often like I do.
WET INGREDIENTS:

Rice milk

(original or vanilla will work)
Vanilla extract (optional)

DRY INGREDIENTS:

Salt
Baking soda
Baking powder
All purpose gluten free flour
Sugar

OPTIONAL FAVORITE TOPPINGS:

Fresh fruit
Powdered sugar
Maple syrup
Vegan Butter
CAN I ADD IN MIX INS?
Every once in awhile my kiddos talk me into chocolate chip pancakes. I prefer to not stir them into the batter, but wait until I've poured the batter onto the hot griddle and drop a few in each pancake before flipping. That way, I can make sure they land where I want, versus clumping in once corner of the pancake, or just ending up at the bottom of my mixing bowl. I have actually never added fruit like fresh blueberries or bananas because I don't like them in my pancakes, but I would assume you would do the same. If you try it out, let me know in a comment below!
CAN I MAKE THESE PANCAKES REFINED SUGAR FREE?
I have not made these pancakes with anything but granulated sugar, because it calls for so little. A safe replacement might be coconut sugar. I have not tried replacing it with maple syrup–but you're welcome to try. It just might make thinner pancakes as that is adding more liquid.
WHAT IF MY PANCAKES AREN'T GETTING DONE IN THE MIDDLE?
Pancakes not being done in the middle can happen for several reason: your heat is too high, so it's browning the outside before it can reach the middle. (I shoot for medium to medium-low heat.) Or, your batter is too thick. You can always thin it out with a little more plant milk until you reach your desired consistency. Or, you used too much flour because you didn't spoon and level your measuring cup and compacted the flour too much when you measured it–again–just thin it out with some more milk.
**A PRO TIP**: I notice that sometimes even with all the above done right, my pancakes look *just* barely undercooked in the middle when they've reached my preferred level of brown on both sides. In order to help it residually cook from the heat AND to keep them warm until serving time, I place any pancake straight from the griddle into a tortilla warmer. It works great to keep them warm, soft and finish any tiny bit of cooking left.
WHAT SHOULD I SERVE WITH THESE GLUTEN-FREE VEGAN PANCAKES?
I like to serve these pancakes with:
sausage or bacon (we can have meat, just can't have milk and eggs–but there are lots of faux sausages out there)
hash browns
fresh fruit (berries, bananas, cantaloupe, honeydew…etc.)
smoothies
vegan yogurt (like Oui coconut yogurt, Silk, So Delicious…so on)
Scrambled "eggs" like JUST E

gg

or

Follow Your Heart

HOW DO I KNOW WHEN IT'S TIME TO FLIP THE PANCAKES?
After you've poured your batter, you'll start to see just a bubble or two pop (there won't be as many as traditional pancakes). And, if you're not sure, you can always take your spatula and peak under a corner to get a good judge on just how brown it is under there. You will not see air bubbles on the second flip, just the first.
HOW DO I STORE THESE GLUTEN FREE VEGAN PANCAKES?
You should wait until the pancakes have cooled completely before storing, otherwise the moisture trapped inside will make them more gummy. I like to store mine in a Ziploc baggie in the fridge, or some other type of airtight container. You can either warm them in the toaster oven or microwave until reheated to your liking.
MORE GLUTEN FREE VEGAN PANCAKES
Check out these other delicious gluten-free, dairy-free, egg-free pancakes:
These are THE best pancakes. I hope you love them as much as we do! Be sure to leave a review and tell your friends.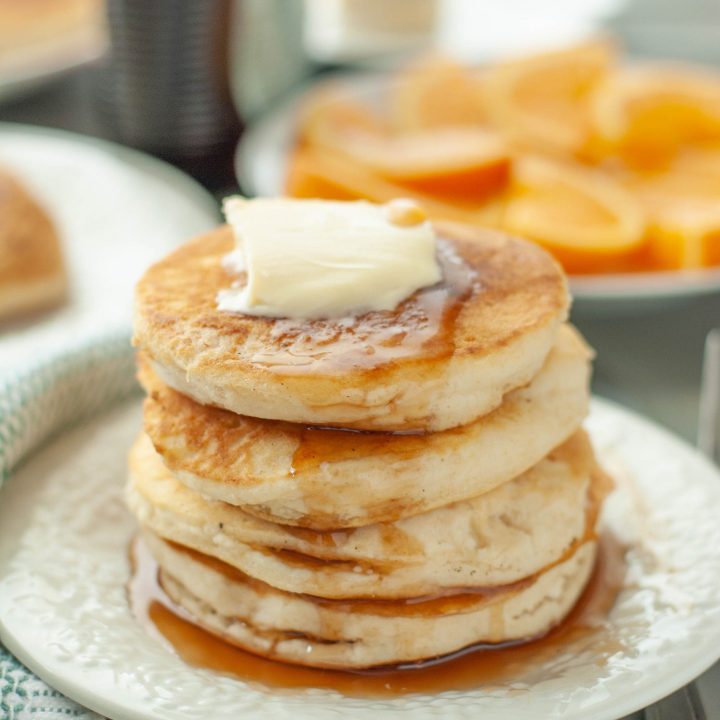 The BEST Gluten Free Vegan Pancakes
Just because you can't have the staples of gluten, dairy or eggs doesn't mean you can't have tender, fluffy pancakes just like you used to! This recipe is so like the classic pancake, you'll fool anyone! Free of: wheat, gluten, dairy, egg, soy, peanut and tree nuts. Top 8 free too!
Ingredients
WET INGREDIENTS:
1 tsp vanilla extract (optional)
DRY INGREDIENTS:
1 and 1/2 teaspoons salt
1 and 1/2 teaspoons baking soda
2 teaspoons baking powder
3 Tablespoons sugar
Instructions
Watch the video at the top to see how to make these before beginning, if desired.

Heat griddle or non-stick pan to medium-low heat.

In a medium mixing bowl, add the butter and milk, and place in microwave. Heat until butter is melted.

Whisk in the Ener-G eggs (and vanilla if using).

In a large mixing bowl, whisk together all of the dry ingredients.

Pour in the wet ingredients into the dry ingredients and stir with a spoon until mostly mixed (fine if there's a few streaks of flour).

Grease the griddle or pan.

Spoon 1/3 cup or so of batter onto the warm griddle.

Wait for a bubble or two to pop, and then flip. (You can always lift the edge and check to see how brown it is, if the bubbles aren't behaving). If the middle is not getting done, see post above.

After both sides are brown and middle is done, immediately remove from the griddle into a tortilla warmer to keep warm while you finish the rest of the batch.

Serve immediately with desired toppings.

Enjoy!

Notes
See the post above for all ingredient questions.
Need more ideas? I have 100+ gluten, dairy and egg free breakfast ideas--both homemade and store bought!
*Our allergies, while severe and that get re-tested frequently, are such that we can go strictly by what's on the label. I do not call companies to see what things are derived from, or call manufacturers to see about potential cross contact. If your allergies require you to do so, please do your own homework. I cannot assure you of any ingredient's safety, only you can do that. I simply share what works for our family.
**If you are going to feed this to someone with food allergies, and you yourself do not have food allergies, I HIGHLY recommend having them check every single brand and ingredient you are using, to ensure they're OK with each part of the recipe. And, to make sure you've talked to them about how to avoid cross contamination in your kitchen.
Adapted from: Oh Sweet Basil's Pancakes
Nutrition Information:
Yield:

16
Serving Size:

1
Amount Per Serving:
Calories:

51
Total Fat:

3g
Saturated Fat:

0g
Trans Fat:

0g
Unsaturated Fat:

2g
Cholesterol:

1mg
Sodium:

184mg
Carbohydrates:

7g
Fiber:

0g
Sugar:

5g
Protein:

0g
DON'T FORGET TO PIN IT, SO YOU DON'T LOSE IT! BE SURE WHILE YOU'RE THERE TO CHECK OUT MY DIET SPECIFIC PINTEREST BOARDS.