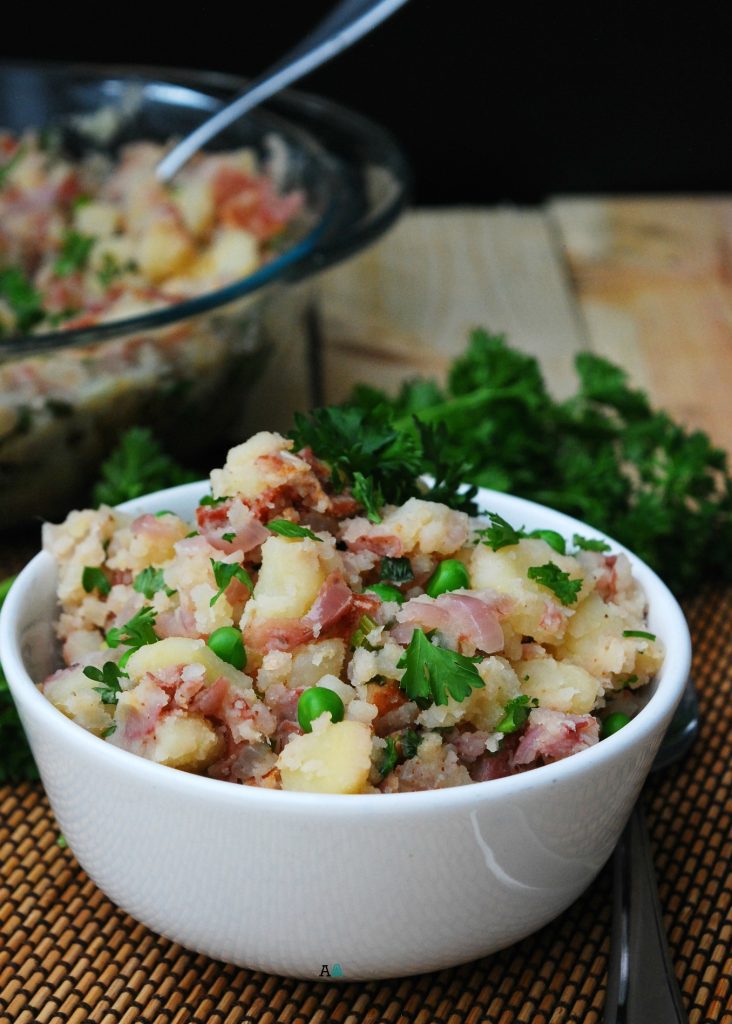 A tangy potato salad with a homemade red onion vinaigrette, punctuated by salty bacon and sweet peas. A zesty, filling side dish for just about any entrée.
For me, potato salad season kicks off on Easter and is pretty much a staple all the way through Labor Day bbqs.  Peas just say spring to me, and the green from the green onions and fresh parsley make this look so fresh and perfect for your spring eating. Unfortunately, my son can't have eggs, so potato salads with hard boiled eggs, or even mayo as a base are a no-no.
Then, one magical day I was introduced to a "German" potato salad which is vinegar based and not mayo based.  I like salt-and-vinegar chips, so I thought I'd give this a whirl.
The tang from the homemade red onion vinaigrette, plus the saltiness from the bacon make a killer base.  I love the addition of sweet peas to cut through all the acidity.  It's truly like a creamy salt-and-vinegar chip.  And, is it odd, but I truly feel that red potatoes are better than brown potatoes?  You say poh-tay-to, I say red poh-tah-to.  Red potatoes give it color and an extra note of flavor.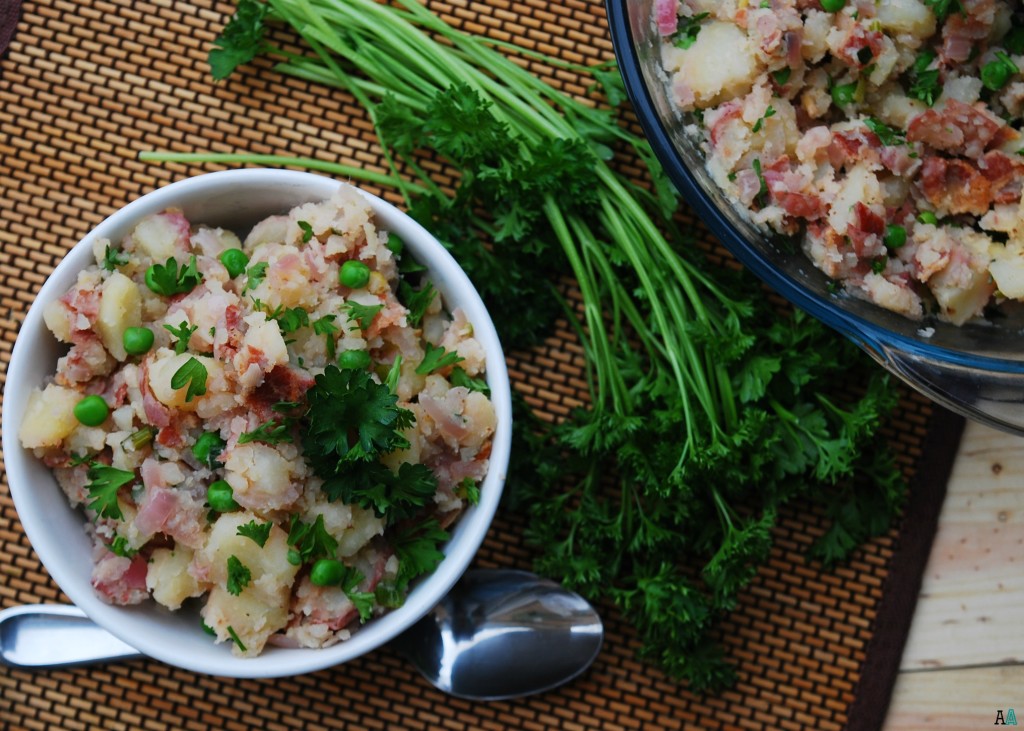 As with all potato salads, try to make this the night before, or the morning of, so that the flavors have time to meld.  And, as the man, Bobby Flay, mentions, be sure to pour the dressing on the potatoes while they're still hot so they can soak in that flavor!
Also, you'll notice from our list of non-safe foods that my son can't do mustard.  I made the potato salad without the mustard and scooped a bunch out for him in his own safe container.  Then, I added the mustard to the rest.  His still tasted great.
Lastly, if you want to make this vegan, you can use you favorite non-bacon substitute.
When I spend more time on the side dish, especially when it's this filling and flavorful, I'll do a simple entrée.  I just did some grilled chicken and it was a very satisfying meal.
German Potato Salad (GF, DF, Egg, Soy, Peanut/Tree nut Free, Top 8 Free, Vegan Option)
A tangy potato salad with a homemade red onion vinaigrette, punctuated by salty bacon and sweet peas. A zesty, filling side dish for just about any entrée.
Ingredients
3 pounds red potatoes
1 yellow onion, quartered
16 oz bacon
1 large red onion, diced
1/2 cup cider vinegar
1 tablespoon Dijon mustard
1/3 cup canola oil or olive oil
Salt and freshly ground pepper
8 green onions, thinly sliced
1/3 cup peas
1/4 cup chopped fresh parsley leaves
Instructions
Preheat oven to 425 fahrenheit. Line a cookie sheet with aluminum foil. Lay the uncooked bacon on it, being sure that no bacon overlaps. Cook for 9-11 minutes, depending on how crispy you like. I think the crispier the better, since the bacon will soften again as it marinates in the salad. Once done, set bacon on a paper towel to drain. Reserve 2-3 Tablespoons of the bacon grease.
While the bacon is cooking, place potatoes in a large pot with the yellow onion and cover with cold water. Cook until fork tender. Drain, discard the onion, and cut the potatoes into cubes when cool enough to handle. Place the potatoes in a large bowl and cover to keep warm.
In a saute pan add the reserved bacon grease and red onion and cook until soft, about 3 to 4 minutes. Carefully add the vinegar and mustard and cook for 2 more minutes. Whisk in the oil and season, to taste, with salt and pepper. Add the hot dressing to the potatoes and toss gently to coat. Fold in the green onions, peas and parsley. Season again with salt and pepper, to taste.
Allow to marinate overnight, or several hours before serving.
Notes
If you can't do mustard like my son, make the salad as usual without it, and then take your portion out. Add the mustard to the rest. My son's portion still tasted great without it.

To make it vegan, use your favorite vegan bacon.

If you like the bacon crunchy in the salad, I'd recommend halving the bacon. Put half the bacon in it when you first make it. Then, right before serving, add the remaining bacon as a garnish so you have crunchy little jewels on the salad. If you put all of the bacon in the salad, you will find it softens--totally preference based.
Adapted from Bobby Flay/Food Network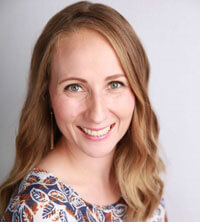 Hi! I'm Megan, a mom to four kids, two with multiple food allergies & one with EOE. I'm a published cookbook author that constantly tweaks recipes to make them allergy friendly–it's an addiction. I share every recipe & tip with you, to help you eat like you did before food allergies & dietary restrictions. You can still be awesome, even with food allergies!