A grain-free, gluten-free, vegan pizza crust that only requires a few ingredients, no egg replacer, no crazy gluten-free flour blends and is SUPER simple to make. This recipe is life changing. Talk about allergy friendly!

This post contains affiliate links.
Holy crap. Could it be true? An easy, delicious, flavorful crust recipe that only takes a handful of ingredients and doesn't use any specialty egg replacers or gluten-free flour blends? Doth my eyes deceive me?
No. No they do not!
If you haven't heard of socca, I hadn't either until a few weeks ago with The Kitchn did an article on it. It's a street vendor food in France. Once I heard that it instantly gained my trust because the French know their food! Because let's be honest–I've been burned with gluten-free crusts, and don't even get me STARTED on gluten-free vegan crusts. I've got PTSD man. So I needed something that sounded trustworthy to get me to want to even attempt this.
Then, when I saw it only had one type of flour (not a blend!) and all six ingredients were already in my pantry I was invested!
Plus, the fact that my foodie friend that I've mentioned before, Gianna, tried it and said she was making it weekly–I was basically chomping at the bit to make this!
The original recipe just used this as a flatbread–but what is flatbread, but an untopped pizza? I knew I wanted to throw in some savory herbs and try this puppy out.
And it did NOT disappoint.
The dough is soft, like a breadstick…and did I mention I've missed those sooo bad? The flavor is so, soooo good. So, don't let the fact that it uses chickpea flour scare you. It really is a great base that lets the italian herbs shine through. Plus, you can use the rest of the chickpea flour to make my egg-free fritata cups. Double win!
You could top this with whatever you like. I loved the simple pizza sauce, basil and black olives. That was what I had on hand. If you can do meat (which we do) I plan on putting italian sausage on it and maybe a sprinkling of vegan cheese (because my son has a gluten, dairy & egg allergy, among others). My son has already called dibs on that next rendition.
Let me know what toppings you try and what you think!! I'm excited to hear other peoples exploration of this fantastic french food that is free of: gluten, dairy, egg, soy, peanuts & tree nuts and is top-8-free!
You can also try this Keto Pizza Casserole from fellow blogger The Domestic Diva.
Grain-free, Gluten-free & Vegan Skillet Pizza (Socca)
A grain-free, gluten-free, vegan pizza crust that only requires a few ingredients, no egg replacer, no crazy gluten-free flour blends and is SUPER simple to make. This recipe is life changing. Talk about allergy friendly!
Ingredients
SOCCA CRUST:
1 cup water
1 and 1/2 tablespoons extra-virgin olive oil, plus more for the pan
1/2 teaspoon table salt
1/2 teaspoon garlic salt
TOPPINGS:
Black olives, sliced
Fresh basil
Kosher salt & freshly cracked pepper
Instructions
Turn your oven to 450 degrees F and adjust your oven rack to 6-8 inches from the top broiler.
Whisk together all of the crust ingredients. Let the batter rest for 30 minutes.
When there is five minutes left on the crust resting, place your cast-iron skillet in the oven to heat for the final five minutes.
Carefully remove the hot skillet with oven mits and place 1-2 teaspoons of additional olive oil in the pan and swirl it around to cover the entire surface.
Pour the crust batter into the greased and hot skillet and spread evenly.
Adjust your oven from 450 to broil.
Broil the crust for 6-8 minutes, or until the edges are a golden brown and the center is set. The crust will be flexible, but cooked.
Take the crust out and top with your favorite toppings. Cut into wedges and carefully remove with a heat safe spatula. Best eaten fresh.
Notes
If you just need this to be grain free, you can totally add cheese if your diet allows it. We just can't due to my son's dairy allergy. But, this crust is bomb regardless of the toppings.
Adapted from: The Kitchn
Nutrition Information:
Yield:

4
Serving Size:

1
Amount Per Serving:
Calories:

209
Total Fat:

6g
Saturated Fat:

1g
Trans Fat:

0g
Unsaturated Fat:

5g
Cholesterol:

0mg
Sodium:

799mg
Carbohydrates:

32g
Fiber:

3g
Sugar:

2g
Protein:

6g
DON'T FORGET TO PIN THIS SO YOU DON'T LOSE IT. ALSO, CHECK OUT MY OTHER ALLERGY-FRIENDLY PINTEREST BOARDS.
---
Looking for other gluten-free & allergy-friendly Italian dishes? Here are some of my favs: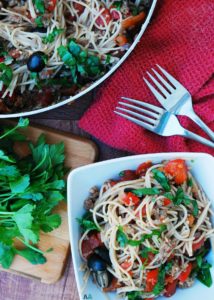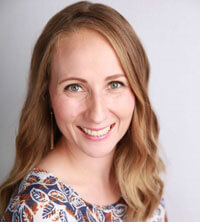 Hi! I'm Megan, a mom to four kids, two with multiple food allergies & one with EOE. I'm a published cookbook author that constantly tweaks recipes to make them allergy friendly–it's an addiction. I share every recipe & tip with you, to help you eat like you did before food allergies & dietary restrictions. You can still be awesome, even with food allergies!