Specialty food allergy ingredients can often be 2-3xs the price of regular ingredients–which can make grocery shopping on a budget feel impossible. I'm going to share my top five tips on how I stay within budget even while having to avoid over 30 foods for food allergies and EOE. I've got a video where I show you exactly what I bought for an entire week of groceries for a family of five and what I'll use it for. From one allergy mom to another–we can do this!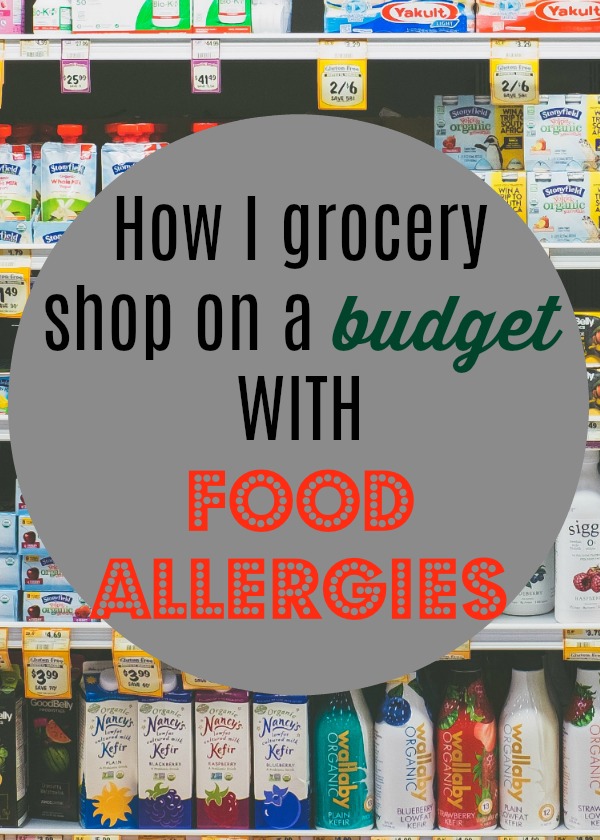 I've summarized my tips below, but be sure to watch the video for all the details.
TIPS FOR GROCERY SHOPPING WITH FOOD ALLERGIES:
Plan out your dinners

–It can be time consuming to plan out your dinners, I get it! But, one thing that helps me is having one night a week set aside to do it, so that it becomes a habit and I have the time for it built into my schedule. I do it every Sunday night–that way I can do grocery pick up in the morning and I know I'll have the rest of the week's dinners planned. I promise you it's worth the effort because I know I'd never stay on budget if I didn't go into grocery shopping with a game plan!  And you might say, "Well…I write a meal plan, buy the stuff and then don't make it. So now what?" One way I get around this is I write on each day's line what we're doing that day if there is an activity around dinner time, that way I can see that I might need a quicker meal (sheet pan dinner, slow cooker) since that day we have dance or soccer to make sure I have enough time to actually execute it.

Use up your pantry

–This goes hand in hand with step #1. After I write down all of my daily dinners, I write down all of the ingredients each dinner needs. Then, I go through my pantry and fridge and cross off anything I already have. Maybe I see I have some cilantro, but it's looking a little sad, so I'll move up taco night to ensure we can use that up before it goes bad, instead of buying another bunch. And so on, and so forth! By shopping from myself first I find I actually don't need as much as I thought I did!

Eat leftovers

—I know, I know. Insert eye rolling here. But, if you throw out what you worked hard on–what a waste! Plus, it's the EASIEST lunch. I eat leftovers almost every day for lunch. If I go to the trouble to cook a dinner from scratch–why do I want to make lunch for myself too? No thanks. I'd rather pop some leftovers in the microwave and have a healthy, allergy-friendly lunch. The money you can save by using up your food is crazy. I'd rather not have my absolute favorite lunch every day and actually take my kids to do fun things instead. You gotta weigh it out like that to help you swallow it (literally!)

Buy as many regular ingredients as you can

—I LOVE me some allergy-friendly specific brands. I would die if I didn't have the convenience and ease of an allergy-friendly granola bar–but I consider those a luxury and not a weekly shopping item. My kids have learned to snack on things that are regular foods and not crazy expensive (IE: chips and salsa) instead. I try to only go to specialty grocery stores every few weeks, because it's too temping to find all of the specialty foods and want to buy them ALLLLLLLLLLLL.  (If you need a list of the allergy-friendly snacks my kids eat on the regular, check out

this post.

)

Freeze what you don't use and use what you freeze!

If I make a big batch of soup then I'll freeze the extras (especially if I already have a ton of leftovers I still need to eat up, so our fridge can actually shut!). It's great when someone is sick (especially me!) then all I have to do is just warm something up. We can't just call in a pizza order or go out to eat like most people, so make your own convenience foods. It's so nice to have something easy to pull out of the freezer that you know is safe for days when real life hits! I like to also keep a running list on my freezer where I write down what I'm putting in it, so they don't get shoved in there and forgotten. Then, the next time I'm making

fried chicken

, I can remember I have half a loaf of

corn bread

we can eat with it!
I give the most details in the video, so be sure to watch it below (or on YouTube)!
———->And, if you've never tried grocery pick-up, like I love and mention in the video, then you've gotta try it! If you use my affiliate link, you get $10 off your first order at Wal-Mart's grocery pick up!
If you'd like to make the exact meal plan I did, here's a link to all of the dinner's I bought groceries for, so you too can find the ingredients:
*****Also, if you'd like a two week's dinner menu with a grocery shopping list, all under $200, then be sure to purchase my e-book!*****
Lastly, be sure to leave your tips for how you stay on budget while grocery shopping with food allergies below to help future readers.
DON'T FORGET TO PIN THIS, SO YOU DON'T LOSE IT. ALSO, BE SURE TO CHECK OUT MY OTHER ALLERGY-FRIENDLY PINTEREST BOARDS.
---
Do you want some inexpensive treats you can make yourself for food allergies? Here are a few of our go-to snacks and treats:
How to Make Jello Pudding Dairy Free (Top-8-Free Too!)
Allergy-friendly Rice Krispies (Top 8 Free)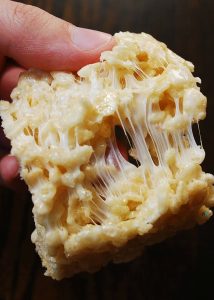 Happy Trails Mix (Nut, DF, Top 8 Free)
Gluten, Dairy & Oat-free Energy Balls
What in the World Do You Feed Your Kids: Candy