Just because you can't have gluten or dairy doesn't mean you can't have a mean BLT. I've got spread and bread suggestions for you below to help you find options that work for your individual diet (including egg free mayo if you need it like us!) A classic sandwich to be enjoyed once again! This gluten and dairy free BLT is allergy friendly too!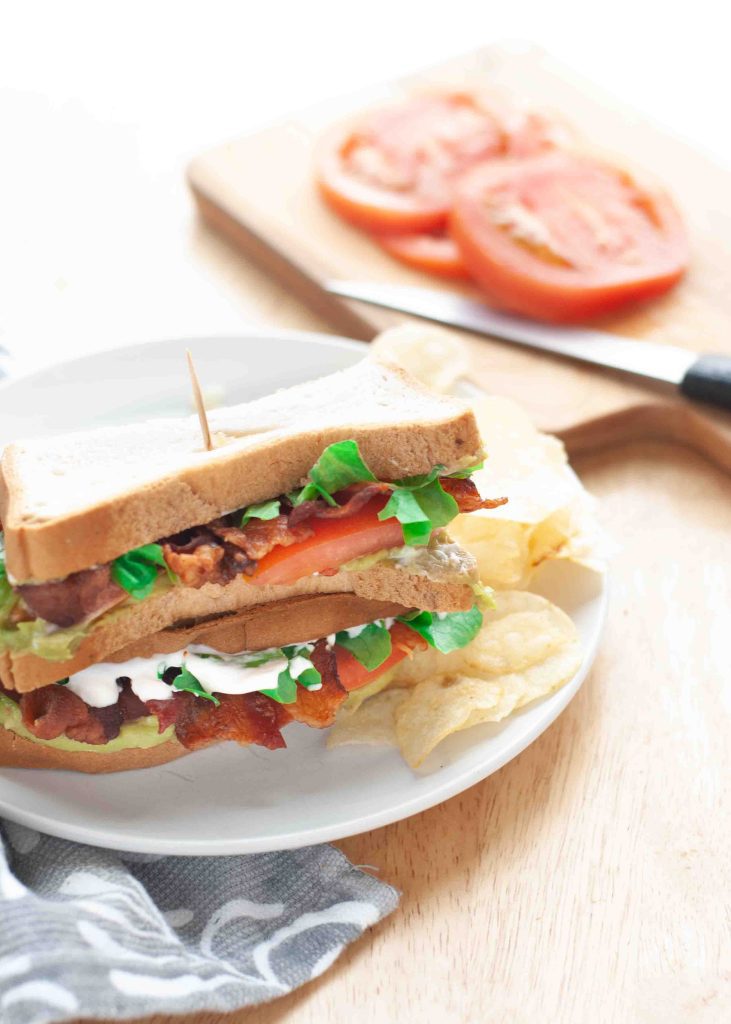 This post is not sponsored, but does contain affiliate links.
Why we love gluten and dairy free BLT's.
BLT's are one of the aces I have up for my sleeve for easy dinners that are kid approved. All of my kids like them, and they take hardly any time to make. Throw in a side of safe potato chips (we use plain Lays) or frozen fries and kids are happy, and therefore I am happy. We have this in our regular dinner rotation, and sometimes as lunches too! It's especially great for hot summer nights when you don't want a big, heavy meal and don't want to heat up the house.
What gluten free bread do I recommend?
Since we have both gluten and egg allergies, we use a gluten free vegan bread called Little Northern Bakehouse. We've used it for years and find it to be a really impressive texture for being free of so many things (top 8 free). We find it at specialty stores (like Natural Grocer). Or, you can find it on Amazon.
Here are the ingredients for Little Northern Bakehouse White Wide Slices (pictured) as taken from their website:
Water, gluten-free flour blend (modified tapioca starch, corn starch, potato starch, brown rice flour), sugars (dextrose, cane sugar), sunflower oil, psyllium husk, yeast, modified cellulose, pea fibre, salt, rice bran, cultured cane sugar, cellulose gum, vinegar
If you can have soy, we also like Schar's gluten free bread.
If you can have eggs, Canyon Bakehouse is also very popular.
How is this BLT dairy free?
BLT's don't traditionally have cheese on them. Some people throw on sliced cheese as an addition, but honestly, we love our BLT's dairy free, and don't miss or mind not having cheese on them. If you really want, you could throw on some of your favorite dairy-free cheese, but we find it expensive and not worth the hassle.

How can I make this BLT egg free?
I know when most people hear "make a BLT egg free" they think…wait…do you put a fried egg on yours? No, we don't. But, if you have egg allergies like we do, then you know that there are eggs in regular mayo.
So, we like to use Best Food's Vegan Dressing & Spread (also known as the Hellman's brand). Everyone in my family loves it, even those without egg allergies. We find it at Walmart or Amazon. I find you really want some type of spread (if you have one you prefer) to help everything stick together.
Here are the ingredients in the Best Food's Vegan Dressing & Spread as taken from their website:
Sunflower Oil,

Water,

Modified Food Starch,

Potato,

Corn, D

istilled Vinegar, Contains 2% Or Less Of Each Of The Following:


Sugar,

Salt,

Lemon Juice Concentrate,

Sorbic Acid, And Calcium Disodium EDTA (Used To Protect Quality),

Sorbic Acid (Used to Protect Quality) C

alcium Disodium EDTA (Used to Protect Quality),

Natural Flavor,

Paprika Extract
If you don't need it to be egg free, feel free to use whatever brand mayo you prefer!
Is this gluten and dairy free BLT allergy friendly?
Yes. Tomatoes and lettuce are naturally allergy free, and both the mayo I listed and Little Northern Bakehouse list themselves as top 8 free. Depending on what type of bacon you use (read every label, from everything you plan to use), this should be a very allergy friendly lunch or dinner.
How to make this BLT over the top? ADD GUACAMOLE!
We used to love to put fresh, sliced avocado on our gluten and dairy free BLT sandwiches. But, then we found that they often slid out (especially with kids eating them) and that they would either be too hard when we'd want to make a sandwich, or too brown by the time we went to make one. So, we've switched to using guacamole and it has been a game changer! You still get the wonderful flavor of an avocado, but you can put it on as thick or thin as you like, PLUS it usually has added spices and flavor, making your BLT be WOW-WORTHY.
We have used both the generic brand of Walmart guac, and prefer best the brand Yucatan Guacamole. They list theirs as gluten free and certified organic. Here are the ingredients from the listing on the Walmart app:
Hass Avocado, Salt, Contains 1% or Less of: Onion (Dehydrated), Red Bell Pepper (Dehydrated), Garlic (Dehydrated), Cilantro (Dehydrated), Jalapeno (Dehydrated), Ascorbic Acid (to Maintain Freshness), Citric Acid (to Maintain Freshness), Sugar, Xanthan Gum.
We find it at Walmart, and you can sometimes find it on Amazon.
What kind of bacon do I recommend? And, how to cook it?
If you are unfamiliar with cooking bacon in the oven, here is my favorite way to do it (probably been doing it like this for at least eight years). Preheat oven to 425. Line a rimmed cookie sheet with aluminum foil. Place bacon on the cookie sheet, not overlapping at all. Cook 12-17 minutes, depending on your oven and how crisp you like yours. (I like mine to snap all the way down). It does require your oven to be cleaned more, but it makes it so it doesn't curl up (like it does in a frying pan) and makes sure there are no fatty sections. Plus then you don't get grease all over your stove top and possibly burn yourself with splattering grease. If you haven't made bacon in the oven, it will seriously change your life. You're welcome.

Can I make this BLT vegan?
Absolutely! By following my directions above, you've already got vegan bread, and a vegan mayo, so all you'd need to do was swap in a tempeh, or your favorite vegan meat substitute, and you've got a killer gluten and dairy free "BLT" vegan sandwich!
What should I serve with this allergy friendly BLT?
Safe chips (for our allergies we use

Lays original

)
Watermelon
Grapes, berries, assorted fruit
Corn on the cob (I have a way to cook it in the instant pot in my cookbook!)
Brown sugar and bacon baked beans (recipe in my cookbook!)
DON'T FORGET TO PIN IT, SO YOU DON'T LOSE IT! WHILE THERE, BE SURE TO CHECK OUT MY OTHER ALLERGY FRIENDLY PINTEREST BOARDS.