I've gone to the most basic, regular, grocery store and easily pulled off eight candies that are all top eight free! If you've ever wondered what type of candy to get a kid with food allergies, here is an easy-to-find list. All candies are free of the most common allergens: gluten, dairy, egg, soy, fish, shellfish, peanut and tree nuts! This list is great for class parties, class rewards and especially HALLOWEEN!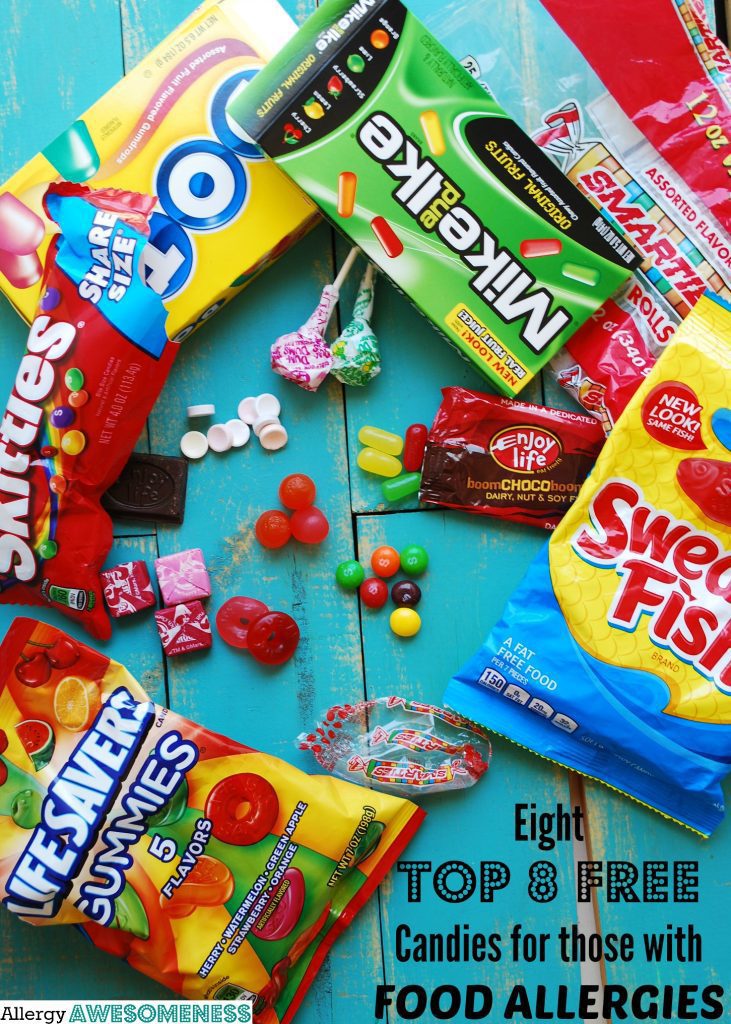 Why I Made a List of Allergy Friendly Candy
I literally get asked "What in the world do you feed your children" question constantly when people hear that my oldest has so many food allergies. But, you'd be so surprised! It can be done!
My entire blog and social media is to help break down this ginormous question. My goal is to help you find items that are easily attainable.
I've been asked the "What in the World Do You Feed Your Kids" question by fellow church members, teachers, friends, neighbors and I'm sure the list will go on as my kids get older. So, not only do I hope that this series will be helpful for others, but I'll probably start giving this link out as well! It's so nice to have a handy-dandy list somewhere that is easily sharable.
We avoid: wheat, gluten, dairy, egg, peanut, tree nuts, beef and goats milk. And yes, those are all anaphylactic allergies. My son has had anaphylaxis four times, and we go and get re-tested every year by the allergist to confirm. Those are not just intolerances and reading labels can be the difference between life and death for my family.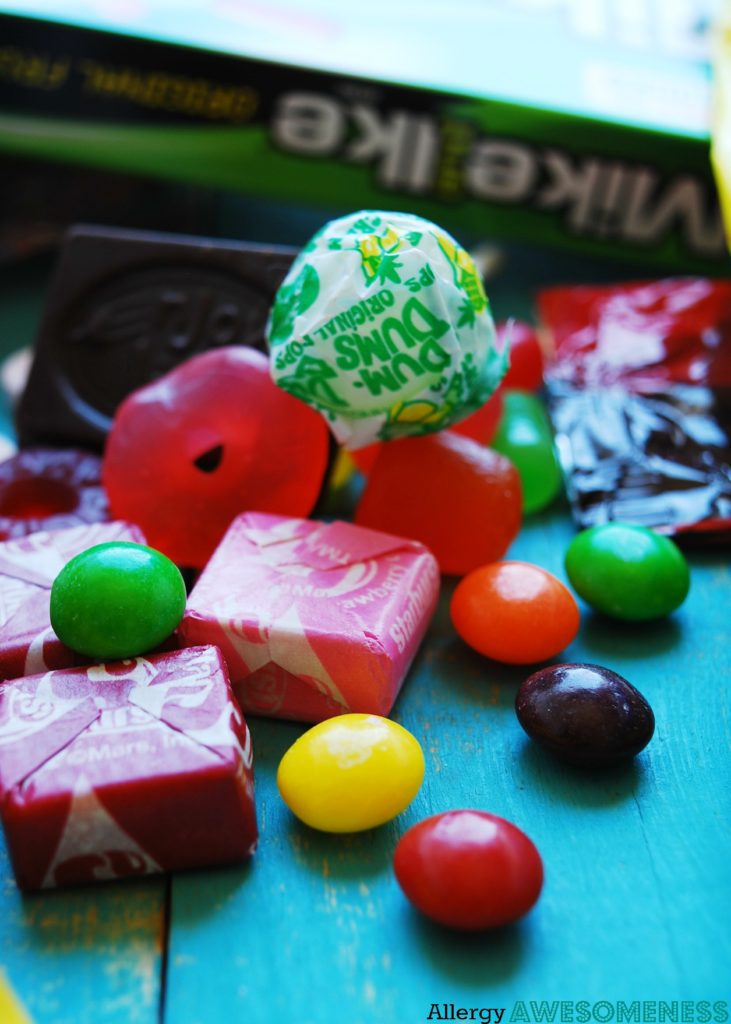 Please note I am not sponsored by any of these companies, although–I'd totally be open to it (wink, wink, cough, cough). These are just candies we've found that work for us, and I want it to be a helpful resource. That said–I did receive the chocolate bars for free in light of full transparency. Speaking of the chocolate…
One thing you'll notice right off the bat is that there is only one kind of chocolate! Chocolate is a land mine for allergies, so I wasn't even going to include any. We almost always have to stick to something fruity and gummy. However, I did want people to be aware that they do exist, but you'll typically only find them at specialty stores or online.
You can also find a fun #FacebookLive video I did at my grocery store around this same subject. Some are the same, and some are not. I just dared myself to spend only a minute and go up and down the candy aisle and see what I could find. Click on the image below (sorry, because it's live the still shot isn't great!) to see it.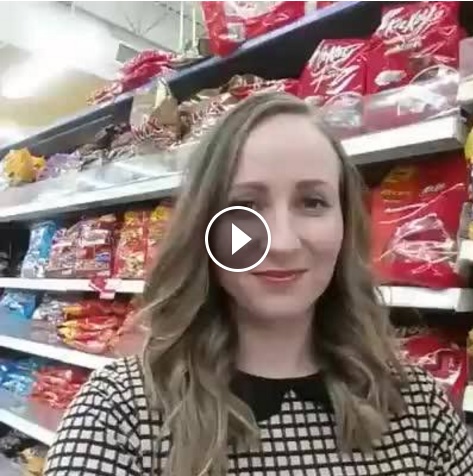 I hope that this helps you find a safe treat for a loved one and to help you realize that yes, food allergic kids can eat some "normal" things. I always find it best to feed everyone to the lowest common denominator, so that everyone can eat the same thing. Not only does that help with inclusion, but it also helps the caretaker or server not worry about little hands or fingers getting a hold of the wrong thing.
Lastly, I know that candy may seem unhealthy–but I do have little kids, who happened to get the sugar addicted gene from me! And, I find we tend to eat more candy during the summer. There's lots of get togethers, movies, road trips–you name it and candy is typically involved. So, I'll try to post a salad next, ha!
Important note about allergy friendly candy
Now, as with all things food allergy: PLEASE consultant the parent of the food-allergic child before buying or feeding them anything. Unfortunately, there aren't many hard and fast rules when it comes to food allergies, and each parent may feel comfortable with different things. For example, some allergies are so severe that they have to call each manufacturer to find out what is processed on the same lines, as it's not a federal requirement to list if there is a "may contain" warning. I have not made any calls on behalf of these candies. I went strictly off labels, and the fact that my kids have eaten these many times without any issues–*for our particular and individual circumstances*. Only YOU can protect you, right? MMM-K thanks.
Happy and SAFE snacking!
OFFICIAL LIST OF OUR FAVORITE TOP-8 FREE CANDIES FOR FOOD ALLERGIES:
Smarties (please note in Canada they're called Rockets, smarties in Canada have chocolate & are not allergy friendly)
Air Heads (Note: They have soybean oil. Check with your allergist, but many who have a soybean allergy can eat the oil.

Source

.)
Pixy Stix
Laffy Taffy (Note: They have soy lecithin. Check with your allergist, but many who have a soybean allergy can eat soy lecithin.

Source

.)

Jolly Ranchers

(Note: They have soy lecithin. Check with your allergist, but many who have a soybean allergy can eat soy lecithin.

Source

.)
Dubble Bubble Gum (does have a warning "soy may be present" so call & check if you have soy allergies)

Surf Sweets

–has many types of candies
Fruit snacks (

Annie's

–vegan too!,

Welch's

,

Mott's

,

Black Forest

)

Krabby Patties

(Does have a manufactured with other allergens warning, so don't use if not comfortable with that)

Fluffy Stuff

(cotton candy)
PLEASE NOTE that variations of candy, or seasonal candy sometimes have different ingredients than it's classic counterpart, so always double check your labels and never assume!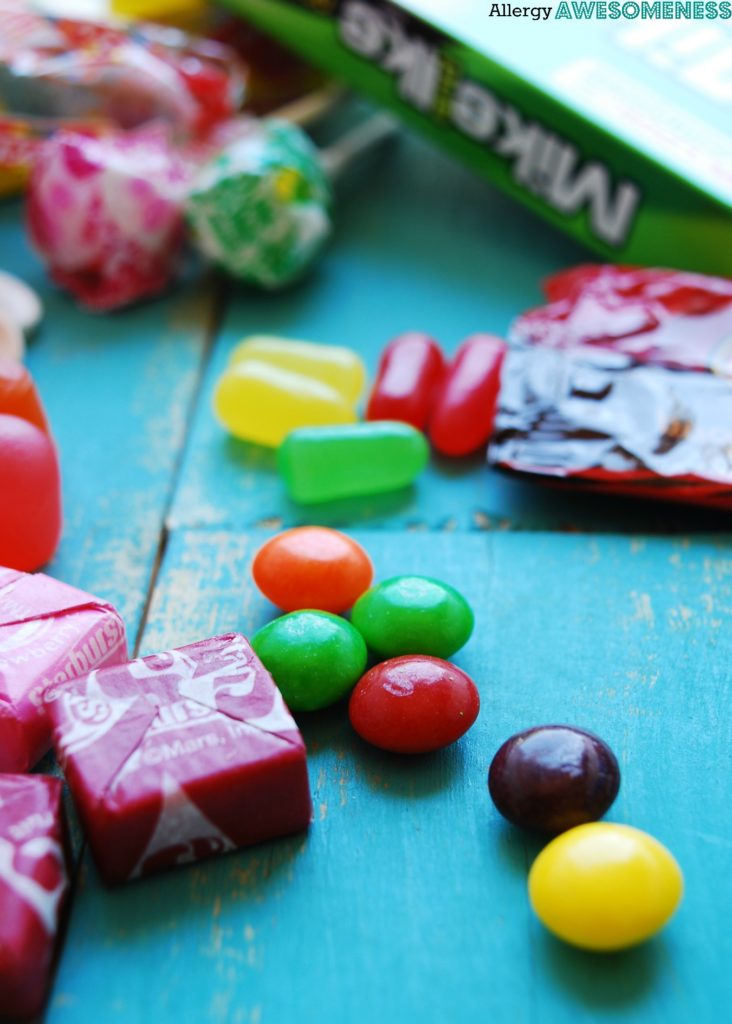 *Please note I am an Amazon affiliate, so if you purchase them through the links I provided, I will receive a small wage, at no cost to you. This helps run my blog, thanks in advance!
---
Looking for more safe candy ideas for food allergies, check out these posts:
Allergy-friendly Easter Candy (Store-bought, top-8-free)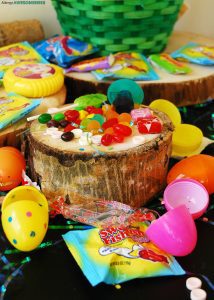 Ten Top-8-free Valentine Candies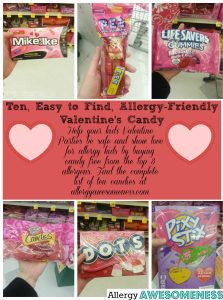 How we trick-or-treat with Food Allergies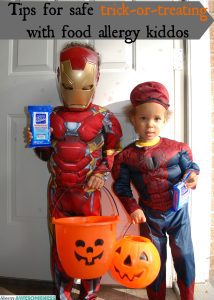 ---
Do you want to make a homemade allergy-friendly treat? Here are some super simple ones:
Allergy-friendly Rice Krispie Treats (Top-8-free & Vegan Option)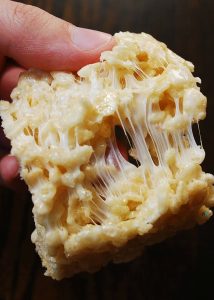 How to Make Jello Dairy-Free (Top-8-Free Too!)