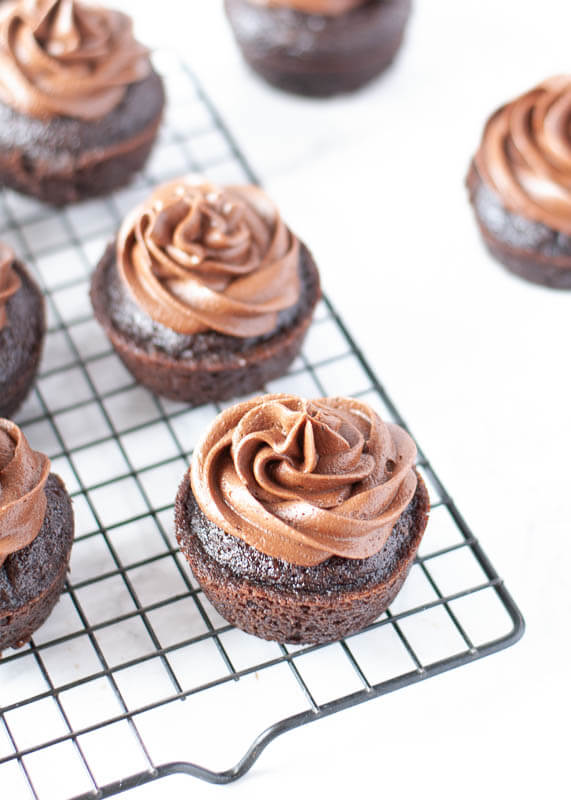 This chocolaty, but not too rich, dairy-free "buttercream" is the kind of frosting that makes me look forward to eating the edges of the cake! Allergy-friendly, this frosting is free of: gluten, dairy, egg, soy, peanuts & tree nuts. It's vegan and top-8-free too. Soft, and pipeable, this is great for piping or just eating with a spoon!
This post contains affiliate links.
Would you like a little sneak peek into my crazy life? Today is my baby's (sniff, sniff…OK, not so "baby" anymore) 2nd birthday. I knew I wanted to make him chocolate cake with chocolate frosting, because this kid is crazy about chocolate. What can I say, the baby's got great taste!
I'm attending a food blogging conference this weekend, so I've been frantically trying to work ahead for my blog, get ready and pack for the conference, and finish up some freelance writing. It's been a hectic week. Top that off with my husband was out-of-town last weekend, and I've been feeling stretched thin! And, of course, as we mother's do–I'm meal planning for my husband, grocery shopping and stocking the pantry, writing a note for the babysitter and making sure all is well before I leave. I'm not entirely sure why I do this. My husband is completely capable and willing, but it makes me feel better to know I've left things in good order.
Add to that, that my husband's work schedule has been off-kilter because of him taking time off so he can be with the boys while I'm at the conference, so we're all hardly home at the same time!
It didn't hit me until last night, that we literally had no time when we'd all be home together to cut his cake and blow out his candles. I was totally torn! My four-year-old thinks singing "Happy Birthday" and "helping" blow out the candles is SO MUCH FUN, whether it's his birthday or not…so I didn't want to do it while he was at pre-school. But, I didn't want my husband missing out either–he's half the reason my baby is here! My husband is already missing going out to dinner for his birthday tonight (I thought about postponing that–but there's literally not one day this week we'll all be home for dinner). So I didn't know what to do!
Around 11 p.m. last night, my husband and I decided we'd get up, do a nice breakfast, keep my son home from school for a bit, and do the cake and blowing out of candles early. Then, we'd take my son in late to school, and my husband would go off to work.
Needless to say, you don't have to talk little boys into being OK with eating chocolate cake early in the morning! Bed head and all he was quite happy to be sung to at 8 a.m!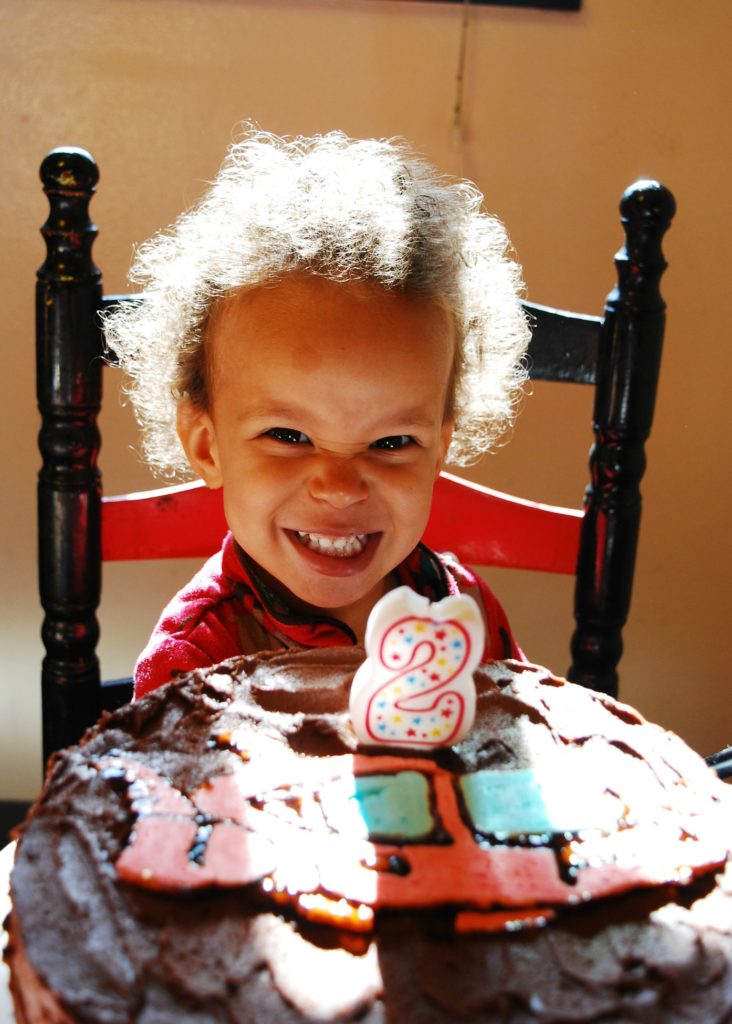 The hard part, was that I made the cakes late last night (again–crazy schedule) so I couldn't frost it, because it was too hot! So, this morning, while the bacon was cooking, and the hashbrowns were browning, I was frantically trying to frost the cake. As you can guess–the bacon got a bit done.
Then, because I'm insane, I wanted to share the buttercream frosting with you guys. Which meant I had to squeeze in taking photos of it early this morning too!
Because my photography is still growing, I baby myself and always take photos late afternoon when the lighting is better. So I was DYING trying to take photos in the hot morning sun. Bear with me!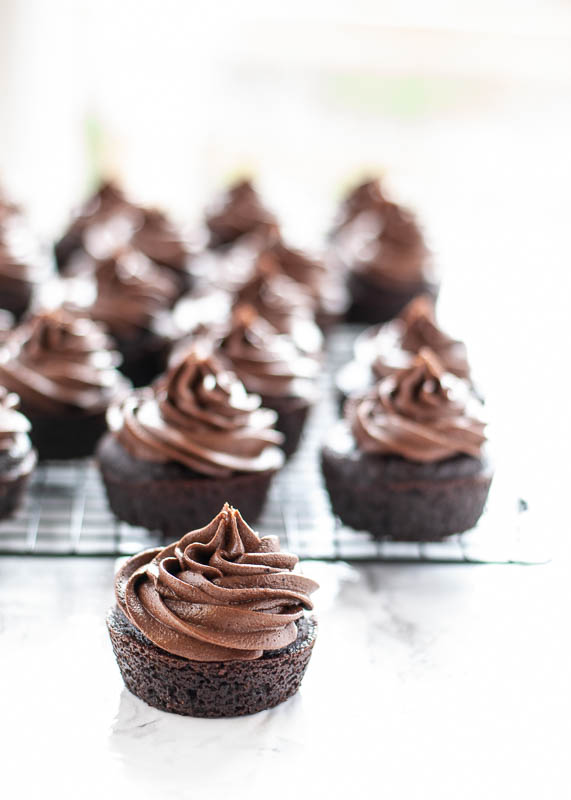 Also, just for a fun mental picture, I was in such a hurry that I literally was in my backyard taking photos of the cake in my bathrobe. You're welcome neighbors! But, I got a few photos snapped, and we got my freshly turned two-year-old sung to, my other son off to school, and I'm here hurriedly typing this up now and it's not even 11 a.m. my time! #Winning!
Now, if I run out of steam for the other 14 things on my list (that number is totally true) I can swipe some frosting, or eat some double layer chocolate cake to give me a sugar high and keep plowing through.
A bit about the frosting, and not about my crazy life–I know when you see shortening in it, you might think gross. I used to think so too, because store-bought frostings usually have shortening in them and they're sickly sweet. But, this is tempered with some coconut oil, so it's just right! I love this chocolate frosting. It's obviously perfect for cakes, but it's also great on safe graham crackers. YUM!!!
I seriously look forward to the edge of the cake and save it for last so my final bites are rewarded with the thick outer layer of frosting. I hope you like it too!
And a note, while my baby only has allergies to peanuts and tree nuts, I like to always cook to the lowest common denominator (my older son has way more) so that the entire family can enjoy the treat–especially for holidays so we can make those lasting memories. So, I decided to make the cake and frosting free of the top eight allergens: wheat, dairy, eggs, soy, fish, shellfish, peanut and tree nut.
Happy birthday to my sweet baby! May this year be wonderful to you!!
COMMONLY ASKED QUESTIONS ABOUT MAKING DAIRY-FREE FROSTING:
Why do I need to keep this frosting covered?

Because of the coconut oil, this frosting will set up and get hard (unless it's kept somewhere very warm–in which case it could melt). To keep the frosting soft, I keep it covered with plastic wrap or in an air tight container. If it's frosted on something, I make sure to cover the entire cake or cupcakes in a cake saver to avoid it getting too hard.

I don't want chocolate frosting, do you have an allergy-friendly vanilla frosting?
Where do I find the cupcake recipe shown in the picture?
Can I use regular shortening?

Absolutely! If you do not have a soy allergy, or are not vegan, feel free to use whatever type of shortening you like. If you need an allergy-friendly shortening, the cleanest, vegetable based one I've found is

spectrum

.

Why do you combine the oils with the cocoa first?

I find that if I add the cocoa anytime after that, it's harder to incorporate. If I really cream the oils with the cocoa (being sure to scrape the bottom of the bowl multiple times throughout) that it really helps make a rich, smooth, chocolaty taste!

Why don't you just use all coconut oil, or all shortening? Why do you use a combo?

I find if I use all shortening that it feels very greasy in my mouth. If I use all coconut oil, it's very temperamental to temperature and can melt easy because coconut oil has such a low melting point. I find the combo of the two gives a great texture and the structure is better for piping.

Can't I just sub in vegan butter for regular butter?

You can, but I find vegan butter hard to find, expensive and it has a bit of an after taste. I prefer the combination or shortening and coconut oil because they have milder tastes (just be sure you use refined coconut oil, so it doesn't taste like coconut…unless you like that.)

What if I have a coconut allergy?

Just use all shortening if you can't use coconut oil. So, instead of 3 Tablespoons of coconut oil and 3 Tablespoons of shortening of your choice, simply use 6 Tablespoons of shortening.
Chocolate "Buttercream" Frosting (GF, DF, Egg, Soy, Peanut, Tree nut Free, Top 8 Free)
Yield:
Frosts 12 cupcakes
This chocolaty, but not too rich, dairy-free "buttercream" is the kind of frosting that makes me look forward to eating the edges of the cake! Allergy-friendly, this frosting is free of: gluten, dairy, egg, soy, peanuts & tree nuts. It's vegan and top-8-free too. Soft, and pipeable, this is great for piping or just eating with a spoon!
Ingredients
2 and 2/3 cups powdered sugar
1/2 cup unsweetened cocoa powder
1/2 teaspoon vanilla
pinch of salt
Instructions
In the bowl of a stand mixer, combine the oil and shortening with the paddle attachment. Once combined, add the cocoa. Incorporate completely. You'll find the cocoa really adhere's to the bottom of the bowl, so use a spatula and make sure everything is scraped and incorporated before moving on. Then, add the vanilla and salt. Mix. Then, alternate the rice milk and powdered sugar until you've used them all. Feel free to add more powdered sugar if you need it stiff, or a bit more rice milk if you want it thinner. I find this frosts 12 cupcakes great, but if you want to frost a double layer cake, I'd make one and a half batches. Keeps well in the fridge, covered.
Adapted from: "The Allergen-Free Baker's Handbook" by Cybele Pascal
DON'T FORGET TO PIN IT, SO YOU DON'T LOSE IT! ALSO, BE SURE TO CHECK OUT MY OTHER ALLERGY-FRIENDLY PINTEREST BOARDS.
---
Looking for other allergy-friendly chocolate treats? Check out some of my other favorites:
Chocolate Sheet Cake (gluten, dairy, egg, soy, peanut & tree nut free; top-8-free; vegan)
Gluten-free and Vegan Double Chocolate Baked Donuts (Gluten, dairy, egg, soy, peanut & tree nut free; top-8-free)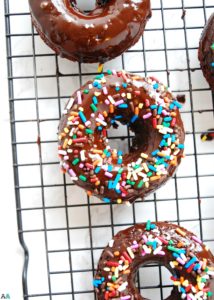 Slow Cooker Chocolate Lava Cake (Gluten, dairy, egg, soy, peanut & tree nut free; top-8-free)