This chocolaty, but not too rich, dairy-free "buttercream" is the kind of frosting that makes me look forward to eating the edges of the cake! Allergy-friendly, this frosting is free of: gluten, dairy, egg, soy, peanuts & tree nuts. It's vegan and top-8-free too. Soft, creamy and pipeable, this is great for piping or just eating with a spoon!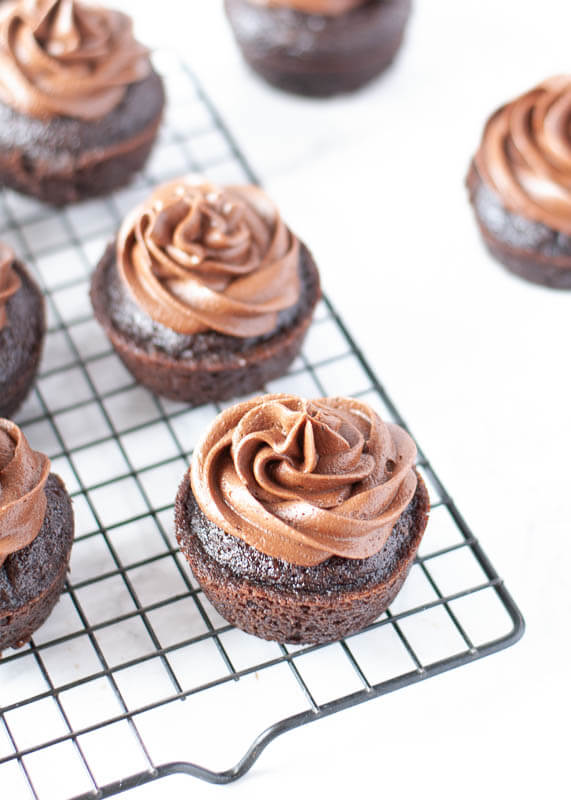 This post contains affiliate links.
Today is my baby's (sniff, sniff…OK, not so "baby" anymore) 2nd birthday. I knew I wanted to make him chocolate cake with chocolate frosting, because this kid is crazy about chocolate. What can I say, the baby's got great taste! You'll soon see why he wanted this vegan chocolate buttercream frosting once you try a bite too!
What ingredients are in this milk free chocolate buttercream recipe?
This easy recipe only calls for 7 ingredients, and if you're typically dairy-free, I bet you already have them on hand!
Vegetable shortening
Powdered sugar

Rice milk

(vanilla or plain) *see FAQ for more options
Vanilla extract
Pinch of salt
What tools do you need to make this dairy-free chocolate frosting?
Measuring cups and measuring spoons
Large mixing bowl + handheld electric mixer
OR a

stand mixer

with the paddle attachment, I prefer the paddle attachment over this whisk attachment , but feel free to use whichever you're used to. I definitely think a stand mixer is a worthy investment, especially if you have a specialty diet and have to make things from scratch often.
Spatula to scrape the bowl

Piping bag

(or even a Ziploc bag will do)
Frosting tip of choice (I used

Wilton #2

in the photos) OR

offset spatula

for frosting cakes
best dairy free chocolate frosting" width="571″ height="800″>
This perfect frosting made one little boy a very happy birthday!
Around 11 p.m. last night, my husband and I decided we'd get up, do a nice breakfast, keep my son home from school for a bit, and do the cake and blowing out of candles early. Then, we'd take my son in late to school, and my husband would go off to work. It was a bit of juggling, and it was non-traditional to have cake first thing in the morning, but it was important to us we were all together on little man's 2nd birthday.
Needless to say, you don't have to talk little boys into being OK with eating chocolate cake early in the morning! Bed head and all he was quite happy to be sung to at 8 a.m. as you can see!
And a note, while my baby only has allergies to peanuts and tree nuts, I like to always cook to the lowest common denominator (my older son has a wheat allergy, milk allergy, egg allergy as well) so that the entire family can enjoy the treat–especially for holidays so we can make those lasting memories. So, this dairy free chocolate frosting recipe is also free of the top eight allergens: wheat, dairy, eggs, soy, fish, shellfish, peanut and tree nut.
Happy birthday to my sweet baby and to anyone else who uses this vegan chocolate frosting recipe to celebrate! May this year be wonderful to you!!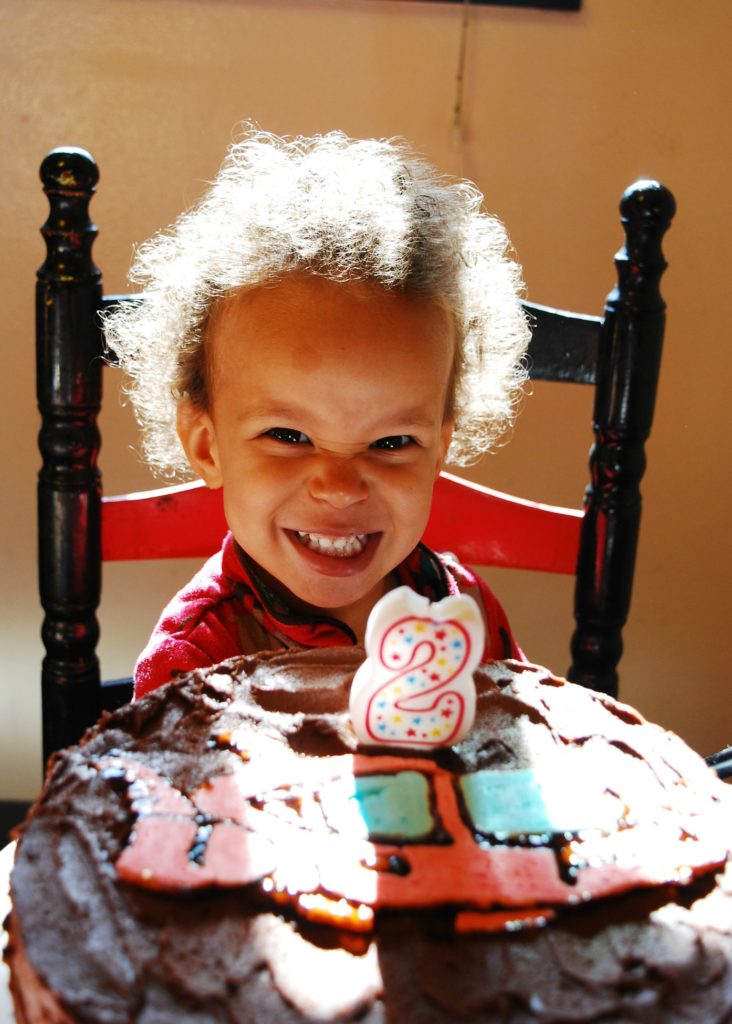 Looking for other dairy-free buttercream frosting recipes?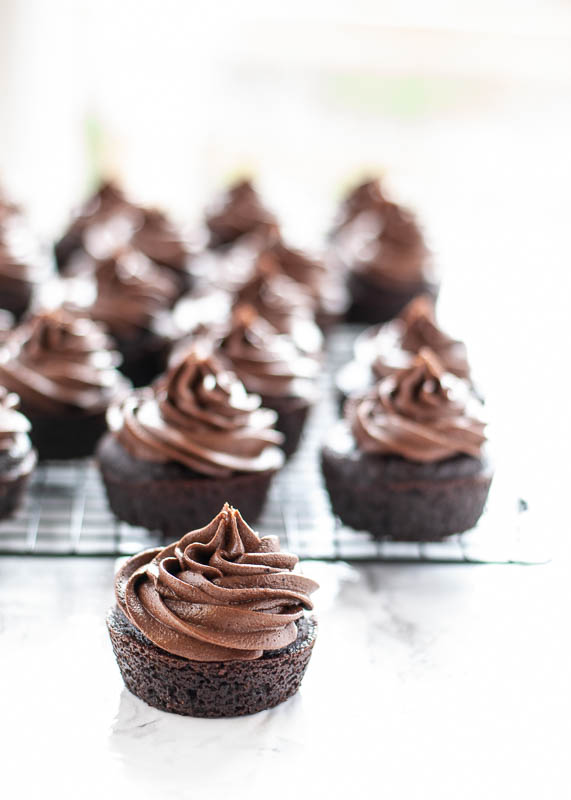 Why I use shortening in the creamy chocolate frosting
A bit about the frosting–I know when you see shortening in it, you might think gross. I used to think so too, because store-bought frostings usually have shortening in them and they're sickly sweet. But, this is tempered with some coconut oil, so it's just right! I love this chocolate frosting. Shortening really allows for it to be so creamy and the right texture.
I seriously look forward to the edge of the cake and save it for last so my final bites are rewarded with the thick outer layer of frosting. I hope you like it too!
COMMONLY ASKED QUESTIONS ABOUT THIS VEGAN FROSTING:
Why do I need to keep this frosting covered?
Because of the coconut oil, this frosting will set up and get hard (unless it's kept somewhere very warm–in which case it could melt). To keep the frosting soft, I keep it covered with plastic wrap or in an air tight container. If it's frosted on something, I make sure to cover the entire cake in plastic wrap or place the cupcakes in a cake saver to avoid it getting too hard.
I don't want chocolate frosting, do you have an allergy-friendly vanilla frosting?
If you're not a choc-o-holic like me, you can use my recipe for The Best Dairy-free Vanilla Frosting (GF, Vegan, Top-8-free).
Where do I find the cupcake recipe shown in the picture?
You can find my favorite birthday cake here: allergy-friendly chocolate cupcakes. (It can be made into a 13×9 cake, double layer or even triple layer cake. You'll just want to double the recipe if you do additional layers.)
Can I use regular shortening?
Absolutely! If you do not have a soy allergy, or are not vegan, feel free to use whatever type of shortening you like. If you need an allergy-friendly shortening, you can use spectrum.
Why do you combine the oils with the cocoa first?
I find that if I add the cocoa anytime after that, it's harder to incorporate and isn't as silky smooth. If I really cream the oils with the cocoa (being sure to scrape the bottom of the bowl multiple times throughout) it really helps make a rich, smooth, chocolaty taste!
Why don't you just use all coconut oil, or all shortening? Why do you use a combo?
I find if I use all shortening that it feels very greasy in my mouth. If I use all coconut oil, it's very temperamental to temperature and can melt easy because coconut oil has such a low melting point. I find the combo of the two gives a great texture and the structure is better for piping.
Can't I just sub in vegan butter for regular butter?
You can, but I find the vegan butter stick hard to find, expensive and it has a bit of an after taste. I try to stick to pantry staple and simple ingredients for both budget and ease. I prefer the combination or shortening and coconut oil because they have milder tastes (just be sure you use refined coconut oil, so it doesn't taste like coconut…unless you like that.) If you use vegan butter, be sure to omit both the coconut oil and shortening, and use the full 6 Tablespoons of vegan butter or dairy-free margarine.
Does this recipe use chocolate chips?
No. I think cocoa powder gives just as good of flavor and is much cheaper than specialty dairy-free chocolate chips. Plus, then there's no worrying about melted chocolate and having to temper it.
What dairy-free milk do you use?
Since all buttercream frostings need some sort of liquid to thin them a bit (otherwise, just the oil and powdered sugar would be way too thick to spread or pipe) so we use rice milk. I find rice milk has the least aftertaste compared to other plant based milk alternatives. I find the nut milks have way too much flavor, but if you like almond milk feel free. Another popular option is soy milk, but again–I find that leaves a bit of an after taste but could work in a pinch. Another option could be coconut milk or coconut cream, especially because they're nice and creamy. Oat milk would probably work as well.
Is this frosting paleo?
For my paleo readers, I'm sorry…technically it is not since powdered sugar is a refined sugar. It is considered dairy-free, vegan and allergy-friendly.
What if I have a coconut allergy?
Just use all shortening if you can't use coconut oil. So, instead of 3 Tablespoons of coconut oil and 3 Tablespoons of shortening of your choice, simply use 6 Tablespoons of shortening.
How do you store this frosting?
As mentioned, it is temperamental if it's too hot or too cold, so I keep it in an airtight container (or plastic wrap tightly around the bowl) and keep it room temperature. That's one nice thing about not having any milk or butter, is that you don't have to worry about it spoiling.
What do I do if I have leftover frosting?
Well, I say get a spoon and dig in. But, if straight frosting isn't your jam, like it is mine, break a graham cracker in half, spread some chocolate frosting on one side and place the other half on top. I grew up eating these chocolate frosting graham sandwiches and they're still a delicious recipe my whole family enjoys all these years later. If you need gluten-free graham crackers, I suggest Schar.
What else is this frosting good on?
I'd wholeheartedly recommend using this frosting in my

Mississippi Mud Brownies

–a very popular recipe of mine as well!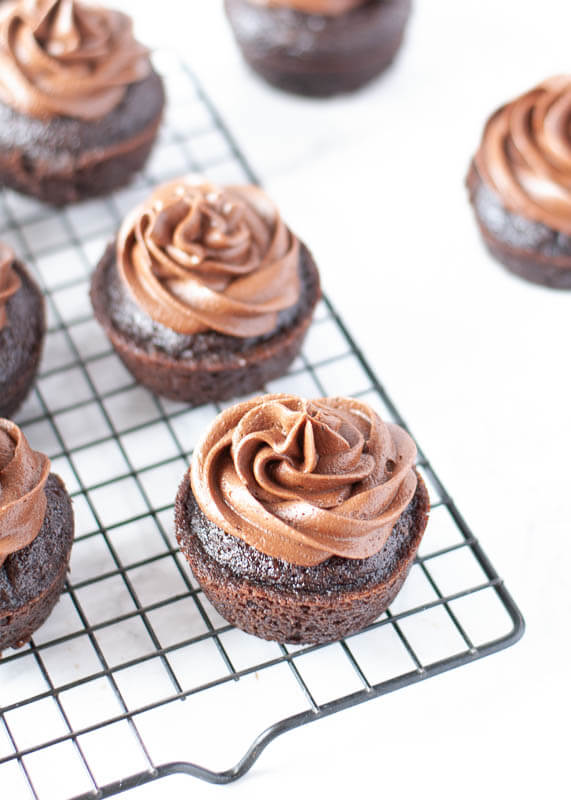 Chocolate "Buttercream" Frosting (GF, DF, Egg, Soy, Peanut, Tree nut Free, Top 8 Free)
Yield:
Frosts 12 cupcakes
This chocolaty, but not too rich, dairy-free "buttercream" is the kind of frosting that makes me look forward to eating the edges of the cake! Allergy-friendly, this frosting is free of: gluten, dairy, egg, soy, peanuts & tree nuts. It's vegan and top-8-free too. Soft, and pipeable, this is great for piping or just eating with a spoon!
Ingredients
2 and 2/3 cups powdered sugar
1/2 cup unsweetened cocoa powder
1/2 teaspoon vanilla
pinch of salt
Instructions
In the bowl of a stand mixer, combine the oil and shortening with the paddle attachment. Once combined, add the cocoa. Incorporate completely. You'll find the cocoa really adhere's to the bottom of the bowl, so use a spatula and make sure everything is scraped and incorporated before moving on. Then, add the vanilla and salt. Mix. Then, alternate the rice milk and powdered sugar until you've used them all. Feel free to add more powdered sugar if you need it stiff, or a bit more rice milk if you want it thinner. I find this frosts 12 cupcakes great, but if you want to frost a double layer cake, I'd make one and a half batches. Keeps well in the fridge, covered.
Notes
*Our allergies, while severe and that get re-tested yearly, are such that we can go strictly by what's on the label. I do not call companies to see what things are derived from, or call manufacturers to see about potential cross contact. If your allergies require you to do so, please do your own homework. I cannot assure you of any ingredient's safety, only you can do that. I simply share what works for our family
**If you are going to feed this to someone with food allergies, and you yourself do not have food allergies, I HIGHLY recommend having them check every single brand and ingredient you are using, to ensure they're OK with each part of the recipe. And, to make sure you've talked to them about how to avoid cross contamination in your kitchen.
Adapted from: "The Allergen-Free Baker's Handbook" by Cybele Pascal
DON'T FORGET TO PIN IT, SO YOU DON'T LOSE IT! ALSO, BE SURE TO CHECK OUT MY OTHER ALLERGY-FRIENDLY PINTEREST BOARDS.
---
Looking for other allergy-friendly chocolate treats? Check out some of my other favorites:
Chocolate Sheet Cake (gluten, dairy, egg, soy, peanut & tree nut free; top-8-free; vegan)
Gluten-free and Vegan Double Chocolate Baked Donuts (Gluten, dairy, egg, soy, peanut & tree nut free; top-8-free)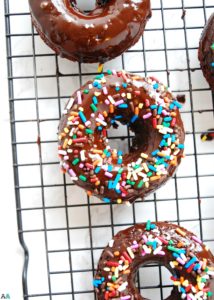 Slow Cooker Chocolate Lava Cake (Gluten, dairy, egg, soy, peanut & tree nut free; top-8-free)