A light and easy lunch, dinner, or even appetizer, these gluten and dairy free Turkey Bacon Ranch Wraps are practically store bought, and super easy to assemble. Great for last minute when you want something fresh and flavorful, these turkey bacon ranch wraps will literally save your bacon! They're also no bake, meaning no heating up your house or waiting for your oven to preheat. Winning all around! These wraps are also free of: gluten, wheat, dairy, egg, peanuts and tree nuts, making them very allergy friendly.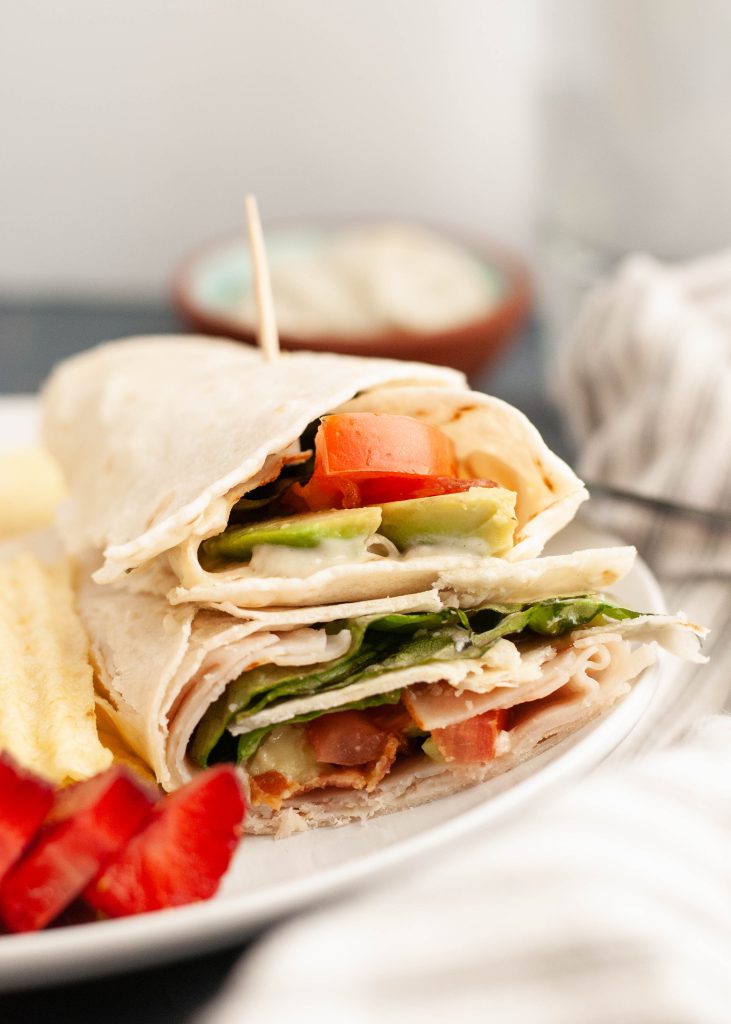 This post contains affiliate links. None of them are sponsors.
Why I love these easy gluten-free tortilla wraps
Not every lunch or dinner needs to take forever. I love to cook, but even I need an easy recipe that's quick. The great thing about this recipe is the fresh ingredients mixed with the salty bacon and herby ranch dressing. It's a great combo of flavors and textures–with a juicy tomato, crisp bacon and lettuce, creamy ranch and tender turkey. It's a good idea to make yourself more than 1, because it's hard to stop at just one! I know you'll enjoy this easy meal, especially since it doesn't require any cooking time, heating up your kitchen and is semi-homemade since most of the simple ingredients come straight from the grocery store. My son has a wheat allergy, and my husband has a gluten intolerance and so anytime we can find gf tortillas, we love to have this meal.
What gluten free tortillas do I use for these wraps?
I like to use Mission Gluten Free Tortillas. They are the closet that I can find to regular wheat tortillas, in the fact that they're white, soft and bendable. I find these gluten-free flour tortillas at Walmart and Amazon. Most of the time, they work great, but every once in awhile, I get a package that isn't as soft or bendable, so heating them in the microwave in between some damp paper towels helps them be more workable/roll-able. Or, you can stick one tortilla at a time in a non-stick pan and heat over medium heat, until both sides are warmed and ready to roll.
The ingredients listed on the Mission Gluten Free Tortilla website says:
"Water, Modified Food Starch, Rice Flour, Vegetable Shortening (Interesterified and Hydrogenated Soybean Oils), Pea Protein, Potato Extract, Tapioca Starch, Resistant Corn Starch, Soybean Flour, Dextrose, Sugar, Cellulose Gum, Guar Gum, Mono- & Diglycerides, Salt, Xanthan Gum, Contains 2% or Less of: Potato Starch, Baking Soda, Inulin, Sodium Acid Pyrophosphate, Fumaric Acid, Corn Dextrin, Polyglycerol Esters of Fatty Acids, Rice Starch, and Calcium Propionate and Sorbic Acid (to Maintain Freshness). CONTAINS: SOY"
I've also heard the Siete brand is great if you need grain-free tortillas, but they use almond flour and we have nut allergies so we do not.
We've also liked BFree wraps as well as another gluten-free wraps option. Or, you can make homemade tortillas, but since this is meant to be a simple recipe, I like to stick with store-bought.
And, as a last resort, you can always use corn tortillas, as those are naturally gluten free (just not as soft, large or bendable in my opinion.) If you have another favorite gluten-free tortilla, comment below to help future readers.

What ranch spread do I use for my allergy friendly wraps?
My all-time-favorite ranch dip is my 3 Ingredient Dairy-Free Ranch Dip. It is thick, creamy, has the perfect texture and is has all those classic herby spices (and did I mention it only needs three ingredients?).
The nice thing is that it makes about a cup worth, so you have enough to spread on your wraps, and to dip some vegetables in.
If you can't make the dip, there's also various store bought allergy-friendly ranch dressings (thinner though) like: Hidden Valley's dairy free ranch, or Daiya's ranch dressing, Primal Kitchen, Follow Your Heart, or Tessa Mae's.
What allergy friendly lunch meat do I use?
For lunch meat, we've used Hillshire Farm oven roasted turkey breast for years and never had a problem with it (we have allergies to: wheat, dairy, egg, peanut and tree nut). I get mine at Walmart. Here are the ingredients from their website:
Turkey Breast, Turkey Broth, Modified Corn Starch, Vinegar*, Contains 2% Or Less: Salt, Sodium Phosphate, Natural Flavorings (Including Celery Juice Powder*), Carrageenan, Sea Salt. *To Preserve Quality.
I know many allergy families like and trust Applegate Farms as well. Use whatever meat you feel comfortable with.

What bacon do I use in the Turkey Bacon Ranch Wrap?
I have yet to find a bacon that isn't allergy friendly and gluten-free. Most are just bacon with preservatives. You can either buy uncooked bacon and cook it (either a frying pan, or in the oven) but that is a lot more work.
It's usually preferred to buy microwavable bacon (also known as fully cooked bacon), so that way this wrap can come together in a cinch. We buy the great value microwaveable bacon as well. Use what brand you feel best with.
Do I have other allergy friendly appetizers?
Yes! All of my appetizers are free of gluten, dairy, eggs and nuts. Check out these dips and other easy party finger foods: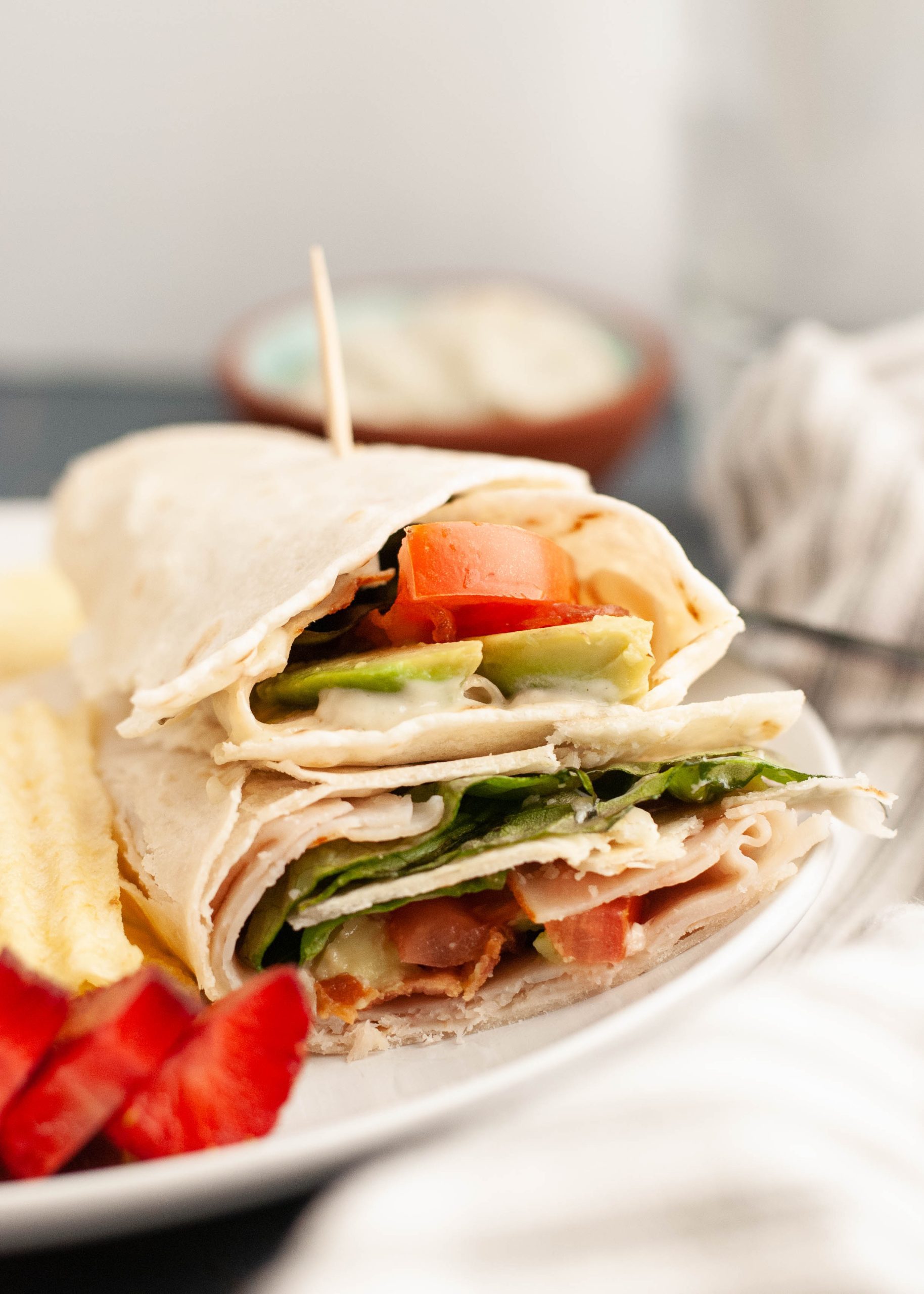 Turkey Bacon Ranch Wraps (Gluten & Dairy Free)
Additional Time:
5 minutes
A no-bake light lunch, dinner or even appetizer, this Turkey Bacon Ranch Wrap is delicious and colorful. Salty bacon, creamy avocados and homemade dairy-free ranch make this a recipe you'll come back to often. Gluten, dairy and egg free too!
Ingredients
Wrap Ingredients
Turkey lunch meat of choice (see above for options)
Red leaf lettuce
Tomatoes, sliced
Avocados, sliced
Bacon, cooked
Instructions
In a medium sized bowl, make the ranch according to the directions. Set aside.
Cook your bacon (omit this step if you're using pre-cooked bacon). We've used both regular bacon, and microwaveable bacon with great results. But pre-cooked is faster and doesn't require you heating your oven.
Sliced your tomatoes and avocados.
If your gluten-free tortillas/wraps are fragile, heating them covered in a damp towel in the microwave or warming them on a skillet over low heat will help them roll/fold better.
Spread the ranch dip down the middle of the tortilla. Place your turkey on top of the ranch, then layer on your bacon, avocado and tomatoes. Salt and pepper if you like.
Roll and eat immediately.
You'll want to make these right when you're ready to eat to avoid the avocados from browning. Or, add the avocado right before serving.
Notes
*Our allergies, while severe and that get re-tested frequently, are such that we can go strictly by what's on the label. I do not call companies to see what things are derived from, or call manufacturers to see about potential cross contact. If your allergies require you to do so, please do your own homework. I cannot assure you of any ingredient's safety, only you can do that. I simply share what works for our family.
**If you are going to feed this to someone with food allergies, and you yourself do not have food allergies, I HIGHLY recommend having them check every single brand and ingredient you are using, to ensure they're OK with each part of the recipe. And, to make sure you've talked to them about how to avoid cross contamination in your kitchen.
Nutrition Information:
Yield:

6
Serving Size:

1
Amount Per Serving:
Calories:

156
Total Fat:

10g
Saturated Fat:

2g
Trans Fat:

0g
Unsaturated Fat:

8g
Cholesterol:

12mg
Sodium:

317mg
Carbohydrates:

12g
Fiber:

3g
Sugar:

1g
Protein:

5g
DON'T FORGET TO PIN THIS TURKEY BACON RANCH WRAP SO YOU DON'T LOSE IT. WHILE YOU'RE THERE, CHECK OUT MY OTHER DIET SPECIFIC PINTEREST BOARDS.