FINALLY! A loaf of bread that is not only gluten free but ALSO dairy and egg free. Most gluten-free bread recipes rely on eggs and dairy, but not this one. This bead is soft, tastes delicious and isn't hard for those who aren't used to making homemade bread (IE: no kneading!). Make yourself a delicious sandwich or piece of toast with this homemade gluten free dairy free bread. Find the answers to all your questions so you can make it expertly below. This gluten-free bread is also top-8-free!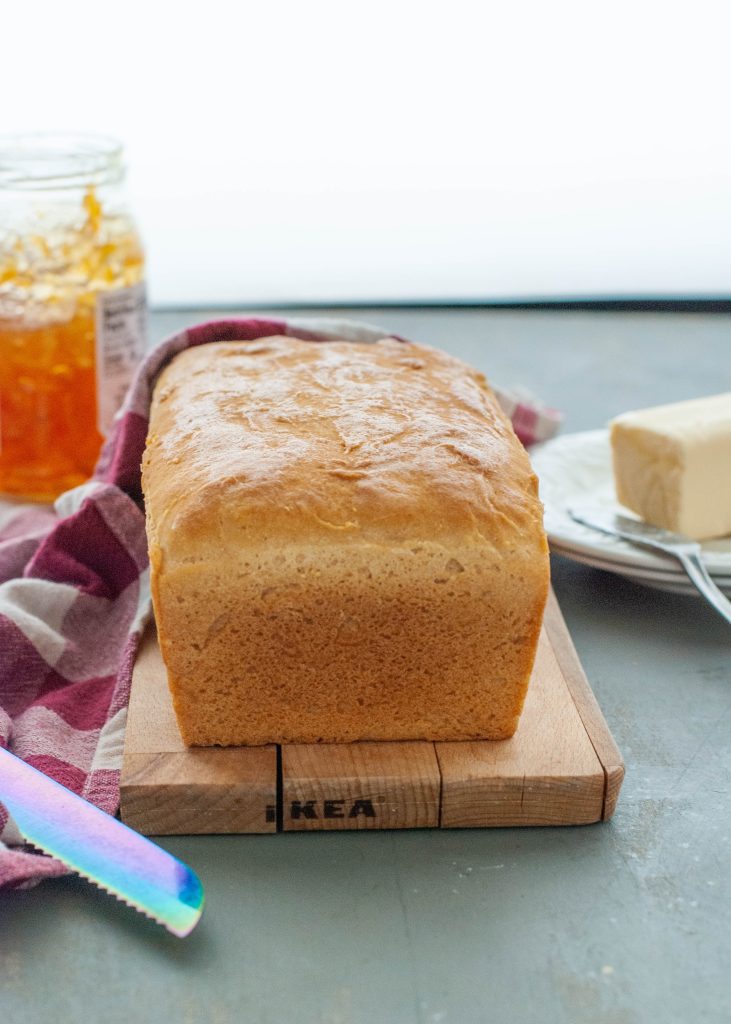 This post contains affiliate links.
Why do I suggest proofing the bread in your oven with the light on?
Since it's the winter and I worry about my kitchen being too cold to proof (or let your bread rise) I was looking on America's test kitchen for proofing ideas. In the comments I kept seeing this thing about leaving your oven light bulb on. So, I went straight to the source (since we're using King Arthur flour) and they even recommend it as well. They do mention leaving the light bulb on for an hour beforehand, but I didn't want this recipe too involved. I found turning the light bulb on when starting the recipe, and then leaving it on the entire time worked just fine for me!
Gluten Free Dairy Free Bread (With Egg Free Option!)
Additional Time:
45 minutes
Total Time:
1 hour
45 minutes
A loaf of bread that is not only gluten free but ALSO dairy and egg free. This bead is soft, tastes delicious and isn't hard for those who aren't used to making homemade bread.
Ingredients
INGREDIENTS:
1 tsp baking powder
1 tsp salt
1 and 1/2 cups warm water (110 degrees F)
6 Tablespoons aquafaba (the liquid from a can of chick peas/garbanzo beans) OR two eggs
1/4 cup honey
1/4 cup canola oil
TOOLS NEEDED:
Plastic wrap
Non-stick spray of choice
Instructions
Turn the light on your oven. This will help the oven become just the right temperature for proofing.
Place the paddle attachment on your stand mixer, and add to the mixing bowl the gluten free flour, yeast, psyllium husk powder, baking powder and salt. Combine on low speed.
Add the liquids: aquafaba (or eggs), honey, oil and water (being sure to use an instant read thermometer that your water is the correct temperature). Mix on low until the dough has started to form.
Increase the speed to medium and mix for 2 and a half minutes. Scrape the sides of the bowl, and mix for an additional 2 and a half minutes.
Pour batter into your greased bread pan. Smooth the top of the batter if necessary. Measure your plastic wrap, but spray the side that will be facing down with non-stick spray before placing on top.
Place the covered pan in your oven with the oven light on for 45 minutes.
Once your bread has risen (filling about 3/4 the pan), take your bread out and preheat your oven to 350 degrees F.
Take the plastic wrap off and place the bread in the middle of the oven and bake for 40-45 minutes. If your top starts to brown too much, place a piece of aluminum foil over the top.
To ensure the bread is done in the middle, place your instant read thermometer in the center of the bread. It should read 205 degrees F.
Remove the bread from the oven. Allow the bread to cool for five minutes in the pan. Turn out onto a cooling rack and allow the bread to cool completely before slicing (2-3 hours). I know it's hard to wait!
Bread is best served fresh after cooling at room temperature with your favorite dairy free butter and jam/honey. See post above on storing options.

Notes
I owe this bread recipe and tips to Mama Gourmand's Soft White Gluten Free Bread, and I just tweaked her recipe. Thank you!
Nutrition Information:
Yield:

12
Serving Size:

1
Amount Per Serving:
Calories:

205
Total Fat:

5g
Saturated Fat:

1g
Trans Fat:

0g
Unsaturated Fat:

5g
Cholesterol:

0mg
Sodium:

276mg
Carbohydrates:

35g
Fiber:

2g
Sugar:

6g
Protein:

4g
DON'T FORGET TO PIN THIS DAIRY FREE TOMATO BASIL SOUP, SO YOU DON'T LOSE IT. WHILE THERE, CHECK OUT MY OTHER DIET SPECIFIC PINTEREST BOARDS.