Caramel is one of my favorite sweets. There's nothing like the rich sweetness that a caramel imparts. So, having to be dairy-free for my son I was missing caramels like an addict. It was like an answer to prayers when I figured out you could make caramels, that have the same sticky sweetness and texture as regular caramels, with coconut milk.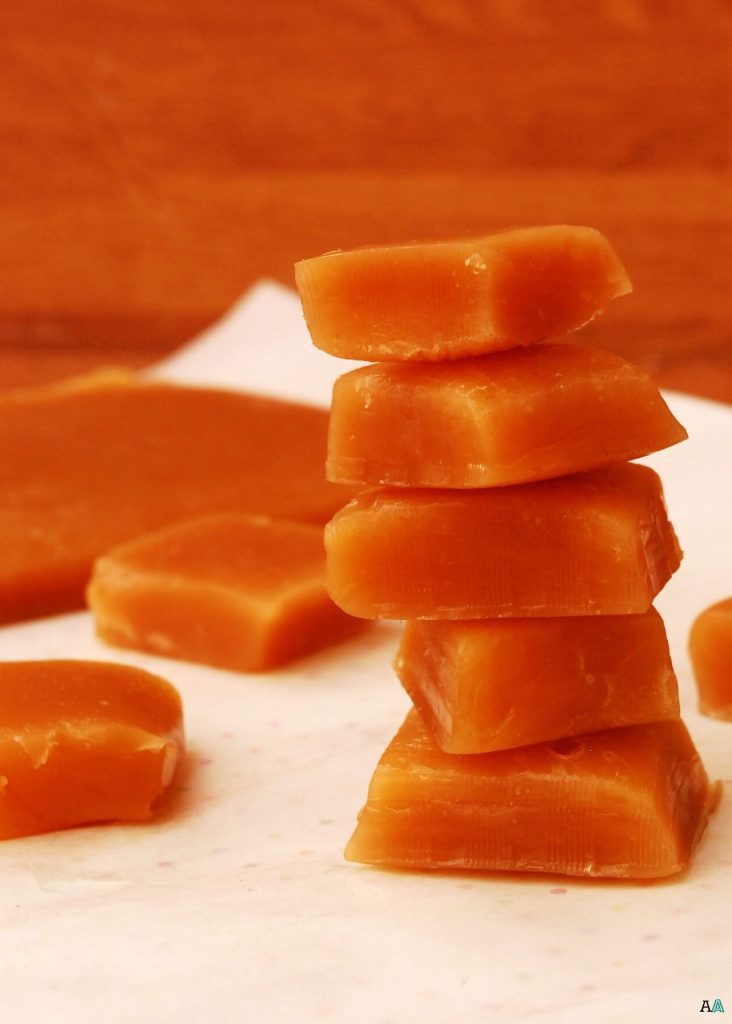 This post contains affiliate links.
UPDATED TO ADD: This is an older post, and this recipe can be finicky. I have since found an easier recipe I enjoy more and that is more consistent. If you found this recipe on Pinterest, or elsewhere. Welcome! And, I'd recommend you jump over to my EASY, CHEWY DAIRY FREE CARAMELS (VEGAN AND NUT FREE TOO!)
They say Christmas is a time for miracles, and these dairy free caramels are definitely a miracle in my book.
I remember the first time I made them and I thought, well…I have nothing to lose. I already can't have caramels, so if these are awful, oh well.
I was seriously doing a happy dance in my kitchen when I saw that classic color, that stick-to-your-teeth chewiness and that deep caramel flavor come to life.
I know a lot of people are intimidated by candy making. I have been one of those. But, really…if you can boil something and then leave it alone, you can do this!
I once had a candy thermometer do me wrong, so I prefer to do it by hand, but I'll include the degrees as well, in case that's your preferred method. Just remember, if it's too soft, it can be used as a dip, or over popcorn–so it's not a waste! And, if it's hard, which I've done too–it will usually soften as you suck on it. I've even had really hard dairy free caramels, but once you suck on them they totally become chewy. Just think of it as a yummy sucker!
Also, if you're worried about a coconut flavor coming through, I don't notice one. I'm not a coconut fan, so this was a plus for me, in case that's something you're worried about too.
Do I have other dairy free Christmas recipes?
Yes I do! All 200+ recipes on my site are completely dairy free. Here's a list of my favorite dairy free holiday recipes that I couldn't live without:
Dairy Free Coconut Caramels (Gluten Free, Vegan, & Top 8 Free, Too!)
The same texture and rich flavor of regular caramels, without the dairy!
Ingredients
¾ cup corn syrup
1 tsp. coarse sea salt
1¾ cup sugar
¾ cup water
1 tsp. vanilla
Instructions
*Before you get started, I have since found a recipe I like better, it's easier and it's more consistent. I'd recommend jumping over to my: EASY, CHEWY DAIRY FREE CARAMELS instead before proceeding with this one. If this one suits your fancy more, than by all means, continue.
Line the bottom and sides of an 8″x8″ square baking dish with parchment and brush with coconut oil; set aside.
Combine the coconut milk, corn syrup and sea salt in a 4-quart saucepan. Heat over medium low, stirring constantly for 2½-3 minutes until mixture is just warm and any coconut milk clumps are dissolved. Remove from heat and set aside.
In an 8-quart saucepan, combine the sugar and the water and stir until sugar is wet. Place over medium high heat and let cook, without stirring, till the sugar turns a light amber color. I made these by judgement as I did not have a candy thermometer. This should roughly take 10 minutes. Immediately remove from heat and pour in the coconut milk mixture a little at a time. Be careful, as the mixture will bubble and splash.
Return saucepan to medium low heat, stirring continuously until all the caramel is dissolved. Raise the heat to medium high. If the mixture begins to boil over (which it shouldn't if you're using a deep pan which is best), reduce heat and continue to cook until caramel becomes quite thick. No need to stir (unless you're checking the thickness). This could take a good 15-20 minutes. Be patient! Just make sure the caramel is really thick. It looks like karo syrup to me as far as texture goes. You can test it with some cold water and see that it's at a firm ball stage. If using a thermometer, have it be between 245-250 degrees Fahrenheit.
Immediately remove from heat and stir in vanilla. Pour into the prepared pan. Let cool completely and cut into 1″ squares. If they're a bit sticky put them in the fridge to set a little--make sure your glass dish is cooled before you do so. To make it easier to cut them brush your knife with melted coconut oil between cutting to avoid sticking. Wrap individually in wax paper squares. Store at room temperature.
Then, the true test of Christmas comes. Will you share with your neighbors or wolf them all down yourself? I won't tell if you eat them all yourself, after all --it's only an 8x8 🙂
Nutrition Information:
Yield:

24
Serving Size:

1
Amount Per Serving:
Calories:

129
Total Fat:

5g
Saturated Fat:

4g
Trans Fat:

0g
Unsaturated Fat:

0g
Cholesterol:

0mg
Sodium:

106mg
Carbohydrates:

23g
Fiber:

0g
Sugar:

23g
Protein:

0g
Adapted from: Apple Mint