A homemade, rich, soft donut that is covered is a gleaming, dark glaze. Perfect for a decadent breakfast, or a dessert. Free of gluten, dairy, egg, soy, peanut and tree nuts. This is also free of the top-8-allergens and vegan too! Oh, and did I mention they're not all bad? There's some applesauce snuck in there too!
My experience is not singular. Any allergy-mom reading this will be nodding her head in agreement.
Here's my experience: My church was doing a trunk-or-treat last Friday. They were kind and notified me in plenty of time that they would be serving donuts and hot chocolate so I could make arrangements. They were thoughtful and posted all of my son's safe candies and asked that people bring those candies to pass out, so I didn't want to ask them to come up with a safe donut option for him–plus–I don't know of any safe bakeries around–so I said I'd figure it out!
I of course waited until the morning of the event. Life is just too crazy, and well, no one wants a stale donut!
Side confession: I've only made donuts one other time in my life. I really had to dust off that ol' donut pan! Which means one really sad thing: my son has NEVER had a donut his entire life. I know! I've been depriving him and I really feel like I need to repent. I feel so bad since they're one of my favorite indulgences.
So, I knew that this party would force me to finally make some donuts. The one other time I'd made donuts, was when I could use the regular stuff, things like wheat, eggs, butter…so I honestly had no idea if they would turn out. And, I just really don't like filling the weird donut shapes. I want to just plop batter into a cupcake well, not circle it about. And, I really hate that I've never found a donut pan that makes more than 6 at a time, so I hate doing batches. That said–this recipe was SOOO good, I think I'll be making these a lot more often than every few years!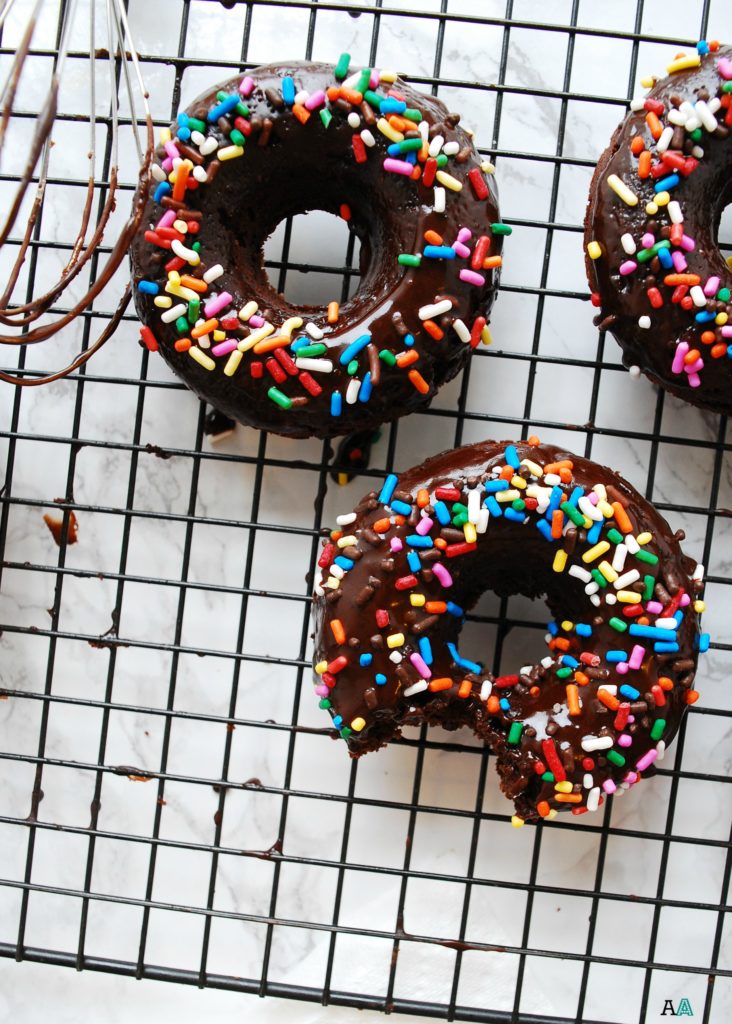 AND TURN OUT THEY DID. The donut Gods smiled upon me and we seriously only had several left by the time it was the trunk-or-treat! Ha! Seriously, you'll see a picture with a bite mark in it, because you can't take photos of something this beautiful and not sneak a bite!
In fact, we were SO full of donuts that when I asked my son if he wanted me to bring them to the trunk-or-treat he said no! Haha.
So, last Friday I was just another allergy-mom slaving away making something in her kitchen so her kid wouldn't feel left out and have a matching treat. It's been done a million times, and it will be done a million more. I think that's why we knowingly all have empathy for one another because we all get it. Allergy moms are really the best! I hope if you ever have to slave away for some last minute donuts, this will be of help to you!
I hope that this donut recipe either helps you have a KILLER breakfast, dessert, or in light of today's date (HALLOWEEN!) that you can use them for a Halloween party. I've always been a fan of the old-school game where you tie donuts to a string and you have to pull them off with just your mouth. Anyone remember that game? Or, am I getting too old?
Also, this glaze is seriously the perfect donut glaze. I got it from one of the baking goddesses, Something Swanky. It was naturally top-8-free so there was no tweaking needed. It's thick, just the right amount of drizzle and is gleaming. It's just so PURDY. The trick though, is to make sure that you double dip the donuts. If you want that nice, thick glaze dip them once and then let them set and then dip them again. I found that really amped their beautiful-ness.
Happy Halloween everyone! Have a safe day and enjoy these donuts!
Gluten-free & Vegan Double Chocolate Baked Donuts (Gluten, dairy, egg, soy, peanut & tree nut free; top 8 free)
A homemade, rich, soft donut that is covered is a gleaming, dark glaze. Perfect for a decadent breakfast, or a dessert. Free of gluten, dairy, egg, soy, peanut and tree nuts. This is also free of the top-8-allergens and vegan too! Oh, and did I mention they're not all bad? There's some applesauce snuck in there too!
Ingredients
DONUT:
1/2 cup sugar
1/2 cup cocoa powder
1 and 1/2 tsp. baking powder
1/4 tsp. salt
3/4 cup rice milk
1/2 tsp. apple cider vinegar
1/2 tsp. vanilla extract
2. Tablespoons unsweetened applesauce
1/4 cup measured, then melted coconut oil
CHOCOLATE GLAZE:
1 and 1/2 cups powdered sugar
1 Tablespoon light corn syrup
1 tsp. vanilla
1 - 3 Tablespoons water
1/4 cup cocoa powder
Optional: Sprinkles (see note)
Instructions
For the donuts:
Preheat the oven to 350 degrees F. In a stand mixer with the paddle attachment, stir all of the dry ingredients until the cocoa powder is fully incorporated. Next, add all of the wet ingredients and stir until everything is well combined.
Grease your donut pan well. Either carefully spoon the mixture into the donut pan, filling just below the top, or put your batter in a baggie, snip the end and then squeeze it out into the donut rims.
Bake for 10-12 minutes. Once they are done, turn them out onto a wire rack to cool. While they cool, assemble the glaze.
In a bowl, place all of the ingredients and whisk until combined. Be sure to start with only 1 Tablespoon of water to see what your consistency looks like. I ended up doing all 3, but you may want yours thicker. The less water, the thicker it will be.
Once the donuts have cooled, drop them gently into the bowl with the glaze. Gently pull them up and place them back on the wire rack. They will drip a bit, so be sure there is something underneath your wire rack to catch it. Once the glaze has set a bit, dip them again to get a nice, thick glaze. They're delicious plain, but if you want to do sprinkles, be sure that you add the sprinkles when the second coat is still wet so they'll stick well.
Keep covered.
Notes
*For sprinkles, I use the Great Value Rainbow sprinkles. Their ingredients are: "SUGAR, CORNSTARCH, PALM OIL, PALM KERNEL OIL, COCOA, COCOA PROCESSED WITH ALKALI, SOY LECITHIN, CONFECTIONER'S GLAZE (SHELLAC), YELLOW 5 LAKE, RED 40 LAKE, YELLOW 6 LAKE, BLUE 1 LAKE, RED 3, NATURAL AND ARTIFICIAL FLAVOR, CARNAUBA WAX, BLUE 1." Most people with a soy allergy can handle soy lecithin. Please talk to your own allergist to determine if this is correct for you. If it is not, and you need it to be strictly top 8 free, omit the sprinkles, or use sanding sugar.
**If you're looking for some gluten and dairy free dinners, check out my cookbook: An Allergy Mom's Lifesaving Instant Pot Cookbook.
***Our allergies, while severe and that get re-tested frequently, are such that we can go strictly by what's on the label. I do not call companies to see what things are derived from, or call manufacturers to see about potential cross contact. If your allergies require you to do so, please do your own homework. I cannot assure you of any ingredient's safety, only you can do that. I simply share what works for our family.
****If you are going to feed this to someone with food allergies, and you yourself do not have food allergies, I HIGHLY recommend having them check every single brand and ingredient you are using, to ensure they're OK with each part of the recipe. And, to make sure you've talked to them about how to avoid cross contamination in your kitchen.
Donuts adapted from: The Pretty Bee and glaze taken from: Something Swanky
Don't forget to pin this so you don't lose it! And, check out my other

breakfast recipes

!