I never thought I'd enjoy soft, chewy and gooey caramel popcorn again after my son's dairy allergy diagnosis. It's been years, but I finally found one that tastes spot on! And the best part–no baking! This caramel corn is completely done on the stove top. This recipe also works for vegans and is naturally gluten-free too! It makes enough to share with a crowd, and hopefully everyone can now be included. See how easy it is to make this dairy-free chewy caramel corn below. (No candy thermometer needed either!) This recipe can also be top-8-free if you use a soy-free butter.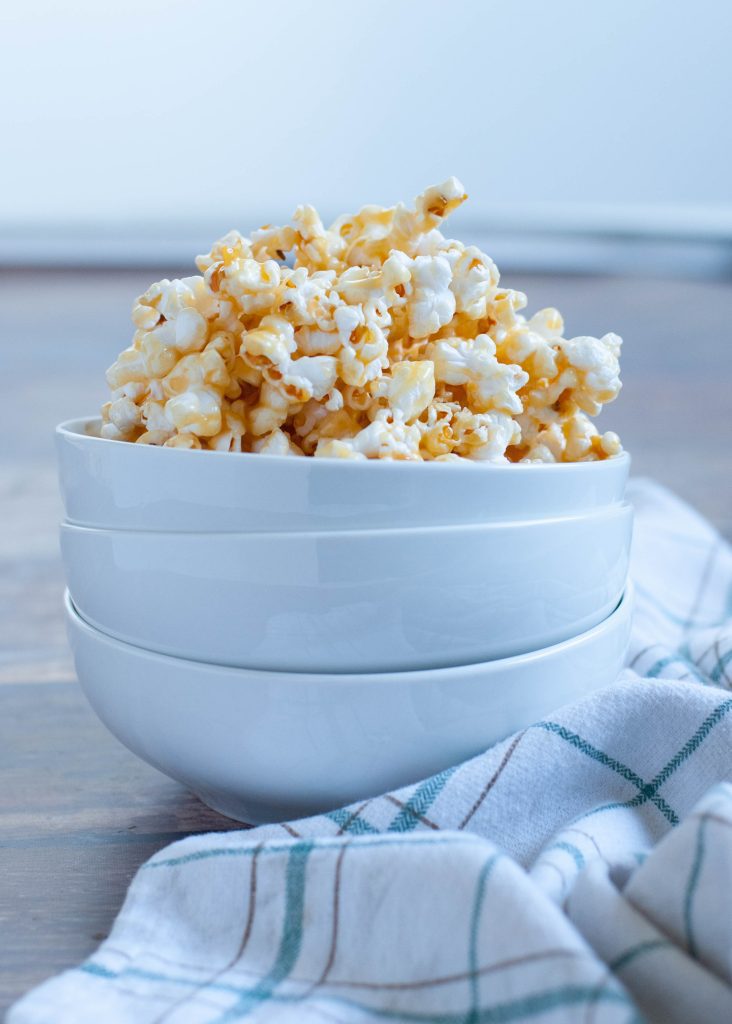 This post contains affiliate links.​
WHY WE LOVE THIS DAIRY FREE CARAMEL CORN
For a long time, I languished for a caramel corn recipe, but most of the recipes online involve "unwrap caramels and melt them". But…there are no dairy free store bought caramels to unwrap! Then, if I did find a recipe, they involved a two-step process…making something on the stove, pouring it over popcorn and then baking it. And I do not like that hard crunch/almost break your teeth type of caramel corn. No adding baking soda, and no having to bake it and no candy thermometer! Check, check, check!
I wanted something gooey and soft with just the one step. And viola! I've finally found it. Just a handful of ingredients, and you've got a delicious, SPOT ON caramel mixture anyone will love. My parents, who don't have any food allergies, say they can't stop themselves when eating this because it's so good. And the nice thing is, it makes a ton. So this would be great for giving out at Halloween time, Christmas, or any time you're having a movie night and want to share (or not! haha). Enjoy this caramel corn recipe that will trick anyone into thinking it's the REAL DEAL and the best recipe.
WHAT INGREDIENTS ARE IN THIS NO BAKE CARAMEL CORN?
This homemade caramel corn needs these ingredients:
popcorn kernels
coconut oil (or other cooking oil you prefer)
Brown sugar
Light corn syrup
Salt
Vanilla extract

WHAT IF I CAN'T HAVE COCONUT?
You are welcome to swap out the coconut oil, for another cooking oil while popping the popcorn. However, the sweetened condensed coconut milk is a non-negotiable. I'm sorry! If you can't have coconut + dairy that is a really rough combo. I have lots of other treats in my recipe box for you to enjoy.
WHAT TYPE OF VEGAN BUTTER SHOULD I USE?
All good caramel mixtures have notes of buttery-ness and this can too thanks to advances made in dairy-free butter. I love Country Crock Olive Oil Plant Butter for savory applications, and in this sweet recipe, I like Earth Balance Buttery Sticks. You can find it on Amazon, or at most local health food stores. If you need a soy-free version, Earth Balance has one too! It's important to use a vegan or non-dairy butter instead of something like a coconut oil in the sauce mixture because you want it to have that buttery caramel flavor.
WHERE DO I GET CONDENSED COCONUT MILK?
Sweetened condensed coconut milk has been a GAME changer. Bless whoever invented it. It's allowed me to make dairy-free caramels, as well as this caramel corn. Unfortunately, I do not know of a replacement. I find mine at even Walmart of all places, and at Natural Grocer and of course Amazon.

WHAT TOOLS DO I NEED TO MAKE THIS EASY CARAMEL POPCORN RECIPE?
You will need:
a medium saucepan
heat proof rubber spatula for stirring, or wooden spoon
​

popcorn popper

(or other method for popping the plain kernels)
two sheet pans (also known as a cookie sheet)
not required–but nice to have a silicon baking mat for easier clean up or parchment paper, or aluminum foil
measuring cups and spoons
hot pad
airtight container
large bowl
CAN I USE MICROWAVE POPCORN?
Unfortunately, I would not recommend this for this easy caramel corn recipe. They all have other ingredients, which are not necessary, and the popcorn will be coated in it and it will mess with the texture and flavor. You just need regular 'ol plain popcorn. (White or yellow kernels are fine). There are many ways to make plain popped popcorn–stove top, air popper, or even using a brown paper bag in a microwave can be a method. Use whatever you're most comfortable with. I have this popcorn maker and it takes me three batches to reach the desired 20 cups. I use coconut oil and follow the instructions with my popper, but you're welcome to use vegetable oil, or another oil of choice for your dietary preferences. If you have a popper, follow the recipe included to ensure proper oil to kernel ratio.

HOW DO I MAKE THIS CHEWY CARAMEL CORN RECIPE?
If you can measure ingredients and stir, you can make this easy recipe! No candy thermometer required! Here are the simple steps:
Pop the popcorn
Pick out any leftover and un-popped kernels
Spread the popcorn in an even layer on two baking sheets, preferably lined with something to help the pans not get too sticky like a silicon pad, aluminum foil or parchment paper.
In the saucepan, over medium heat add all of the ingredients, except for the vanilla.
Bring to a boil, and then constantly stir while setting a timer for 5 minutes.
Once the five minutes are up, remove from heat and add in the vanilla. Stir.
Pour the caramel sauce evenly over the two pans (I like to do one pan at a time.)
Using a spatula, stir the popcorn around until it's evenly coated.
Once the hot caramel has cooled, you can either move it to a large bowl for sharing–it is a big batch after all! Or, if you're going to serve it later, keep in an air tight container (I love using a gallon ziplock bag) at room temperature. Should last 3 days. That is, if this best caramel corn recipe even lasts that long!
DO I HAVE A VIDEO SHOWING HOW TO MAKE CARAMEL POPCORN?
I sure do! You can watch my video to see how to make this easy homemade caramel popcorn recipe from start to finish. I love seeing things before I make them, and hope this will be helpful. The video should automatically pop up. If it does not, it should be at the bottom of the recipe card. If that fails, you can always watch it on my YouTube channel. Now go get your sweet tooth satisfied and make this classic caramel corn recipe now made dairy free!
Dairy Free Soft Caramel Popcorn (No bake!)
Additional Time:
10 minutes
Ingredients
20 cups of plain popcorn, popped
1 cup brown sugar
1 cup light corn syrup
1/4 tsp salt
1 tsp vanilla extract
Instructions
Pop popcorn using any method you prefer. I have this popcorn maker, and I use the recipe provided in the booklet to get the correct oil to kernel ratio. It took me approx 3 Tablespoons of coconut oil + 3/4 cup kernels over the course of three batches to hit 20 cups).

Remove any unpopped kernels. Lay popped popcorn out on two sheet trays lined with a silicon cooking pad, parchment paper or aluminum foil for easier clean up.

In a medium saucepan over medium heat, stir together all of the ingredients, except vanilla. Bring to a boil. Once boiling, set a timer and boil for 5 minutes, stirring constantly. with a heat proof spatula or wooden spoon.

Once timer dings, take off the heat and stir in the vanilla. (You do not need a candy thermometer, but if you are curious, my caramel mixture is usually around 225 degrees F.)

Pour over the popcorn as evenly as possible.

Use a wooden spoon or heat proof spatula to move the popcorn around and get the popcorn evenly coated.

Once done, place in a large mixing bowl for serving, or store in an air tight container, like a ziploc bag. Will keep for 3 days at room temperature.

Notes
For frequently asked questions and substitutions see the text above the recipe.
Be sure to watch the video below to see how to make it.
*Our allergies, while severe and that get re-tested frequently, are such that we can go strictly by what's on the label. I do not call companies to see what things are derived from, or call manufacturers to see about potential cross contact. If your allergies require you to do so, please do your own homework. I cannot assure you of any ingredient's safety, only you can do that. I simply share what works for our family
**If you are going to feed this to someone with food allergies, and you yourself do not have food allergies, I HIGHLY recommend having them check every single brand and ingredient you are using, to ensure they're OK with each part of the recipe. And, to make sure you've talked to them about how to avoid cross contamination in your kitchen.
Adapted from The Girl Who Ate Everything's Soft Caramel Corn
Nutrition Information:
Yield:

5
Serving Size:

1
Amount Per Serving:
Calories:

742
Total Fat:

33g
Saturated Fat:

15g
Trans Fat:

3g
Unsaturated Fat:

16g
Cholesterol:

0mg
Sodium:

179mg
Carbohydrates:

115g
Fiber:

5g
Sugar:

88g
Protein:

5g
DON'T FORGET TO PIN IT, SO YOU DON'T LOSE IT! BE SURE WHILE YOU'RE THERE TO CHECK OUT MY OTHER DIETARY SPECIFIC PINTEREST BOARDS.