Can it really be Christmas without the iconic roll out sugar cookies? Well, now you don't have to find out because I have soft, roll out sugar cookies that are allergy-friendly–which means these have no: wheat, gluten, dairy, egg, soy, peanut or tree nuts. They're vegan AND top-8-free. So, go get all your sprinkles and get ready to bake up a Christmas storm!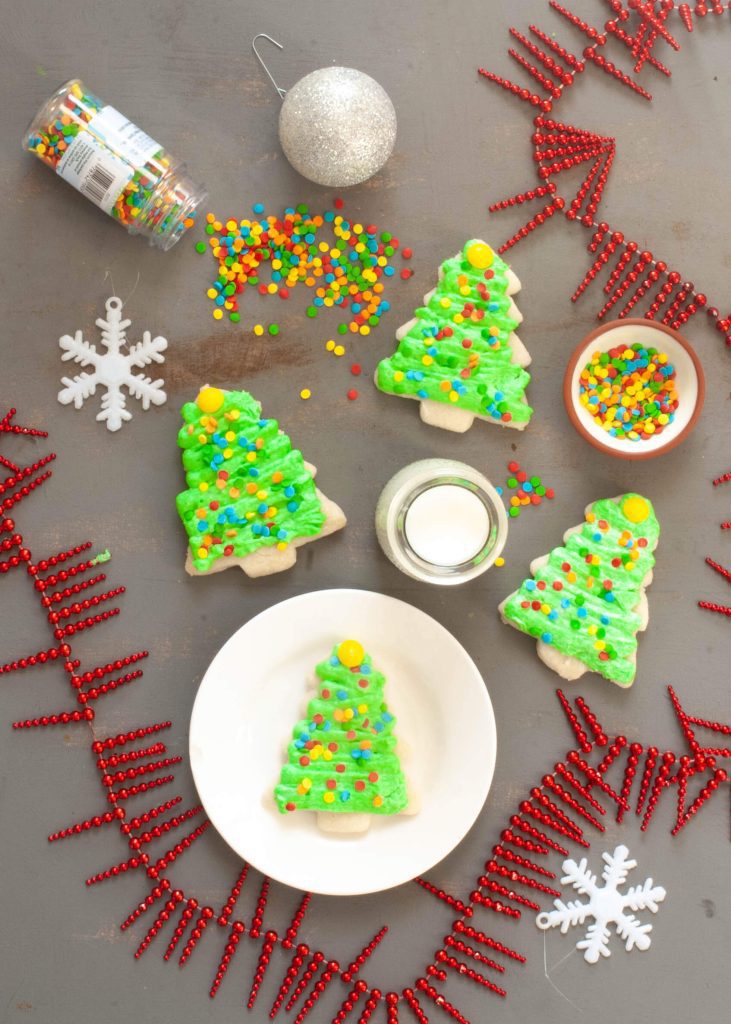 This post contains affiliate links.
You've asked for it…and I'm happy to deliver. Consider this my Christmas present to all of you, my dear readers. You wanted a gluten-free, vegan, nut-free, top-8-free roll out sugar cookie–that wouldn't crumble, would keep it's shape and would still be soft.
MERRY CHRISTMAS YA FILTHY ANIMAL.
Sorry–we've been watching a lot of Home Alone lately. And, I have to say that I can't even take credit for this recipe! This wonderful recipe comes from a dear friend, Julie! Yes, that same genius Julie that gave me the cornbread recipe too.
This is why it pays to have allergy mom friends. I find it helps to have allergy mom friends that are in the same age range–so that you can both lament together about current things happening to both of you. And, it's also especially important to have allergy mom friends that are further down the path. Julie's boys are teenagers, and so she has tons of wisdom on recipes and handling social situations. I am forever grateful for all of the wonderful allergy moms who have lifted me and taught me on this journey. If you don't have any allergy mom friends just yet–I will be that for you!
It's so validating to have people who get it! That's one reason why I have my private Facebook group, so that if you need to bounce ideas off of other allergy moms, like–"has anyone eaten at this restaurant", or "what do you do when XYZ"…and so forth, you can connect with moms all over the country. I do request that you answer some questions to join, just to make sure we don't get any spammy accounts. I'd love to see you over there. If this link to the group doesn't work, just type in "Allergy Awesomeness Info Sharing Group" into the Facebook search bar to pull it up.
Back to the cookies–we've definitely made these on Christmas Eve for the typical "(rice) milk and cookies" for Santa. Kids find sugar cookies so fun to decorate and it's a good time filler for when kids are antsy for the big man to make his delivery.
As you can tell–I don't care for royal icing. Maybe someday when I don't have kids I'll bother–ha! I need something quick that can hold candy and sprinkles–which is why I go for my classic vanilla buttercream. If you're looking for an egg-free royal icing, check out my friend Tip from a Typical Mom's recipe.
So, whether you need allergy-friendly sugar cookies for a Christmas party, neighbor treats, school function or for Saint Nick himself, I hope these help you bring back a tradition you may have lost when you first found out you (or a loved one) had food allergies.
Now, onto frequently asked questions about this allergy-friendly sugar cookie:
Do I have to chill the sugar cookie dough?
It's quite sticky unless you chill it, so I'd definitely recommend it.
If I don't have egg allergies, can I use eggs in these allergy friendly sugar cookies?
The applesauce is the egg replacer in this recipe. You can try making it with two eggs, but honestly–I'd recommend just using the applesauce as I've only been able to recipe test it with applesauce since my son has anaphylaxis to eggs. Plus, applesauce is healthy!
If I don't have a gluten allergy, can I use regular flour?
Yes, you can use the same amount, and then omit the xanthan.
If I don't have a soy allergy, can I use vegetable shortening?
Yes. I just listed palm shortening, because it's the most inclusive–but you can use any shortening substitute you like.
If I can't find rice milk, what other milk substitutes can I use?
You can use any safe milk that works for your diet.
Can you use something other than xanthan gum?
Yes, you can use guar gum.
Can you use a store-bought, pre-blended gluten-free flour instead of your homemade version?
Yes, I like to recommend Bob's, or Better Batter. If they run a bit drier than my blend, just add a bit more rice milk until you have the typical sugar cookie consistency.
What tip did you use for frosting the cookies shown?
I used a Wilton 104 tip. And, I don't usually bother with pasty bags, I'll just drop the tip down into a ziplock bag and cut the corner. I'm fancy like that!
What food coloring do you use?
I use Wilton food coloring gels. For those who want another option, I've heard TruColor is allergy-friendly. Be sure to always do your own research and find what you're comfortable with!
What sprinkles do you use?
I used the Great Value Sequin mix. Remember–you can use sanding sugar, or skittles or your other favorite allergy-friendly candies too!
Are these sugar cookies dairy free and egg free?
Yes, these are dairy and egg free sugar cookies! I use a gluten-free all purpose flour and applesauce as the egg replacer. If you don't need them to be gluten-free, just dairy and egg free, you can swap back in regular flour 1:1 and omit the xanthan gum. Milk and egg allergies are very common, especially in little kids. My son had milk and egg allergies, so that is why I made these sugar cookies for him.
Have fun making these gluten and dairy free sugar cookies!
Be sure to watch this recipe video, to see how to make this recipe from start to finish! And lastly, don't feel stressed to frost it perfectly! The fun is just getting to eat it. I know I've felt the pressure with social media to only have perfected cookies. So many people worry about having a million kinds of frosting and toppings. I like to stick to one shape per every time I make it and just keep it simple. It doesn't have to be magazine worthy to be a memorable experience with your loved ones!
Do you have other allergy friendly cookie recipes?
Yes I do! What would life be without lots of allergy friendly cookies? All of my cookies are gluten free, dairy free, egg free, peanut free and tree nut free, and very often soy free too. You can check out my allergy friendly cookie index, or try these top favorites:
Be sure to share these allergy friendly roll out sugar cookies with any other allergy parents you know of! Happy baking!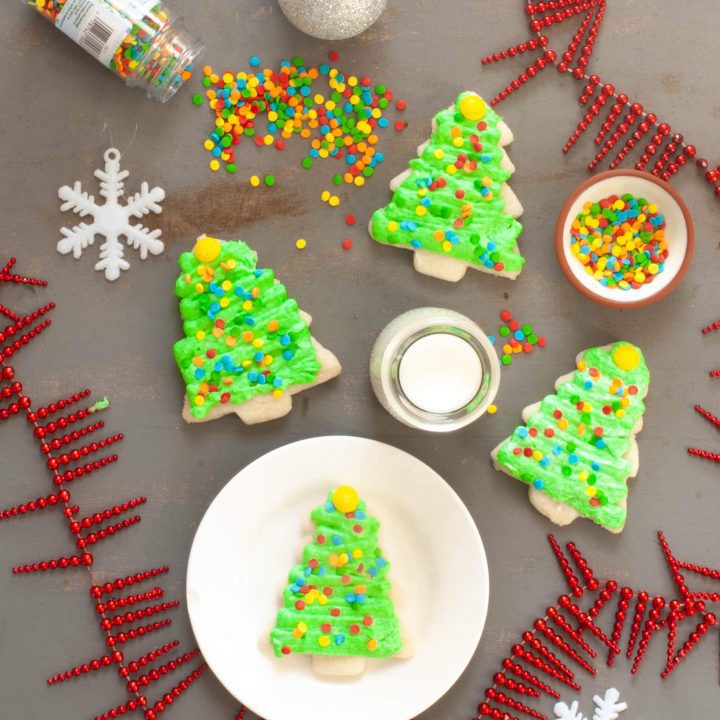 Allergy-friendly Soft, Roll Out Sugar Cookies
Additional Time:
30 minutes
Can it really be Christmas without the iconic roll out sugar cookies? Well, now you don't have to find out because I have soft, roll out sugar cookies that are allergy-friendly--which means these have no: wheat, gluten, dairy, egg, soy, peanut or tree nuts. They're vegan AND top-8-free. So, go get all your sprinkles and get ready to bake up a Christmas storm!
Ingredients
COOKIE INGREDIENTS:
¾ cup sugar
1 teaspoon vanilla
½ cup apple sauce
¼ teaspoon salt
1 ½ teaspoons baking powder
TOPPINGS:
Instructions
Mix shortening, sugar, vanilla, applesauce, and rice milk until smooth.
Add in the salt, xanthan, baking powder and half of the gluten-free flour. Mix well.
Add in the rest of the gluten-free flour and blend well.
Cover and refrigerate at least 30 minutes.
Once the 30 minutes are up, preheat your oven to 375 degrees F.
Place a piece of parchment paper on a cookie sheet.
Generously (and I mean GENEROUSLY) sprinkle a clean surface with gluten-free flour or powdered sugar and place your chilled dough on top of it. (Otherwise they will stick when you try to lift the shapes. If you think you've done too much, you've probably done enough.) Sprinkle even more flour on top of the dough and sprinkle your rolling pin with flour. If your cookies are sticky still, it means you haven't dusted the dough with enough flour. Keep adding flour/powdered sugar on top, and below the dough until the dough is not sticky and you can roll it (or even better--simply pat it with your hands) into a uniform thickness. (I find rolling it can sometimes cause it to get sticky again.
Roll your dough until it's 1/4 of an inch thick.
Dip your cookie cutter in the gluten-free flour, and then place it in the rolled dough. Wiggle your cookie cutter to make sure it's all of the way through.
Fit as many as you can in your dough, and then remove the scraps.
Carefully move the cut shapes onto the parchment paper.
Bake for 7-9 minutes until just barely set. DO NOT OVER BAKE! These will not turn golden.
Take the pan out of the oven, and allow the cookies to rest on the pan/finish cooking for 5 more minutes.
Carefully lift them onto a cooling rack to finish cooling. Cookies are fragile when warm.
Make the buttercream. (Or, my egg-free royal icing.)
Decorate as desired. (See the FAQ for how I did mine.)
Keep covered room temperature.
Notes
I prefer more flavor in my sugar cookies--especially since gluten-free flour tastes slightly more starchy than regular wheat flour. You can see how I add lemon flavor to this same recipe, in my Easter Bunny Cookies and would recommend it for these too!
*OR: To give the sugar cookies more of a regular flavor (versus tasting more like gluten free flour) I like to add a 1/2 tsp cake batter extract. Some people may not feel comfortable with cake batter extract because it is a combo of vanilla butter and nut. We have been fine using it because we feel OK that it is all artificial flavors. But, if you don't feel comfortable using it, that's fine too!
*Our allergies, while severe and that get re-tested frequently, are such that we can go strictly by what's on the label. I do not call companies to see what things are derived from, or call manufacturers to see about potential cross contact. If your allergies require you to do so, please do your own homework. I cannot assure you of any ingredient's safety, only you can do that. I simply share what works for our family
**If you are going to feed this to someone with food allergies, and you yourself do not have food allergies, I HIGHLY recommend having them check every single brand and ingredient you are using, to ensure they're OK with each part of the recipe. And, to make sure you've talked to them about how to avoid cross contamination in your kitchen.
DON'T FORGET TO PIN IT, SO YOU DON'T LOSE IT! BE SURE TO ALSO CHECK OUT MY OTHER ALLERGY-FRIENDLY PINTEREST BOARDS.
---
Looking for more Christmas cookies? Check out my other favorites:
Christmas Chocolate Peppermint Crinkle Cookies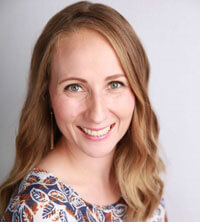 Hi! I'm Megan, a mom to four kids, two with multiple food allergies & one with EOE. I'm a published cookbook author that constantly tweaks recipes to make them allergy friendly–it's an addiction. I share every recipe & tip with you, to help you eat like you did before food allergies & dietary restrictions. You can still be awesome, even with food allergies!