Rich, sweet, buttery, soft and most importantly chewy caramels that use ZERO dairy. Yes, it can be done! It's a Christmas miracle and you'll be eating it by the pound. The recipe is quite simple, only six ingredients, and all you need to do is stir. Let me show you how to make these dairy free caramels that are also free of: wheat, gluten, dairy, egg, soy, peanut and tree nuts, making this Christmas candy top-8-free and vegan too!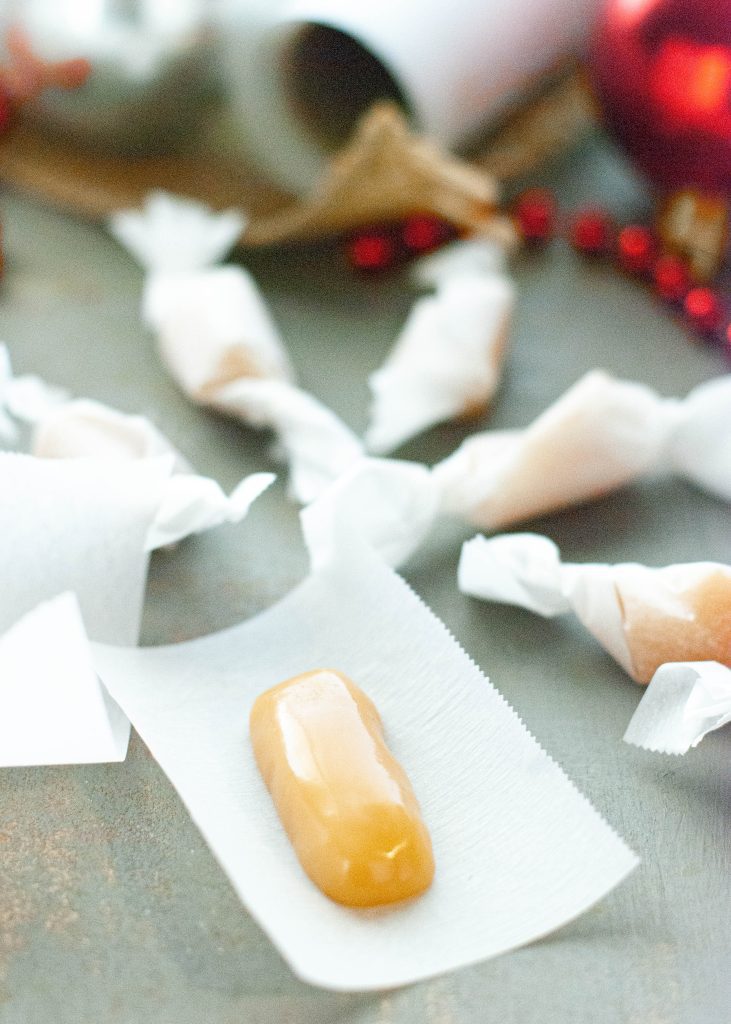 None of these products are sponsored. I just know how annoying it is to guess what brand someone uses, so I use Amazon affiliate links to show you.
Why I love these dairy free caramels
Just ask my mom, I have been obsessed with caramel since I was a young kid. It's one of my favorite candies or toppings and it has literally been a HUGE PAIN IN MY SOUL that I could not give my son, who has a milk and nut allergy, homemade caramels. What is Christmas without caramel you wonder? It's sad. That's what it has been for almost a decade. A true blue Christmas.
I finally found a coconut dairy free caramel recipe a few years ago. But it took forever and it was hit and miss.
So imagine almost crying tears of joy when I found this recipe, that only needs one pot, only needs to be stirred, is so simple and is so dang good every time. The same joy I had when I saw my kids enjoy the taste of sweetness through the list of kids' candies that I prepared.
I took a huge bowl of these dairy free caramels to a New Year's Eve party where no one has food allergies. I didn't say anything about them being dairy free. People were devouring them and kept coming up saying how good they were. They were SHOCKED that they were dairy free. Utterly shocked. And you will be too! I can finally share them with my son, that is…if I can stop hogging them. Haha.

What sweetened condensed coconut milk do I use?
I use Andre Prost Sweetened Condensed Coconut Milk–mostly because that's the one I can find at my local Walmart (#ILiveInASmallTown). It was a very happy day in my life when I realized they made sweetened condensed coconut milk. What a lifesaver! It is also key to a dairy free fudge. Here are the ingredients:
pure can sugar, filtered water, coconut cream, xanthan gum
I think Nature's Charm brand would also work well. Even though the Andre Prost is 11.6 oz an the Nature's Charm is 11.25 oz they should be interchangeable.
And yes, it needs to be sweetened condensed coconut milk. Not evaporated, or just coconut milk. If you can't find it, you can try my other coconut caramels, but like I say above, they are more work and are harder to get right. I'm sorry, if you have a coconut and milk allergy, I do not know of any substitutions.

What vegan butter do I use?
I use Earth Balance Buttery sticks. These are the ingredients:
Natural oil blend (palm fruit, canola, soybean, flax and olive oils), water, salt, contains less than 2% of natural flavor, soy protein, soy lecithin, lactic acid (non-dairy), and naturally extracted annatto (for color). Contains soy.
If you have a soy allergy, be sure to use their soy free version.
I haven't tested it with other dairy-free butters, but I would assume many would work. I just wouldn't sub in the spreadable butter, in place of buttery sticks.

Can I use something other than corn syrup?
I'm sorry, this is not a diet blog. I have never been into looking into sugar substitutes. This is Christmas, so I am fine indulging at Christmas time. I know corn syrup is frowned upon, and I'm sure there are other bloggers who will find work arounds for you. I already have to work around: gluten, dairy, egg, peanut and tree nut allergies, so I don't want to make my job any harder.
Corn syrup is an invert sugar, and really helps with the texture of the caramels. If you're desperate to try something, the closest I can suggest is brown rice syrup, but again, I've never personally tried it. If you do, please comment below.
I've been fine using the Great Value corn syrup, or Karo corn syrup.

Can I use white sugar instead of brown?
Yes you can. I feel like the brown sugar gives it a richer flavor, but use whatever you have on hand. I use light brown sugar, but you could probably be fine with dark as well.
What vanilla do I use?
I have been fine using several brands of imitation vanilla extract. I've got four kids and my husband works at the local junior high, so I gotta scrimp where I can. Use whatever vanilla (real or imitation) that you most prefer.
What baking supplies do I need for dairy free caramels?
Here are the tools you need to complete the dairy free caramels from start to finish:
A square baking pan (8×8 or 9×9 will work)
A good quality medium sized pot (I use

calphalon

)
A digital thermometer is ESSENTIAL. I've tried using old fashioned candy thermometers that stick to the sides of the pot, and they just are not as fast or reliable as a digital read. I can't find my exact model, but I use one similar to

this one

for grilling, meats, and candy and it works great.)
A

heat safe spatula

, or other heat-safe spoon for stirring
Wax paper for wrapping the caramels

How long does it take to make vegan caramels?
It might be tempting, but keep the heat at medium and don't turn it up to try and make it go faster, so you don't burn your sugar. I've had it take a variety of times, depending on if I have a gas range or an electric range. Do plan on it taking probably around ten minutes for while it's cooking, and that's a ballpark.
So, don't start it if you have something else going on. You'll want to stir frequently until it starts to bubble, and then constantly be stirring once it's bubbling and checking the temperature. It requires your full on attention. Getting it to the right temperature, and then not letting it go past is vital to the texture of the caramels. Take it off too soon and it won't set up, take it off too late and they will be hard.
You can cook them until they reach anywhere between 235-245 degrees F. I like to shoot for 240, right in the middle.
You'll then need to wait for them to cool so you can cut and wrap them. The cooling can takes a few hours.
I like to wrap them small, because they're so rich, and can get about 50 pieces in one batch, so plan on some time to assemble that as well.
I like to make an assembly line with my kids and we can knock it out quickly.
While caramels take some time, I think they are absolutely, 100%, no doubt about it worth it. Especially if it means you can include someone who has a dairy allergy or is avoiding milk.
Merry Christmas from my family to yours. I've been so excited to share this and hope you'll also share it with those who would like them as well.

Do I have other dairy-free Christmas treats?
Do I? I love to bake and share with my friends and neighbors. And, because of my son's milk allergy, absolutely EVERYTHING on my site is dairy free.
In fact, he's also allergic to eggs, so all of my baking is technically vegan too.
My son also has a wheat allergy, so everything is gluten free too. However, if you don't need it to be gluten free, you can swap in regular flour 1:1 and omit the xanthan gum. Easy peasy!
It's hard to pick one, so here's a list of our favorite dairy-free Christmas bakes:
Do I have a video showing how to make the caramels dairy free?
Yes I do! I made a TikTok video, because I like how short and succinct they are. By watching this, it will give you a good overview of how easy it is to make these chewy caramels: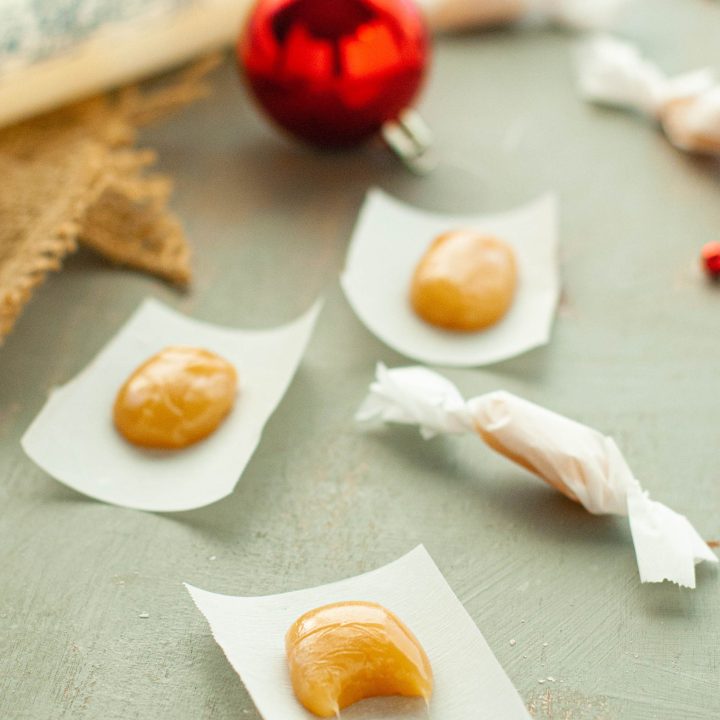 Chewy Dairy-Free Caramels (Vegan & nut free, too!)
Total Time:
2 hours
20 minutes
Rich, sweet, soft & most importantly CHEWY caramels that use 0 dairy. Yes, it can be done! These dairy free caramels are a Christmas miracle!
Ingredients
1 cup brown sugar
1 teaspoon vanilla extract
1/8 teaspoon table salt
Wax paper. for wrapping
Instructions
Be sure to watch the tiktok video right above the recipe card, if you'd like to see how to make it.

To begin, grease an 8x8 or 9x9 square baking dish (depending on how thick you want the caramels).

Heat a good quality medium sauce pan over medium heat. Melt your vegan butter. Add your sweetened condensed coconut milk, corn syrup and brown sugar. Stir frequently with a heat proof spatula or other heat-proof spoon (do not adjust the heat).

Once it's boiling, I stir non stop, and check the temperature every minute or so. You may find that the temperature stalls out in the 220's...that is normal. Be patient!

Cook the caramels until it reaches between 235-245 degrees F. I like to shoot for 240 in the middle. This is why a digital thermometer is vital.

Once it reaches the temperature, remove it from the heat. Stir in the vanilla and salt.

Pour into the greased baking dish.

Allow to cool completely.

Cut with a greased knife into little rectangles, and wrap each one in wax paper. Give away to any lucky soul, or enjoy yourself!
Notes
For substitution options, read my post above.
Check out my other Christmas treats.
*Our allergies, while severe and that get re-tested yearly, are such that we can go strictly by what's on the label. I do not call companies to see what things are derived from, or call manufacturers to see about potential cross contact. If your allergies require you to do so, please do your own homework. I cannot assure you of any ingredient's safety, only you can do that. I simply share what works for our family
**If you are going to feed this to someone with food allergies, and you yourself do not have food allergies, I HIGHLY recommend having them check every single brand and ingredient you are using, to ensure they're OK with each part of the recipe. And, to make sure you've talked to them about how to avoid cross contamination in your kitchen.
This recipe is adapted from the highly talented and oh-so-wonderful Rachel from The Stay At Home Chef. She is always inspiring.
Nutrition Information:
Yield:

50
Serving Size:

1
Amount Per Serving:
Calories:

56
Total Fat:

4g
Saturated Fat:

3g
Trans Fat:

0g
Unsaturated Fat:

1g
Cholesterol:

5mg
Sodium:

24mg
Carbohydrates:

6g
Fiber:

0g
Sugar:

6g
Protein:

0g
DON'T FORGET TO PIN IT, SO YOU DON'T LOSE IT. WHILE THERE, CHECK OUT MY OTHER DIETARY SPECIFIC PINTEREST BOARDS!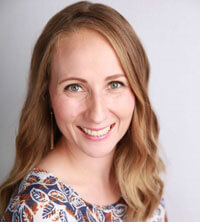 Hi! I'm Megan, a mom to four kids, two with multiple food allergies & one with EOE. I'm a published cookbook author that constantly tweaks recipes to make them allergy friendly–it's an addiction. I share every recipe & tip with you, to help you eat like you did before food allergies & dietary restrictions. You can still be awesome, even with food allergies!