Thick pumpkin scones drizzled with cinnamon glaze will make for the perfect fall breakfast or brunch. Free of gluten, dairy, egg, soy, peanut & tree nuts. Vegan and top 8 free too!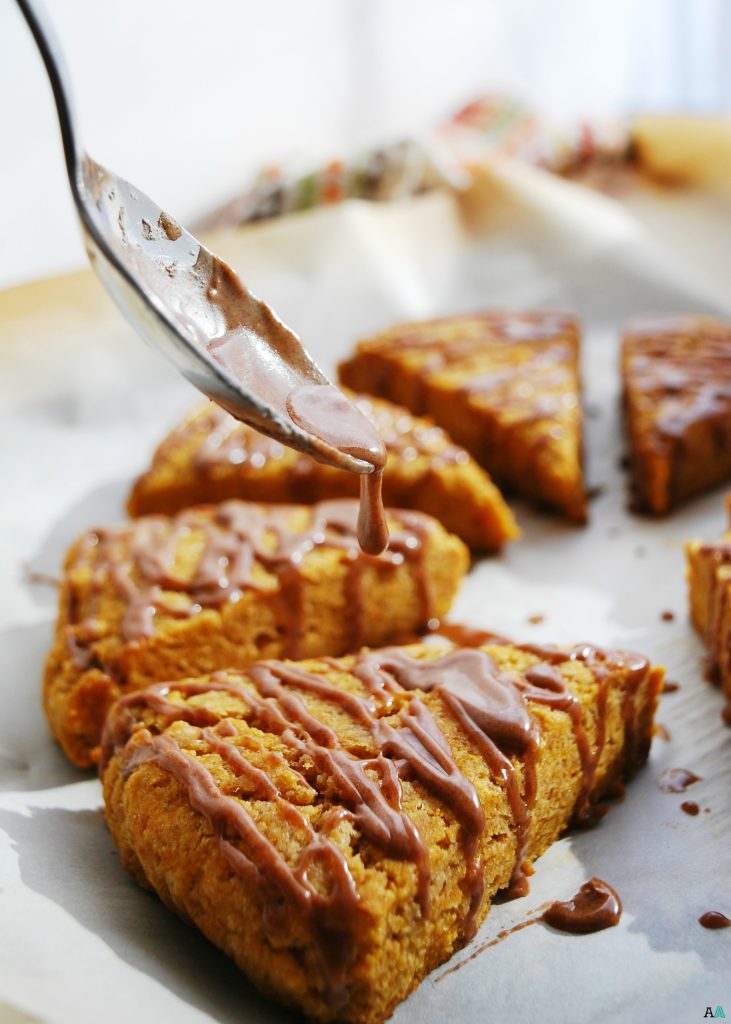 This post contains affiliate links.
I kind of hate breakfast.
Don't get me wrong–I could eat breakfast foods all day e'vry day. But–finding breakfast foods that work for my son that has 30+ food allergies is tough! He can't have most cereals due to wheat, he can't do traditional yogurt due to dairy, and he can't do eggs–which I feel like are the three main (and easy and cheap!) American breakfast foods. Add to that he's a picky 4-year-old and every morning it's a guess of what in the world I'll actually get in that kid's tummy.
Thankfully, he inherited my "love of all things baked" gene, so he'll eat muffins, quick bread and scones for breakfast. The only problem becomes me waking up early enough and with enough energy to start out baking right away.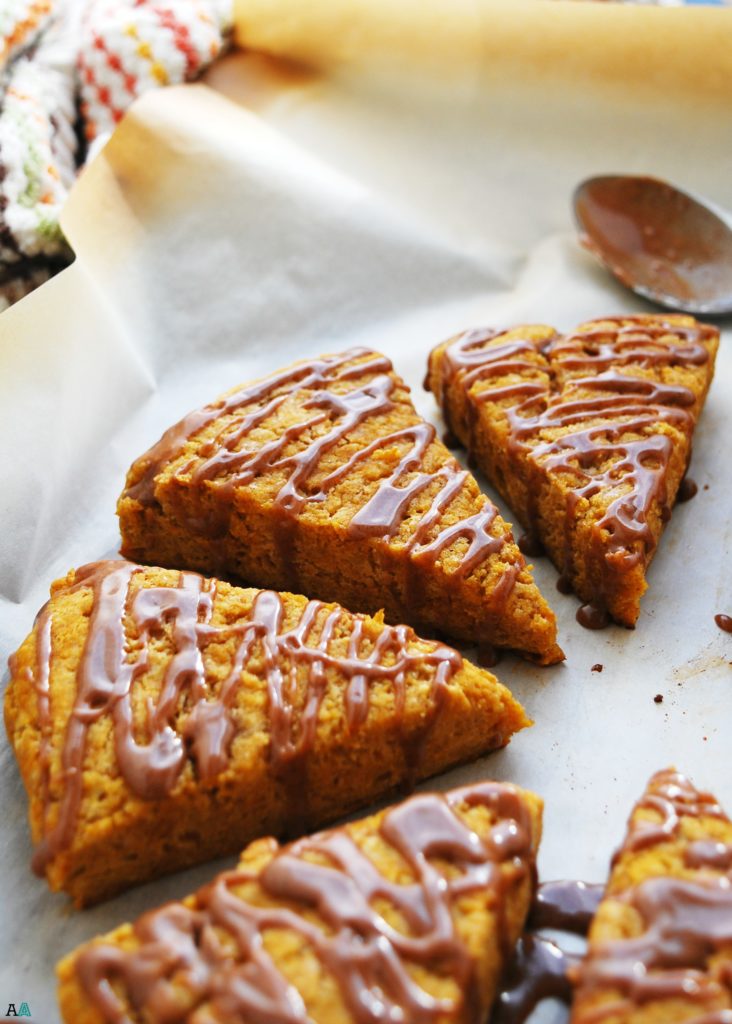 When I saw these scones, I knew that this is something I'd get out of bed for. I didn't tell my husband what I was baking and even let him sleep in. I woke him up with the announcement: "There's hot, pumpkin scones waiting for you downstairs," and he was all "WHHHA??? That sounds GOOD." In that moment I felt like a Stepford wife–except for the fact I was still in my bathrobe, hadn't combed my hair and hadn't brushed my teeth. BUT, it was still a nice feeling to wake him up so pleasantly.
There really is something so satisfying about having something hot out of the oven first thing in the morning. It's like an extra dose of love and you just feel good starting your day out. I loved having these at the table for my family and it even made having to go grocery shopping after breakfast not feel so bad.
One thing I loved about this recipe is that I could do it by hand. I'm a self-proclaimed Kitchenaid junkie–but since you don't want to over mix them, I think it's best to do it by hand. Plus, it makes me feel better eating calories in the morning if I had to use the ol' elbow grease to make 'em. And, this doesn't call for any type of egg replacer, since pumpkin is a natural egg replacer. Love it when one ingredient does double the work!
While I love my classic pumpkin chocolate chip muffins I felt this was a great way to fancy up pumpkin a bit. Speaking of other classics, if you can do almond flour, check out these gluten free pumpkin donuts from fellow blogger, Tessa The Domestic Diva. Or, these almond flour scones by Salted Plains.
I hope this will also help you have a pleasant fall morning too! There really is nothing better than a yummy breakfast that not only you enjoy, but your whole family enjoys and you're left with one less day of "what will I feed my allergy-kiddos for breakfast?".
Enjoy!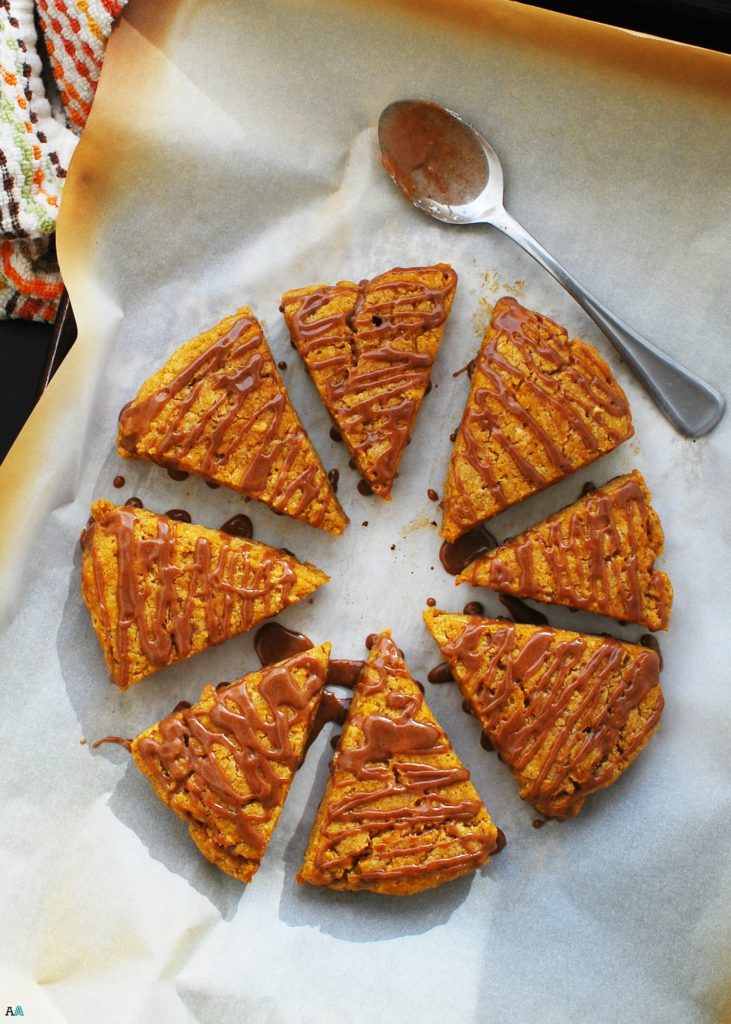 Also–if you'd like to see a video of how to make these gluten-free vegan pumpkin scones, click on the photo below to launch the tutorial: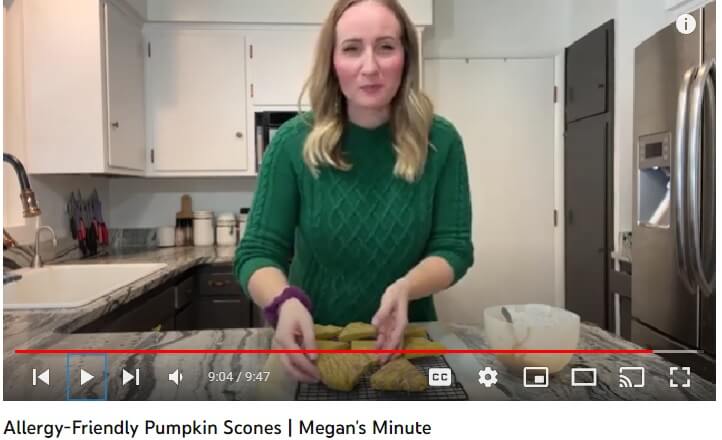 Pumpkin Scones with Spiced Glaze (Gluten, dairy, egg, soy, peanut and tree nut free; top 8 free; vegan)
Thick pumpkin scones drizzled with cinnamon glaze will make for the perfect fall breakfast or an impressive brunch. Free of gluten, dairy, egg, soy, peanut & tree nuts. Vegan and top 8 free too!
Ingredients
SCONE:
½ cup sugar
1 Tablespoon baking powder
1 teaspoon xanthan gum
1/2 teaspoon salt
1 and 1/2 teaspoons pumpkin spice
6 Tablespoons coconut oil, chilled
3/4 cup pumpkin puree
3 Tablespoons rice milk
1 teaspoon vanilla
SPICED GLAZE:
1/2 cup powdered sugar
2-3 teaspoons rice milk
1/2 teaspoon ground cinnamon
1/4 teaspoon pumpkin spice
Instructions
Preheat your oven to 425 degrees F. Line a baking sheet with parchment paper.
In a large bowl, whisk the flour, sugar, xanthan, baking powder, salt and spices until everything is combined.
Drop the chilled coconut oil into the mixture. Using a pastry blender or fork, work the coconut oil into the mixture. You don't need it to be perfected blended, but it should be incorporated enough that it's like crumbled sand--you don't want to over mix it.
Then, add in the pumpkin, milk and vanilla. Fold everything together. It's OK if it's not perfectly mixed. The dough will be a little wet and sticky.
Drop the dough onto a lightly floured (with either more gluten-free flour, or some powdered sugar) and shape it into a large circle. Using a pizza cutter, cut it into 8 slices. Place the slices onto the baking sheet lined with parchment paper. Make sure they are not touching when you place them.
Bake 14-16 minutes until they are light brown. Remove from the oven and allow them to cool on a wire rack.
While they're baking, make the glaze.
Mix powdered sugar, milk and spices. with one teaspoon at a time of the milk, until you get the desired consistency you want. I prefer a thicker glaze.
Once the scones have cooled, drizzle with glaze.
Serve and enjoy.
Adapted from: Laura Fuentes
Don't forget to pin this so you don't lose it!