Cool, creamy and minty this peppermint pie recipe is going to become your favorite pie for all your holiday get togethers. The refreshing mint paired with a chocolate cookie crust just couldn't get any more delicious! I've listed the recipe for both regular ingredients and for those with gluten and dairy allergies like us–so you can make it for whatever guests you may be having. Happy holidays and have an extra slice for me!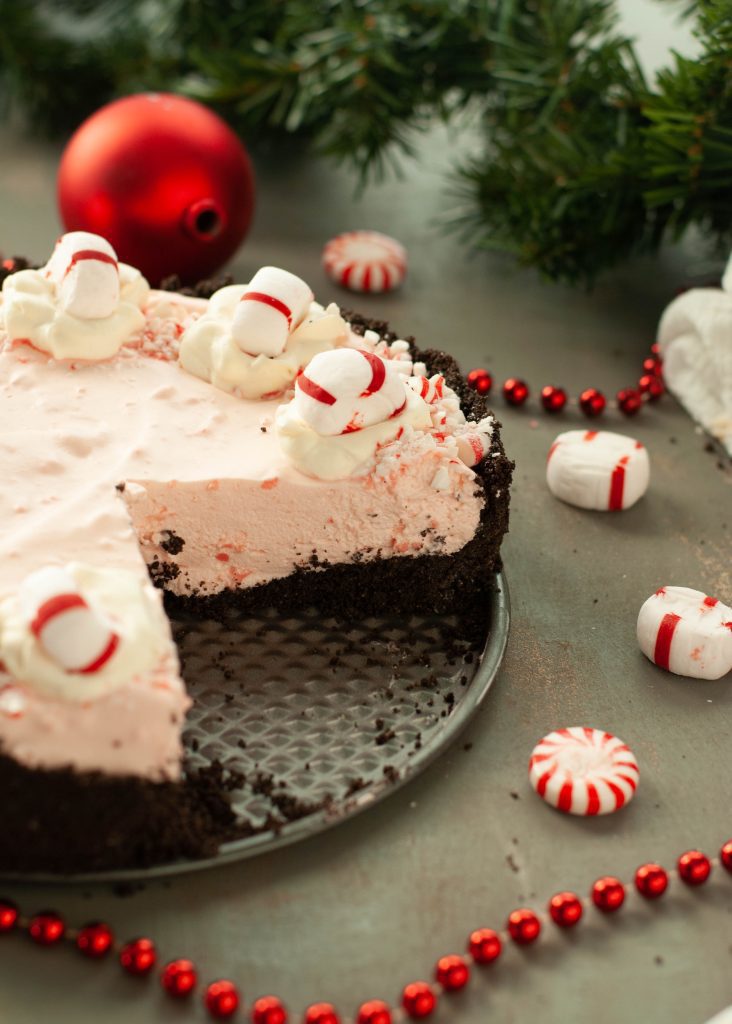 This post contains affiliate links.
Why I Adore This Peppermint Pie
My mom made peppermint pie growing up. It had Cool whip, and marshmallow fluff in it. But, since we can't do wheat, dairy or eggs in my house, I had to figure out how to still get that soft center without the use of those ingredients. It takes a few more steps, but it feels much more homemade.
The soft-set filling feels like a cloud. With crushed candy canes or peppermint candies on top–it gives just the right amount of texture and crunch for the best contrast.
With so many sickly-sweet recipes during the Christmas season, this almost feels like a palate cleanser with its crisp peppermint taste and light filling–which is a good and bad thing because then I want multiple slices!
Between it's beautiful hue and lovely decoration with the holiday's favorite candy: peppermint, this is a winter wonderland wrapped up in a pie. You're going to want to make this over and over again this holiday season!
What pie pan do I need?
I used a 9 inch spring form pan, because I wanted photos without a pie pan in it. I like these because they tend to be deeper and you can remove the sides. But, if I were just making this without needing photos, I'd probably stick to a regular pie pan. Deeper is better, as the filling does make a lot and I had some extra I had to eat with a spoon (darn! Wink, wink.) The material won't matter–glass or metal pie plate because the chocolate crust is not being cooked.
What do I use for the cookie crust?
If you don't have food allergies–just use regular oreo cookies. If you have food allergies, I used gluten-free oreos. Honestly, I can't tell the difference. There's also other gluten-free chocolate creme cookies if you can't find that brand like Glutino and K-Toos, and even these Enjoy Life ones would probably work.
What tools do I need for this peppermint pie?
This perfect holiday dessert is much easier to make with some tools handy:
Food processor
Hand mixer with electric beaters with whisk attachment or Kitchenaid with whisk attachment
Rubber spatula
Small saucepan
Whisk
Large bowl
Small mixing bowl
Measuring cups and measuring spoons
Rolling pin
I use the food processor to crush the Oreos for the crust. If you don't have one, it's not a deal breaker. You can use a rolling pin to smash them while they're inside a ziploc baggie (so crumbs don't' go flying everywhere). I also use my rolling pin to crush my peppermint candy. You could use your food processor, but I like mine to have small pieces, and find the food processor gets it too fine.

What do I use for the heavy whipping cream
If you don't have any food allergies–use regular heavy whipping cream. If you have dairy allergies like us I have been in love with the Country Crock Plant Cream. This is not sponsored, but I find it whips up way better than coconut cream. Silk has a good version dairy-free version too.
What kind of peppermint candy do I need
Be sure to note that you need TWO kinds of peppermint candies. You need the soft peppermint candy (also known as soft puffs or sweet stripes or melt aways). As well as the traditional flat, hard peppermint candies (also known as starlight mints).
What kind of butter do I recommend for this candy cane pie recipe?
If you're a regular eater, use regular butter. I would go with salted. If you are dairy-free like us, I use Earth Balance, though I think most of vegan butter would work.

Does this peppermint pie have to have red food dye?
No. I know many people do not care for food dye. I actually didn't use any, as you can tell my filling is only a light shade of pink. I think it gets enough color from the melted soft peppermints, but you do you, and add any food coloring to the filling you wish to make it pop more. It doesn't affect the taste either way.
What makes this peppermint pie taste so minty?
The trick is melting soft peppermint candies into the whipping cream, and then using a touch of peppermint extract to really bring out the peppermint flavor. The third is by garnishing the pie with crushed hard peppermints to give both texture and an extra boost. It sounds like a lot, but honestly, it's the perfect amount of minty flavor. Not like toothpaste, but refreshing and sweet. This is such a delicious pie!
What ingredients are needed in this delicious dessert?
This peppermint pie requires:
CRUNCHY COOKIE CRUST:
PEPPERMINT FILLING:
GARNISH:
If I use your dairy-free substitutions, will this pie be vegan?
Unfortunately not. Many of my bakes end up being vegan because we are dairy and egg free due to food allergies. However, the gelatin mixture in this pie disqualifies it from being vegan, even though we're using vegan whipping cream and vegan butter.
Do I have to make more whipped cream to go on top?
No, the pie is delicious without the additional whipped cream garnish. However, it does make it look pretty and adds to the sweetness. If you don't want to make a homemade whipped cream again (since you make it for the creamy filling as well). You could simply use a store-bought whipped topping. There are lots of brands like Cool Whip for regular eaters and CoCo Whip for dairy-free eaters.
Can I swap in candy canes?
If you're like me and have tons of extra candy canes lying around then yes, you can use regular sized or mini candy canes as part of the garnish. Whether they're the hard, round peppermint candies or candy canes, they taste and look the same when smashed and added on top. You MUST use the soft peppermints for the filling though. The hard ones don't melt as well.

How do I store this candy cane pie?
Keep the pie covered and refrigerated for 2-3 days. Note that any remaining hard candy garnish on it, will start to bleed/melt into the topping. So, if you're only planning on having a few slices, just garnish the ones that will be eaten right away.
Do I have other gluten and dairy free pies?
Why yes I do! You're whole family will love my perfect pie whether it's for the holidays or just a Sunday evening dessert.
Do I have a video showing how to make the pie?
Yes, I do! The video should appear below in the recipe card. If it does not, you can always watch it on my YouTube channel as well.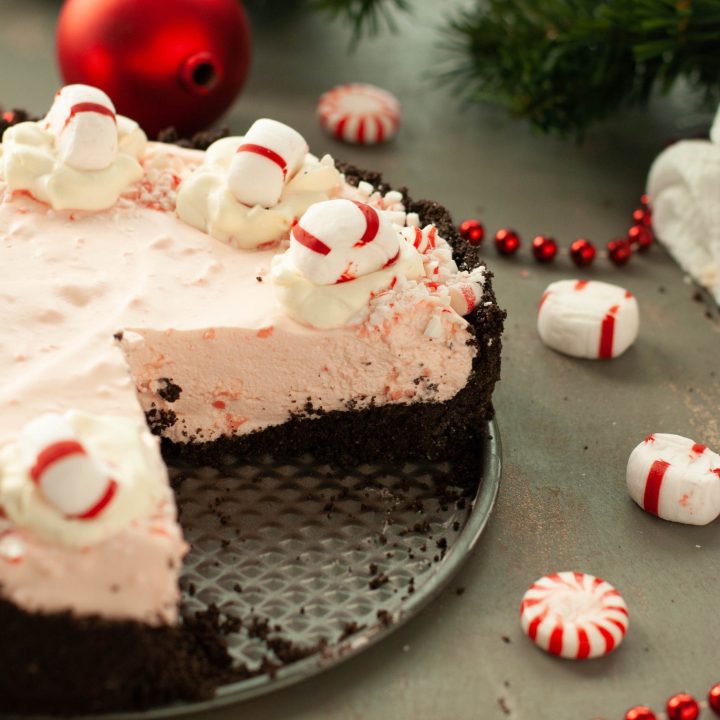 Peppermint Pie (With Gluten and Dairy Free Options!)
Total Time:
3 hours
30 minutes
Cool, creamy and minty this peppermint pie recipe is going to become your favorite pie for all your holiday get togethers. The refreshing mint paired with a chocolate cookie crust just couldn't get any more delicious! I've listed the recipe for both regular ingredients and for those with gluten and dairy allergies.
Ingredients
PEPPERMINT FILLING:
GARNISH:
Instructions
Be sure to watch the video below, or on my YouTube so you can see how to make it start to finish as well as read the FAQs above the recipe card for best results.
The good thing about this pie is that there are only three swaps to make if you need it gluten-free and dairy-free and they are used at the same measurement and method. Follow whatever directions you need depending on your diet.
*AHEAD OF TIME: To help whipping cream whip better, you're going to want to put your whisk attachment (or beaters), your bowl if you can fit it, and your boxes of heavy whipping cream (plant based if needed) in the freezer for 15 minutes while you get the rest of your ingredients ready and make the pie crust.
In a food processor, mix the cookies and butter until it's a fine sand. (Or, place the cookies in a Ziploc baggie and beat until crushed finely with a rolling pin, then melt the butter and stir together in a small mixing bowl.)
Press the crumbs with greased hands evenly into the pie plate, pressing up the sides as well. Set it in the fridge to chill while you make the filling.
In a small bowl, place the water and then sprinkle one packet of the gelatin over it to soften. Set aside.
Measure out 1/2 cup of the (plant) cream and add 1 cup of crushed soft mints in a small sauce pan and stir frequently over medium-low heat until the candy is melted. Take off the heat and add the peppermint extract and the softened gelatin + water mixture. Set this aside so it can cool. Don't allow it to harden completely. You want it cool enough it won't melt the whipped cream in the next stage, but not so firm that it won't incorporate.
While that is cooling, in a stand mixer (or with hand beaters) whisk the remaining 1 and 1/4 cups (plant) cream until stiff peaks form.
Fold in the cooled peppermint gelatin mixture and mix.
Pour this mixture into the prepared crust (you may have a little left, depending on how deep your pie plate is, and how tall you made the sides of your pie.) Refrigerate for at least 3 hours to overnight.
When ready to serve, make the whipped topping by chilling the bowl, beaters and box of (plant) cream in the freezer for 15 minutes. Then beat it along with the powdered sugar and vanilla until stiff peaks form. Dollop the top with as much whipping cream as you like, and broken hard candy mints on top. The hard mints give it a nice crunch, so don't skip this step! It's not just for looks. You can also garnish the dollops of whipped topping with the large soft mints as well, as shown in the picture.
Store in the fridge, covered 2-3 days. Note that any candy garnish will start to melt into the topping, so it won't be as pretty. If needed, only garnish the slices you're going to eat if looks matter.
Notes
*Our allergies, while severe and that get re-tested frequently, are such that we can go strictly by what's on the label. I do not call companies to see what things are derived from, or call manufacturers to see about potential cross contact. If your allergies require you to do so, please do your own homework. I cannot assure you of any ingredient's safety, only you can do that. I simply share what works for our family
**If you are going to feed this to someone with food allergies, and you yourself do not have food allergies, I HIGHLY recommend having them check every single brand and ingredient you are using, to ensure they're OK with each part of the recipe. And, to make sure you've talked to them about how to avoid cross contamination in your kitchen.
Adapted from: Saving Dessert's Peppermint Pie
Nutrition Information:
Yield:

8
Serving Size:

1
Amount Per Serving:
Calories:

605
Total Fat:

33g
Saturated Fat:

16g
Trans Fat:

1g
Unsaturated Fat:

8g
Cholesterol:

74mg
Sodium:

398mg
Carbohydrates:

78g
Fiber:

0g
Sugar:

42g
Protein:

8g
DON'T FORGET TO PIN IT, SO YOU DON'T LOSE IT! BE SURE WHILE YOU'RE THERE TO CHECK OUT MY OTHER DIETARY SPECIFIC PINTEREST BOARDS.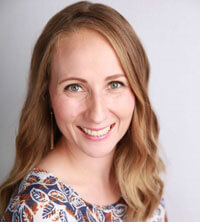 Hi! I'm Megan, a mom to four kids, two with multiple food allergies & one with EOE. I'm a published cookbook author that constantly tweaks recipes to make them allergy friendly–it's an addiction. I share every recipe & tip with you, to help you eat like you did before food allergies & dietary restrictions. You can still be awesome, even with food allergies!