A 13×9 spiced pumpkin cake, filled with fall's best spices, and topped with a sweet cream cheese frosting. A thick slice topped with creamy cream cheese frosting is what every fall meal needs at the end. This cake and "cream cheese" frosting are both gluten-free and vegan. This pumpkin cake is free of: wheat, gluten, dairy, eggs, peanut, tree nuts, fish and shellfish (with a soy-free option). Read below to find out how to make this allergy-friendly pumpkin dessert.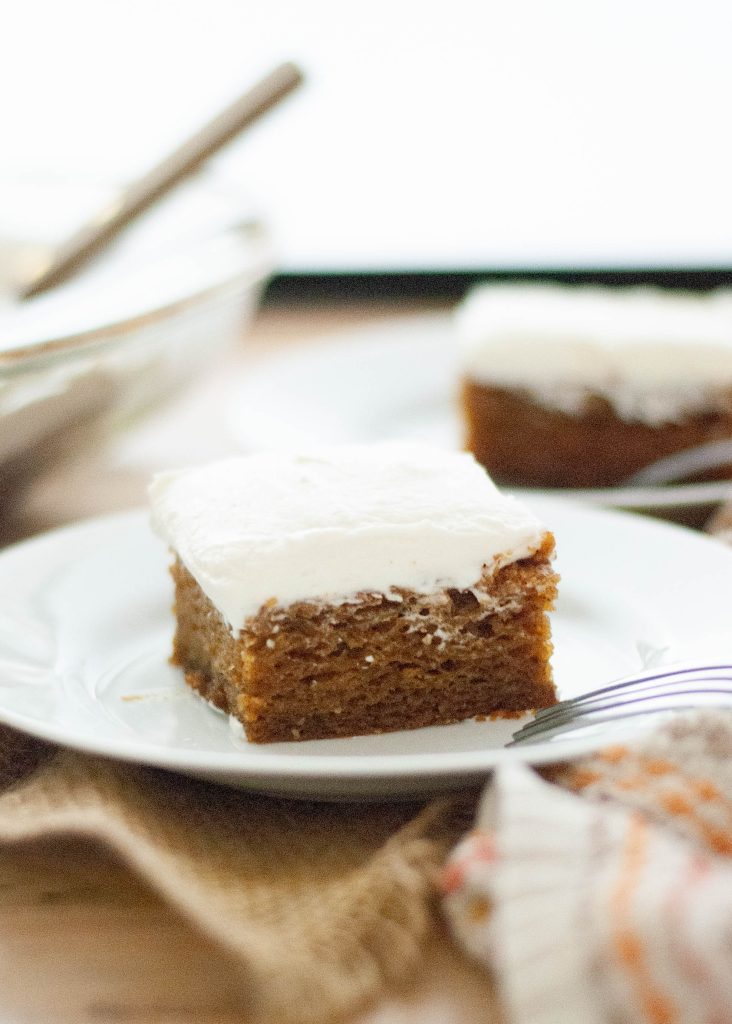 This post contains affiliate links.
Why I Love This Pumpkin Cake
I tried this recipe 4-5 times, because I didn't want one that was overly moist, and I wanted one that had a good level of spice. You would be surprised, but in my research I often found many recipes only flavor it with pumpkin pie spice. You can't just rely on that alone. Those recipes were way too bland. I love the adding additional nutmeg and cinnamon so that it feels like fall in your mouth.
This recipe makes a 13×9 pan, which is great for sharing. And everyone will love the thick slices, topped with soft, creamy "cream cheese" frosting. No one will know that it's actually missing: wheat, dairy and eggs in this traditional cake.
I am seriously tempted to make this for Thanksgiving, because I don't care as much for pumpkin pie. I love the texture of cake far more, and pie isn't topped in luscious cream cheese frosting.
If you thought you couldn't enjoy classic pumpkin cake anymore because of dietary restrictions or food allergies, think again!
How is this pumpkin cake gluten free?
This pumpkin cake is gluten-free, because I use a gluten-free flour mix. This is where a lot of the failed versions went awry. When I'm in a hurry and don't have time to make my own, I use the great value gluten-free flour mix (found at Walmart). It has: rice, potato, tapioca and sorghum. I like sorghum added to flour mixtures, because it can give more substance/thicker texture. (For example, cookies that have this, tend to spread less.)
But, it just made the cake way too gummy. So, I went back to my old trusted gluten-free flour recipe. With only rice, potato and tapioca, it was lighter and cooked through better. You can make my flour recipe, or a close store brand version I've found is Divided Sunset Gluten Free Flour (found at my Walmart) because it has xanthan included. Really, as long as your flour mixture only contains rice, potato and tapioca you should be fine.
If your gluten-free flour doesn't have xanthan, add in 1 tsp.
If you can have gluten, feel free to use regular flour and omit any xanthan.

How is this pumpkin cake dairy free?
This pumpkin cake with "cream cheese" frosting is dairy free because it uses no milk products in the cake. For the "cream cheese" frosting, it uses vegan butter and soy based cream cheese.
For vegan butter, I use Earth Balance buttery sticks. You can use what brand you prefer.
For the faux cream cheese, I prefer Tofutti. However, if you can't do soy, there is a coconut based one by Daiya, and make sure that you're use the soy-free Earth Balance. I've also heard good things about Violife, but have yet to try it.
To buy in person, I find both the buttery sticks and Tofutti at my local Natural Grocer. I've had luck finding Daiya at Kroger.
If you can have dairy–feel free to use regular butter, milk and cream cheese at the same ratios.
How to make this pumpkin cake egg free
This was another hurdle. There are lots of egg replacers out there. I don't like applesauce or bananas, in this instance, since we want pumpkin to be the star. I started out with flax eggs, because I like them in moist baked goods, but I think it made it too gummy as there's already sooo much moisture from the pumpkin. So, I went with a powdered egg replacer. My favorite is Ener-G egg replacer. You are always welcome to tweak my recipes, just know I can't personally account for it if you choose to go off brand.
If you can have eggs, feel free to sub in two eggs.

Is this pumpkin cake allergy friendly?
Yes it is. If you follow it exactly like I make it, it's free of 7 out of the 8 major allergens. This pumpkin cake is wheat, gluten, dairy, egg, peanut, tree nut, fish and shellfish free. You can make it top-8-free, but using a soy free vegan butter and using a coconut based cream cheese (see above). I hope by making this cake so allergy friendly, it will mean even more people will be able to enjoy it! Please share it with all of your allergy friends. It also helps make it more visible in google results if you'll rate the recipe (click the stars) in the recipe card after you make it.
How do you make vegan cream cheese frosting?
To make vegan or dairy-free cream cheese frosting, it's really quite simple. Thankfully, you can do a straight swap out of your old or "regular" recipe with dairy-free/vegan ingredients.
For the butter swap I use:

Earth Balance Buttery Sticks

(they have a soy free version too)
For the milk swap I use:

rice milk

, because it has no after taste (though you're welcome to use whatever non-dairy milk you prefer, just know it may flavor it a bit). You can use vanilla, since this is a sweet recipe, or original flavor.
For the cream cheese swap I use:

Tofutti cream cheese
Then–you just have the rest of the normal ingredients: powdered sugar and vanilla extract. Easy!
Some people may want to use coconut oil instead of a butter substitute, and I do that often in other recipes, but I do find in this recipe, you want a buttery undertone to the frosting, so that's why I spring for the actual vegan butter substitute.

Do I have other gluten free vegan pumpkin recipes?
I sure do! All of my baking is actually gluten-free vegan, as my son is allergic to wheat, dairy and eggs. Here are some of our favorite pumpkin recipes:
And if you want another way to use up the vegan cream cheese frosting, check out my gluten free vegan carrot sheet cake. And, if you're looking for another pumpkin dessert, but make it Keto, check out this Keto Pumpkin Creme Brulee by Cooking LSL.
Do I Have a Video Showing How to Make the Gluten-Free Vegan Pumpkin Cake?
Yes I do! I made a TikTok video, because I like how short and succinct they are. By watching this, it will give you a good overview of how easy it is to make this pumpkin cake:
One Bowl Gluten Free Vegan Pumpkin Cake
Additional Time:
30 minutes
Total Time:
1 hour
20 minutes
A 13x9 spiced pumpkin cake, filled with fall's best spices, and topped with a sweet cream cheese frosting. A thick slice topped with creamy cream cheese frosting is what every fall meal needs at the end. This cake and "cream cheese" frosting are both gluten-free and vegan.
Ingredients
CAKE INGREDIENTS:
1 cup canola oil
3/4 cup brown sugar
3/4 cup white sugar
1 Tablespoon vanilla extract
2 tsp baking powder 
1 tsp baking soda
2 tsp pumpkin pie spice
1 tsp cinnamon
1/2 tsp nutmeg
1 tsp salt
2 cups gluten free flour with xanthan included (if it's not, add 1 tsp of xanthan; see above for flour options)
VEGAN CREAM CHEESE INGREDIENTS:
1 and 1/2 teaspoons vanilla
4 and 1/2 cups powdered sugar
Instructions
1. Preheat the oven to 350 degrees F.

2. Grease a 13x9 glass baking dish with a safe non-stick spray.

3. In a small mixing bowl, make your two Ener-G eggs according to the package, set aside.

4. In a large mixing bowl, pour your wet ingredients: pumpkin, canola, Ener-G eggs, and vanilla. Mix (either with a stand mixer, by hand or with hand held beaters).

5. Add in your sugars and mix.

6. Add in your dry ingredients: baking powder, baking soda, pumpkin pie spice, cinnamon, nutmeg and salt. Mix.

7. Add in your gluten-free flour and mix (add xanthan if needed, see post above.)

8. Bake for 30-35 minutes, or until center is cooked.

9. Allow cake to cool. While cooling, make the frosting.

10. In a large mixing bowl, cream your vegan butter and cream cheese substitute well, on high until softened (several minutes).

11. Add in your vanilla, stir. Add in your powdered sugar, a little at a time and beat. Add in any rice milk you may need to thin it to your desired consistency.

12. Once the cake is completely cooled, frost with the frosting. You can keep this cake room temperature, or chilled, covered with plastic wrap.
Notes
For other substitution options, read my post above.
For gluten and dairy free dinner ideas check out my cookbook: An Allergy Mom's Lifesaving Instant Pot Cookbook.
*Our allergies, while severe and that get re-tested yearly, are such that we can go strictly by what's on the label. I do not call companies to see what things are derived from, or call manufacturers to see about potential cross contact. If your allergies require you to do so, please do your own homework. I cannot assure you of any ingredient's safety, only you can do that. I simply share what works for our family
**If you are going to feed this to someone with food allergies, and you yourself do not have food allergies, I HIGHLY recommend having them check every single brand and ingredient you are using, to ensure they're OK with each part of the recipe. And, to make sure you've talked to them about how to avoid cross contamination in your kitchen.
Nutrition Information:
Yield:

12
Serving Size:

1
Amount Per Serving:
Calories:

338
Total Fat:

18g
Saturated Fat:

1g
Trans Fat:

0g
Unsaturated Fat:

17g
Cholesterol:

1mg
Sodium:

384mg
Carbohydrates:

41g
Fiber:

1g
Sugar:

24g
Protein:

2g
DON'T FORGET TO PIN IT, WHILE THERE–CHECK OUT ALL OF MY OTHER DIETARY SPECIFIC PINTEREST BOARDS!