Easiest dairy-free fudge, ever! If you can measure and pour 6 ingredients and then melt them on your stove top…you are good to go! No candy thermometer is needed, or worrying about getting it up to a certain temperature. This dairy-free marshmallow fudge is truffle-like. It can easily be made into a vegan fudge if you use the appropriate marshmallows. Gluten-free and free of the top-8-allergens, this helps more people enjoy this classic Christmas staple.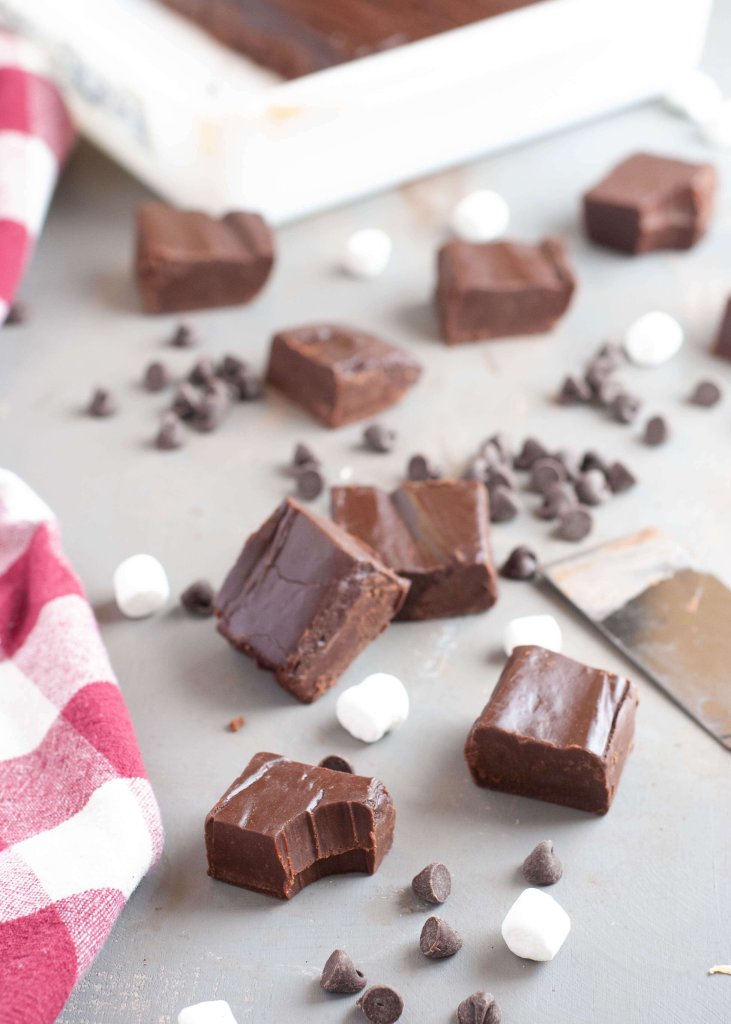 This post contains affiliate links.
Why we went years without fudge (A Christmas Travesty):
My mom would often make fudge around Christmas time. She used the recipe off the back of the Kraft marshmallow fluff package and it was goooood. Unfortunately, that is not a recipe I could pass onto my kids. The sweetened condensed milk and butter both have dairy in them, which my son, who has a high anaphylaxis allergy to all things dairy, absolutely cannot eat. Plus, he has an egg allergy, which is in marshmallow fluff. We seemed DOOMED.
So, my son was literally in grade school and never ONCE had Christmas fudge. I just couldn't figure out how to get that creamy texture without those staples…until I made my dairy free caramel sauce and realized that you could purchase sweetened condensed COCONUT milk. BINGO. I had my missing piece.
My kids have been begging for more, so I had to make a second batch just for my family. Our first Christmas with allergy-safe fudge…what a great holiday tradition we've started!
Below are some FAQ's that will help you also make fool-proof dairy free fudge:

What's the difference between vegan fudge and regular Christmas fudge?
Vegan's choose not to have any animal products in their food, whether meat or by-products (like butter). Since traditional fudge uses a whole lot of butter, marshmallows (which have gelatin–an animal by-product) and chocolate (which uses milk) in it, it isn't considered vegan. By using vegan butter, special vegan marshmallows and vegan chocolate chips you can easily have the same quality fudge with a few savvy ingredient swaps. See how I do it below.
What chocolate chips do I use in this dairy-free fudge?
I like to use the Kirkland Semi-Sweet Chocolate Chips. They do not explicitly state that they're "dairy free" or "vegan", but I've always been one to just go by their ingredients alone. If you need something certified, or something that is made in a dedicated facility you can purchase Enjoy Life's Chocolate Chips or Nestle Toll House Allergen Free Semi Sweet Chocolate Chips, or Simple Truth Organic Semi-Sweet Vegan Chocolate Chips or Great Value Organic Semisweet Chocolate Chips.
Why are marshmallows not considered vegan?
If you're like me and love marshmallow fudge for the texture and sweetness they impart, but you need the it to not only be a dairy free fudge, but a vegan fudge, then you'll have to be careful what kind of marshmallows you use. Regular marshmallows use gelatin in them, which is considered an animal product. Thankfully, there's vegan marshmallows which you can find on Amazon, or at Whole Foods.
The vegan brand of marshmallows I'm most familiar with is Dandie's and their ingredients are:
Tapioca Syrup
Cane Sugar
Filtered Water
Tapioca Starch
Carrageenan
Soy Protein
Natural Vanilla Flavor
Click here if you'd like to see an ingredient comparison chart of all the top brands of marshmallows.
Can vegan fudge use condensed coconut milk?
Yes vegan fudge can use sweetened condensed coconut milk! Once I found sweetened condensed coconut milk, I knew I'd finally be able to make that rich Christmas fudge of year's past. Condensed coconut milk is a key ingredient in still giving you that sweet, soft fudge without having to rely on regular sweetened condensed milk. Also, if you're not a coconut fan (I can't stand the taste myself) you can't taste any coconut in the recipe because the chocolate is the overwhelming flavor, so no worries there! The brand I use is Nature's Charm, which I've found on Amazon and at Whole Foods. I would not recommend using anything but condensed coconut milk, so if you have a coconut allergy, I would try another one of my dairy-free Christmas desserts.

Does vegan fudge use coconut oil?
Some vegan fudge recipes call for coconut oil. I prefer to not use it in my recipe because coconut oil can melt at room temperature. You'll notice a lot of vegan fudge recipes say they have to be frozen to become solid, and that's because they're relying on coconut oil. I prefer to not have to worry about my fudge melting once it's set up. I also prefer the rich buttery taste of vegan butter, to impart that classic fudgy taste!
What dairy-free butter do I use?
I have always used Earth Balance buttery sticks (they have a soy-free version too). I would assume, though I have not recipe tested it.
Does vegan fudge use nut butters?
Some vegan fudge recipes use nut butters to help stabilize the fudge. Since we have peanut and tree nut allergies in our house, this was not an option. We only make nut free fudge, and never add nuts to the recipe. Plus, I don't want a hint of nuttiness in the recipe. Nut butters can be expensive and add even more calories to the fudge. The sweetened condensed coconut milk (which coconuts are not considered a tree nut by the AAAAI) and marshmallows takes care of the texture for you! If you'd like to add nuts to this recipe for crunch, and your diet allows you to do so, feel free!
How to make the easiest dairy free fudge:
Melt these 6 simple ingredients over medium heat in a medium saucepan:
Vegan butter
Mini marshmallows (vegan marshmallows if needed, see notes above)
Dairy-free chocolate chips (vegan if needed)
Sweetened condensed coconut milk
Pinch of salt
Vanilla extract
Stir until melted and combined. Pour the fudge mixture into a square baking dish. And then allow it to cool until it's firm. Cut with a sharp knife and enjoy. It couldn't be easier. If you're worried about burning the chocolate (it does take you standing there frequently stirring) you can always do it over a double boiler to be extra safe.
Can you make dairy free fudge with almond milk or soy milk?
Because you want your fudge to set up and be nice and thick, you don't need any type of milk replacers in this recipe. The butter and the sweetened condensed coconut milk give it all the liquid it needs. Now, if you're wanting to make Jello chocolate pudding dairy free, then you can use non-dairy milk substitutes, see my post for more details.

Is this easy vegan fudge recipe gluten free?
Many people choose to eat gluten free whether for an intolerance or due to Celiac disease. Most fudge recipes are naturally gluten free, as is my recipe. However, if you have a wheat allergy or Celiac disease, it's important to check all of the individual ingredients and make sure as sometimes wheat can hide in the strangest of places. My son has a wheat allergy, so this fudge recipe is a gluten free fudge recipe.
Can this easy fudge be vegan recipe AND soy free?
Unfortunately, I have not found a way to make this soy free AND vegan. Because the only vegan marshmallows I've found have soy protein in them, this recipe can either be top-8-free and dairy free; or it can be vegan…but it cannot be both until a company finds a way to stabilize vegan marshmallows without using soy.
How do I store this vegan and dairy free fudge?
Because I live in a colder climate, that is not humid, I leave my fudge at room temperature, covered tightly with plastic wrap, or in an airtight container. If you live somewhere that might melt the fudge, you can store it in the fridge–this will make it slightly tougher though.
Do you need other vegan Christmas treats?
Because my son is allergic to eggs and dairy, all of my allergy friendly Christmas desserts are vegan and dairy free. Try some another favorite holiday recipe:
If you don't need my baked goods to also be gluten free like we do, simply swap in regular flour at the same ratio, and omit the xanthan gum! Viola!
And if you're looking for a Keto Fudge try the one by fellow blogger Cassidy's Craveable Creations.

If you'd like to hear where our Christmas fudge tradition began, here's a story for you:
I think my love of fudge comes from my Grandpa Egbert–who claims he got it from his mom, who was supposedly the finest candy maker in all of the Driggs/Tetonia area. I really wish I had gotten to meet her. I think she would approve of me doing a food blog!
Because my grandpa grew up tasting and "helping" (aka licking the spoon) when his mom made her confections (can you image doing them by hand…and not having a kitchenaid? I don't know how she did it!) I like to think he had great taste in candy..which I'll take the liberty of saying he passed down to me. I mean, he was feeding me jelly beans and tootsie rolls from a very young age. He had not one, but two candy dishes in his living room, so you didn't even have to get up to reach for a piece! It's really a miracle he made it until this past November at the age of 89 considering the pounds of sugar he must have eaten in his lifetime!
So, to my sweet Grandpa that passed a few weeks ago, I'll make sure your grandkids enjoy fudge, and I'll think of you every time I make it.
Do I have a video showing how to make this creamy vegan fudge?
Yes, I do. I know it helps to see it be made from start to finish, so I created a video so you can see exactly how to make this dairy-free homemade fudge recipe. It should populate (might play an ad before). If it does not, it should also be at the bottom of the recipe card, or you can always watch it on my YouTube Channel.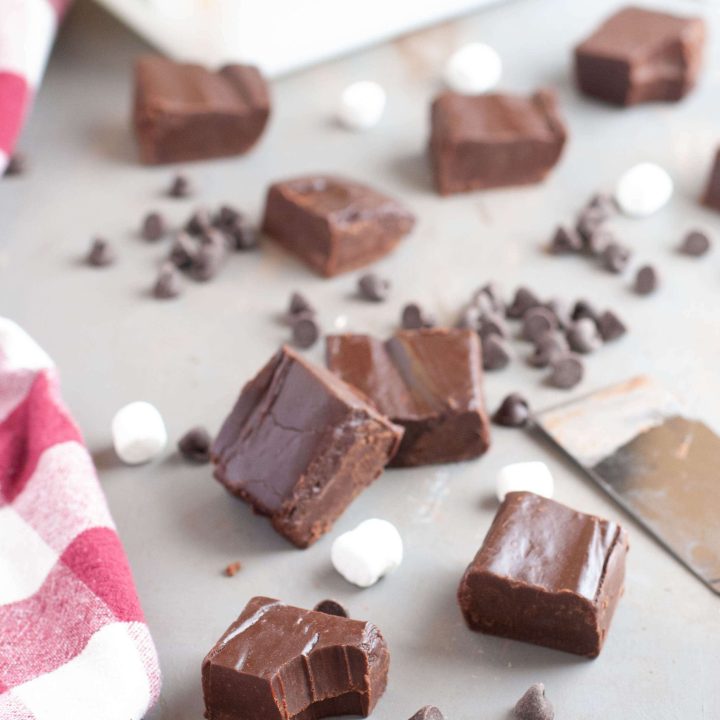 No Thermometer Dairy-free Fudge (Vegan Option Too!)
Total Time:
1 hour
10 minutes
Easiest dairy-free fudge, ever! If you can measure and pour 6 ingredients and then melt them on your stove top...you are good to go! No thermometer is needed, or worrying about getting it up to a certain temperature. This dairy-free marshmallow fudge is truffle-like. It can easily be made into a vegan fudge if you use the appropriate marshmallows. Gluten-free and free of the top-8-allergens, this helps more people enjoy this classic Christmas staple.
Ingredients
3 Tablespoons vegan butter
Pinch of salt
1 teaspoon vanilla extract
Instructions
Line an 8x8 square pan with parchment paper.
In a large pot, place the chocolate chips, marshmallows, condensed coconut milk, vegan butter and pinch of salt (everything but the vanilla).
Over low heat (so as not to scorch it) melt the ingredients, stirring constantly.
Take off the heat, and add in the vanilla. Stir to combine.
Pour into the prepared 8x8 pan and smooth evenly.
Cover and refrigerate 1-2 hours, or until set.
Cut and serve. Keep covered, either in the fridge or room temperature (depending on how set you like your fudge) when not pigging out.
Notes
Adapted from: the genius Mel
*Some readers find more comfort in melting everything in a double boiler, to ensure the chocolate does not scorch. Feel free to use either method.
**I've had a vegan reader say that vegan marshmallows take longer to melt than regular, so she recommends melting the marshmallows first before adding in the other ingredients.
Nutrition Information:
Yield:

24
Serving Size:

2
Amount Per Serving:
Calories:

53
Total Fat:

4g
Saturated Fat:

3g
Trans Fat:

0g
Unsaturated Fat:

1g
Cholesterol:

4mg
Sodium:

21mg
Carbohydrates:

5g
Fiber:

1g
Sugar:

4g
Protein:

0g
This data was provided and calculated by Nutritionix on 11/11/2019
DON'T FORGET TO PIN IT, SO YOU DON'T LOSE IT! BE SURE TO ALSO FOLLOW MY OTHER ALLERGY-FRIENDLY PINTEREST BOARDS.
---
Looking for other Christmas treats? Here are some of our other favorites: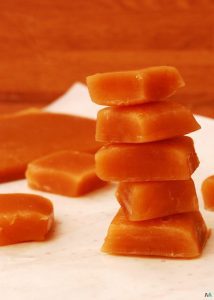 Dairy Free Chocolate Peppermint Crinkle Cookies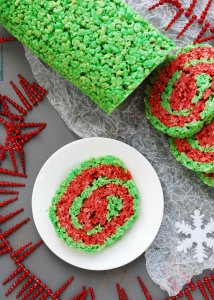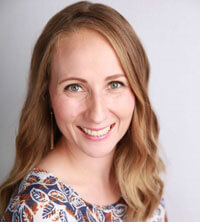 Hi! I'm Megan, a mom to four kids, two with multiple food allergies & one with EOE. I'm a published cookbook author that constantly tweaks recipes to make them allergy friendly–it's an addiction. I share every recipe & tip with you, to help you eat like you did before food allergies & dietary restrictions. You can still be awesome, even with food allergies!