Stuffed with three magical flavors, these Chocolate Chip Banana Oatmeal Pancakes are breakfast heaven. Thick, soft and allergy friendly, these are great in the morning or at night. This recipe is free from: gluten, dairy, egg, soy, peanut and tree nut, making them also top-8-free and vegan!
This post contains affiliate links.
Why I Love This Recipe
I am a pancake fiend! Pancakes are probably my favorite breakfast food hands down, and that's coming from someone who says breakfast is their favorite meal. Hence why I have two other pancakes recipes: my fluffy classic pancakes (uses aquafaba!) or my chocolate pancakes recipe (perfect for an indulgent breakfast in bed!).
These are so fast to whip up–all you need is a mixing bowl and a beater. Heck, you could even use a fork to smash the bananas like the old fashioned way.
I love that I get filling whole grains, (oatmeal), plus fruit in my pancakes. By all means, this would be just as great if you wanted to omit the chocolate chips, or swap the chocolate chips for blueberries.
Plus, this recipe makes a lot of pancakes, I use a 1/3 measuring cup to spoon out the batter and I get around 18 pancakes. Just enough for my family to have breakfast for dinner, and then have them again the next morning. Two meals in one! #winning
They taste SO good, brown so well, and are nice and fluffy. There is nothing to complain about with these allergy friendly pancakes!

Are these Chocolate Chip Banana Oatmeal Pancakes gluten free?
Yes! My son has a wheat allergy, so we have to have everything gluten free. I make them gluten free by using an all purpose gluten free flour blend. I like to use the one from Walmart. If you can't find that blend–try to stick to one that uses rice, tapioca, potato and sorghum.
If you do not have an all purpose flour blend, you can use my gluten free flour recipe. Then, be sure to add 1 teaspoon of xanthan to the batter, since my blend does not include xanthan in it.
Be sure if your diet calls for it, that you use certified gluten free oats. I like to get Bob's Red Mill. Feel free to use whatever brand you want.
How do you make your own oat flour?
I like to make my own oat flour because it's so simple and cheap. That way, I can keep the rolled oats for other recipes, but blend up just the right amount for what I need. It's easy being gluten free to start to accumulate wayyyy too many types of flours and this helps keep it at bay. Plus, then I don't have to wonder or worry if it's been cross contaminated.
To make your own gluten free oat flour, simply place your certified gluten free old fashioned oats in a high quality blender. I use a Blendtec and pulse it until it is a nice, uniform flour, with no remaining whole oats.
I always pour more than a recipe requires, since oat flour takes up less volume than rolled oats. So, for example, if a recipe calls for one cup of oat flour, then I usually pour about 1 and 1/2 cups old fashioned rolled oats into the blender. If there's any leftover, keep stored in an air tight container.

Are your Chocolate Chip Banana Oatmeal Pancakes dairy free?
Yes! I prefer to use rice milk in my recipe in place of regular dairy because I find it has the least amount of after tastes of other milk replacements. We also have nut allergies, so we can't do nut milks. If you have a preference, any dairy free milk alternative should work at the same ratio.
Are your Chocolate Chip Banana Oatmeal Pancakes vegan?
Yes they are! There are no eggs, no milk and no animal products used in the recipe. If you need butter to top them with, you can find our favorite vegan butter here. Be sure to also check your syrup to make sure it has no real milk/butter hidden in it either. Pure maple syrup is always a safe bet!
Do you have other gluten free and vegan breakfast recipes?
Yes I do! Breakfast is bomb and therefore it should have a lot of variety. Just because you have diet limitations, doesn't mean you should have less options when it comes to breakfast. Here are a few of my favorites. Be sure to check out my recipe index to see more.
And, if you need more than breakfast recipes, I have an entire cookbook full of dinner, side, soup and dessert ideas! It's called An Allergy Mom's Lifesaving Instant Pot Cookbook. If you can have nuts, you can try these Almond Flour Banana Pancakes by fellow blogger, Four Score Living.

What if my pancakes are too brown on the outside and not done in the middle?
This can happen for two reasons: your batter is too thick, so it's just too hard to get through to the middle, or you have your griddle up too high.
Heat problem

: I find medium heat to be just right. If it browns the outside too quickly, you'll end up with a doughy middle. It's always better to have it heat up slower and evenly, then have the outside done before you need it too.

Thickness problem

: If you feel your griddle is at a good heat and they're still not done in the middle, then you can try thinning your batter with some safe milk alternative so that it spread flatter and isn't so thick.
(I use this griddle, which doesn't require electricity.)
What are the best ways to store pancakes so they're warm for serving?
The first batch or two of pancakes can get cold by the time you're done cooking all the batter, and no one wants a cold pancake. My favorite way to keep them warm until serving is to place done pancakes in a tortilla warmer. That way they'll be nice and toasty until you serve them. I wouldn't store them long term in there, as it gets quite humid in there. If you have any leftover after dinner, I like to store them in a ziploc baggie in the fridge.
Do you have a video on how to make these Chocolate Chip Banana Oatmeal Pancakes?
Yes I do! I made a TikTok video, because I like how short and succinct they are. By watching this, it will give you a good overview on how to make these vegan gluten free pancakes:
Chocolate Chip Banana Oatmeal Pancakes
Additional Time:
20 minutes
Stuffed with three magical flavors, these Chocolate Chip Banana Oatmeal Pancakes are breakfast heaven. Thick, soft and allergy friendly, these are great in the morning or at night. This recipe is free from: gluten, dairy, egg, soy, peanut and tree nut, making them also top-8-free and vegan!
Ingredients
2 medium ripe bananas
3 Tbsp canola oil
1/2 tsp vanilla
4 tsp baking powder
1/2 tsp salt
Instructions
Mash the bananas with a fork, or place bananas in a bowl and blend with beaters.
Add your wet ingredients: canola oil, maple syrup, vanilla, and rice milk. Stir.
Add your dry ingredients: baking powder, salt, gluten free oat flour, gluten free all purpose flour and blend. Combine all ingredients.
Heat your griddle to medium heat. Grease.
When heated, add batter in 1/3 cup rounds. Top with desired amount of chocolate chips. When starting to bubble on top, and the bottom looks browned, flip.
Cook on the second side until that is browned as well. Place cooked through pancake in a tortilla warmer until the entire batch is done and ready to serve.
Serve with your favorite safe butter and syrup.
Store any leftover pancakes in an air tight container in the fridge.
Nutrition Information:
Yield:

18
Serving Size:

1
Amount Per Serving:
Calories:

90
Total Fat:

4g
Saturated Fat:

1g
Trans Fat:

0g
Unsaturated Fat:

3g
Cholesterol:

0mg
Sodium:

180mg
Carbohydrates:

14g
Fiber:

1g
Sugar:

6g
Protein:

1g
DON'T FORGET TO PIN IT SO YOU DON'T LOSE IT! BE SURE TO LOOK AT MY OTHER ALLERGY FRIENDLY PINTEREST BOADS WHILE YOU'RE THERE!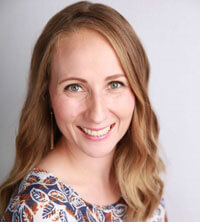 Hi! I'm Megan, a mom to four kids, two with multiple food allergies & one with EOE. I'm a published cookbook author that constantly tweaks recipes to make them allergy friendly–it's an addiction. I share every recipe & tip with you, to help you eat like you did before food allergies & dietary restrictions. You can still be awesome, even with food allergies!