A thick black pepper glaze sticks to every piece of chicken and green bean and gives just the right amount of heat for this easy Asian-style dinner. Done in 30 minutes or less, this includes your protein, veggie and carb. The unique heat and flavor of the sauce utilizes one of the unsung ingredient heroes: simple black pepper. The lovely color of the sauce elevates your weeknight dinner. This Gluten Free Black Pepper Chicken & Green Beans is free of these allergens: gluten/wheat, dairy, egg, peanut, tree nut and has a soy free option too!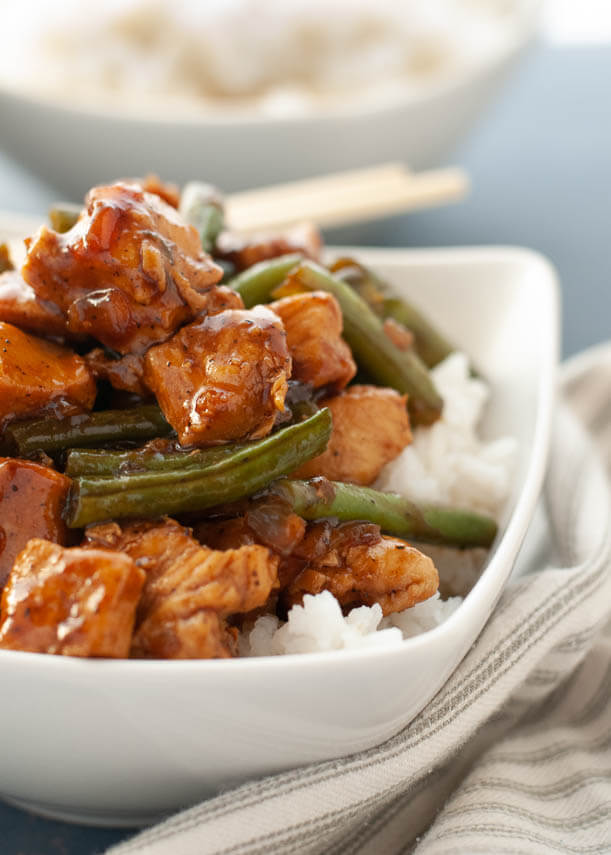 Post contains affiliate links.
Why I love this Black Pepper Chicken & Green Beans Dinner:
Words fail me when it comes to describing this sauce. The bite of the black pepper and ginger, the subtle sweet under tones of the brown sugar and saltiness of the soy sauce (gluten free if needed!) make for a unique sauce. I have a lot of Asian dishes on my site, but this blew me away the first time I made it. I feel like there is nothing else that I make that has this unique sauce. I love the thickness of the sauce, I love the way it clings to all of the chicken and veggies drowning it in in glorious Asian inspired flavors. The fact that you can make it in one pan (minus the rice) and make it under 30 minutes makes for a super impressive weeknight meal. Easy recipe, lots of flavor…I know you'll love it!
Some Asian dishes call for marinated chicken and this can be made on the spot–no marinating or prep time ahead of schedule which is lovely.
Plus, if you can't attend a Chinese restaurant like us, because of food allergies and gluten issues, then this gives you the opportunity to have a restaurant copycat right in your own home.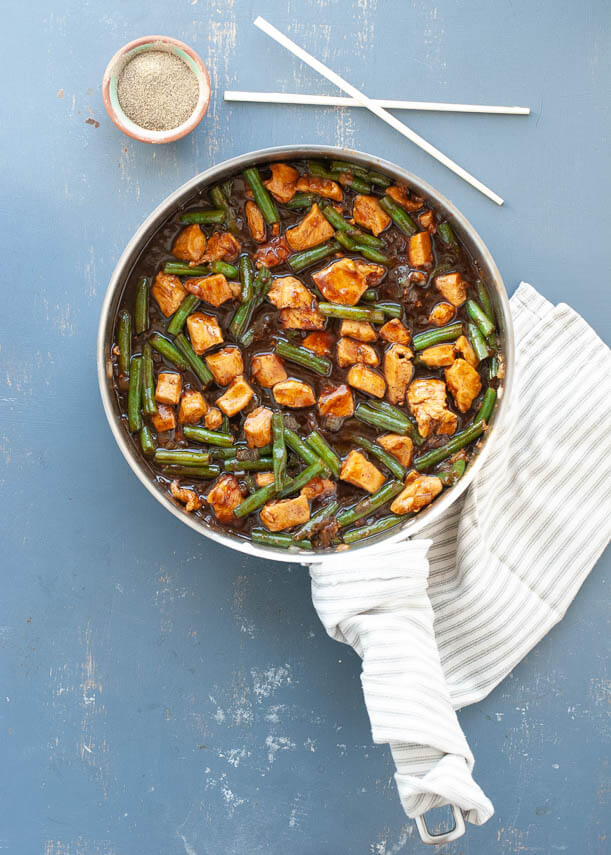 I am now going to go over all of the frequently asked questions to make sure you can nail this dish. If you don't have any, feel free to jump to the recipe.
How can I make this Black Pepper Chicken & Green Beans vegan?
The sauce itself is vegan, the only hiccup is the chicken. If you can swap it out for cubed tofu, then you are golden!
How is this Black Pepper Chicken & Green Beans gluten free?
All of the ingredients are simple and basic, which means no hidden gluten anywhere. The only place where there can be gluten is regular soy sauce. Make sure to use a tamari soy sauce that is certified gluten free if you need it to be. If not, use whatever brand soy sauce you prefer.

What do I serve with this Gluten Free Black Pepper Chicken?
I love to serve it with rice. Brown or white are both great. If you do brown, this is my favorite way to make brown rice, but any rice would do. A popular rice is jasmine rice. Use whatever you have on hand. But, if you want a low carb option, you can use cauliflower rice. Otherwise, you really don't need any other sides since this dish provides the vegetables and protein in and of itself. Keep is simple!
Can I use chicken thighs in this Black Pepper Chicken instead?
I use boneless skinless chicken breast, but feel free to use whatever cut of chicken fits your personal preference (or use tofu!). Pork would even be great. Just make sure that it's thawed, and chopped into bite sized, small pieces so that it can finish cooking along with the green beans. You don't want the green beans getting mushy while waiting for the chicken to cook. I like my green beans al dente with still a little bit of snap left to them (also known as crisp tender). Remember, chicken needs to be cooked to 165 degrees F to be safe. Much higher than that, and it won't be tender chicken. I also wouldn't recommend cuts of chicken with the skin on or bone in (so if you're using thighs, use boneless skinless chicken thighs.)
What Other Vegetable Can I Use Other Than Green Beans?
If you don't have access to fresh green beans (canned just wouldn't be the same) or if you don't like them green bell peppers or red bell peppers would be delicious. Actually, I can't think of a vegetable that wouldn't be great drenched in this flavorful black pepper sauce. (Bok choy or snow peas would be even more authentic.) Feel free to clean out that fridge and use different veggies. Depending on which vegetable you use and if you like crisp vegetables or soft will affect your cooking time, so keep an eye on the pan for your optimal tenderness.
What can you use if you can't use cornstarch in the Black Pepper Chicken?
If you have a corn allergy, you can simply omit the cornstarch (also known as corn flour). You can try to simmer it for a bit longer to see if it will reduce down to your liking. Or, it will just be a tad bit runnier since it won't have the cornstarch to thicken it.
You can also try using something like arrowroot powder in its place at the same amount.
What if I Can't Have Soy?
If you have a soy allergy, coconut aminos is a great substitute that you can use 1:1.
Do I need a wok to make this recipe?
No. A wok is great, but a large sauce pan works just fine too.
What If This Is Too Spicy?
Black pepper chicken tastes spicy. I'm a pretty big wimp when it comes to spice, and my kids are worse, so I often cut the black pepper in half so it's more palatable. I'd start with half if you're unsure and then add more once you've tasted it.
Do you have other Asian inspired dinners that are gluten free?
Of course I do! Asian inspired food is BOMB, but it can be so hard to find Asian cuisine that is gluten free (and we also need nut free at our house too due to my son's multiple food allergies.) Other than this family favorite, all 200+ recipes on my site are gluten, dairy, egg, peanut and tree nut free. Check out the recipe index to see more.
Don't forget I also have an instant pot cookbook that has 60 dinner, side, soup and dessert recipes that are all allergy friendly!
What Ingredients are in Gluten Free Black Pepper Chicken?
This great recipe will require these ingredients, which I bet you already have on hand because it's so simple.
Main ingredients:
Sesame oil (or vegetable if you have sesame allergies)
Chicken breasts
Fresh green beans (or other vegetable or choice)
Yellow or white onion
Cooked rice, for serving
Sauce mixture:
Gluten free soy sauce
Water
Brown sugar
Black pepper
Cornstarch
Ground ginger
Do I have a video showing how to make Black Pepper Chicken?
Yes I do! I used TikTok because I like how short and succinct their videos are. By watching this video, it should give you a nice, general overview before you start to see how easy Black Pepper Chicken recipe is to make. Enjoy!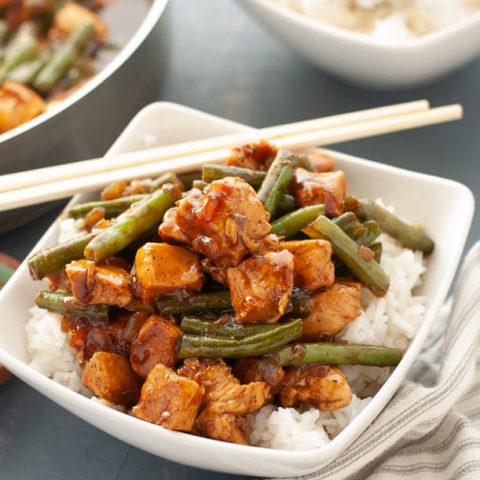 Gluten Free Black Pepper Chicken & Green Beans
A thick black pepper glaze sticks to every piece of chicken and green bean and gives just the right amount of heat for this easy Asian-style dinner. Done in 30 minutes or less, this includes your protein, veggie and carb. The unique heat and flavor of the sauce utilizes one of the unsung ingredient heros: simple black pepper.
Ingredients
2 chicken breasts, cut into bite sized pieces
1 and 1/2 cups chopped fresh green beans
1 yellow onion, minced
1/8 cup cold water
2 and 1/2 Tbsp brown sugar
1/2 Tbsp black pepper (or more to taste, this was plenty for us)
1/2 tsp ground ginger
Brown or white rice for serving
Instructions
If you'd like to see a video of how to make it, you can see the video above the recipe card before starting.

1. Place oil in medium sauce pan over medium heat. Once heated add onion, cut green beans and chicken pieces.

2. While this cooks, make your sauce in a small mixing bowl by combining the: soy sauce, brown sugar, ginger, black pepper, corn starch and water. Whisk until combined.

3. Cook the chicken until it is done (165 degrees F) and green beans are tender.

4. Pour the mixed sauce on top. Cook for several more minutes to thicken the sauce.

5. Serve the sauced veggies and chicken over rice.
Notes
You can sub in other veggies if you prefer.

You can sub out tofu for chicken to make it vegan.
*Our allergies, while severe and that get re-tested frequently, are such that we can go strictly by what's on the label. I do not call companies to see what things are derived from, or call manufacturers to see about potential cross contact. If your allergies require you to do so, please do your own homework. I cannot assure you of any ingredient's safety, only you can do that. I simply share what works for our family
**If you are going to feed this to someone with food allergies, and you yourself do not have food allergies, I HIGHLY recommend having them check every single brand and ingredient you are using, to ensure they're OK with each part of the recipe. And, to make sure you've talked to them about how to avoid cross contamination in your kitchen.
Adapted from: Short Girl Tall Order's Black Pepper Tofu Green Beans

Nutrition Information:
Yield:

4
Serving Size:

1
Amount Per Serving:
Calories:

208
Total Fat:

11g
Saturated Fat:

1g
Trans Fat:

0g
Unsaturated Fat:

9g
Cholesterol:

4mg
Sodium:

2203mg
Carbohydrates:

22g
Fiber:

2g
Sugar:

5g
Protein:

6g
DON'T FORGET TO PIN THIS CHINESE BLACK PEPPER CHICKEN RECIPE, SO YOU DON'T LOSE IT. BE SURE TO CHECK OUT MY OTHER ALLERGY-FRIENDLY PINTEREST BOARDS WHILE YOU'RE THERE!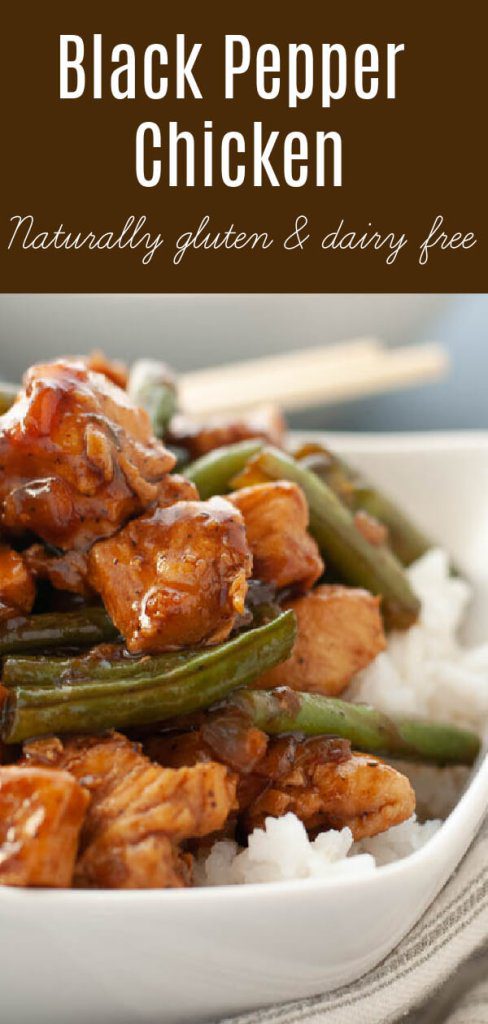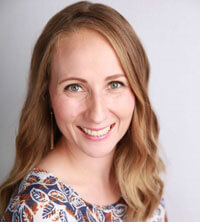 Hi! I'm Megan, a mom to four kids, two with multiple food allergies & one with EOE. I'm a published cookbook author that constantly tweaks recipes to make them allergy friendly–it's an addiction. I share every recipe & tip with you, to help you eat like you did before food allergies & dietary restrictions. You can still be awesome, even with food allergies!