Finally, a classic breakfast: French toast–that was once laden with food allergens, has been made free of the top 8 allergens. Plus, all the batter requires is a blender! A warm, sweet bread hot off the griddle with notes of vanilla and cinnamon will make anyone's day start off right. Free of gluten, dairy, egg, soy, peanut & tree nuts. Vegan too!
This post contains affiliate links.
One of mine and my husband's favorite breakfasts felt so out of reach for my son who can't do most flours, eggs or dairy. Thanks to some substitutions–he now knows the pleasure of having french toast for breakfast (and for dinner sometimes!).
I think the hardest part to this breakfast dilemma was finding a safe bread that worked for my son. Since bread is the base–you kinda can't skip it. Here's what we've found during our bread searches (none of these are sponsored, just truly what we've found).
For a safe bread: My son does Ener-G. He's liked the brown rice loaf, tapioca loaf, and white rice loaf. I find the brown rice flavor to be sturdier. It's the only bread I've found he can have. While I wouldn't particularly love to eat it, since he's never had any other kind of bread, he likes it. (#honest) While I've heard some people complain about it, I applaud them for making a loaf of bread out of so few ingredients.
My husband and youngest like Franz, that is dairy free and gluten free, or Canyon Bakehouse which is also dairy and gluten free.
Another food-allergy momma has recommended Schar bread, but my son cannot do some of the grains they use.
I hope that helps you find a base. While Ener-G bread can be quite thick and course, it works out well for this recipe! Whatever bread you use, you'll want to make sure it's not a soft bread, so that it will hold up.
As of lately, another top-8-free bread we've done as well is Little Northern Bakehouse.
For a safe butter: while this is also not sponsored, we completely love Earth Balance. They have quite a few spreads. There was awhile where we couldn't do pea protein and we still found stuff we could use! They have a nice selection of dairy-free varieties.
For a safe syrup: I've found many that are mostly sugar, but many labels also have a cross-contamination warning, so we've opted for the pure maple syrup. It's more expensive (so only my son gets it, and the rest of us do with the imitation stuff–hey, he's usually the one not having something, so I say good for him!), but it tastes FABULOUS and to me it's worth it to make sure he's not dealing with cross contamination.
Another note: if your kids are weird about flecks of color, you'll want to make sure you have a good blender. I was given a Blendtec, and it blends this so thoroughly that you can't see the flax seeds anymore. If you do not have a good blender, your batter may have little flecks of the ground flax seeds. It won't affect it other than cosmetically.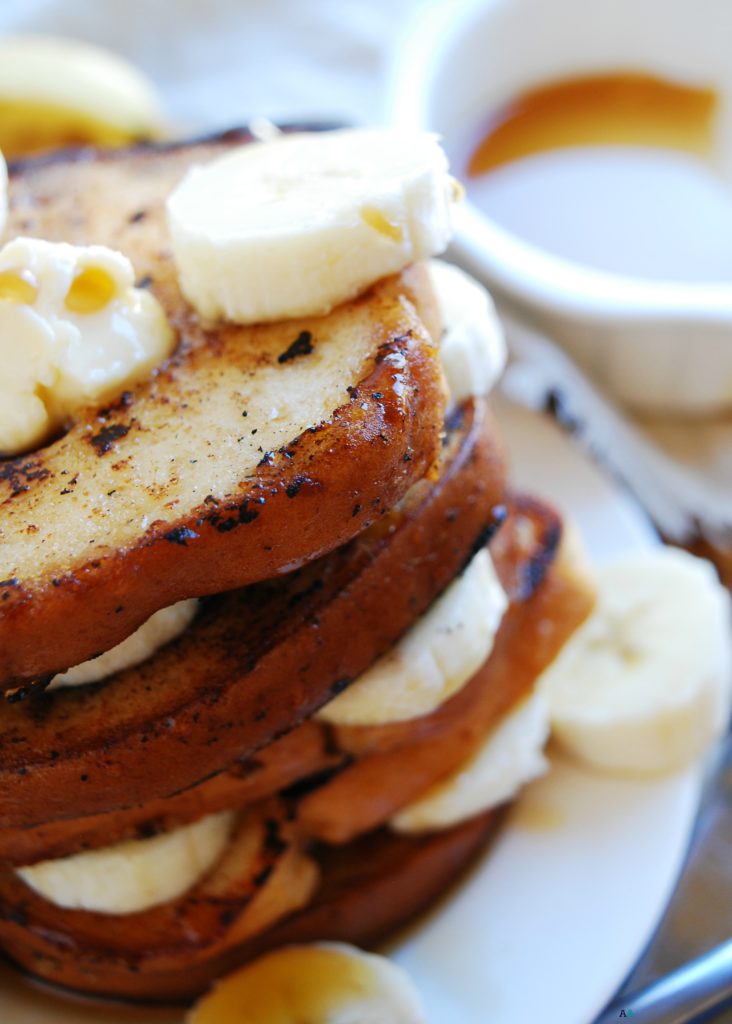 Also, this makes a ton of batter! I can do almost an entire loaf. So, I've made a bunch extra and have frozen it. I will take probably 1-2 slices out at a time and will toast them in my toaster oven. I would not recommend microwaving this, as the bread can get very soggy.
I do find that this can stick quite a bit, so I use a canola non-stick spray (and a non-stick pan!) and coat it between EACH time. You could also use coconut oil too. Just be sure it's nice and greased!
Lastly, I found that this takes a bit more time to soak the bread (again, the kind we use is quite dense) than regular French Toast, and it took longer to brown than when I make regular French Toast.
I know some people don't love the taste of banana and might want to skip it, but I wouldn't recommend it, as it not only sweetens the batter, but helps with it's thickness. Since bananas are a natural egg replacer, it really helps with the viscosity of the batter.
I hope this helps you relive your French Toast glory days. If I have found anything, ANYTHING out of my food-allergy journey it's to not give up. This took us four years to find, but I'm really hoping just about no recipe is out of our reach as the Internet and other allergy moms out there continue to share our tips and tricks with one another.
To delicious breakfasts!!
Do you have a video showing how to make gluten free vegan banana French toast?
Yes, I do! I like to use TikTok because their videos are short and succinct. This general overview should give you a good idea of how to make the gluten free vegan French toast. I also have the video saved to my Instagram Highlight Bubbles. Enjoy!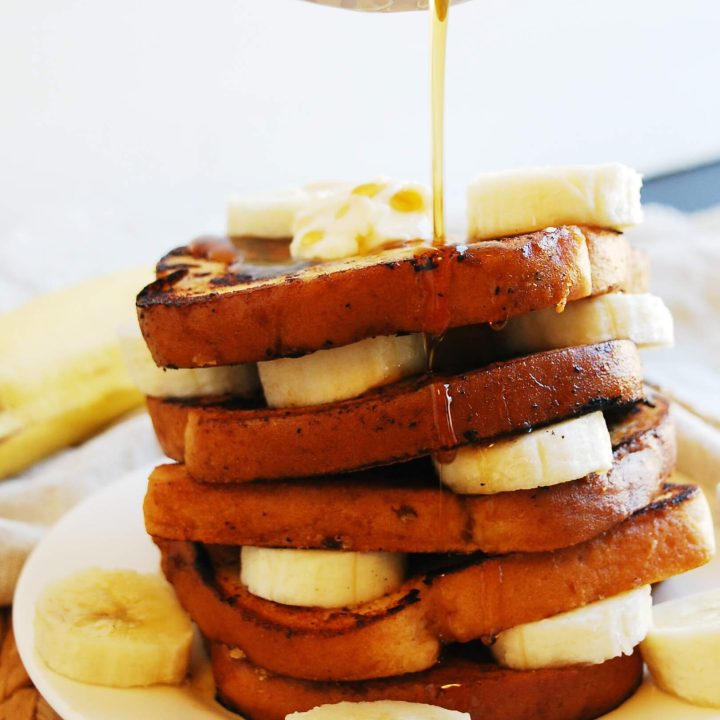 Gluten Free Vegan Banana French Toast
Finally, a classic breakfast: french toast--that was once laden with food allergens has been made free of the top 8 allergens. Plus, all the batter requires is a blender! A warm, sweet bread hot off the griddle with notes of vanilla and cinnamon will make anyone's day start off right. Free of gluten, dairy, egg, soy, peanut & tree nuts. Vegan too!
Ingredients
1 ripe banana
1/4 tsp cinnamon
1 tsp vanilla
safe bread (see suggestions above)
Instructions
Place the banana, rice milk, flax seeds, cinnamon and vanilla in a blender. Blend until everything is a well blended and the batter is completely smooth.
Allow it to sit and thicken slightly (due to the flax seeds) while your griddle or pan heats.
Once your pan is warmed (over medium heat) spray it well with non-stick spray, or use coconut oil to grease it. You'll want to do this between every piece of bread.
Place your batter in a shallow dish, and place one piece of bread in the batter at a time. Allowing each side to soak for around 30 seconds, or until the batter has slightly soaked the bread. (depending on the thickness of your bread). You don't want it soggy and falling apart, but you do want to make sure it's soaked up some of the batter.
Place the battered bread on the hot griddle. Allow each side to brown.
Serve warm with a safe butter (see suggestion above) and desired toppings. We love additional bananas and pure maple syrup. Strawberries and coconut whipped cream would also be extra tasty.
Freeze any leftovers. To re-heat, place in a toaster oven and toast until warmed again. Do not microwave.
Adapted from: The Minimalist Baker
Don't forget to pin this, so you don't lose it!
*For other delicious, allergy-friendly recipes, see my Pinterest boards.*