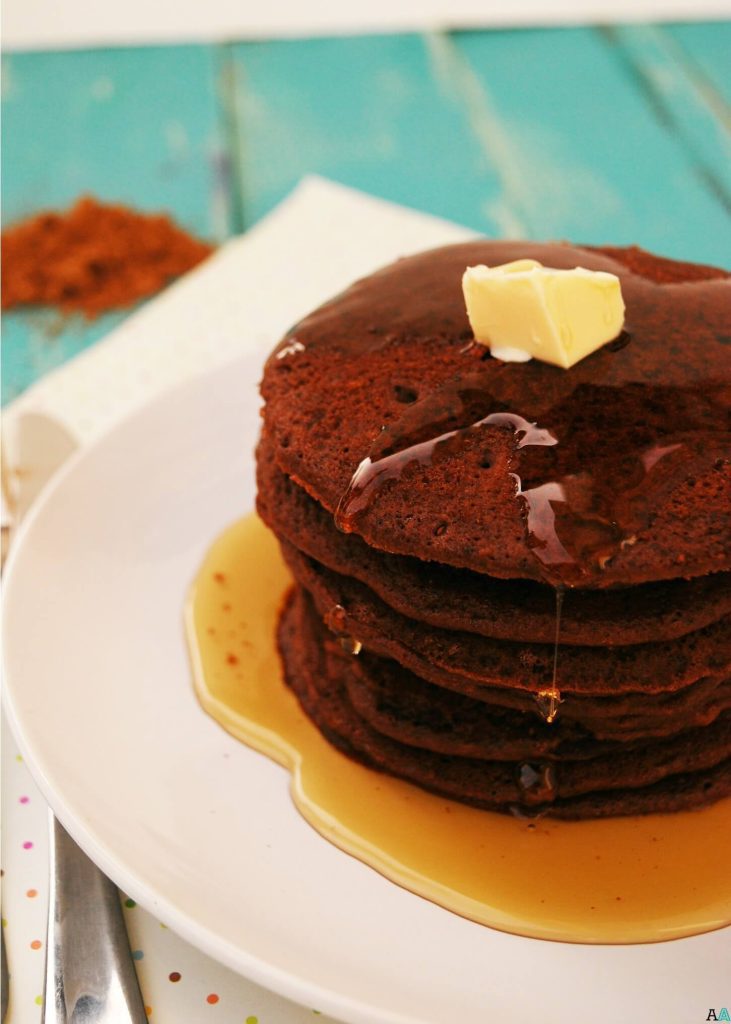 Valentine's is on a Sunday this year, so you have no excuse not to make your sweetheart breakfast in bed. And, since chocolate=love the best breakfast in bed you could give them would be chocolate pancakes–that are also free of the top eight allergens.
Most women will say they like chocolate on Valentine's. What they forgot to add is that they want chocolate for breakfast!
This is a super fun and unique batter! First off–it has powdered sugar in it! Not only does it help make the batter sweeter, but did you know that all powdered sugar is, is superfine regular sugar + cornstarch? So, don't feel too guilty using it, because if you're familiar with gluten free baking, you need both flours and starches to make up for not having regular wheat flour.
The other thing I adore about this recipe is that uses my new, favorite culinary find: aquafaba. I used it in my last pancakes, and I just didn't see a reason to stray. I knew it'd help give the batter that airy, bubbly texture which converts to soft and fluffy pancakes. It's just like using egg whites, but without the eggs! So no worries, if you've never made aquafaba before–just buy yourself a can of chickpeas and get those beaters out! Plus, it will sound all the more impressive to your love when you tell them how you made it.
Finally, don't fret about this being too sweet. It only uses 1/2 cup of cocoa powder, so it's not super dark. I don't like breakfasts that are sickly sweet, because after all, this is the first meal of the day. Instead these just-right pancakes are perfect. They're different from your regular pancakes, sweet, and just the right amount of chocolate.
Serve them with just a light dusting of powdered sugar, of the classic safe butter and syrup combo. Either way, you're sure to woo your significant other.
Helping you eat safely and helping your love life. Who knew? You're welcome! 🙂
These gluten free chocolate pancakes are so famous, they've been on TV! If you'd like a video demonstration, I went on KSL yesterday to demo these pancakes. I was sad they cut it where they did because the anchor, Andrew, exclaimed how delicious they were after his bite. Darn three minute mark is so hard to fit everything in. He even took one more bite before racing back to the anchor chair. SUCCESS! Click the picture below to play.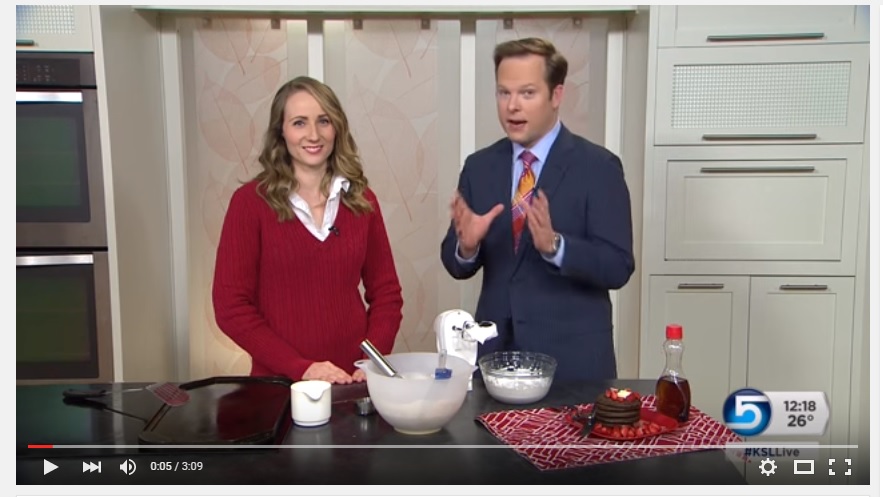 Do you have more gluten free vegan breakfasts?
Yes I do! Breakfast is bomb and therefore it should have a lot of variety. Just because you have diet limitations, doesn't mean you should have less options when it comes to breakfast. Here are a few of my favorites. Be sure to check out my recipe index to see more.
And, if you need more than breakfast recipes, I have an entire cookbook full of dinner, side, soup and dessert ideas! It's called An Allergy Mom's Lifesaving Instant Pot Cookbook.
Gluten Free Vegan Chocolate Pancakes
Chocolate equals love. So, start Valentines--or any day--off with some chocolate pancakes. These pancakes are light and fluffy thanks to aquafaba. And, they're free of: gluten,dairy, egg, soy, peanuts and tree nuts. They're also vegan and top-8-free!
Ingredients
1 cup powdered sugar
1/2 cup granulated sugar
1 1/2 teaspoons baking powder
1/2 teaspoon baking soda
1/2 teaspoon salt
Instructions
Whisk together the dry ingredients and set aside.
Put the chick pea brine in a stand mixer with the whisk attachment. Blend on high until stiff peaks form (just as they would for egg whites.)
Pour the faux buttermilk mixture into the dry ingredients and mix well.
Gently fold in the brine into the mixture until blended.
Pour onto a hot, greased griddle, and flip once the bubbles start to pop in the batter.
Serve hot with a safe butter, powdered sugar or maple sysrup.
Notes
If you don't need these to be gluten free, you can use regular flour, and omit the xanthan gum.
Nutrition Information:
Yield:

18
Serving Size:

1
Amount Per Serving:
Calories:

119
Total Fat:

1g
Saturated Fat:

0g
Trans Fat:

0g
Unsaturated Fat:

0g
Cholesterol:

1mg
Sodium:

174mg
Carbohydrates:

26g
Fiber:

1g
Sugar:

13g
Protein:

3g
Adapted from: My Recipes
DON'T FORGET TO PIN THESE GLUTEN FREE VEGAN CHOCOLATE PANCAKES, SO YOU DON'T LOSE IT. ALSO, BE SURE TO CHECK OUT MY OTHER ALLERGY-FRIENDLY PINTEREST BOARDS.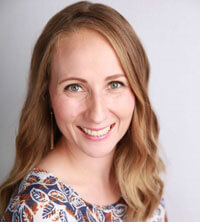 Hi! I'm Megan, a mom to four kids, two with multiple food allergies & one with EOE. I'm a published cookbook author that constantly tweaks recipes to make them allergy friendly–it's an addiction. I share every recipe & tip with you, to help you eat like you did before food allergies & dietary restrictions. You can still be awesome, even with food allergies!