These Gluten & Dairy Free Mummy Pretzels are a fun, easy and kid-friendly Halloween treat that are as cute as they are delicious. This treat has no tricks as it's free of: gluten, dairy, egg, soy, peanuts and tree nuts–which makes them top-8-free too. They're also vegan!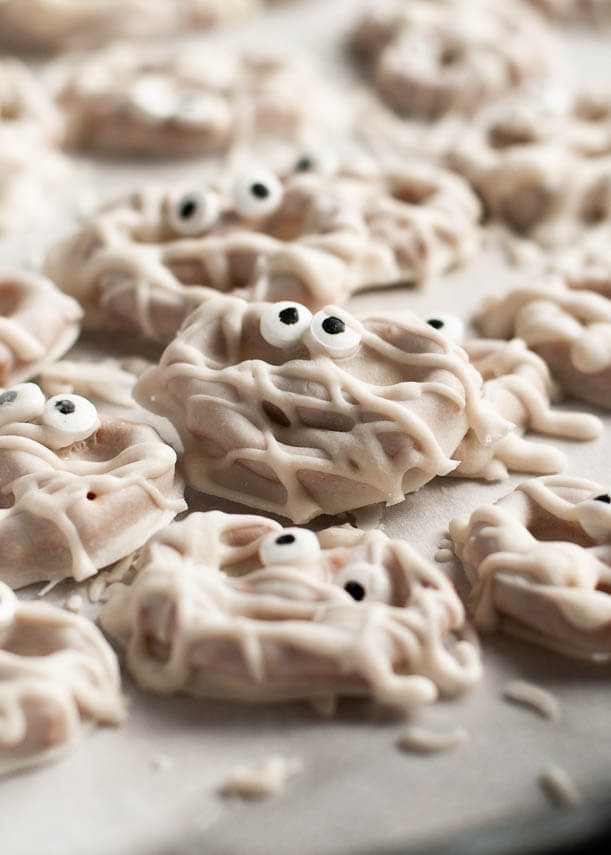 This post contains affiliate links.
Why I Love These Halloween Mummy Pretzels
I just ADORE having festive food during the holidays. Halloween is such a fun holiday and it deserves fun treat too! I had these for an after school snack surprise for my kids. You could have them be part of a kid party where they could actually make them (because they're a super easy kid food craft) or as a fun snack as part of an adult party. It can be a fun activity, or just something the hostess provides as part of a spooky spread. School, party or a simple family activity these mummy pretzels are a sure fire win!
What ingredients are in the edible eye balls?
I use candy eye balls for several of my Halloween recipes (see below to find all of them) and inevitably I get asked what ingredients are in the eyeballs by all my allergy aware fellow moms. I get them in the cake decorating isle at Walmart, or you can always purchase them on Amazon. Here are the ingredients from Wilton's edible eyeballs that I use
Dextrose, corn starch, dextrin, sugar, magnesium stearate, gum arabic, artificial flavor, confections' glaze, carnauba wax, gelatin, FD&C Red #40, FD&C Blue #1, FD&C Yellow #5
I recently found out these are not considered vegan. So, if you are strictly vegan you'll need to use vegan eyeballs, or put little black dots as the eyeballs (like with this edible gel).
How are these mummy pretzels dairy free & vegan too?
I have been waiting YEARS. Literally YEARS for a safe white chocolate. I've been DREAMING of covering things in white chocolate because it's so versatile and yummy. So, to be able to play with it now is just so much fun. Hooray!!
Here are some dairy free white chocolate options:
Last year, Nestle came out with a white chocolate chip. I have to say, I don't love the flavor–but it will do in a pinch if that's all you can find. I've found it at Walmart. The ingredients are listed

here

.

Enjoy Life

also recently came out with their own white chocolate chips, but I have yet to taste them.

Pascha

also has white chocolate, but it's a bit expensive for my taste.

No Whey

has white chocolate bars you could melt, but they don't sell any in stores near me.
I just recently found Walmart has come up with their own organic white baking chips in their great value branding. This is not sponsored by them, but I love how simple the ingredients are, and on the front of the label it reads: "free from the 8 major food allergens and artificial colors & flavors". And, I think the taste is much more spot on. For those who also have to check ingredients, here is what the white baking chips' label says:

Organic cane sugar, organic palm kernel oil, organic sunflower lecithin, organic vanilla extract
As you can see this Halloween treat is not only dairy free, but vegan too!
If you don't need any dietary restrictions, you can always use whatever white chocolate you prefer.

How are these mummy pretzels gluten free?
By all means, if you don't have a gluten allergy, feel free to use whatever mini pretzels you enjoy. My son has a wheat allergy and my husband is gluten intolerant. So for us, our favorite gluten free pretzel is Snyders of Hanover. This is also unsponsored, but we've been eating their pretzels for years. Here are their ingredients according to the package I have:
Corn starch, potato starch, tapioca starch, palm oil, cellulose gum, salt, dextrose, baking powder (sodium bicarbonate, corn starch monocalcium phosphate), sunflower lecithin, yeast, citric acid
There are so many brands of gluten free pretzels: Glutino, Quinns and others. So, feel free to use whichever work for your taste preference and diet.

Do you have any other gluten & dairy free Halloween treats?
Do I? I just love whipping up spooky treats for my food allergic children. It's so fun to see their faces. I think it really makes an impression on them and helps Halloween be a little bit more fun. For example, it's been years since I made the Halloween cake and they still talk about it! Be sure to check out these allergy friendly Halloween treats:
Gluten & Dairy Free Halloween Mummy Pretzels
Additional Time:
30 minutes
These Gluten & Dairy Free Mummy Pretzels are a fun, easy and kid-friendly Halloween treat that are as cute as they are delicious. This treat has no tricks as it's free of: gluten, dairy, egg, soy, peanuts and tree nuts--which makes them top-8-free too. They're also vegan!
Ingredients
1 and 1/4  cup dairy free white chocolate chips, divided (see post)
1 Tablespoon coconut oil or safe shortening
SUPPLIES:
Plastic baggie
Parchment paper
Instructions
Line a baking tray with parchment paper.
In a microwavable bowl, place only 1 cup of the dairy free white chocolate chips and the tablespoon of coconut oil.
Microwave for 30 seconds at a time, stopping to stir after each interval until chocolate chips are melted.
Place one pretzel at a time in the melted white chocolate. Use a fork to scoop out the pretzel, knocking off the excess. Set the wet pretzel on the wax paper.
Place the eyeballs on top of the dipped pretzel. They may slide around a bit. I found I had to re-stabilize them sometimes.
Finish dipping all of the pretzels.
Allow them to set for 5-10 minutes.
Add in 1/4 cup of dairy free white chocolate chips to the microwaveable bowl. This isn't a necessary step, but I found that the mummy stripes stuck out better and had better texture if the mixture was a bit thicker.
Put the bowl back in the microwave and melt the additional chips as before.
While still melted, but not super hot, place the melted mixture in a plastic baggie. Snip a very tiny corner off of the bag.
Squeeze random lines on top of your pretzels to make the mummy "stripes".
Allow pretzels to set completely before removing them from the parchment paper and serve. Keep chilled or room temperature, covered or uncovered. Eat within a day.
Notes
If you have questions about the ingredients or what is in the store bought products, read the paragraphs above the recipe for more details.
*Our allergies, while severe and that get re-tested frequently, are such that we can go strictly by what's on the label. I do not call companies to see what things are derived from, or call manufacturers to see about potential cross contact. If your allergies require you to do so, please do your own homework. I cannot assure you of any ingredient's safety, only you can do that. I simply share what works for our family
**If you are going to feed this to someone with food allergies, and you yourself do not have food allergies, I HIGHLY recommend having them check every single brand and ingredient you are using, to ensure they're OK with each part of the recipe. And, to make sure you've talked to them about how to avoid cross contamination in your kitchen.
Inspired and adapted from: Bread With a Side of Butter's Halloween Mummy Pretzels
Nutrition Information:
Yield:

24
Serving Size:

1
Amount Per Serving:
Calories:

26
Total Fat:

2g
Saturated Fat:

1g
Trans Fat:

0g
Unsaturated Fat:

1g
Cholesterol:

1mg
Sodium:

16mg
Carbohydrates:

2g
Fiber:

0g
Sugar:

1g
Protein:

0g
DON'T FORGET TO PIN THIS SO YOU DON'T LOSE IT. WHILE ON PINTEREST, BE SURE TO CHECK OUT MY MANY ALLERGY FRIENDLY BOARDS!