You are going to freak out when you bite into the soft, creamy, egg-free and dairy-free breakfast casserole. Full of spices and flavors, you'll fool any regular eaters into thinking this has milk and eggs in it. Best texture, best taste, best breakfast–especially for Christmas morning or any Sunday brunch HANDS DOWN. I also give instructions for if you can have eggs. This is also free of coconut, gluten, peanuts and tree nuts for those who have additional sensitivities or food allergies.
This post contains affiliate links.
Why I Love this Dairy-free Egg-free Breakfast Casserole
My son is allergic to eggs and milk, and I was REALLY, REALLY missing having a delicious all-in-one-breakfast dish. I wanted something savory, something filling with potatoes, meat and veggies that I could bake and it could feed a crowd. I figured it was about time I figure out how to do it without the traditional ingredients. I cannot believe that we can have an egg casserole WITHOUT EGGS. It's a Christmas miracle. I'm not kidding you, I've had soo many of the leftovers for breakfast and lunch because I cannot get over it. I hope this helps you with busy mornings, or special holiday breakfasts.
If I can have eggs, how many should I use?
Use six large eggs instead of the container of JUST Eggs.
What is the ingredient list for this dairy-free breakfast casserole?
This egg-free breakfast casserole needs:
Olive oil
Breakfast sausage
Red bell pepper
Mild diced green chiles
Yellow onion
Minced, jarred garlic
JUST eggs
Rice milk
Plant cream (Silk or Country Crock)
Dairy-free sour cream
Salt
Black pepper
Nutritional yeast
Seasoned frozen tater tots
Chopped green onion or chives, for garnish (optional)
Hot sauce, dairy-free sour cream, or salsa, for serving (optional)
Tools needed to make this special breakfast:
Cutting board
Knife
Large skillet
13×9 glass baking dish
Non-stick spray
Large mixing bowl
Measuring cups and spoons
Whisk
Heat proof spatula
Aluminum foil

What dairy-free sour cream do I use?
I've only ever found two brands of dairy-free sour cream: Good Karma and Tofutti. I use Tofutti and find it at my Natural Grocer in the refrigerated dairy section.
If I can't find safe tater-tots, can I use regular potatoes?
Tater tots are great because if you've ever stopped to look at one, it's a cylinder of tiny bits of potatoes, so they can cook faster than a solid, dense chunk of potato. You could use regular potatoes (I think–I haven't recipe tested it) but may need to cook it longer. You'll need to test it with a fork and make sure potatoes are tender on the bottom before taking it out of the oven. I have not recipe tested this with hash browns either. I worry they would get crunchy, instead of that soft, melty texture to blend with the faux egg mixture like you're used to. If you try it, comment below!
Is this also a gluten-free breakfast casserole?
Yes, it is! Rejoice! This casserole is free of so many things, yet still has so much flavor. It's literally Christmas magic in a 13×9. Just make sure to read all of the labels of each and every ingredient. Nothing in this recipe should have gluten, but brands have been known to throw gluten in weird places after the time of publishing and it's always smart to double check.
What dairy-free milk should I use?
A lot of people will claim unsweetened almond milk should be in savory dairy-free recipes, but I think it tastes horrible and gives the whole meal an odd after taste. (Not to mention lots of people have nut allergies.) You gotta go with rice milk because it's the most neutral tasting plant-based milk. Soy milk would probably be my second option if you can't do rice. Ultimately, you have to use what works best for your individual diet.

Can I use lactose-free milk?
If you do not have a milk allergy and only a lactose intolerance, you can use lactose-free milk. Please note though, that someone who has a dairy allergy (also known as milk allergy) CANNOT have lactose free milk and it will still be considered a dairy product. Lactose is the sugar in the milk, and those with dairy allergies are allergic to the protein in the milk…two very different things.
Can I use dairy-free cheese?
You can certainly add some of your favorite dairy-free cheese shreds on top before baking. But, I'm going to be real here. After YEARS of being dairy-free, I have yet to find a cheese substitute that I thought tasted good and was worth the money. That's why I skip it altogether. If you've been able to adapt to dairy-free cheese and like it, by all means use it.
Can this breakfast casserole recipe also be vegan?
The only thing that is holding this back from being vegan is the sausage. I wouldn't recommend skipping the sausage as it imparts a lot of flavor. So, if you're vegan, simply use your favorite brand of crumbled vegan sausages.

Do I have to use nutritional yeast?
For some reason, some people are adverse to nutritional yeast, or cannot have yeast in their diet. I find it a very good replacement for that classic cheddar cheese taste. It's more like a powder and also helps thicken things and improve texture. I find there are enough other flavors (sausage, garlic, peppers) that the flavor melds nicely with the others. If you are adverse and want to omit it, I cannot guarantee it will set up as well. If you try it without, please comment below!
What sausage should I use?
I like to stick with Jimmy Dean regular sausage (made from ground pork). It just has the classic flavor of breakfast sausage I grew up with. If you'd like to swap it for another brand, or a chicken sausage, turkey sausage or ground beef sausage, I'm sure that would be fine too, as long as you use the same amount. When you've got a favorite sausage, you've got a favorite sausage.

What tater tots should I use in this breakfast casserole?
I like to use seasoned tater tots for extra flavor, but you could use any brand that you like and that works with your diet. Be aware that some brands do contain gluten or dairy, so read your labels carefully.
Do I need to purchase something that's specifically labeled "gluten-free" or "dairy free"?
That really depends on the severity of your allergies or intolerances and what your medical doctor has told you to do. My sons' allergies, though sever and that get re-tested every year, still allow us to use things that have "may contain" warnings or "processed in a facility that uses…". Some people cannot. So, the links in this recipe and brand suggestions are just that and you have to do what will keep you safe. We go by ingredients alone.
Can I make this ahead of time?
I know that this delicious breakfast casserole is typically made the night before Christmas breakfast as a make ahead option for a fast and easy breakfast. However, I have only been able to test it making it right away. I keep meaning to try it ahead of time but haven't been able to. I'm sorry! I debated waiting to post this until I could, but also knew that people needed time to get this recipe ahead of the holiday. If you have a chance to try refrigerating it the night before to meal prep, and then baking it the next morning, please comment below. I'll update the recipe as soon as I'm able.
How do I store this savory breakfast casserole?
After it has cooled, I like to cut mine into squares / individual portions and put into a microwavable airtight container. Then, when I'm ready to eat the leftovers I can just pop them in the microwave for about a minute.

Does this breakfast casserole need any sides or condiments?
I honestly don't think it needs any sides as it is a hearty breakfast already consisting of a veggie mixture, meat and carbs. However, you can never go wrong giving people more options, especially something sweet to balance out the savory, something like gluten-free dairy-free orange rolls, or pancakes or scones. Dairy-free yogurt or fresh fruit is always a good compliment to round out any healthy breakfast offering.
As far as condiments goes, my husband likes hot sauce, I like salsa (as seen in the videos) and some people may even like a little dollop of more dairy-free sour cream.
Is this sausage breakfast casserole soy free?
I'm sorry, it is not! I use Tofutti sour cream to help make it creamy and that is made from soy. I have thought about trying to sub in egg-free mayo in place of the sour cream, but have not had time to recipe test it. If you try it, let me know. JUST eggs also has soy.
Do I have another dairy-free breakfast recipe?
You bet I do! Breakfast is my favorite meal and I have lots of options for you. I have many sweet breakfast and savory gluten and dairy free breakfast recipes for you to choose from. All of my recipes are also gluten-free, but if you only need dairy-free, you can swap back in regular flour 1:1 and omit the xanthan if it's called for.
Do I have a video showing how to make it?
Yes I do! You'll see it's not difficult and can watch it start to finish. If the video doesn't pop up, it should be at the bottom of the recipe card, or you can view it on my YouTube channel too.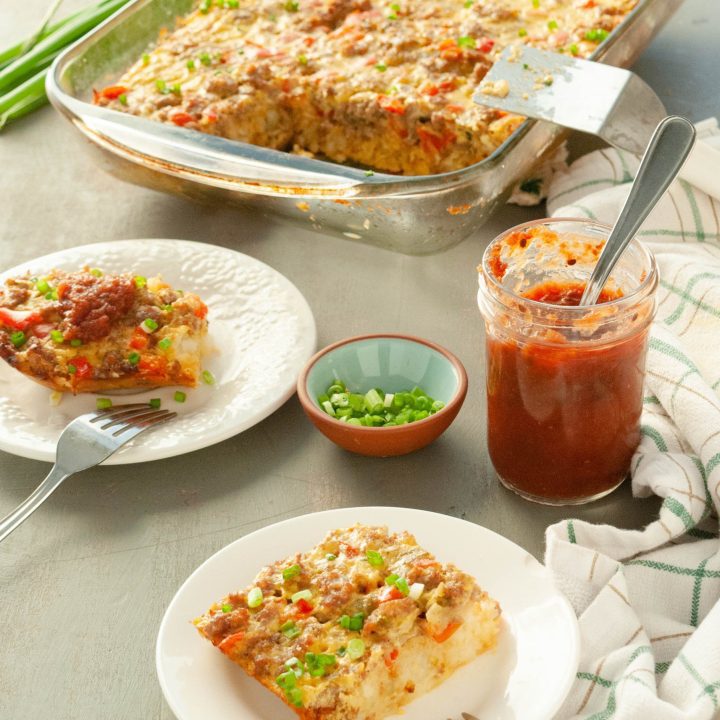 Dairy-Free Breakfast Casserole (Egg Free Too!) + VIDEO
Total Time:
1 hour
10 minutes
Egg-free & dairy-free breakfast casserole. Full of spice & flavor, you'll fool regular eaters. Best breakfast--especially for Christmas brunch!
Ingredients
1 Tablespoon olive oil
16 oz breakfast sausage (like Jimmy Dean)
1 red bell pepper, diced
½ yellow onion, diced
1 Tablespoon minced, jarred garlic
1/2 cup plant cream (Silk or Country Crock)
3 oz dairy free Tofutti sour cream (1/4 of a 12 oz container)
1 teaspoon salt
1/2 tsp black pepper
1/2 cup nutritional yeast* see notes
32 ounces seasoned frozen tater tots (will have leftovers)
Chopped green onion or chives, for garnish (optional)
Hot sauce, dairy-free sour cream, or salsa, for serving (optional)
Instructions
INSTRUCTIONS
Preheat oven to 375 degrees F.
Turn your stove top to medium-high and heat your olive oil in a large skillet. Add your breakfast sausage, diced red bell pepper, drained green chiles, diced onion and minced garlic to the oil.

Sauté until the meat is no longer pink and the veggies are soft, breaking up the breakfast sausage as you go so by the end it's in small, bite-sized crumbles.


While the meat-veggie mixture cooks, take a large mixing bowl and pour your JUST eggs (or six large eggs if you can have them), rice milk, plant cream, dairy-free sour cream, salt, pepper and nutritional yeast. Whisk until smooth.


Grease a 13x9 glass baking dish, and then place a single layer of frozen tater tots along the bottom. (You will have extra leftover).


When meat-veggie mixture is done, spread it evenly over the tater tots.


Then, pour the liquid "egg" mixture on top.


Cover the baking dish with aluminum foil and place in the center of your oven.
Bake for 25 minutes, then uncover and bake for another 25-30 minutes.


Sprinkle with diced, fresh chives or green onions.


Serve warm with additional dairy-free sour cream, hot sauce or salsa if desired.


Keep cooled leftovers in an airtight container in the fridge for 2-3 days.
Notes
Be sure to watch the video below and see all of the extra information above the post for FAQs.
*Our allergies, while severe and that get re-tested frequently, are such that we can go strictly by what's on the label. I do not call companies to see what things are derived from, or call manufacturers to see about potential cross contact. If your allergies require you to do so, please do your own homework. I cannot assure you of any ingredient's safety, only you can do that. I simply share what works for our family
**If you are going to feed this to someone with food allergies, and you yourself do not have food allergies, I HIGHLY recommend having them check every single brand and ingredient you are using, to ensure they're OK with each part of the recipe. And, to make sure you've talked to them about how to avoid cross contamination in your kitchen.
Adapted from: Mel's Kitchen Cafe's Make Ahead Overnight Tater-tot Breakfast Casserole 
Nutrition Information:
Yield:

24
Serving Size:

1
Amount Per Serving:
Calories:

203
Total Fat:

13g
Saturated Fat:

5g
Trans Fat:

0g
Unsaturated Fat:

8g
Cholesterol:

77mg
Sodium:

456mg
Carbohydrates:

14g
Fiber:

2g
Sugar:

2g
Protein:

8g
DON'T FORGET TO PIN IT, SO YOU DON'T LOSE IT. WHILE YOUR'E THERE, BE SURE TO CHECK OUT MY OTHER ALLERGY-SPECIFIC PINTEREST BOARDS.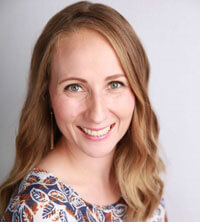 Hi! I'm Megan, a mom to four kids, two with multiple food allergies & one with EOE. I'm a published cookbook author that constantly tweaks recipes to make them allergy friendly–it's an addiction. I share every recipe & tip with you, to help you eat like you did before food allergies & dietary restrictions. You can still be awesome, even with food allergies!