Kids and rice krispies go hand in hand. I'll admit I didn't have them much before I had kids, but once you have kids they magically start appearing. Part of it is the ease, part of it is the little ingredients, part of it is the fact that the kids get to "help" by stirring. So, why not tweak them a bit to make them festive for Valentine's?
Last year was the first year we celebrated Valentine's Day with the kids where they understood it. I explained it to my three-year-old and we bought safe Valentine's and walked them around to his friends' houses since he wasn't in school yet. He loved it!
I thought it might be fun to make homemade treats this year. But guess what…we only gave it to one person and ate the rest. Oops! Haha! I guess I can fall back on the fact he'll have a class party and can give them out then.
You have to understand that by letting my kids help make the treat that they're drooling for it by the time it's cooled. Then, as an occupational hazard of some sorts, I have to make them wait even longer while I take a photo. By the time they are free to eat they're biting at the chomp. So, these went pretty fast.
While I need to work on my chocolate drizzling skills (haha!) I love that these had a touch of chocolate to them. Chocolate = Valentine's to me. I even dipped one completely in chocolate, as you can see–so feel free to get creative! Add the fun pink color and delightful sprinkles and these scream "Happy Valentine's!" while simultaneously screaming "Eat me!"
Happy Valentine's dear reader!
Gluten Free Valentine Rice Krispies (Dairy Free, Top 8 Free, & a Vegan Option!)
A jazzed up rice krispie for Valentine's Day that is free of the top eight allergens!
Ingredients
Red food coloring to desired color
Sprinkles to desired effect
Instructions
In large saucepan melt coconut oil over low heat. Add marshmallows and food coloring, stir until completely melted. Remove from heat.
Add rice krispies cereal. Stir until well coated.
Using wet hands press mixture into 13 x 9 x 2-inch pan coated with cooking spray. While still warm, before setting, use the heart shaped cookie cutter to separate into individual hearts.
While they cool, put the chocolate chips and rice milk into a microwavable safe bowl. Microwave for twenty seconds at a time, stopping to stir in between until the chocolate is melted. Thin additionally if needed.
Drizzle chocolate over the hearts and add sprinkles.
Notes
You'll notice I use one cup less of the cereal than the typical recipe. That isn't due to the coconut oil, but because I like mine extra gooey.

****Also, while these are wheat free, they are not gluten free, as typical and generic brands of rice krispies uses barley in all the brands I've ran across. I've found Malt-0-Meal & Erewhon are great gluten-free substitutions.
Nutrition Information:
Yield:

12
Serving Size:

1
Amount Per Serving:
Calories:

115
Total Fat:

6g
Saturated Fat:

4g
Trans Fat:

0g
Unsaturated Fat:

1g
Cholesterol:

0mg
Sodium:

70mg
Carbohydrates:

16g
Fiber:

0g
Sugar:

5g
Protein:

1g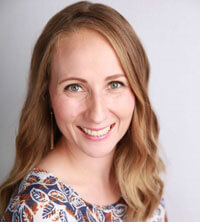 Hi! I'm Megan, a mom to four kids, two with multiple food allergies & one with EOE. I'm a published cookbook author that constantly tweaks recipes to make them allergy friendly–it's an addiction. I share every recipe & tip with you, to help you eat like you did before food allergies & dietary restrictions. You can still be awesome, even with food allergies!