A Christmas staple I grew up on, I've been dying to re-make these to be gluten and dairy free for my son with food allergies. Thick chewy oatmeal bars with swirls of thick, homemade fudge. It's like a chocolate chip oatmeal cookie on steroids. Like all holiday food should be it's bigger and better than it's counterparts that show up the rest of the year. This is a delicious bar that should grace every single goodie plate this holiday season, plus it should be able to eaten by many more now that it's allergy friendly. This gluten free dairy free oatmeal fudge bar is free of: wheat, gluten, dairy, egg, soy, peanut and tree nuts making it also top-8-free and vegan!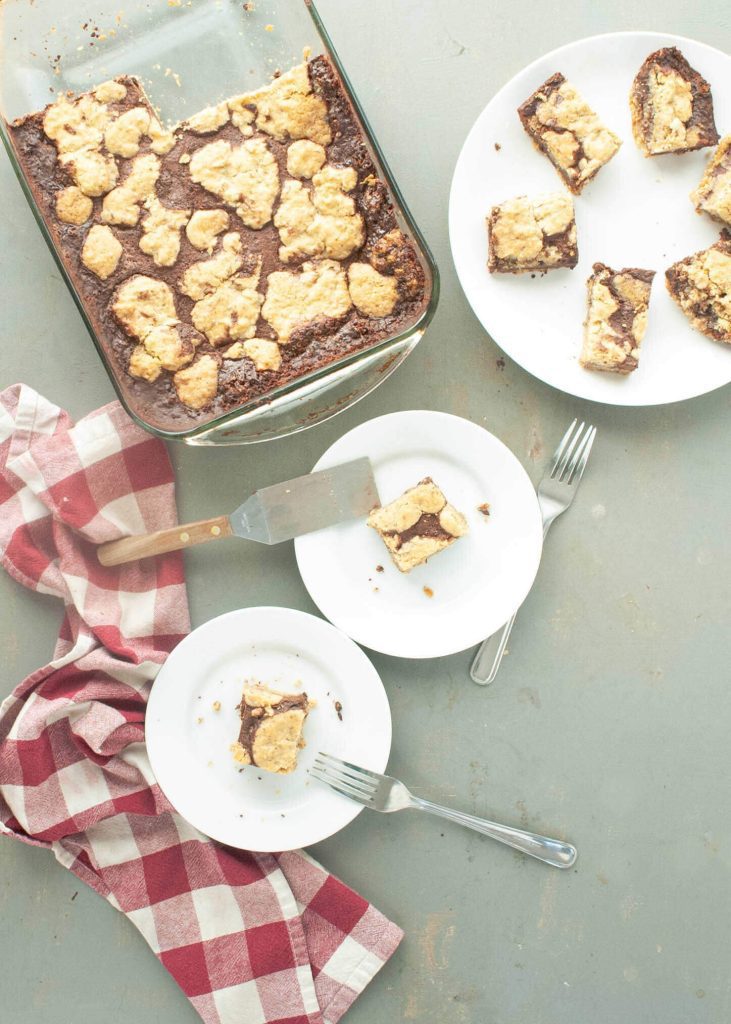 None of these products are sponsored. These links are Amazon affiliate links.
Why I Love These Dairy Free Gluten and Dairy Free Oatmeal Fudge Bars
My mom made these bars at Christmas time growing up and I loved them then, and still do. One year for my birthday, I even requested that my husband make them instead of a cake. Because why not have them in April too?!
My favorite cookie is a chocolate chip oatmeal cookie, so if I can make those into thick, chewy bars with a river of fudge running through it instead of chocolate chips, then what is not to love?
I was so pleased with how spot on these still are, even with so many substitutes. These are such a fun addition to cookie plates, because I don't feel like that many people make them. Throwing in a bar or two, instead of all cookies make for a diverse and delicious goodie plate! I was thinking of giving some of mine away, since it makes an entire 13×9, but my boys loved them too much.

What dairy free chocolate chips to use?
I like to use the Kirkland bag of chocolate chips (tall white bag, NOT the red flat bag. They only sell them during the holidays at most locations). While they do not have the marketing call out "dairy free" on them, they only list these ingredients:
"Chocolate liquor, sugar, soy lecithin (an emulsifier), and vanilla"
I buy the Kirkland because they come in bulk and are much cheaper. We've used these for several years. If I run out before they start to carry them around the holidays again, then I'll use Enjoy Life or Nestle or Great Value Organic Dark Chocolate Chips.
What dairy free sweetened condensed milk should you use?
It was a game changer when I realized that they made sweetened condensed coconut milk. It really enables that fudge layer to be the right thickness and texture. You can use Andre Prost Sweetened Condensed Coconut Milk or Nature's Charm brand. Even though the Andre Prost is 11.6 oz an the Nature's Charm is 11.25 oz they should be interchangeable.
And yes, it needs to be sweetened condensed coconut milk. Not evaporated, or just coconut milk. I have found sweetened condensed coconut milk at Walmart (yes, even in Idaho!), Natural Grocer, Sprouts and Amazon.
If you have more than one can of sweetened condensed milk, I'd highly recommend making my dairy free caramels or my dairy free fudge.

What gluten free flour should I use for my fudgy oatmeal bars?
I like to use an all purpose blend for this. I've had luck with both Great Value Gluten Free Flour (Walmart's brand) and Divided Sunset Gluten Free Flour. As long as long as it's a blend of rice flour, potato starch and tapioca starch, you should be fine. A little sorghum flour in the mix shouldn't hurt either.
If your mix doesn't have xanthan included in it, add 1 tsp to the recipe.
What gluten free oats do I use?
Oats can be controversial for gluten free baking, but we do not have a problem with them. As long as they're certified gluten free, then I feel safe using them.
I use Bob's Red Mill (mostly because it's what's sold at my Walmart). Just make sure that they're old fashioned rolled oats, and not quick cooking oats.

What dairy free butter do I use?
I like to use the Crisco shortening sticks, butter flavored. You could also do a dairy-free buttery stick like Earth Balance. If you need a soy free option, Earth Balance has buttery sticks that are soy free. If you use the soy-free version, these bars will then be top-8-free!
What milk substitute do I use for the oatmeal fudge bars?
I like to use rice milk in all of my baking because it doesn't have an after taste like many other milk alternatives. However, I am pretty confident that you could use most milk substitutes (oat would probably be great too) and it should turn out fine.
What egg substitute should I use?
I like flax eggs in moist baked goods. However, if you don't need an egg substitute, you can use two regular eggs. I have not tried it with other egg substitutes, but if you do, please comment below for future readers to know.

Do I have other gluten and dairy free Christmas treats?
Because of my son's milk allergy, absolutely EVERYTHING on my site is dairy free.
In fact, he's also allergic to eggs, so all of my baking is technically vegan too.
My son also has a wheat allergy, so everything is gluten free too. However, if you don't need it to be gluten free, you can swap in regular flour 1:1 and omit the xanthan gum. Easy peasy!
It's hard to pick one, so here's a list of our favorite dairy-free Christmas bakes:
Do I have a video showing how to make these oatmeal fudge bars?
Yes I do! I made a TikTok video, because I like how short and succinct they are. By watching this, it will give you a good overview of how easy it is to make these gluten free vegan oatmeal fudge bars: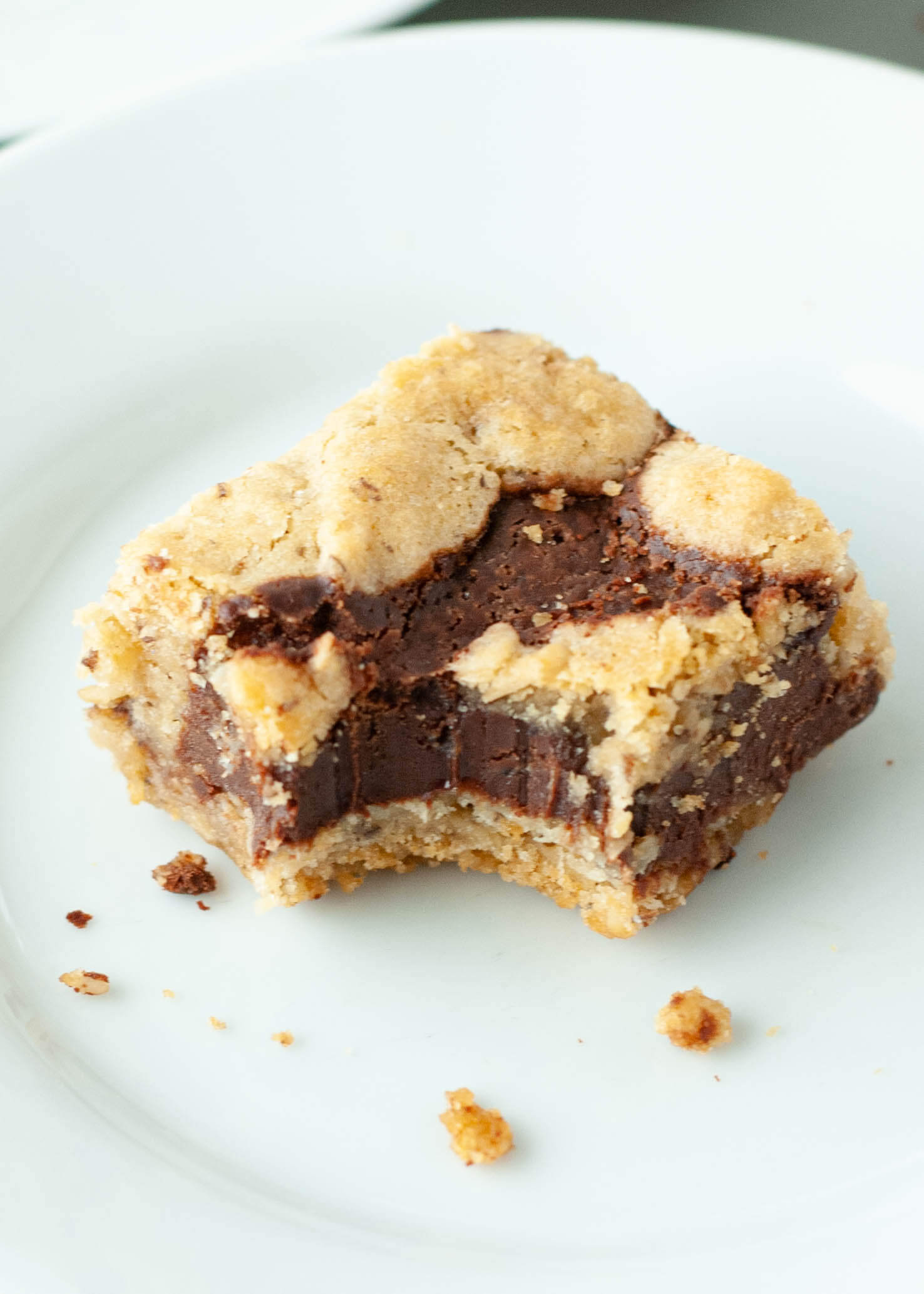 Gluten Free Dairy Free Oatmeal Fudge Bars
Thick chewy oatmeal bars with swirls of thick, homemade fudge running through it. It's like a chocolate chip oatmeal cookie on steroids--like all holiday food should be. It's gluten free and dairy free too (even vegan!).
Ingredients
OATMEAL BARS:
2 cups brown sugar
2 tsp vanilla
1 tsp baking soda
1 tsp salt
FUDGE LAYER:
Instructions
Preheat your oven to 350 degrees F.

In a large mixing bowl (or stand mixer with the paddle attachment) add your dairy-free butter and brown sugar. Cream.

Add the rest of the wet ingredients: vanilla, flax eggs and rice milk. Mix.

Add your dry ingredients: baking soda, salt and gluten free flour and oats. Blend.

Grease a 13x9 pan and scoop in 3/4 of this mixture. Press flat. Set the remaining dough aside.

Next, place a medium saucepan over medium-low heat. Add in the sweetened condensed coconut milk, dairy-free butter and chocolate chips. Stir continuously until melted. Take off the heat and stir in the vanilla.

Pour the fudge sauce over the 13x9 pan.

Carefully scoop the remaining 1/4 of the oatmeal dough onto the fudge layer. Flatten the dough on top of the fudge as much as you can, to ensure more even baking (you don't want tall mounds of dough.)

Bake for 25-30 minutes, or until the top is browned and it is cooked through.

The chocolate sauce will still be bubbly and liquid-y. The bars will set up once they have cooled.

Once cooled, you can cut, serve and most importantly: enjoy! Keep leftovers at room temperature, tightly covered. Will keep 3-4 days.
Notes
Recipe from my dear mother. I'm not sure where she got the recipe. Probably heaven.
For substitution ideas, read my entire post.
Check out my other Christmas treats.
*Our allergies, while severe and that get re-tested yearly, are such that we can go strictly by what's on the label. I do not call companies to see what things are derived from, or call manufacturers to see about potential cross contact. If your allergies require you to do so, please do your own homework. I cannot assure you of any ingredient's safety, only you can do that. I simply share what works for our family
**If you are going to feed this to someone with food allergies, and you yourself do not have food allergies, I HIGHLY recommend having them check every single brand and ingredient you are using, to ensure they're OK with each part of the recipe. And, to make sure you've talked to them about how to avoid cross contamination in your kitchen.
Nutrition Information:
Yield:

15
Serving Size:

1
Amount Per Serving:
Calories:

446
Total Fat:

28g
Saturated Fat:

18g
Trans Fat:

1g
Unsaturated Fat:

9g
Cholesterol:

56mg
Sodium:

387mg
Carbohydrates:

50g
Fiber:

3g
Sugar:

37g
Protein:

4g
DON'T FORGET TO PIN IT, SO YOU DON'T LOSE IT. BE SURE WHILE YOU'RE THERE TO CHECK OUT MY OTHER ALLERGY FRIENDLY PINTEREST BOARDS.