Have you ever noticed there are several boxed versions of gluten-free cake, but none that are gluten, dairy and egg free? Well, I've figured out how to take a store-bought, boxed gluten-free cake mix and swap out a few substitutes to get a top-8-free, gluten-free AND vegan cake. There's four total ingredients to this yellow cake. Keep this handy for when you have a last minute birthday party for any of your food allergy friends or family!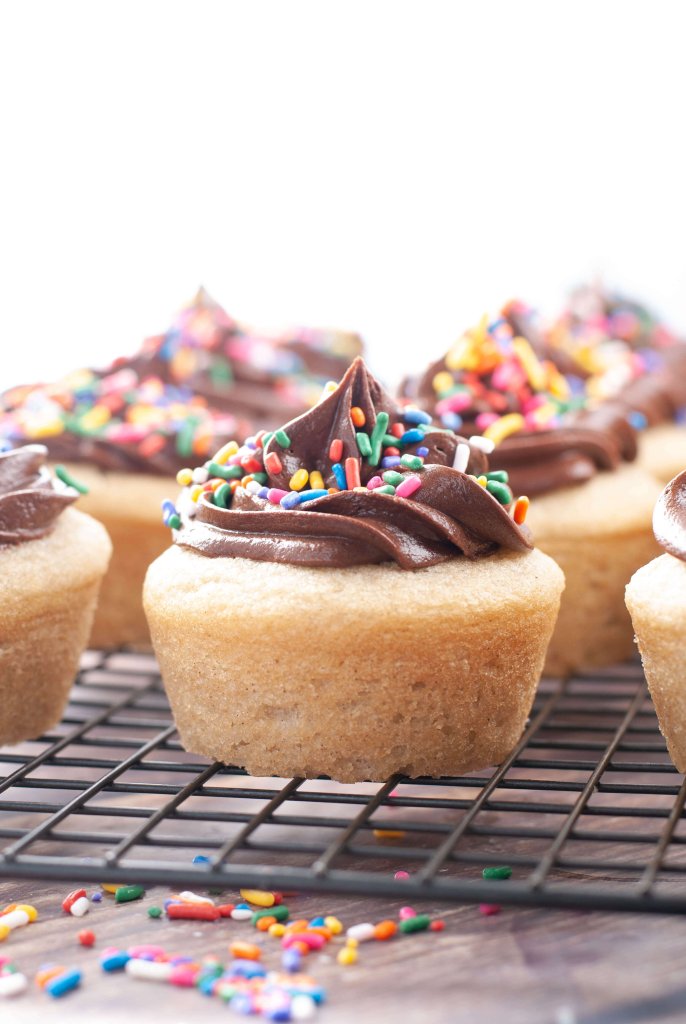 You've loved and enjoyed my allergy-friendly chocolate cupcakes for quite some time. And, you've asked that I give you a yellow cake recipe. The only problem was that I couldn't find a version I loved. Because there is more starch in gluten-free baking, things can turn out too gummy, and this was the case no matter what recipe or version I tried. I didn't want to give you guys something you wouldn't like.
I also knew that you wanted something easy, fast and convenient. Often times, there's a plethora of gluten-free flour mixes and each are good for different things. I thought it might be nice to not have to purchase certain flours or grains to make a specific flour blend for this gluten-free vegan yellow cake. It might be nice to just pick up the flour (and all the dry ingredients) pre-made in the form of a box mix.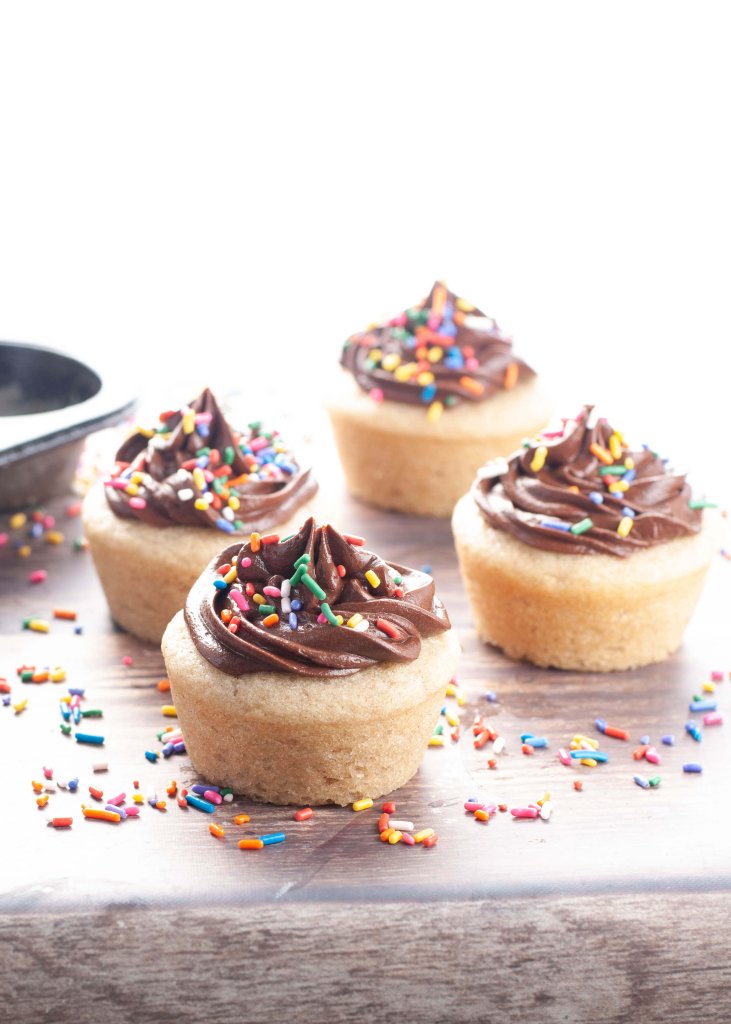 I also didn't want to limit you to only one brand–because we all know how hard it can be tracking down specific allergy-friendly brands. Some stores choose to carry one brand, and other stores choose to carry another. I was able to find both of these brands at my local Wal-Marts, though surprisingly each was at a different location and both were not offered at one store.
What gluten free cake mix do you use?
So, I tried out both King Arthur Gluten-free Yellow Cake Mix and Krusteaz Gluten-free Yellow Cake Mix. I know there are others out there, but I find these are typically easily found in big box stores (easier to find). Please note that if you have a dairy allergy like we do, that some gluten-free box mixes (like Pillsbury) use milk in their powdered mixes, so if you choose to try this formula on another box mix that you read the label carefully.
If you'd rather make a cake from scratch, I also have this homemade gluten free vegan yellow cake recipe.
WHAT TO DO IF YOU CAN'T EAT BEANS?
I've had some readers lament when I use aquafaba, like in my fluffy pancakes. I simply adore aquafaba (the liquid inside a can of chick peas/garbanzo beans). It whips up like eggs whites and it's the closest egg white substitute I've ever found. However, I know some people cannot do beans. While I have not personally tried this, I have had some readers have success using applesauce instead of aquafaba. I just feel that applesauce is heavier and since it cannot whip it does not give the same lightness and texture a whipped aquafaba will. I prefer the crumb of my cake to have some air holes and not be dense. By using aquafaba, I feel this is the closest way I've ever found to achieving the most "real" like cake crumb and mouthfeel.
Also, for those wondering that have never used aquafaba–there is ZERO hint of bean flavor. PHEW! You'd never know.
DO I HAVE TO USE EARTH BALANCE BUTTER?
No. And, this is not sponsored. This is just the only vegan butter I have been able to personally find in local stores that my son can have. If there is another vegan butter you enjoy, you should also be able to use this.
DO I HAVE TO USE RICE MILK?
No. I have just found that rice milk is my favorite substitution when it comes to baking. While it is thinner than regular milk, it has no after taste like many of the nut milks (which we couldn't do anyways). If you cannot do rice, sub it out with a safe milk version.
WHAT SPRINKLES DO I USE?
I used the Great Value rainbow sprinkles. (Has soy lecithin, but we can do soy lecithin.) Remember–you can use sanding sugar if those doesn't work for you. And, just plain frosting is amazing on its own too!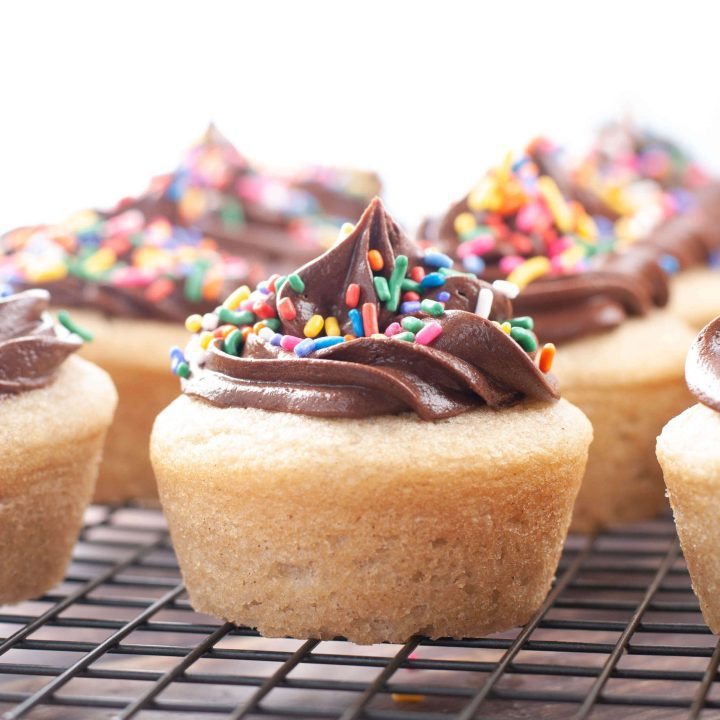 Gluten-free Vegan Yellow Cake from a BOX MIX
How to take a store-bought, boxed gluten-free cake mix and swap out a few substitutes to get a top-8-free, gluten-free AND vegan cake. There's four total ingredients to this yellow cake!
Ingredients
CAKE:
Earth balance vegan buttery sticks
FROSTING OPTIONS:
Instructions
I have had success with this recipe with both King Arthur Gluten-free Yellow Cake Mix, as well as Krusteaz Gluten-free Yellow Cake Mix. Each box has slightly different amounts for the eggs, butter and milk.
Follow each boxes' instructions, subbing out my recomendations in the same amounts. For example, The King Arthur box says to use 1/2 cup butter. So, I used an entire stick (1/2 cup) of the Earth Balance Buttery Sticks. It also said to use 2/3 cup of milk, so I used 2/3 cup of rice milk. King Arthur includes 2 Tablespoons of oil, which Krusteaz does not. I used canola oil.
Mix the cake mix, vegan butter and rice milk together and set aside.
For replacing the eggs, 3 Tablespoons of aquafaba (the liquid in a chick pea can) equals one egg. So, for the King Athur recipe that calls for 4 eggs, I used 12 Tablespoons. That was the entire liquid of one can. Since the liquid can vary from brand to brand of canned chick peas, you may want to purchase two cans, just to ensure you have enough liquid.
Once you've measured the correct amount of aquafaba, use electric beaters to whip them until they reach stiff peaks. This will take 5-10 minutes.
Then, gently fold in the mixed cake mix into the aquafaba, trying not to knock out all of the air you've just incorporated.
Pour the completed mix into greased cupcake tins, or into a greased 13x9 pan.
Bake for the time listed on the box. I found I had to do the entire time, and then I let my cupcakes sit in the pan to cool for five minutes before turning them out on a wire rack to completely cool.
While they completely cool, make the frosting. Frost and serve immediately.
Notes
I've made both a 9x13 cake, as well as cupcakes and both have turned out well as long as I followed the cook times mentioned on the respective boxes. Noting, it may take longer, depending on your elevation.
*I find what really helps this taste like real "yellow cake" is the additional of more vanilla and the cake batter extract. To find out more about the ingredients and manufacturer's statement, see this post here.
If you'd rather make the cake from scratch, click here to learn how to make a homemade gluten free vegan yellow cake.
**Our allergies, while severe and that get re-tested frequently, are such that we can go strictly by what's on the label. I do not call companies to see what things are derived from, or call manufacturers to see about potential cross contact. If your allergies require you to do so, please do your own homework. I cannot assure you of any ingredient's safety, only you can do that. I simply share what works for our family.
***If you are going to feed this to someone with food allergies, and you yourself do not have food allergies, I HIGHLY recommend having them check every single brand and ingredient you are using, to ensure they're OK with each part of the recipe. And, to make sure you've talked to them about how to avoid cross contamination in your kitchen.
DON'T FORGET TO PIN IT, SO YOU DON'T LOSE IT. BE SURE TO ALSO CHECK OUT MY OTHER ALLERGY-FRIENDLY PINTEREST BOARDS.
---
Looking for more allergy-friendly cakes? Here's some of our other favorites:
Allergy-friendly Red Velvet Bundt Cake with Sticky Marshmallow Frosting
Allergy-friendly Double Cherry Chocolate Cake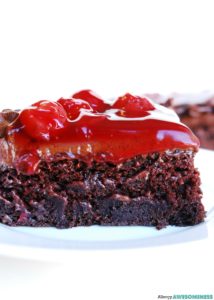 Allergy-friendly Chocolate Birthday Cupcakes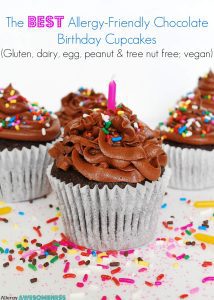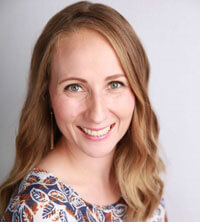 Hi! I'm Megan, a mom to four kids, two with multiple food allergies & one with EOE. I'm a published cookbook author that constantly tweaks recipes to make them allergy friendly–it's an addiction. I share every recipe & tip with you, to help you eat like you did before food allergies & dietary restrictions. You can still be awesome, even with food allergies!