Ever since my son was diagnosed with nut allergies I have longed for pecan pie. Thankfully, I've found out that you can make pecan pie without any nuts. Simply use oatmeal, and you can still have that sticky, caramel filling, and flaky pie crust, but with oats instead of pecans. And to really take it over the top, spread a layer of chocolate on the crust before adding the filling. This pie is also known as Poor Man's Pecan Pie, Faux Pecan Pie, Mock Pecan Pie, Black Bottom Oatmeal Pie or No Nut Pecan Pie. No matter what you call it (seriously, how many names can there be!) this delicious Thanksgiving dessert is free of: gluten, wheat, dairy, egg, soy, peanuts and tree nuts. It's top-8-free and vegan too!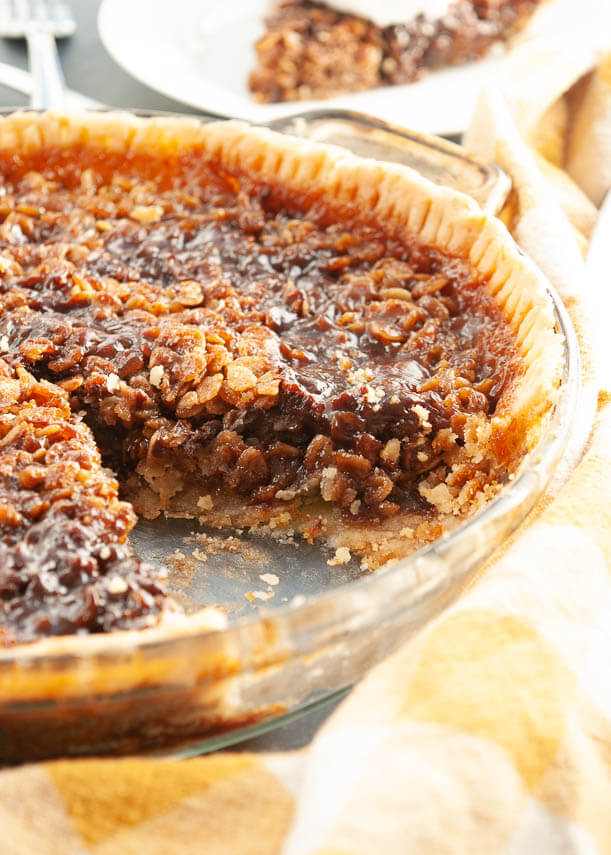 This post contains affiliate links.
Why I love this faux pecan pie
My oldest son was born on Thanksgiving, and I had already made my favorite pie–pecan pie. Since I wasn't able to eat while I was in labor, and was STARVING after the birth, I had my husband run home and grab the pie. And I ate the WHOLE THING. No joke. No regrets either.
So, it's been a tragedy that my baby (and even my next baby too!) ended up having peanut and tree nut allergies, so I haven't had pecan pie since.
I've missed it so much. I've seen nut-free recipes that use pretzels in it, but that just didn't sit well with me, having soggy pretzels. But, I DO love oats, and so when I saw this recipe that had no pecans in it, and still had that caramel tasting filling, PLUS chocolate I knew it was going down.
Also, this recipe is adapted from the great Smitten Kitchen, so you know if you can make that allergy friendly it's going to be great.
I hope if you have nut allergies, just don't enjoy pecans or want to try something new this Thanksgiving that this Black Bottom Oatmeal pie will fit the bill!

How do I make this No Nut Pecan Pie gluten free too?
If you need it to be gluten free like we do, then simply use gluten free flour in the crust, and certified gluten free oats in the filling.
If you don't need it to be gluten free, go ahead and use regular flour and regular oats (just make sure that they're old fashioned rolled oats) at the same measurements.
You can use my homemade gluten free flour blend, or a store bought all purpose blend. I like to stick to blends that have rice, potato and tapioca. If you can't find a blend that simple, ones with sorghum, like this one, work too.

How do I make this Black Bottom Oatmeal Pie Vegan?
Thanks to the ease of buying vegan butter nowadays, it makes it easy to make the pie crust vegan. However, to replace the four eggs I was nervous. There are many egg replacers out there. But, I went with one that is typically more drying (than a wet one like applesauce or flax eggs better suited to muffins and such). I didn't want the filling to not set up, so I went with Ener-G Egg Replacer and feel it worked great.
To substitute the heavy cream, I used my favorite stand-by, full fat canned coconut milk (found in the Asian isle).
If you don't need this to be dairy free or vegan, go ahead and use the same amounts of regular butter and use four regular eggs.

Is this Black Bottom Oatmeal Pie top-8-free?
Yes, because I've taken out the wheat, gluten, dairy, nuts and eggs this leaves the pie free of the top 8 allergens. I hope that this will help everyone in your home, no matter their allergies, enjoy this pie this Thanksgiving, or anytime you have the hankering.
Are there more gluten free vegan pie recipes?
Of course there are! Everyone needs some pie in their life, and I have a great variety of allergy friendly, gluten free and vegan pies to choose from. I hope you'll enjoy these other ones:
Are there more allergy friendly Thanksgiving recipes?
Besides this mock pecan pie, if you're needing some more Thanksgiving ideas (like turkey, sides…etc.) then I have got you covered. I have an ENTIRE Thanksgiving menu to help you fill your table!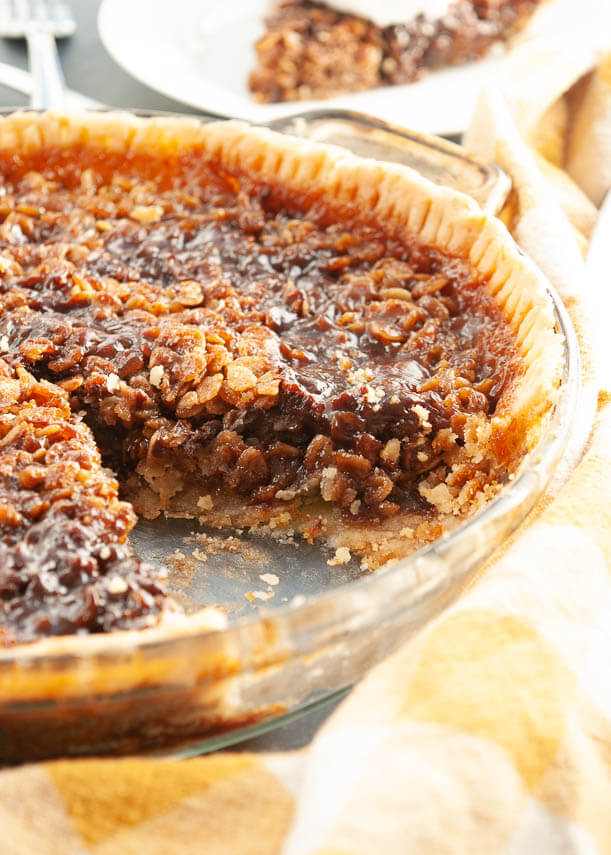 Black Bottom Oatmeal Pie (Also Known As No Nut Pecan Pie)
Cook Time:
1 hour
30 minutes
By simply use oatmeal, and you can still have that sticky, caramel filling, and flaky pie crust that pecan pie has, but without any nuts!. And to really take it over the top, we spread a layer of chocolate on the crust before adding the filling. This pie is also known as Poor Man's Pecan Pie, Faux Pecan Pie, Black Bottom Oatmeal Pie or No Nut Pecan Pie. No matter what you call it, this is a delicious Thanksgiving dessert.
Ingredients
CRUST INGREDIENTS:
1 and 1/2 teaspoons granulated sugar
1/2 teaspoon table salt
1/4 cup very cold water, plus an additional tablespoon if needed
BLACK BOTTOM INGREDIENTS:
FILLING INGREDIENTS:
3/4 cup packed light or dark brown sugar
1/4 teaspoon ground ginger
1/2 teaspoon table salt
1 teaspoon vanilla extract
2 teaspoons apple cider vinegar
Instructions
Preheat the oven to 350 degrees F.
Spread your oats on a rimmed baking sheet evenly. Bake for 10-12 minutes to toast them.
While the oats are baking, make your pie crust.
In a food processor, place your gluten free flour, sugar and salt. Pulse to mix. Next, add in your chunks of vegan butter and pulse several times (butter chunks should be pea size now). Finally, turn on the mixer and as it spins, add your cold water. Let it run until it's just come together, you don't want to over mix it.
Scoop the pie crust onto a sheet of parchment paper. Cover with another sheet of parchment paper, and using a rolling pin, roll it until it's an about a 12 inch circle.
Place the rolled dough into your pie plate. Press into pie pan evenly and trim edges and decorate edges as desired (I like to go simple and just press my fork into it, as shown in the pictures.)
Once the oats are done toasting, set them aside and turn the oven up to 400 degrees F.
Once preheated, take aluminum foil and lightly grease it. Cover the pie in the aluminum foil, greased side down. Place dried beans to fill the pie (weigh it down) and bake it for 20 minutes. Once done, carefully remove the foil and beans and let it cool completely. (This is known as par-baking, you want to do this so the pie bottom isn't soggy.)
Reduce the oven temperature to 325 degrees F.
Make the black bottom filling by bringing the coconut milk to barely a boil over medium heat in a saucepan. Take it off the heat and stir in the chocolate chips until everything is smooth. Spread this into your cooled pie crust evenly. Move the chocolate covered crust to the freezer while you make the filling.
In a medium mixing bowl, add in the toasted oats, brown sugar, ginger, salt, melted vegan butter, dark corn syrup, vanilla, apple cider vinegar and Ener-G eggs. Stir well until everything is combined.
Place the chocolate coated pie crust on a rimmed baking sheet (in case it bubbles over) and pour the stirred filling on top.
Bake for 60-70 minutes. The center will still have a just a tiny bit of wobble. It will finish setting once it cools. Cool until it's room temperature and then move it to the fridge. Set for at least four hours, better if overnight.
When ready to serve, cut into slices and serve plain, or with some CocoWhip on top. Will keep refrigerated for 3 days.
If you need more pie ideas, see my ENTIRE Thanksgiving menu that is allergy friendly.
Notes
Adapted from the wonderful: Black Bottom Oatmeal Pie by Smitten Kitchen
*Our allergies, while severe and that get re-tested frequently, are such that we can go strictly by what's on the label. I do not call companies to see what things are derived from, or call manufacturers to see about potential cross contact. If your allergies require you to do so, please do your own homework. I cannot assure you of any ingredient's safety, only you can do that. I simply share what works for our family.
**If you are going to feed this to someone with food allergies, and you yourself do not have food allergies, I HIGHLY recommend having them check every single brand and ingredient you are using, to ensure they're OK with each part of the recipe. And, to make sure you've talked to them about how to avoid cross contamination in your kitchen.
Nutrition Information:
Yield:

8
Serving Size:

1
Amount Per Serving:
Calories:

384
Total Fat:

14g
Saturated Fat:

9g
Trans Fat:

0g
Unsaturated Fat:

4g
Cholesterol:

26mg
Sodium:

407mg
Carbohydrates:

68g
Fiber:

1g
Sugar:

60g
Protein:

2g
DON'T FORGET TO PIN THIS, SO YOU DON'T LOSE IT. WHILE THERE, BE SURE TO CHECK OUT ALL OF MY OTHER ALLERGY FRIENDLY PINS.