This vegan cobbler is a semi-homemade dessert with a soft vanilla cake sandwiching a gooey layer of cherry pie filling. Topped with a sweet drizzle, this is an easy and crowd pleasing dessert. Free of gluten, dairy, eggs, soy, peanut and tree nuts. Top eight free and vegan too!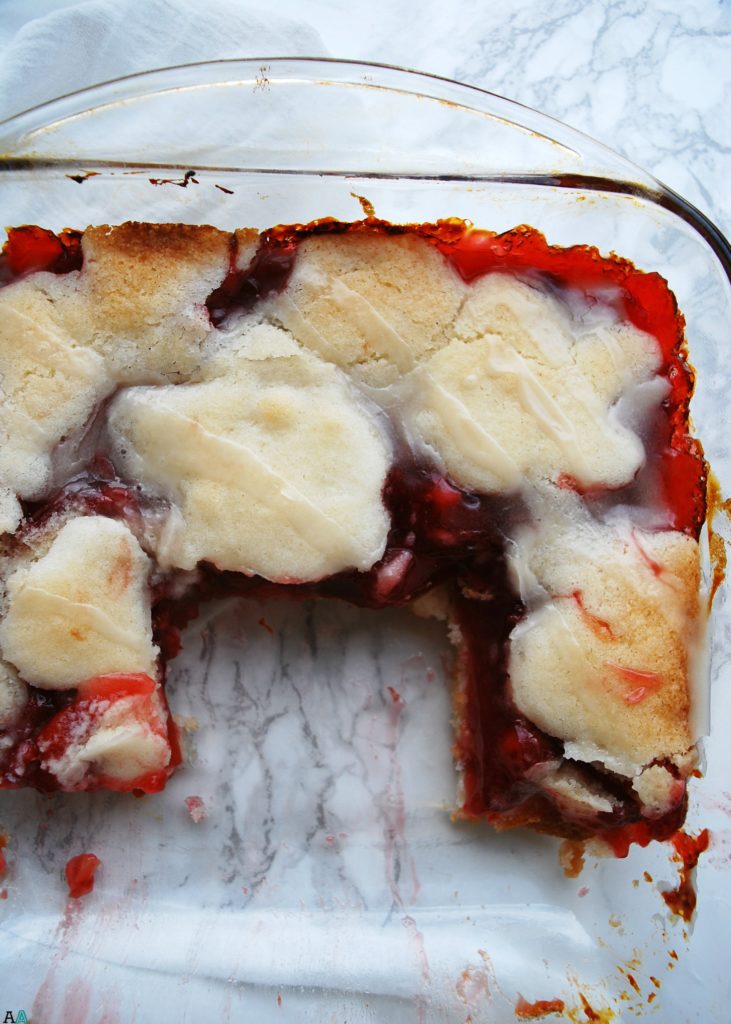 This post contains affiliate links.
WHAT I LOVE ABOUT THIS CHERRY VEGAN COBBLER
I love that this cherry cobbler is semi-homemade, meaning you're not going to have to use fresh cherries–which means no pitting cherries and way less work. When it's summer time, I want time to play and not spend all day in the kitchen so I need an easy dessert recipe that lets me cut some corners. The cake, also known as cobbler topping, is easy to come together and it has a delicious icing drizzle that makes it extra yummy. The other great part about using canned cherry pie filling is that you can have this dessert year round as you don't have to wait for fresh fruit to be in season. One of the best parts: this is all made in one bowl, so no need for a separate bowl and more dishes? Some consider a fruit cobbler the best summer dessert. I think you'll find it just might be a perfect dessert for you too! And, don't forget a scoop of vegan ice cream on top (my vote is vanilla!).
INGREDIENTS NEEDED FOR THE VEGAN COBBLER RECIPE?
White Sugar
Vanilla extract
All purpose flour (

gluten-free flour

if needed)
Salt
Powdered sugar
IS THIS VEGAN CHERRY COBBLER REFINED SUGAR FREE?
Often times, people will assume because something is vegan it is also refined sugar free. That is not the case. I find working with the typical butter and eggs makes it difficult enough, so I go ahead and use regular cane sugar. I have not tried this recipe with coconut sugar or maple syrup. I would assume you could swap in coconut sugar at a 1:1 ratio, but wouldn't recommend subbing out maple syrup as that will throw off the liquid in the recipe.

WHAT KIND OF NON-DAIRY MILK DO YOU RECOMMEND?
I always prefer to bake with rice milk. I find it has the least amount of after taste. However, I know that many people prefer almond milk. We have nut allergies so we can't use it, plus I find it has a strong nut after taste. I would think oat milk would work too. I would least recommend soy milk, as I find that also has an after taste. But, if that's all you have on hand, it will still work at a ratio of 1:1. Use what you prefer.
CAN I MAKE THIS VEGAN COBBLER GLUTEN FREE TOO?
Yes! My son also has a wheat allergy and my husband has a gluten intolerance so all of my baking (check out all my other recipes!) are gluten free vegan. If you need it to be gluten-free, simply swap in all purpose gluten-free flour at a 1:1 ratio. I am cheap and just use the Great Value (Walmart's brand) all purpose gluten free flour and it works just fine! I would not recommend trying to sub in coconut flour or almond flour, as those cannot replace an all purpose flour mixture–gluten free flours usually require multiple kinds of flour to be similar to regular flour.
CAN THIS VEGAN COBBLER HAVE OTHER FLAVORS?
Yes! As long as you use the same amount and make sure it's a pie filling (so the consistency is the same) you can use other types of fruit. Use whatever fruit you want for this cobbler filling. You could get blueberry pie filling, apple pie filling, or peach pie filling and they would all be a great choice for your fruit filling.
PERKS OF USING CANNED PIE FILLING
Besides the ease factor of using canned pie filling, you have less ingredients you have to use too. No having to worry if your fruit is ripe enough or having to thicken it with corn starch or arrowroot powder either. Store bought pie filling comes perfectly thickened and sweet all on its own. Easy peasy.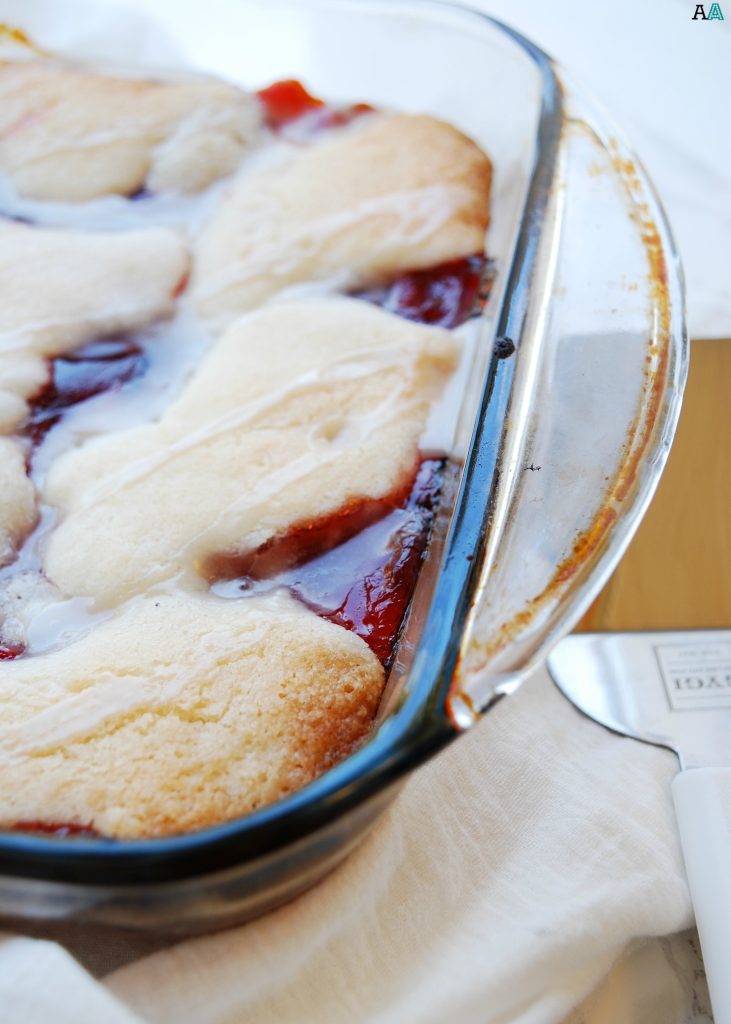 HOW TO MAKE THIS VEGAN FRUIT COBBLER:
Preheat your oven to 350 degrees F.
Grease a square 9×9 or 8×8 baking dish with nonstick spray.
Cream the butter, sugar and powdered egg replacer.
Add in the wet ingredients: rice milk and vanilla.
Add the rest of the dry ingredients: the flour and salt.
Spread 3/4 of the mixture on the bottom of the pan.
Top with the fruit filling.
Drop the rest of the batter over the fruit filling.
Bake for 45 minutes or until the edges start to get golden brown.
While it's baking, make the glaze by whisking the glaze ingredients together.
Once cobbler is cooled, drizzle glaze on top and enjoy.
Keep leftover cobbler either room temperature or in the fridge with plastic wrap on top, or in an airtight container.
Can I use another vegan egg replacer?
While there are lots of vegan egg replacers (Bob's Red Mill, flax eggs, applesauce, banana…etc) I find that Ener-G egg replacer is usually my safest bet. It doesn't have any discoloration like some do, and no after taste like the fruits will. I actually don't like Bob's Red Mill egg replacer as much as Ener-G. If you try another one that you love, please comment below for future readers.
WHAT VEGAN ICE CREAM GOES WELL WITH CHERRY COBBLER?
I think most will agree that the original recipe of cobbler was meant to be paired with ice cream. Thanks to lots of options nowadays you can still enjoy your cobbler with a scoop of vegan vanilla ice cream. Talk about a delicious dessert. Here are just a few brands I've noticed in the store: Ben & Jerry's Oatly, So Delicious, O'My, Haagen-Dazs, Nada Moo, Halo Top, Tofutti.
DO I HAVE OTHER VEGAN DESSERT IDEAS?
Yes, I do! All of the baking recipes on my site are vegan desserts (and gluten free as well. If you don't need them to be gluten-free, you can always swap in regular flour 1:1 and omit xanthan gum if it's called for). Here are some of my other favorite vegan fruit desserts:
Or, if you're more into crisps, you can try this Gluten-free Blueberry Crisp from fellow blogger, Clean Eating Kitchen.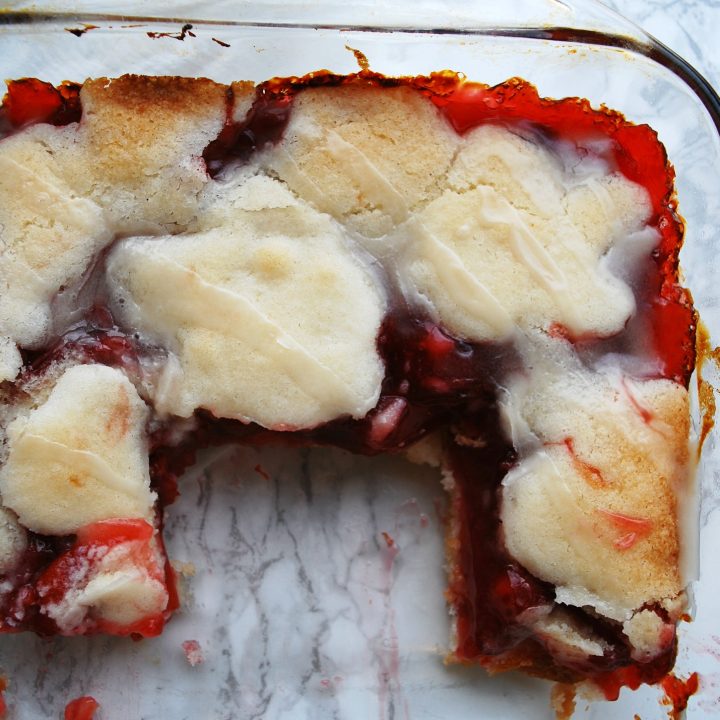 Cherry Cobbler (Gluten, Dairy, Egg, Soy, Peanut Tree nut Free; Vegan, Top 8 Free)
A semi-homemade, dessert with a soft vanilla cake sandwiching a gooey layer of cherry pie filling. Topped with a sweet drizzle, this is an easy and crowd pleasing dessert. Free of gluten, dairy, eggs, soy, peanut and tree nuts. Top eight free and vegan too!
Ingredients
CAKE:
1/2 cup vegan butter
1 cup sugar
1/2 tsp vanilla extract
1/2 tsp salt
GLAZE:
1/2 cup powdered sugar
1/4 tsp vanilla extract
Instructions
Preheat the oven to 350 degrees F.
Grease a square 9x9 or 8x8 pan with non-stick spray.
In a stand mixer, with the paddle attachment, cream the buttery spread and sugar. (Hand beaters will also work).
Next, add the egg replacer, milk, and vanilla and blend well.
With the stand mixer on low, add the salt and flour until incorporated.
Spread 3/4 of the cake mixture onto the bottom of the pan.
Then, spread the entire can of cherry pie filling over it.
Drop the rest of the batter on top of the cherry layer by spoonful. It won't cover the entire top, but I like that the pretty cherries show through.
Bake for 45 minutes, or until the top is set and the corners are starting to brown.
While it's baking, make the glaze by whisking all of the glaze ingredients together. Once the cobbler is cooked and cooled, drizzle the glaze on top. Serve and enjoy.
Nutrition Information:
Yield:

9
Serving Size:

1
Amount Per Serving:
Calories:

262
Total Fat:

12g
Saturated Fat:

2g
Trans Fat:

2g
Unsaturated Fat:

9g
Cholesterol:

0mg
Sodium:

158mg
Carbohydrates:

39g
Fiber:

0g
Sugar:

30g
Protein:

1g
Adapted from: Julie's Eats and Treats
Don't forget to pin this so you don't lose it!