Crust made from gingersnap cookies; a soft, custardy pumpkin filling and a crisp crumble topping make three layers of fall heaven. Perfect for any autumn day, or the star of Thanksgiving desserts–this treat will not disappoint. This triple threat is allergy friendly and made without: wheat, gluten, dairy, egg, peanut or tree nuts. It's also vegan! (Soy free option included.)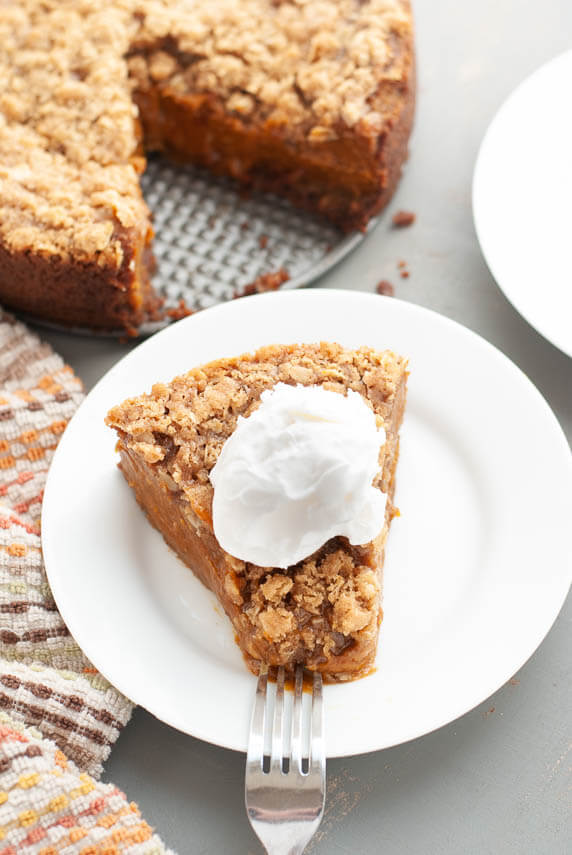 This post contains affiliate links.
Why I love this vegan pumpkin crumble pie.
First off–let's get things straight. I don't like pumpkin pie. The traditional pumpkin pie recipe that is. Bland crust, with a gelatinous pumpkin filling was just boring to me. It didn't have enough texture and only having a firm puree filling reminded me of baby food.
So, I set out to fix everything I don't love about it. First off–a bland pie shell. Yes, sometimes I like regular pie crust, but why have a crust that tastes mostly like butter when you can use crumbled gingersnap cookies? I want the cinnamon and ginger flavors in each and every single layer for maximum flavor.
Next, the filling. I like a softer set, custardy, almost pudding like filling. That way it's creamier instead of a dense, thick filling. But it had to be an eggless pumpkin pie due to our allergies.
Finally, a topping! Pumpkin pie NEEDS a crumble topping for some textural contrast. I know I put whipped topping for the pictures to make it look pretty, but honestly, it doesn't need it because the crumble finishes it off so well. Either way, you're winning. The oats, brown sugar and butter almost crystalize to make a delicious crunchy topping.
There, fixed. We've gone from not having pumpkin pie at Thanksgiving (I know! So unamerican!) to probably having this the rest of my life. Get ready for the best pumpkin pie you've ever had!

How is this pumpkin crumble pie gluten free?
If you need it to be gluten free like we do–thanks to my son's wheat allergy and my husband's gluten intolerance– then be sure to use certified gluten free gingersnap cookies, and certified gluten free oats.
If you don't need it to be gluten free, feel free to use the same measurements of regular oats and regular gingersnap cookies. Just make sure the oats are old fashioned rolled oats.
If you don't like gingersnap cookies, you can always use a gluten-free graham cracker crust.
How is this pumpkin crumble pie vegan?
My son also has a dairy allergy and egg allergy, so all of my baking is vegan. I used canned coconut milk in the pie, and vegan butter in the crust and crumble topping.
If you can do dairy, go ahead and omit the coconut milk and use either cream or a whole milk or heavy cream. Then, omit the vegan butter and use regular butter at the same measurements.
If you can do eggs, you can use three eggs and omit the flax seed. Usually when making a vegan egg, you stir the egg substitute of ground flax seed + water. I found in order for the pie to set up, that the flax seeds didn't need the regular ratio of water to ground flax seeds. There is plenty of moisture from the pumpkin and milk for them to absorb and I felt it set up a bit better omitting half the water. I simply add the water with the wet ingredients, and the flax seeds with the dry.

What if I can't use cornstarch for the pumpkin crumble?
Cornstarch is used to help this eggless pumpkin pie filling set up. If you can't use cornstarch, use arrowroot powder instead.
What flour do you use for the vegan crumble layer?
You are welcome to use my homemade gluten free flour blend. Mine does not include xanthan in it. Which is fine for this recipe as we don't need the crumble to rise.
If you'd rather purchase a gluten free flour blend, I like to stick to ones that use: rice flour, potato starch and tapioca flour. I've found ones with sorghum in them do well too. Usually the pre-made blends include xanthan, and that's fine. You'll notice I don't recommend almond flour, as my family members have nut food allergies, so none of my recipes include nut flours.

How can I make this pumpkin crumble pie soy free?
The gluten free gingersnap cookies that I chose to use have soy in them. If you need this pumpkin crumble pie to be top-8-free and soy free, you can use another type of cookie base, like an Enjoy Life sugar crisp cookies, and then add 1 tsp of cinnamon and 3/4 tsp of ginger and it will be quite close.
Do you have options for the gluten free crust?
I'm just a sucker for cookie crusts. I love not having to roll things out, chill butter, blind bake, use pie weights and worry about all the fuss that is your traditional crust. Yet, I know it can be hard to find certain specialty ingredients. Trust me–I live in Idaho, I get it! So, if you can't find the MI-DEL gingersnap cookies that I used (not sponsored, just what I could find). Use Schar graham crackers (have soy) at the same amount, 8 ounces, and add 1 tsp of cinnamon and 3/4 tsp of ground ginger instead. Or, see the paragraph above for a 3rd option. And, if you don't need it to be gluten free, use whatever gingersnap cookies you prefer.
If you'd rather do a classic baked homemade pie crust, and you can have milk, try this gluten-free pie crust from my fellow blogger friend, There is Life After Wheat. If you want to make a crustless pumpkin pie, I would suggest making this into individual cups/servings. Without a crust to hold, the very soft-set dairy-free pumpkin pie filling will not hold it's shape. It would be beautiful in tall glasses with the crumble on top.
Can I make this eggless pumpkin pie recipe sugar free as well?
We've already really strayed from the typical structure needed for pumpkin pie baking by taking away dairy, eggs and gluten. So, no, I would not recommend this be turned into a sugar-free version as well. You may get away with using coconut sugar, but I can't say for sure as I believe moderation in all things and have only tried it with brown sugar. I definitely wouldn't try to swap in maple syrup, as that will add too much liquid.
How to store this egg-free pumpkin pie recipe
Once my pumpkin pie crumble has come to room temperature, I like to keep my pie in the fridge, covered in either aluminum foil or plastic wrap.
What to serve on top of this perfect dessert?
This easy vegan pumpkin pie recipe is delicious on its own. You can always make homemade vegan whipped cream from coconut cream. Or, you can buy a store bought already-made whipped cream like CoCo Whip by SoDelicious. I've also recently been enjoying making homemade whipped cream with Silk's and Country Crock's vegan plant-based heavy whipping cream. Last, but not least, you can always place a scoop of vegan vanilla ice cream on top of the pie too!
Can I use fresh pumpkin?
I have not tried this recipe with fresh or homemade pumpkin puree. I prefer to use canned pumpkin (which is different from canned pumpkin pie filling). Use whatever brand you feel best with.
Do you have other gluten free vegan pies?
Yes I do! I'm not a huge baked fruit fan, but I do love me some pie variations during the holiday season. I think you'll love these as well for your Thanksgiving day feast:
And, if you'd like to try another blogger, Salted Plains has a vegan coconut cream pie. Or, if you can do eggs and dairy need a carb free version, try Texan Erin's Crustless Pumpkin Pie.
Do you have any other Thanksgiving recipes?
Yes, I do! I love food, so a holiday all about food should still be enjoyed whether you have food restrictions or not. I have an ENTIRE THANKSGIVING MENU that is allergy friendly. I've got everything from a turkey, mashed potatoes, sweet potatoes, sides, and pies. I hope it helps you figure out exactly what to serve and have a lovely holiday.
What gluten free vegan gingersnap cookies do you use?
I found a box of MI-DEL gluten free ginger snaps at my local Fred Meyer's. I was excited to see that the only top allergen in the list of ingredients was "soy" which we can do. It wasn't until I went to link it in the recipe that I started seeing on their official site it lists "egg whites". So, I emailed them, worried.
This was their response verbatim: "Our packaging will always contain the most up to date allergen and ingredient statements. Each statement is specific to a given product. No allergen or ingredient statement applies to all MI-DEL items. Read each package thoroughly." So, if you do not feel comfortable using these cookies, check out my section above "Do you have options for the gluten free crust."
I did reply asking if and when their website would be updated to reflect this and have not heard back. Because I'm not certain which version you would get on Amazon, I will not be linking to it in the recipe. I usually try to link products for your ease, but don't dare in this case.
Here is a picture of the label I used, bought around November 4, 2020: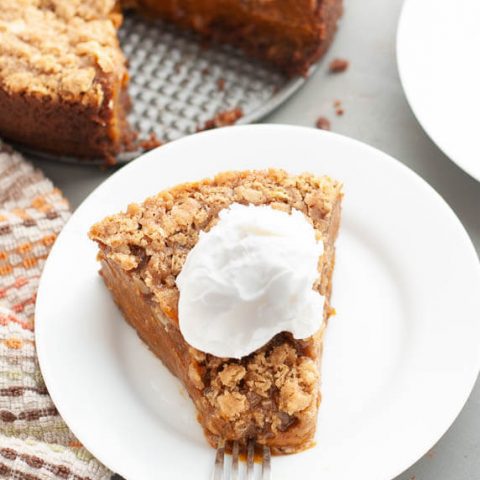 Gluten Free Vegan Pumpkin Crumble Pie
Total Time:
9 hours
15 minutes
Crust made from gingersnap cookies, a soft/custardy pumpkin filling and a crisp crumble on top make three layers of fall heaven. Perfect for any autumn day, or the star of Thanksgiving desserts--this treat will not disappoint. This triple threat is allergy friendly and made without: wheat, gluten, dairy, egg, peanut or tree nuts. It's also vegan! (Soy free option included.)
Ingredients
CRUMBLE:
1/2 tsp cinnamon
Pinch of salt
3/4 cup brown sugar
CREAMY PUMPKIN FILLING :
2 and 1/2 cups (20 oz) pumpkin puree (not pumpkin pie filling)
2 tsp vanilla extract
5 Tbsp water
1/3 cup cornstarch
1 cup brown sugar
1 Tbsp pumpkin pie spice
2 tsp cinnamon
1/2 tsp salt
GINGERSNAP CRUST: 
1 (8 oz.) package of MI-DEL Ginger Snaps (be sure to read post above!)
Instructions
*Be sure to read above the recipe for any questions you might have.*

Preheat your oven to 350 degrees F. Spray with a non-stick spray an 8 inch spring form pan and set aside. (A 9" would work too.)

Make the crust by placing the gingersnaps in a food processor with the butter and pulsing until it's a fine sand. (Alternatively, you can do this by placing the cookies in a zip top bag and crushing them by using a rolling pin. Once they're crushed, stir them in a bowl with melted butter.)

Place the crust inside the greased spring form pan, pressing it evenly and up the sides as much as the crust will go. Set aside.

In a large bowl, whisk together the wet ingredients: pumpkin puree, coconut milk, vanilla and water.

Next, add the dry ingredients: cornstarch, brown sugar, pumpkin pie spice, cinnamon, salt and ground flax meal.

Once everything is incorporated, pour it into the spring form pan on top of the crust.

In a small bowl, combine all of the crumble ingredients: gluten free flour, old fashioned rolled oats, cinnamon, salt, brown sugar and vegan butter. Use your hands to combine it thoroughly and set aside.

Place the spring form pan on top of a rimmed baking sheet, as some of the grease and oil will melt out. Place them in the oven, middle rack.

Bake for 30 minutes.

Take out and sprinkle the crumb topping on top.

Return to oven and bake for 30-40 minutes more. The center will still jiggle, but it shouldn't be too unstable.

Leave to cool until it's at room temperature, then refrigerate until set. It's best to do this overnight, or at a minimum four hours.

When ready to serve, you may want to top with CocoWhip, or homemade coconut whipped topping, or serve plain as it's delicious. Keep refrigerated 2-3 days.
Notes
*Our allergies, while severe and that get re-tested frequently, are such that we can go strictly by what's on the label. I do not call companies to see what things are derived from, or call manufacturers to see about potential cross contact. If your allergies require you to do so, please do your own homework. I cannot assure you of any ingredient's safety, only you can do that. I simply share what works for our family
**If you are going to feed this to someone with food allergies, and you yourself do not have food allergies, I HIGHLY recommend having them check every single brand and ingredient you are using, to ensure they're OK with each part of the recipe. And, to make sure you've talked to them about how to avoid cross contamination in your kitchen.
Crumble adapted from Oh, Sweet Basil. Pumpkin base adapted from Paleo Running Mama

Nutrition Information:
Yield:

8
Serving Size:

1
Amount Per Serving:
Calories:

531
Total Fat:

8g
Saturated Fat:

6g
Trans Fat:

0g
Unsaturated Fat:

1g
Cholesterol:

4mg
Sodium:

199mg
Carbohydrates:

59g
Fiber:

1g
Sugar:

50g
Protein:

1g
DON'T FORGET TO PIN THIS RECIPE, SO YOU DON'T LOSE IT. WHILE ON PINTEREST, BE SURE TO CHECK OUT MY MANY OTHER ALLERGY FRIENDLY & VEGAN PINTEREST BOARDS!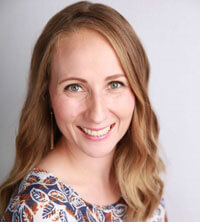 Hi! I'm Megan, a mom to four kids, two with multiple food allergies & one with EOE. I'm a published cookbook author that constantly tweaks recipes to make them allergy friendly–it's an addiction. I share every recipe & tip with you, to help you eat like you did before food allergies & dietary restrictions. You can still be awesome, even with food allergies!