With blended carrots, this smooth spice cake is divine. Smothered in a thick, maple cream cheese frosting this sheet cake will please a large crowd. This allergy-friendly carrot sheet cake is free of: gluten, dairy, egg, peanut & tree nuts. This is also vegan!
Confession: I've never been a carrot cake lover. Sure–I won't turn down cake, especially one that is typically frosted with cream cheese frosting–but it wasn't my go-to. My beef was that I didn't like the shreds of carrot. I do like carrots, but the texture totally threw me off. I want a soft, evenly textured cake.
SO! I put my Blendtec to use and figured out that blending the wet ingredients with the carrot makes for a silky batter. PROBLEM SOLVED. And, now I have one more cake I thoroughly enjoy. Actually, that may be the problem now. I really don't need another cake I like. Oh boy…
In fact, I would be willing to bet that if you take this to a party, most people will think it's a spice cake. But you and I could just each get a chuckle, since most people are not used to smooth carrot cakes.
I like to save making big sheet cakes like this for when we have get togethers, so that my little crew isn't stuck eating inches and inches of cake. I took it to a friend's house for dinner. I left a ginormous chunk with them when I left. It made my night to hear my little nephew had two slices later on, and then got mad at his mom because she wouldn't give him more because he "wanted 5 slices"! This is why I could easily adopt him.
This gluten-free carrot sheet cake would be great for any Easter get together as well. It will feed a crowd, and because it's so allergy-friendly, it will make sure everyone is included.
The other good parts to serving a sheet cake? Quick baking time. This thin cake takes so little to bake. And, unlike the pretentious layered cakes, this down-home cake is so simple to spread, bake and then frost. And speaking of frosting–I love sheet cakes because it has even amounts of cake and frosting. There's no digging through inches of cake to only have a little frosting. This is slathered a thick frosting that doesn't make you work to find it.
Speaking of frosting, this maple cream cheese frosting is SOO good. As if cream cheese frosting isn't fantastic all on it's own, the little swig of maple syrup adds a nice touch to it, making it a titch bit sweeter, and giving it another tone. I did mine super thick, but you're welcome to add in a few splashes of rice milk, if you prefer it thinner. I prefer to not do any liquid to start, since dairy-free cream cheeses are often water-ier (is that a word?) than regular cream cheese. So start there, and adjust to your liking. And PLEASE…use this frosting elsewhere. Don't hog this recipe only for this cake. This is a frosting that gets around and isn't into exclusive cake dating. This would be great on cupcakes, and basically anything…including a spoon.
Please note there are affiliate links in the recipe. I link to unusual ingredients so that you can either purchase them online (raise your hand if you're an Amazon Prime shopaholic!) or, so you can easily see what I'm talking about.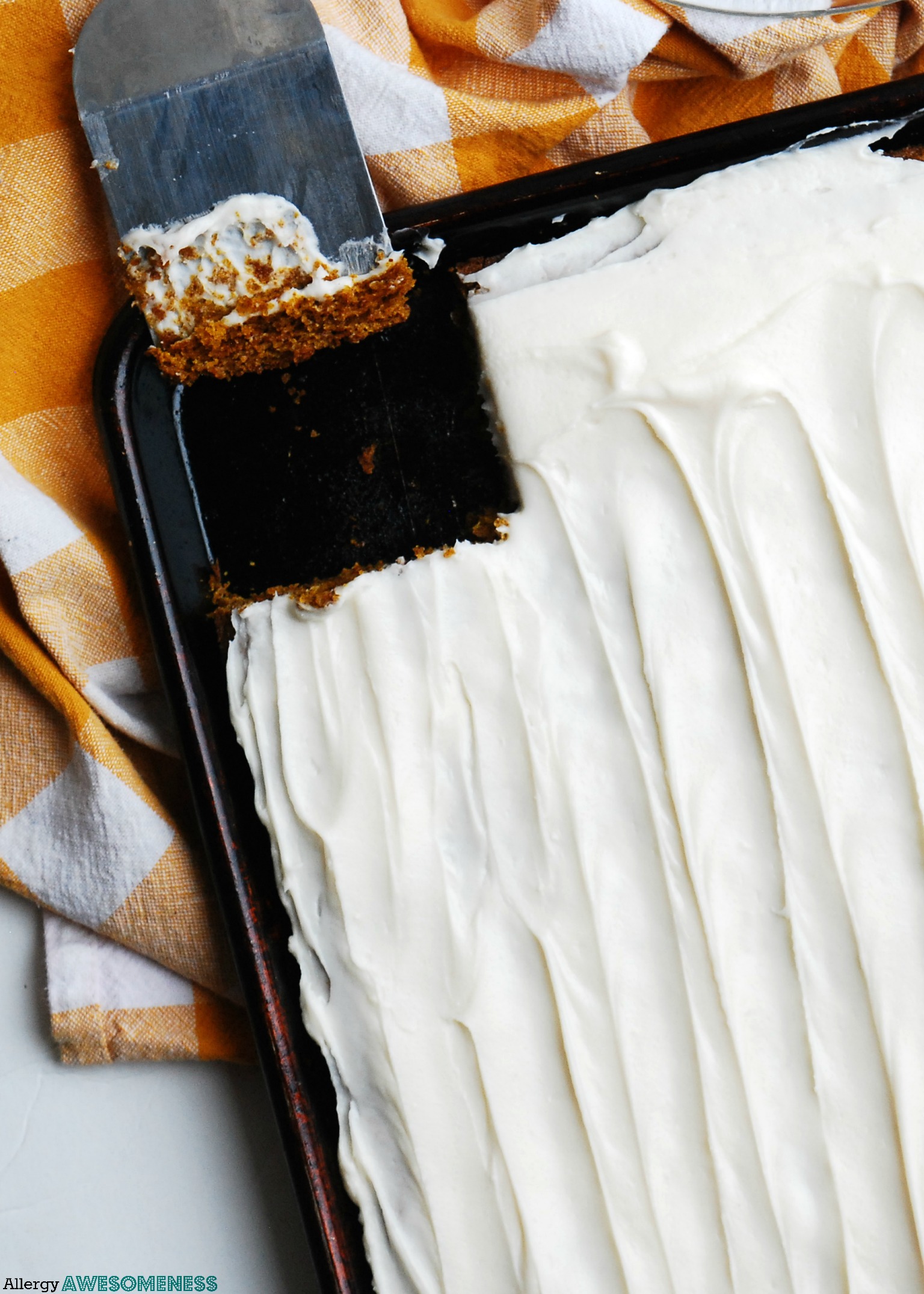 Allergy-Friendly Carrot Sheet Cake (Gluten, dairy, egg, peanut & tree nut free; vegan)
With blended carrots, this smooth spice cake is divine. Smothered in a thick, maple cream cheese frosting this sheet cake will please a large crowd. This allergy-friendly carrot sheet cake is free of: gluten, dairy, egg, peanut & tree nuts. This is also vegan!
Ingredients
FOR THE CAKE:
3/4 cup canola oil
2 large carrots, roughly chopped
2 cups granulated sugar
2 teaspoons cinnamon
2 teaspoons baking soda
1 teaspoon vanilla
1/2 teaspoon all spice
1/2 teaspoon salt
1/4 teaspoon baking powder
FOR THE MAPLE CREAM CHEESE FROSTING:
1 and 1/2 teaspoons vanilla
4 and 1/2 cups powdered sugar
Instructions
Preheat your oven to 350 degrees F. Grease a jelly roll pan.
Place the canola oil, carrots, flax egg mixture and vanilla in a high quality blender. Process until everything is incorporated and carrots are completely blended and smooth.
In a separate bowl, stir together the dry ingredients: sugar, flour, cinnamon, baking soda, xanthan gum, all spice, salt and baking powder.
Pour the blended mixture into the dry ingredients and stir until everything is well mixed.
Pour the mixture into the greased jelly roll pan.
Bake for 15-20 minutes, or until done.
Allow it to cool completely while you make the frosting.
Blend together the cream cheese and butter. Then add the vanilla and maple syrup. Slowly add the powdered sugar until everything is smooth. If it's too thick, add 1 Tablespoon of rice milk until you reach your desired consistency. Also--please note, I find that dairy-free cream cheese does not become smooth until you add the powdered sugar and beat well. It doesn't blend smoothly with butter like a regular cream cheese would, so don't be alarmed!
Frost and enjoy. Keep leftovers covered well to avoid drying out.
Nutrition Information:
Yield:

24
Serving Size:

1
Amount Per Serving:
Calories:

273
Total Fat:

14g
Saturated Fat:

4g
Trans Fat:

0g
Unsaturated Fat:

9g
Cholesterol:

24mg
Sodium:

213mg
Carbohydrates:

37g
Fiber:

1g
Sugar:

27g
Protein:

2g
Adapted from: Handle the Heat
DON'T FORGET TO PIN IT, SO YOU DON'T LOSE IT. ALSO, CHECK OUT MY OTHER ALLERGY-FRIENDLY PINTEREST BOARDS.
---
LOOKING FOR OTHER ALLERGY-FRIENDLY CAKES? SEE SOME OF MY FAVORITES HERE:
Chocolate Sheet Cake (Gluten, dairy, egg, soy, peanut & tree nut free; top 8 free; vegan)
Gluten-free Vegan Double Cherry Chocolate Cake (Gluten, dairy, egg, soy, peanut & tree nut free; top 8 free)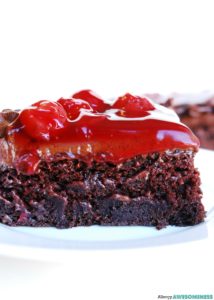 Slow Cooker Chocolate Lava Cake (Gluten, dairy, egg, soy, peanut & tree nut free; top 8 free; vegan)