My trick to a divine, smooth carrot cake? Blended carrots, for all of the flavor and color, but none of the texture. You'll never go back. Smothered in a thick, maple cream cheese frosting this vegan gluten free carrot sheet cake will please a large crowd. This gluten-free vegan carrot sheet cake is free of: gluten, dairy, egg, peanut & tree nuts making it allergy friendly as well.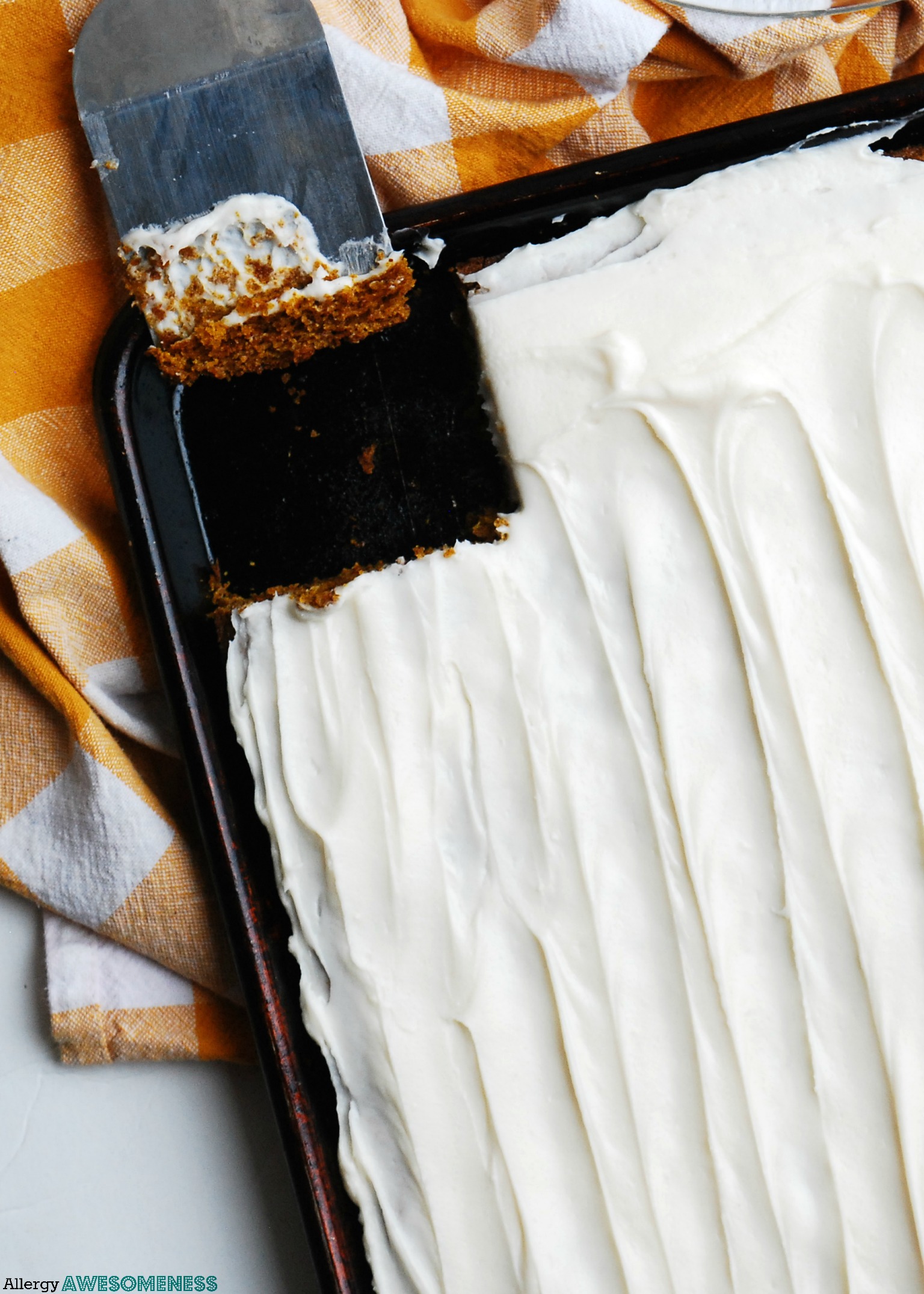 Why I Love This Vegan Gluten-Free Carrot Cake
Confession: I've never been a carrot cake lover. Sure–I won't turn down cake, especially one that is typically frosted with cream cheese frosting–but it wasn't my go-to. My beef was that I didn't like the shredded carrots. I do like carrots, but the texture totally threw me off. I want a soft, evenly textured cake, not to have flecks of carrots stuck in my teeth.
SO! I put my Blendtec to use and figured out that blending the wet ingredients with the carrot makes for a silky batter. PROBLEM SOLVED. And, now I have one more cake I thoroughly enjoy. Actually, that may be the problem now. I really don't need another favorite cake I like. Oh boy…
What if I just need a vegan carrot cake recipe?
If you don't need it to be gluten free and can use wheat flour, simply swap in regular flour at the same ratio and omit the xanthan gum. That way, the cake will still be dairy free, egg free and therefore still a vegan cake as well. Simple!

What gluten-free flours do I use?
I like to use my homemade gluten-free flour blend. I find this to give a really good texture. If you're in a pinch and want to use different flours, like an all purpose store-bought baking blend, be sure to pick one that uses rice flour, potato starch and tapioca flour as the grains. If your store-bought blend already contains xanthan gum, then there's no need to add it again. I know some gluten-free recipes use almond flour, but we also have nut allergies so we do not. And, while I do love oat flour in some things, I like my general all purpose blend best because oat flour is very detectable.
Perks of making the carrot cake as a sheet cake
The other good parts to serving a sheet cake? Quick baking time. And, you only need one cake pan: an 18×13 sheet cake pan, versus multiple round cake pans when making a layered cake. This thin cake takes so little to bake. This gluten-free carrot sheet cake would be great for any special occasion or get together, but we especially love this carrot cake at Easter. It will feed a crowd, and because it's so allergy-friendly, it will make sure everyone is included. In fact, my son loves it so much, he may get it for his birthday cake this year!
And, unlike the pretentious layered cakes with their many cake layers, and sides of the cake to frost, this down-home cake is so simple to ice. And speaking of frosting–I love sheet cakes because it has an even ratio of cake to frosting. There's no digging through inches of cake to only have a little frosting. This is slathered in a thick frosting that doesn't make you work to find it.

Vegan Cream Cheese Frosting Tips
Speaking of frosting, this maple cream cheese frosting is SOO good. As if this smooth cream cheese frosting isn't fantastic all on it's own, the little swig of maple syrup adds a nice touch to it, making it a titch bit sweeter, and giving it another tone. I make mine super thick, but you're welcome to add in a few splashes of rice milk, if you prefer it thinner (or almond milk or coconut milk if you can do them). I prefer to not do any liquid to start, since dairy-free cream cheeses are often wetter than regular cream cheese. So start there, and adjust to your liking. And PLEASE…use this frosting elsewhere. Don't hog this recipe only for this cake. This is a frosting that gets around and isn't into exclusive cake dating. This would be great on cupcakes, and basically anything…including a spoon.
As far as vegan cream cheese brands, I like Tofutti (but that does have soy). For a soy-free option, Violife is great.
Lastly, if you'd rather stick with a another frosting recipe, like a buttercream recipe (as vegan cream cheese can be expensive and hard to find) you can check out my vanilla vegan buttercream frosting.)
How to make this carrot cake egg free
I prefer to use flax eggs as an egg substitute, because I find that they work well with moist bake recipes. Many people use apple sauce as a vegan egg replacer, and while I haven't tested it with this, I think it might work well if you can't do flax eggs. If you try it, be sure to comment below to help out future readers.
If you can have eggs, simply omit the flax eggs and use four regular eggs.
Ingredients needed for the gluten-free vegan carrot cake:
This yummy carrot cake needs the following:
Cake ingredients:
Canola oil
2 large carrots
4 flax eggs (4 Tablespoons ground flax meal mixed with 10 Tablespoons water)
Sugar
Gluten-free flour
Cinnamon
Baking soda
Vanilla extract
Xanthan gum
All Spice
Salt
Baking powder
Vegan and dairy free cream cheese frosting :
Vegan butter
Vegan cream cheese
Maple syrup
Vanilla
Powdered sugar
Rice milk, or other milk substitute of your preference

More delicious vegan gluten free cake recipes:
If you're looking for more cake recipes, other than this delicious carrot cake recipe, check out these other favorite cake recipes of mine:
Looking for an AIP carrot cake version? Check out this AIP carrot cake by Heart Beet Kitchen.
Please note there are affiliate links in the recipe. I link to unusual ingredients so that you can either purchase them online (raise your hand if you're an Amazon Prime shopaholic!) or, so you can easily see what I'm talking about.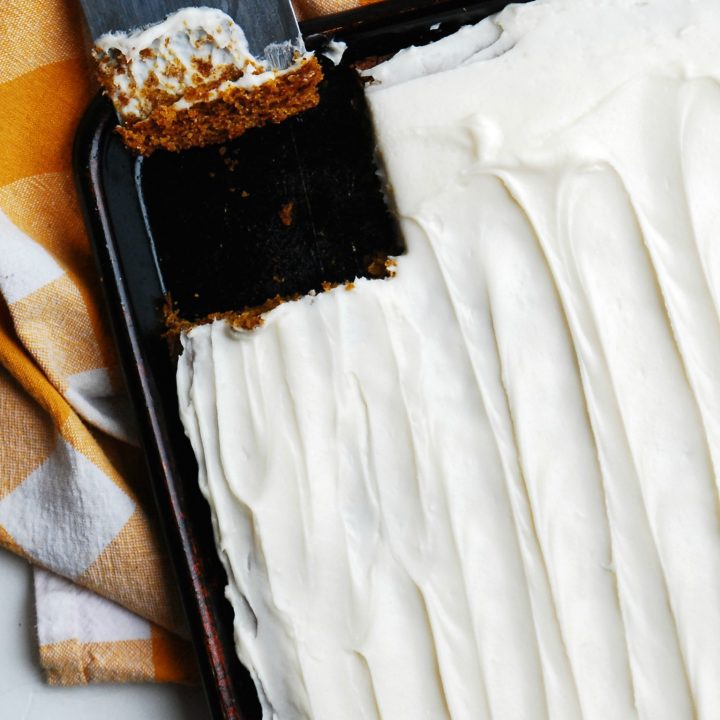 Allergy-Friendly Carrot Sheet Cake (Gluten, dairy, egg, peanut & tree nut free; vegan)
With blended carrots, this smooth cake is divine and perfectly spiced. Smothered in a thick, maple cream cheese frosting this sheet cake will please a large crowd. This gluten-free vegan carrot sheet cake is also free of: gluten, dairy, egg, peanut & tree nuts (with a soy free option).
Ingredients
FOR THE CAKE:
3/4 cup canola oil
2 large carrots, roughly chopped
2 cups granulated sugar
2 teaspoons cinnamon
2 teaspoons baking soda
1 teaspoon vanilla
1/2 teaspoon all spice
1/2 teaspoon salt
1/4 teaspoon baking powder
FOR THE MAPLE CREAM CHEESE FROSTING:
1 and 1/2 teaspoons vanilla
4 and 1/2 cups powdered sugar
Instructions
Preheat your oven to 350 degrees F. Grease a jelly roll pan.
Place the canola oil, carrots, flax egg mixture and vanilla in a high quality blender. Process until everything is incorporated and carrots are completely blended and smooth.
In a separate bowl, stir together the dry ingredients: sugar, flour, cinnamon, baking soda, xanthan gum, all spice, salt and baking powder.
Pour the blended mixture into the dry ingredients and stir until everything is well mixed.
Pour the mixture into the greased jelly roll pan.
Bake for 15-20 minutes, or until done.
Allow it to cool completely while you make the frosting.
Blend together the cream cheese and butter. Then add the vanilla and maple syrup. Slowly add the powdered sugar until everything is smooth. If it's too thick, add 1 Tablespoon of rice milk until you reach your desired consistency. Also--please note, I find that dairy-free cream cheese does not become smooth until you add the powdered sugar and beat well. It doesn't blend smoothly with butter like a regular cream cheese would, so don't be alarmed!
Frost and enjoy. Keep leftovers covered well to avoid drying out.
Notes
Check out my other desserts.
*Our allergies, while severe and that get re-tested yearly, are such that we can go strictly by what's on the label. I do not call companies to see what things are derived from, or call manufacturers to see about potential cross contact. If your allergies require you to do so, please do your own homework. I cannot assure you of any ingredient's safety, only you can do that. I simply share what works for our family
**If you are going to feed this to someone with food allergies, and you yourself do not have food allergies, I HIGHLY recommend having them check every single brand and ingredient you are using, to ensure they're OK with each part of the recipe. And, to make sure you've talked to them about how to avoid cross contamination in your kitchen.
Nutrition Information:
Yield:

24
Serving Size:

1
Amount Per Serving:
Calories:

273
Total Fat:

14g
Saturated Fat:

4g
Trans Fat:

0g
Unsaturated Fat:

9g
Cholesterol:

24mg
Sodium:

213mg
Carbohydrates:

37g
Fiber:

1g
Sugar:

27g
Protein:

2g
Adapted from: Handle the Heat
DON'T FORGET TO PIN IT, SO YOU DON'T LOSE IT. ALSO, CHECK OUT MY OTHER ALLERGY-FRIENDLY PINTEREST BOARDS.
---
LOOKING FOR OTHER ALLERGY-FRIENDLY CAKES? SEE SOME OF MY FAVORITES HERE:
Chocolate Sheet Cake (Gluten, dairy, egg, soy, peanut & tree nut free; top 8 free; vegan)
Gluten-free Vegan Double Cherry Chocolate Cake (Gluten, dairy, egg, soy, peanut & tree nut free; top 8 free)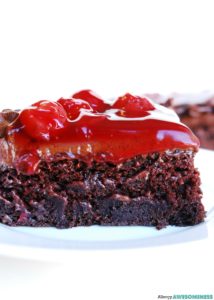 Slow Cooker Chocolate Lava Cake (Gluten, dairy, egg, soy, peanut & tree nut free; top 8 free; vegan)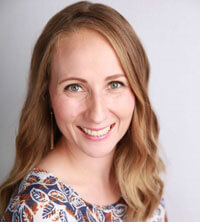 Hi! I'm Megan, a mom to four kids, two with multiple food allergies & one with EOE. I'm a published cookbook author that constantly tweaks recipes to make them allergy friendly–it's an addiction. I share every recipe & tip with you, to help you eat like you did before food allergies & dietary restrictions. You can still be awesome, even with food allergies!