Warm, hearty and filling this vegan baked pumpkin oatmeal will be the best start to chilly fall mornings. This makes a large pan, so this is great for sharing, or breakfast prep to last all week. This allergy friendly recipe contains no: gluten, dairy, eggs, soy, peanuts or tree nuts either, making it great for most eaters!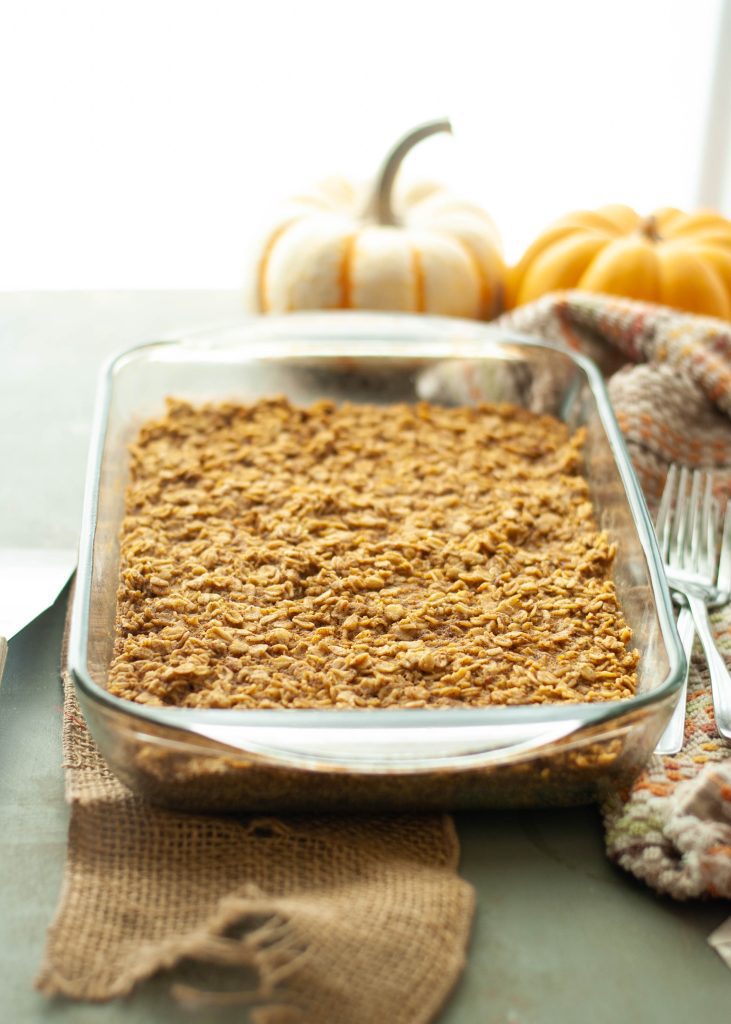 This post contains affiliate links.
Why I love this vegan baked pumpkin oatmeal:
First of all, when September hits I want ALL pumpkin, ALL the time. So, if I can sneak it into my breakfast, all the better. Oatmeal can become monotonous, so literally spicing it up with pumpkin pie spice and cinnamon is a great way to give oatmeal some variety.
I also really like that this oatmeal is baked for several reasons–baking it means I can make a batch that feeds my family of 6, with a little leftover. It also means that on cold, crisp mornings, I have a reason to turn on my oven. Nothing wakes you up like a warm, inviting kitchen that smells delicious!
Plus, this only requires one bowl, and you literally just add the ingredients in the order listed, nothing fancy–just easy!
I love the texture of these bars. Oatmeal made in the microwave or stove top can be kind of sludgy. It's more wet and gloppy. This baked oatmeal, holds its shape, but is still soft. It feels almost like a breakfast bar, but one you can drizzle maple syrup over. It's great to eat on a plate with a fork.
How is this baked pumpkin oatmeal dairy free?
I make this oatmeal dairy free because I use rice milk (my favorite non-dairy milk because it has the least after taste). If you have another milk substitute you like, it should work just fine.
I use a vegan butter to still give it a rich taste, but without the milk product. I like Earth Balance, but feel free to use whatever brand you like. If you need soy free, make sure to use Earth Balance's soy free version.
If you choose to top your oatmeal with regular syrup (not pure maple syrup) make sure there's no butter hidden in the ingredients.
If you don't have a milk allergy, feel free to use regular butter and milk.

How is this pumpkin baked oatmeal gluten free?
Both my husband and son cannot have wheat, so we make this oatmeal gluten free. It's an easy swap. Instead of using regular old fashioned rolled oats, we swap them for gluten free old fashioned rolled oats. We use the Bob's Red Mill brand, found at Walmart or Amazon, but you can use whatever brand you like.
If you don't need it to be gluten free, use whatever brand you have on hand.
I do recommend though, whether gluten-free or not, that you use old fashioned rolled oats. These are heartier and give it a better structure than quick cooking oats would.
What maple syrup should I use?
For the recipe, so you get the strongest maple flavor and content, you want to use pure maple syrup. You can pick the grade, but make sure it's not the cheap stuff in plastic bottles you usually put on pancakes.
However, because I am cheap, what I use to serve it with, and drizzle on top is the cheaper plastic bottles, because you just need a light sweetness over the top, and I save my good stuff for inside the recipes. There are many brands that I've found that are safe. Just be sure to read the labels, as some are butter flavored. Of course, you could serve it with pure maple syrup if you're not a cheapskate like me, haha.
How is this baked pumpkin oatmeal vegan?
This is a vegan oatmeal because it doesn't have any milk, eggs, or animal products. If you're like us, we're not actually vegan, but my son has a milk allergy and egg allergy, so I call us accidently vegan.

Is this baked oatmeal allergy friendly?
Yes, it is! The way the recipe sits it is free of the top major allergens. It is wheat, dairy, egg, soy, peanut, tree nut, fish and shellfish free. But as always, make sure you read each and every label just to make sure the ingredients you pick are safe for those with food allergies.
Are oats gluten free?
Ah, the age old debate. Many people avoid regular oats (one without a certified gluten free label) because even though oats themselves do not have gluten in them, they worry they were processed with gluten grains and have been cross contaminated.
This is why we use a certified gluten free brand. But, some people still feel leery even doing that. And, you'll find debates about what the best brand is for certified gluten free oats. I know many people say good things about the brand Zego, but we have been fine with Bob's Red Mill, and because we live in a small town, I tend to go with what I can find at my local Walmart.

What side dishes go well with pumpkin baked oatmeal?
Really, any breakfast item goes well with a nice, warm, hearty oatmeal. I have a list of over 150+ allergy friendly breakfast items listed by category. Or, these are some of our favorites:
Bacon (if you can do meat, if not a vegan sausage crumble)
Safe yogurt
Fruit
Hash browns
Do you have any other gluten free dairy free pumpkin recipes?
Do I??!!! I love pumpkin! Here are all of my other pumpkin recipes. And by the way, since this only uses 3/4 a cup of pumpkin puree, you can use the rest of the can to make a batch of my gluten free vegan pumpkin chocolate chip cookies. This will give you two delicious recipes out of one can!
All of my recipes are free of: gluten, dairy and eggs–making them gluten free and vegan. But, if you don't need them to be gluten free, you can always swap 1:1 for regular flour!
Do I have a video showing how to make the baked pumpkin oatmeal?
Yes I do! I made a TikTok video, because I like how short and succinct they are. By watching this, it will give you a good overview of how easy it is to make the vegan breakfast:
Vegan Baked Pumpkin Oatmeal (with gluten free option!)
Additional Time:
5 minutes
Warm, hearty & filling this vegan baked pumpkin oatmeal is the best start to chilly fall mornings.
Ingredients
3/4 cup pumpkin puree
2 teaspoons vanilla extract
2 teaspoons pumpkin pie spice
1 teaspoon baking powder
1 and 1/2 teaspoons ground cinnamon
1/4 teaspoon salt
Syrup for individuals to drizzle over the top
Instructions
Preheat oven to 350°F. Spray an 11×8 inch baking pan with nonstick spray.
Whisk all of the ingredients together in 1 large bowl, in the order listed.
Pour into the greased 11x8.
Bake 30-35 minutes, or until the center is *just* set. The more set the center is, the more solid it will be. You can make it as soft or solid as you prefer.
Allow to cool for five minutes.
Serve warm, with additional syrup for serving.
Leftovers keep in the fridge up to 1 week, covered in an air tight container--which makes this great for breakfast prep!

Notes
For gluten and dairy free dinner ideas check out my cookbook: An Allergy Mom's Lifesaving Instant Pot Cookbook.
*Our allergies, while severe and that get re-tested yearly, are such that we can go strictly by what's on the label. I do not call companies to see what things are derived from, or call manufacturers to see about potential cross contact. If your allergies require you to do so, please do your own homework. I cannot assure you of any ingredient's safety, only you can do that. I simply share what works for our family
**If you are going to feed this to someone with food allergies, and you yourself do not have food allergies, I HIGHLY recommend having them check every single brand and ingredient you are using, to ensure they're OK with each part of the recipe. And, to make sure you've talked to them about how to avoid cross contamination in your kitchen.
Recipe adapted from the talented Sally's Baking Addiction 1 Bowl Baked Oatmeal.
DON'T FORGET TO PIN IT, SO YOU DON'T LOSE IT. WHILE YOU'RE THERE, CHECK OUT MY OTHER DIETARY SPECIFIC PINTEREST BOARDS!