All the ingredients for the biggest brands of marshmallows in ONE place. No switching from site to site. One easy way to see what's in all the popular brands (and is it dairy or other top allergens?) so you can make an informed decision for your dietary needs.
This post contains affiliate links.
Why I Made This Dairy-Free Marshmallow List
Being a food blogger for those with food allergies and other restrictions, I often hear the question: Are marshmallows dairy free? And, thankfully the answer is yes (except for one brand–be sure to see which one it is!) because marshmallows are like America's Sweetheart. They're a much beloved sweet treat both on their own, with ice cream, in rice krispies and a myriad of other confections.
To double check, I've researched the biggest brands of marshmallows and list all of their ingredients side-by-side, so that you have one handy-dandy place to check brand against brand, without having to scroll from site to site.
I list the regular marshmallows, some specialty marshmallows, and give you all sorts of extra information to make sure you're a marshmallow connoisseur by the time we're done.
Lastly, I'll give you some delicious dairy free recipes so you can use up those dairy-free marshmallows! (Not that eating them plain out of the bag is a bag thing either!)
**As with all things food allergy: please be sure to read the actual label once you have it in hand, in case anything has changed since the time of publishing. I would never want anyone to have an allergic reaction, and while I tried to cover all my bases, only you can keep yourself safe and must do what is best for your own individual circumstances and diet.**
How I assembled the marshmallow ingredient comparison chart:
I put all of the possible ingredients on the left and placed them in alphabetical order. You will find them listed in a different order on the actual labels, as on the label they are listed in order of what ingredient is used most to last. I found that by placing the nutritional information in alphabetical order, it helped it be more scan-able and easier to compare.
What brand of marshmallows did I compare?
In my marshmallow comparison graph (see photo below, or, if it doesn't work you can see it in a spreadsheet here.) I compared the most popular brands of marshmallows that are easy to find in big box stores or Amazon:
I did not include Aldi or Trader Joe's marshmallows because I wanted the information to be verifiable on the company's websites, and unfortunately, they do not list individual products on their sites like Target and Walmart. I live in Idaho, where I do not have access to these stores, if you happen to get a bag from either place, please list the date and ingredient list in a comment below to help other readers (as well with any other new brands that may come out since the time of this publishing.)
I also did not look into different flavors of marshmallows, as most people prefer the original flavors.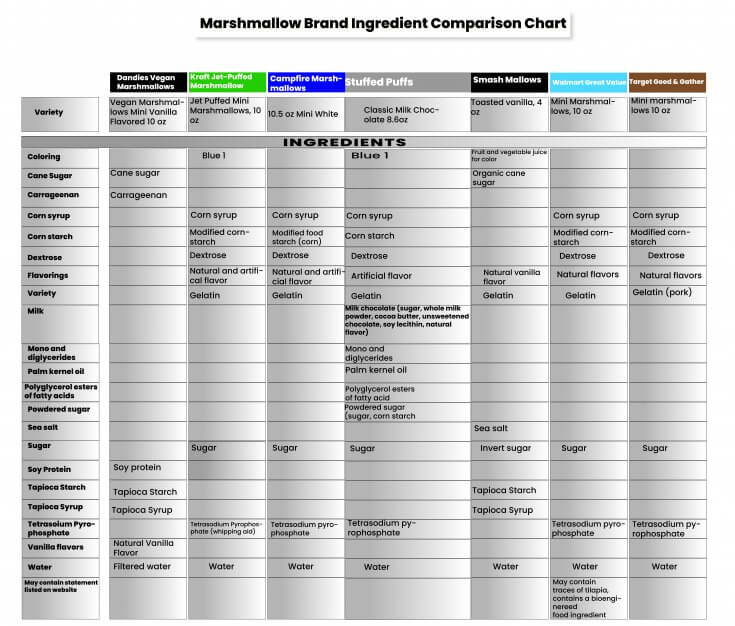 What are the common ingredients in marshmallows?
Obviously, each company will have it's own recipe and vary product to product, but here were the main ingredients I saw in a traditional marshmallow:
Corn syrup/ sugar/ cane sugar or some other type of sweetener
Corn starch
Natural flavors or artificial flavors
Gelatin
Tapioca Starch
Tapioca Syrup
Vanilla Extract
Whipping aids like tetrasodium pyrophosphate
Water
What marketing does Dandie's claim?
Dandies website claims they have "no artificial flavors, artificial color, no corn syrup, no gelatin, no gluten, no dairy and are vegan."
What marketing does Kraft marshmallows claim?
I didn't see any type of specialty diet claims or marketing call outs on their site.
What marketing claims does Campfire marshmallows claim?
They claim they are top 8 free, no artificial colors and gluten free.
What marketing claims does Stuffed Puffs make?
I didn't see any specialty diet claims on their site. They do tout that you don't have to use a separate piece of chocolate, since theirs is stuffed with chocolate inside (thus making it the only marshmallow that I found that was NOT dairy free.)
What marketing claims does Smash Mallows make?
Smash Mallow's website says they are: gluten free, non GMO, use organic cane sugar, no corn syrup, no artificial color or flavoring, no preservatives, and kosher certified.
What marketing claims does Great Value's Marshmallows make?
I did not see any marketing call outs on their site.
What marketing claims does Good and Gather Marshmallows make?
On the package it says: no artificial flavors, color and is gluten-free.

What if marshmallow packages don't specifically call out gluten-free or dairy-free?
If you're familiar with FALCPA (the Food Allergen Labeling and Consumer Protection Act of 2004) you'll know that companies are not required to place text on the front of packages calling out things like "gluten-free" or "dairy-free". These type of call outs are for marketing purposes to gain your attention while shopping.
Some people only feel safe buying products that are certified gluten-free, or spell out these type of dietary needs. And that's OK. Everyone has a different comfort level.
I, myself, prefer to go by the label and and actual ingredient list and not call outs like "vegan", since that is the part that is regulated. (Especially with companies now using "vegan" because it's been food engineered.)
So, if I do not see anything that has a dairy ingredient (or one of its many derivatives) in the ingredient list then I personally feel safe to consume.
If I'm ever in doubt, the way I feel safest is the call the 1-800 number on the label and speak directly to the company. Their operator is used to getting calls like this, and they should be able to answer it for you.
So, would some people disagree with me and say "these marshmallows are not dairy free because they do not say so"? Sure. That's a personal choice in my opinion.
If you have updated information about one of the products I listed, I only allow comments that are verifiable, meaning you can't post: "My aunt heard that XYZ brand uses XYZ and it's a derivative of milk." You must be able to link to your source so that you don't scare others away from a product, when it's hard enough to find safe products as it is. We don't need our small options shrinking because of rumors.
Don't marshmallows have egg whites in them?
For those wanting store-bought dairy-free marshmallows and also worry about them being egg-free, no fear. The good news is that I did not come across any egg in any of the store-bought varieties (see graph). You'll usually find egg whites in marshmallow cream (also known as marshmallow creme), homemade marshmallows and homemade marshmallow frostings.
Are marshmallows vegan?
Sorry for all those that follow a vegan diet. No, marshmallows are not vegan because they use gelatin. According to Brittanica.com: "Gelatin is made from decaying animal hides, boiled crushed bones, and the connective tissues of cattle and pigs. Animal bones, skins, and tissues are obtained from slaughter houses." Kinda makes you not like them as much when you stop and think about it that way. The only vegan marshmallow brand I've found is Dandies, and they use soy protein instead, which is difficult because some vegans also have a soy allergy. It seems for store-bought marshmallows that is the one trade off at the moment.
There are multiple places for a vegan marshmallow recipe online that use aquafaba mixture (the water found in canned chickpeas/garbanzo beans) that can whip up a lot like egg whites and are used in place of gelatin and egg whites.

Dairy-free recipes that use marshmallows:
Now that you know which marshmallows are dairy-free, why not put them to good use in these delicious dairy-free dessert recipes to satisfy that sweet tooth. Note that all of my recipes are also gluten-free too because of my son's dairy and wheat allergy. If you only need dairy-free, you can always sub in regular cereal, or regular flour at a ratio of 1:1.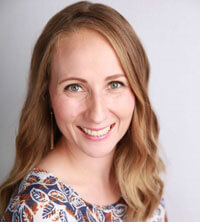 Hi! I'm Megan, a mom to four kids, two with multiple food allergies & one with EOE. I'm a published cookbook author that constantly tweaks recipes to make them allergy friendly–it's an addiction. I share every recipe & tip with you, to help you eat like you did before food allergies & dietary restrictions. You can still be awesome, even with food allergies!