Gluten-free vegan gingerbread pancakes are ideal for Christmas breakfasts and brunches. These soft and tender pancakes have those classic gingerbread spices and make for a festive and bright morning. These are also top-8-free!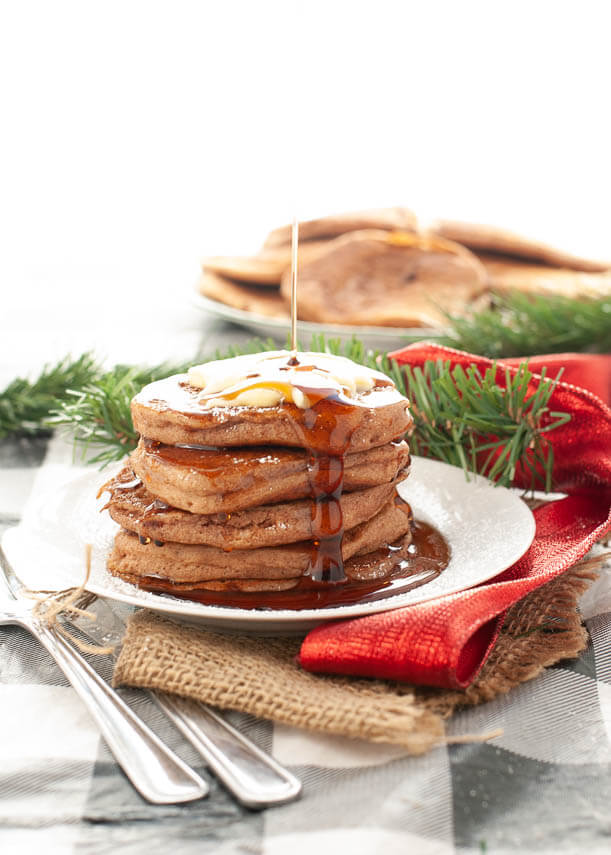 This post contains affiliate links.
Why I love these gluten free vegan gingerbread pancakes
I love, love, love pancakes as it is, but when you make them stand out from the regular plain pancakes, I simply must rejoice.
Full of cinnamon, nutmeg, ginger and cloves, these are not boring pancakes! Spiced and full of flavor, these go over the top when you add powdered sugar or maple syrup.
I also adore that these are allergy friendly–there's no wheat, dairy, eggs, soy, peanuts or tree nuts, making them gluten free, vegan and top 8 free too. My hope in making these so inclusive is so that more people can have a yummy Christmas morning.
Do you have other gluten free vegan pancakes?
Yes I do! Breakfast is my favorite meal of the day, so it's nice to be able to swap things out sometimes.
Do you have other gluten free vegan Christmas recipes?
Christmas is only the best holiday in the history of ever, so yes! I love to do lots of Christmas baking. All of my Christmas baking is gluten free vegan too!

How are these gingerbread pancakes gluten free?
These pancakes are gluten free because I use an all purpose gluten-free flour blend, and don't use any other ingredients that contain gluten.
If you don't need them to be gluten free, simply swap in regular flour at a 1:1 ratio.
For gluten-free flours you can either make my homemade gluten free flour blend, or, buy a store bought all-purpose gluten-free flour blend.
If you're buying a store-bought recipe, I recommend sticking to ones that use rice, potato and tapioca blends. If you're in a pinch, you can use ones that additionally have sorghum too, like this one from Walmart.
How are these gingerbread pancakes vegan?
My son is allergic to both eggs and milk, so all of my baking is naturally vegan. Just make sure that the butter you use on top, and the syrup you use are also vegan. The safest route is to always use pure maple syrup, and we enjoy Earth Balance vegan butter. (They also have a spreadable kind, but I can't find a link for it.)
If you don't need these to be vegan, you can use regular milk instead of rice milk at the same ratio.
Are these gingerbread pancakes top-8-free?
If you follow my recipe exactly, these pancakes are free of the top-8-allergens. Just make sure that if you use Earth Balance butter on top, that you get their soy free option.

Can you use a different egg substitute?
I know some people cannot do aquafaba (the liquid found in a can of chick peas) as the egg substitute because of bean allergies. I have not recipe tested this with any other egg replacer. I would think others would work, but have not tested it, as I enjoy this version so well. If you try it out, please comment below for others to see.
What if I don't need these gingerbread pancakes to be egg free?
If you only need them to be gluten and dairy free, but not vegan simply omit the aquafaba and use two real eggs instead.
What goes good with these gingerbread pancakes?
If you're trying to put together an allergy friendly breakfast or brunch, here is what we we served them with when we had a large family and friend gathering last year:
Safe yogurt (we can do So Delicious or Silk)
Clementines
Hashbrowns
Sausages
Bacon
Fruit platter
And trust me, none of our guests–though none had food allergies–complained! As far as recommendations on hash browns, sausages and bacon, we've been fine with OreIda for the potatoes and Great Value with the sausage and bacon. But, everyone has a different comfort level, so be sure to read labels and make decisions based on your individual circumstances.
Are there other gluten-free vegan breakfast recipes?
Yes! Breakfast is bomb and there should be some variety, even if your diet is limited. Here are some of our other favorite gluten free and vegan breakfasts.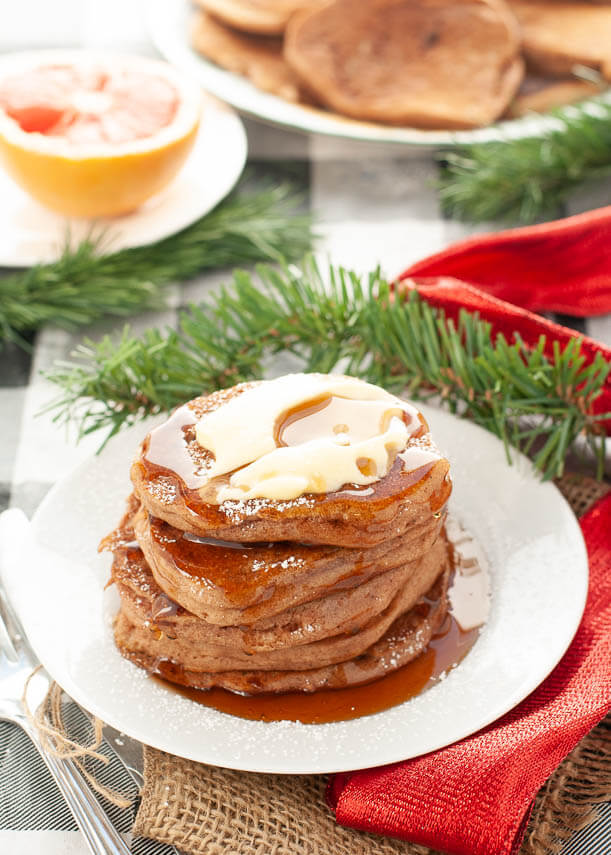 Do you have a video showing how to make these vegan gluten free gingerbread pancakes?
Why yes I do! I give a quick overview on this TikTok video below. I hope it will help you see how to make them start to finish before you begin.
Gluten Free Vegan Gingerbread Pancakes (Top 8 free, too!)
Gluten-free vegan gingerbread pancakes are ideal for Christmas breakfasts and brunches. Soft and tender pancakes that have those classic gingerbread spices make for a festive and bright morning.
Ingredients
2 cups gluten-free flour (see post)
2 tsp ginger
1 and 1/2 tsp cinnamon
1/4 tsp nutmeg
1/4 tsp cloves
1/3 cup brown sugar
2 tsp baking powder
1/2 tsp xanthan gum (omit if your gluten free flour blend already has this included)
1/2 tsp baking soda
1/4 tsp salt
1/4 cup canola oil
1 and 1/2 tsp apple cider vinegar
1 tsp vanilla
Instructions
In a large mixing bowl, add your dry ingredients: gluten free flour, ginger, cinnamon, nutmeg, cloves, brown sugar, baking powder, xanthan gum (if needed), baking soda and salt. Whisk until combined and there are no clumps.
Next add your wet ingredients: rice milk, canola oil, aquafaba and apple cider vinegar.
Stir until everything is combined.
Heat a griddle over medium heat and grease it.
Once heated, add the batter, by 1/4 cup increments.
Once bubbles appear and pop, flip your pancakes over.
Allow them to cook for 1-2 more minutes, until the pancakes are cooked through.
Keep the cooked pancakes warm in a tortilla warmer, until all the pancakes are done.
Serve warm with a safe butter, powdered sugar or maple syrup.
Notes
*Our allergies, while severe and that get re-tested frequently, are such that we can go strictly by what's on the label. I do not call companies to see what things are derived from, or call manufacturers to see about potential cross contact. If your allergies require you to do so, please do your own homework. I cannot assure you of any ingredient's safety, only you can do that. I simply share what works for our family.
**If you are going to feed this to someone with food allergies, and you yourself do not have food allergies, I HIGHLY recommend having them check every single brand and ingredient you are using, to ensure they're OK with each part of the recipe. And, to make sure you've talked to them about how to avoid cross contamination in your kitchen.
Nutrition Information:
Yield:

16
Serving Size:

1
Amount Per Serving:
Calories:

134
Total Fat:

4g
Saturated Fat:

0g
Trans Fat:

0g
Unsaturated Fat:

3g
Cholesterol:

0mg
Sodium:

139mg
Carbohydrates:

20g
Fiber:

1g
Sugar:

5g
Protein:

2g
DON'T FORGET TO PIN IT, SO YOU DON'T LOSE IT! WHILE THERE, BE SURE TO CHECK OUT MY OTHER ALLERGY FRIENDLY PINTEREST BOARDS!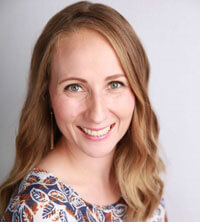 Hi! I'm Megan, a mom to four kids, two with multiple food allergies & one with EOE. I'm a published cookbook author that constantly tweaks recipes to make them allergy friendly–it's an addiction. I share every recipe & tip with you, to help you eat like you did before food allergies & dietary restrictions. You can still be awesome, even with food allergies!